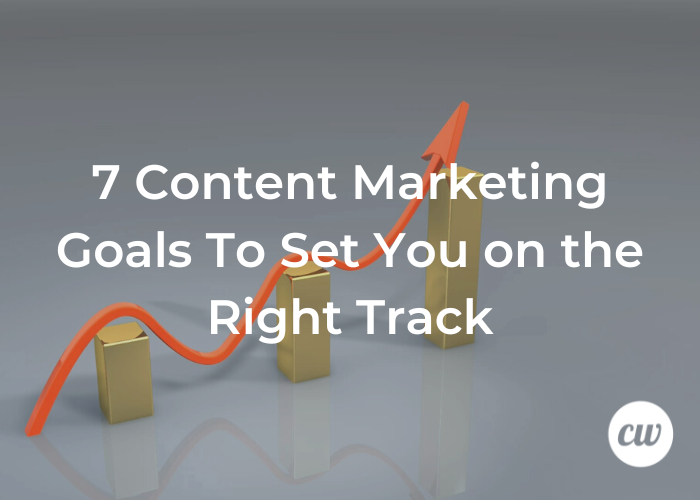 7 Content Marketing Goals To Set You on the Right Track
There's an adage that holds true year after year, "If you aim for nothing, you'll hit it every time". This also translates into a company's content marketing goals. Taking the time to define content marketing goals for your team gives you a way to measure the results of your efforts, win buy-in (and budget) from your leadership team, and make data-driven decisions about how to tweak your strategy for better success.
Semrush reports that out of 1,500 marketers, 78% who felt their content marketing was highly effective had documented their strategy. Is your team looking to join that thriving 78%? Take a look through a few of the essential types of content goals below that your team can use to guide you in the right direction.
What Is the Goal of Content?
At its core, the goal of high-quality content is to build a strong relationship with your audience. High-quality content should educate, inform, and entertain your target audience, influencing their view of your brand as a helpful, reliable, and trusted source of information. As part of a comprehensive marketing strategy, the ultimate objective of delivering quality, relationship-building content is to boost the bottom line for your business.
What Are the Goals for Content Marketing?
The overarching goal for a successful content marketing strategy is to distribute high-quality content that attracts and engages your audience, ultimately prompting them to take actions that drive business revenue.
Common content goals are centered around driving audience members through the sales funnel, from awareness to the point of purchase and onward into brand advocacy. Content may directly boost revenue by converting customers to make a purchase. Or, it may guide a lead through the consideration stage by convincing them to schedule a demo with a salesperson. At the awareness level, content can spur customers to refer your brand to friends and family, generating new leads into the sales funnel.
Content goals also often include actions that indirectly boost success for the business, such as engaging people to remain on your website longer. This goal is designed to encourage people to make a purchase and/or become a brand loyalist.
Below, you'll find our seven content strategy objectives (with examples). These strategies will help your team to evolve the company's strategy and measure success.
7 Content Marketing Goals To Set You on the Right Track
1. Increase Email Subscribers
Example goal: Increase the rate of new email subscribers from an average of [x]/month to [x]/month in the next three months.
Building an engaged subscribership is one of the most impactful content marketing objectives you can pursue because it enables your business to get more out of email marketing. Small businesses ranked email as the second most effective platform for building brand awareness, and Litmus reports that email marketing produces an average ROI of $36 for every dollar spent.
When leveraged correctly, content can serve as a compelling lead magnet to entice your audience to sign up to receive more from your brand. Offering high-quality content targeted to your audience's needs and pain points is one way to hook them into the value of subscribing to your brand. A subscribed audience gives your business a line of direct communication with potential leads and existing customers.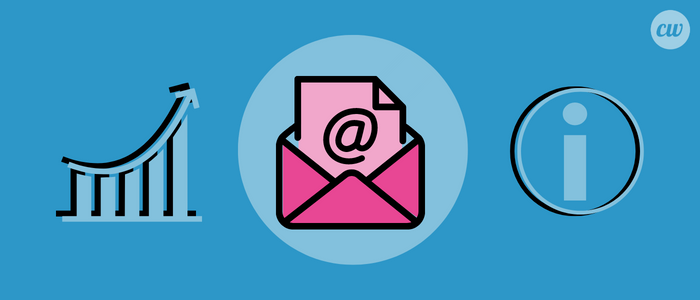 2. Nurture Email Subscribers
Example goal: Increase click-through rate from an average of [x]/month to [x]/month in the next three months.
Don't take your email subscribers for granted. As you build your subscribership, it's important to continue offering value, by enticing your readers to open your emails and click on the content within. A click represents reader trust and an intent to act on the information or call-to-action that you have presented.
Increasing click-through rates to destinations like your e-commerce site, product pages, and webinars can have a direct impact on sales and revenue.
Strong content marketing is the key to improving click-through rates. AWeber reports that 61% of small businesses with effective email copy have click-through rates of 6% or higher (as compared to 0% to 5% for a majority of small businesses). Effective email copy must be relevant, relatable, and motivating to drive someone to the point of clicking on your email. Your content must inspire the reader to take the next step and convince them that it will be valuable if they do.
3. Improve Organic Search Rankings
Example goal: Increase traffic to our website from organic search by [x]% in the next six months.
Attracting more people to your website gives you more chances to convert leads into customers, and existing customers into brand loyalists. Organic search is one of the best ways to do this, as the people who arrive at your website organically are already warmer leads than those who come through paid channels.
The key to a strong SEO strategy is developing content that ranks well in search engines. HubSpot reports that in 2021, 71% of marketers cited strategic keywords as their number one strategy for SEO. Search engines are seeking content that brings the most value to readers, so improving the quality, relevancy, and user experience of your content is key. Content goals to support SEO include conducting keyword research and incorporating relevant keywords into your content, posting fresh content consistently, and refreshing old pieces of content to optimize them for SERPs.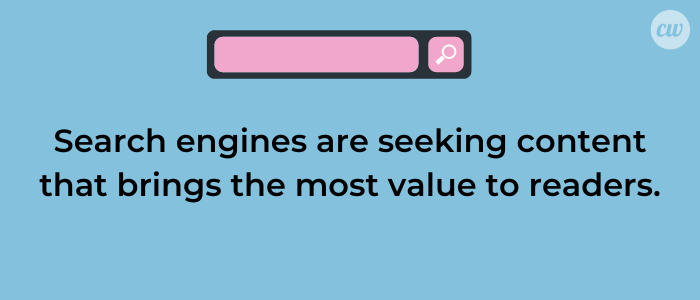 4. Strengthen Customer Retention and Loyalty
Example goal: Increase the number of repeat website visitors by [x]% in the next three months.
Existing customers are your biggest opportunity to drive revenue. Turning existing customers into repeat purchasers and brand advocates is an effective way to improve the return on investment of each customer. These folks have already found a reason to engage with your brand as a customer; now they need a reason to stick around.
Content can be that reason. Quality content helps people connect with your brand's personality, creates a positive experience, builds trust with audiences, and helps position your brand as reliable and helpful. Customers who trust you and see you as a source of guidance are more likely to buy from you again.
5. Brand Advocacy
Example goal: Increase the average number of shares for content pieces from [x]/month to [x]/month over the next three months.
Retaining existing customers is cost-effective for your business; developing those relationships a step further to convert those customers into brand advocates completes the cycle, as your loyal fans can be the best way to attract new leads to your business.
Your content marketing strategy can garner referrals and empower people to be advocates of your brand by giving them something worth sharing — entertaining and informative content. When your target market finds your brand to be valuable and worth interacting with consistently (not just at the moment of purchase), they are more likely to keep you top of mind and recommend you to people in their circles.
6. Enable Your Sales Teams
Example goal: Increase landing page conversion rate from [x]% to [x]% in the next month.
One of the most direct ways that content marketing can support revenue is through sales enablement content. This is especially true for B2B organizations (which often have longer sales funnels) though it still offers significant value for B2C companies. Whether or not you have a dedicated sales team, your content marketing objectives can include improving metrics like time to close new leads and lead-to-customer conversion rates.
Content pieces like landing pages, eBooks, and case studies complement and lend authority to your sales strategies. These can help convince people of the value of your product or service for their particular needs. Content may lead directly to an interaction with a salesperson, such as a landing page to sign up for a demo of your product; or it may help to move a lead through the consideration stage of the sales funnel, such as with an eBook that explains how your offering compares to other competitors.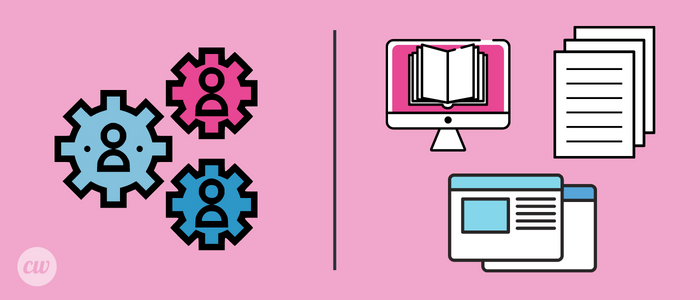 7. Engage Your Audience To Keep Your Brand Top of Mind
Example goal: Increase average time on site per session from [x] minutes to [x] minutes in the next three months.
Time spent on site is a metric that helps you determine how engaged people are with your brand. When your website is worth spending time on, you are positioning your brand as a helpful resource your target market can turn to for support, guidance, and inspiration. Brand loyalty is at the top of the customer experience. At this stage, your audience is more likely to think of your brand when they are ready to make their next purchase.
High-quality content that informs, educates, and entertains is the key to encouraging people to spend more time on your website. Content goals to improve time on site may include increasing the number of cross-links (links that direct to other pages of your website), leveraging blog posts on a consistent schedule, or experimenting with interactive content.
Defining the Content Goals That Fit Your Business
While content strategies can be as diverse as the objectives, offerings, and practices of the businesses that build them, their core components are the same. By using these essential building blocks of a strong content strategy, your team can define content marketing goals that contribute to the overarching objectives and mission of your business.
In today's business climate, the wide-ranging benefits of an effective content strategy are too valuable to ignore. Content has become as much of an essential building block to a growing organization as sales, advertising, or customer service.
At ContentWriters, we understand that it can be challenging for a growing business to maintain a consistent stream of high-quality content, and that's why we're here to help. As content marketing experts, we connect you with experienced specialists from our broad network of writers to help you deliver content tailor-made for your organization's marketing goals and strategy.


Emily is an experienced digital marketer with almost a decade of experience helping businesses scale through online channels. In addition to her business background, she is also a personal trainer and nutritionist and runs a growing wellness blog called Girl Let's Glow.