How To Create An eBook In 13 Steps
Generating ongoing leads is a key marketing goal for any business. Of the various ways to accomplish this, business news resource, Business.com writes that content marketing should be at the foundation of your strategy.
For B2B brands, ebooks are an effective content marketing tactic that can expand prospective leads by educating and establishing trust.
Ebooks as Premium Content
Ebooks are considered to be premium content. Premium content tends to be longer, in-depth factual papers that take greater effort to digest than the average blog post. And, it is usually gated behind paid subscriptions or free in exchange for an email address. While creating ebooks is time-consuming, it offers many positives that make it an essential skill for content marketers to know.
Employed mainly by business-to-business companies, ebooks provide significant benefits:
Establishing the brand as experts in their field and thought leaders
Growing a mailing list
Lead generation
Differentiation from the competition
Ability to cascade the information into smaller pieces of content for blog posts and social media.
The Ebook Audience
Creating an ebook is different than creating other pieces of content. This is because they require that the reader engage more fully with the content than with blog posts or social media, where skimming has become the norm. As inbound marketing company, bluleadz writes, "You want your ebook to trigger people to engage with their 'reading brain'."
Ebooks are the perfect piece of content to use when your audience already has surface-level information on your products and services but needs something more in-depth to make a buying decision. This necessitates that your ebook connects with readers on a different plane if it is to be successful in its intention.
Someone who downloads an ebook is not looking for entertainment or general information. These readers are beyond the awareness stage of content marketing. They are in a research or consideration stage, have questions, and are looking for answers to specific needs or issues. These readers are an important audience as they are further along in the marketing funnel, building the criteria they will use to make a purchase decision.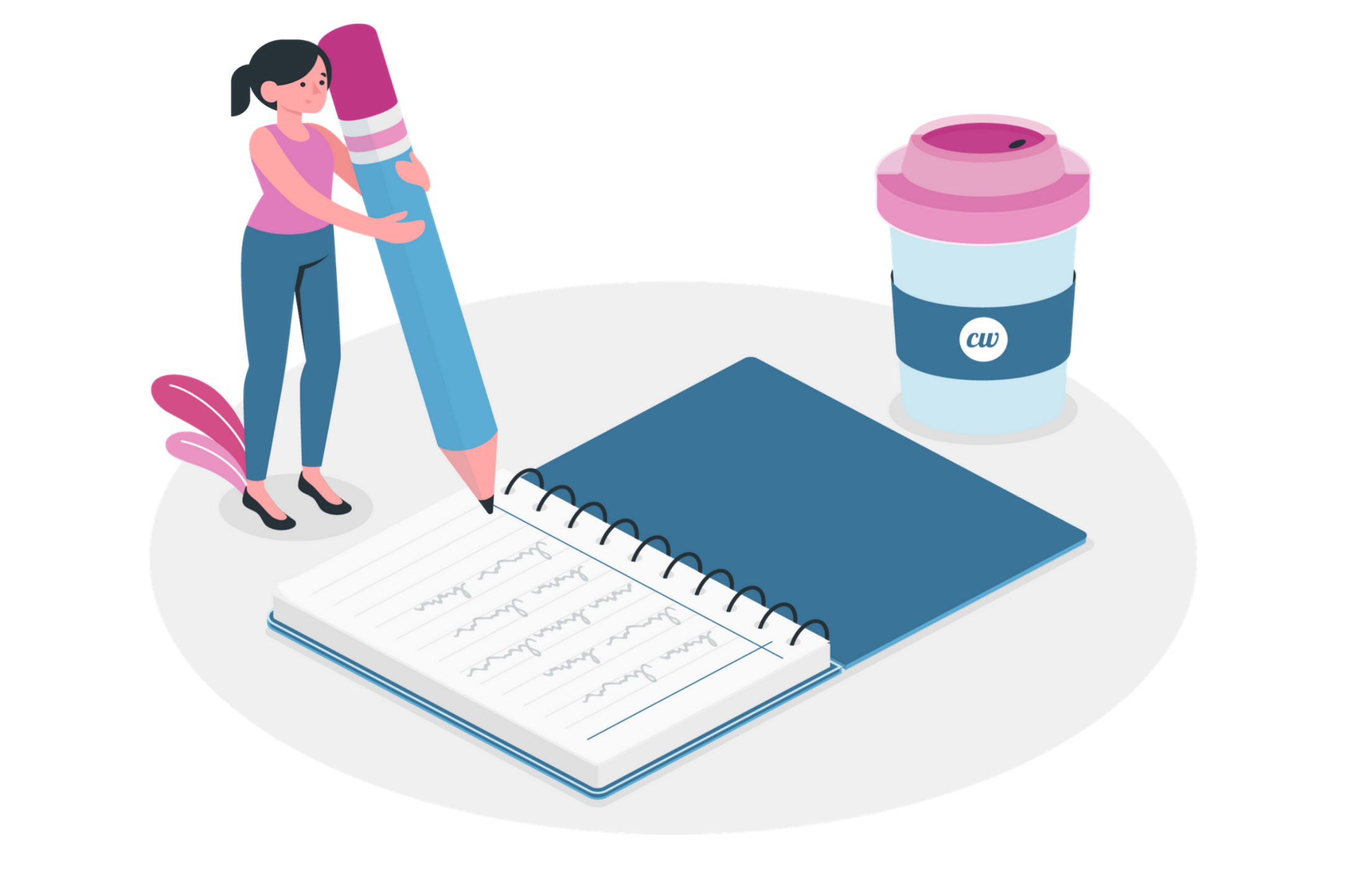 13-Steps to Creating an Effective Ebook
Ebooks are a tried and true method for connecting with potential customers. Follow these steps to start receiving more qualified leads.
Gather Competitive Intelligence
Your industry peers and rivals, top influencers, and industry publications can be tremendous sources of insight into understanding the trends and needs in your business space. Monitoring others gives you the advantage of being able to discover what is resonating in your field so you can find opportunities to address exactly what your prospects are looking to solve. This is the key to choosing the right topic for your ebook. Try using some tools like Ahrefs or Spyfu to research keywords you have in common with competitors that can give you a leg up in better targeting your customer base. Google Alerts, set up to follow your industry and competition, is a great way to have information come directly to you.


Define Your Audience
Who are you writing for, what is their decision-making ability, and where are they in the buying journey? The production of your ebook can only be successful if you know your audience. Today's consumer places tremendous value on feeling that a brand understands their unique needs. Being able to successfully address these needs head-on will be an important factor in their buying decision. So, if you don't have buyer personas, now is the time to create one for this ebook.


Choose your Ebook Topic
Incorporate the knowledge from your competitive analysis to define what your readers will be most interested in, what content already exists, and what gaps of content you can fill for your audience. Talk to your peers in other departments such as sales, product development, or customer service to make a list of the biggest take-aways you want the reader to gain.


Choose A Working Title
Once you have decided on a topic, try to work your audience or persona into the title. As an example, if your brand markets online training programs for employees of large corporations and your target persona is HR directors, you can choose a working title like, "The HR Guide to Implementing an Online Employee Training Program." You'll revisit this title at the revision stage, as your title is your first and best chance at enticing your audience to give you their email in exchange for the download. Your final title needs to capture attention by highlighting a relevant benefit. You can also add a subtitle that clarifies or expands on what the ebook will cover. In this instance, your subtitle might highlight the benefit, 'Boost Employee Productivity and Morale by Giving Employees the Added Skills They Need to Succeed'.


Create an Outline
Starting with an outline will benefit your process in important ways. It will save time. It will ensure you cover everything you intended to cover. It will break up your topics into bite-sized manageable writing and editing chunks that can even be delegated out to different team members. And, it will aid in structuring the ebook in the most cohesive and coherent order. Your outline will also help you know where to insert certain stats and citations or where to add infographics, images, or illustrations.


Research
Your ebook needs to be convincing and of added value to the reader. Use your outline to inform you of where you'll need data, insights, industry facts, predicted trends, or expert corroboration to support your writing. It's easy to get caught up in research. You don't want to wander far afield. Keep research tightly focused on the subject matter.


Write
Begin your first draft knowing it will be imperfect. Some writers have trouble with that but try to find a way to be okay with that imperfection. Then write your entire first draft without overthinking. Your focus should be on putting the ideas in your outline into sentences. The best long-form writing keeps sentences short with as little jargon as possible. Try to end each chapter or section with key takeaways that assist in moving the reader onto the next section. Use subheadings and bullet points to break up text and improve readability.


Revise
Revising is different than editing. Editing comes next. Revising requires looking at the structure and organization of your written content. This is a time for adding, removing, moving, or rewriting content.


Editing
Once your ebook is organized and structured in a cohesive way with all content in place, editing can begin. Look for typos, grammar and punctuation errors, and style consistency.


Designing
Designing your ebook to be stimulating and appealing is essential if you want your reader to stick with the content and more importantly, act upon your call-to-action. It needs an eye-catching cover, a logical table of contents layout, and an interior that is broken up by illustrations, graphs, infographics, and/or photos and call-outs. In addition, the ebook should be able to be easily read on tablets and smartphones. And, it needs to reflect your brand.


Choose A Format
Most ebooks are distributed as a PDF. While this is an easy-to-format method that is acceptable, there is a downside. PDFs are not optimized for mobile use and they cannot be interactive. John Rosenfelc, Director of Demand Generation at Bython Media explains that interactive content has been proven to be more engaging with higher conversion rates. His advice is to choose a web-based format so search engines can index it, helping to drive organic traffic from search.


Proof
Once the final draft of the ebook is approved and formatted, one last read-through should be conducted to catch any errors in the writing and layout. Some of the most common things to look for are extra spaces between words, odd line breaks, or unaligned graphics. It's always a good idea for this last proofing to be done by someone other than the writer, editor, and designer because our brains tend to see what we meant and not necessarily what is there.


Launch
A landing page is central to an ebook launch and distribution. This is where you offer the ebook in exchange for the prospect's contact information so you can begin to generate leads. Adding an interactive element to your landing page helps to increase your conversion rate.
The Final Word on Ebooks
An ebook is not only a resource from which anyone in the industry can learn. It is an effective tool for promoting your brand's vision, processes, and products to potential clients. With the right investment of time, expertise, and care, it is a look into the time, expertise, and care your brand puts into all its offers.
Ebooks are an appropriate form of content for almost any topic and market. Follow this step-by-step process to create an amazing ebook for your brand.
займ онлайн на карту госуслуги


Deborah was the kid who would rather write book reports and essays than play ball during recess. Although she didn't score many points with her peers, it did lead to her career creating content for TV, radio, print and new media for companies as varied as Dooney& Bourke, Panera Breads, Visa, SUNY Ulster and Hudson Valley Federal Savings Bank.
She is also a principal of small packages – a digital design company, and past partner/marketing director of whatis.com, the world's foremost reference on information technology. And, her love of food enabled her to become a contributing editor of both Gourmet Retailer and Food Distribution Magazines.
Deborah has a bachelor degree in fine art from the Hartford Art School, University of Hartford and a masters in higher education administration from Stony Brook University. When she's not writing, her love of quilting, furry animals, friends, and family sustains her.