Ordering content from ContentWriters is easy.
Follow these steps:
---
How it Works
Choose a Product
We offer many products for content marketing.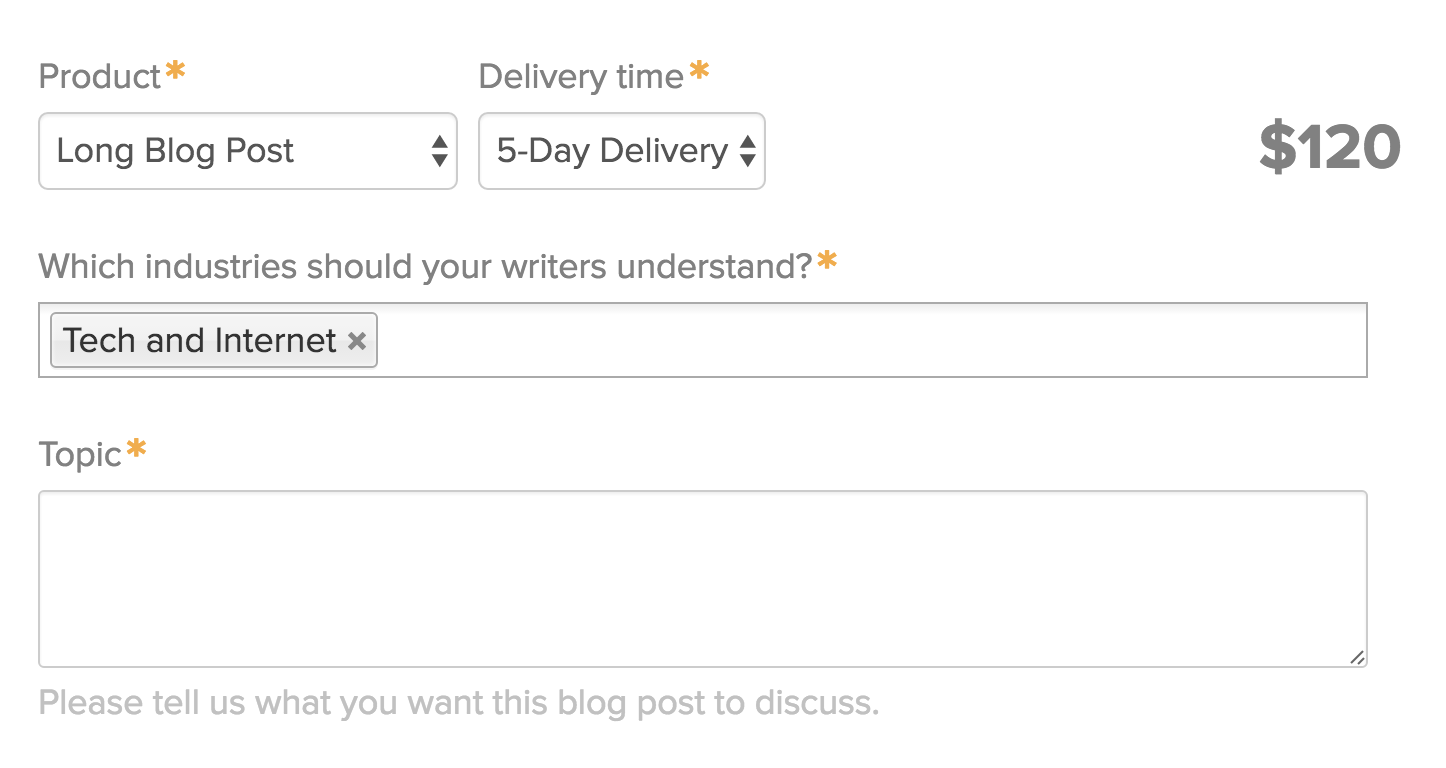 Short blog posts (300-500 words)
Long blog posts (500-700 words)
Website pages (300-500 words)
Press releases
Email newsletters
Social media posts
Complete the Order Form
Complete the form for the product you selected. The questions you'll answer help us provide the content you want. Please provide as much information as possible.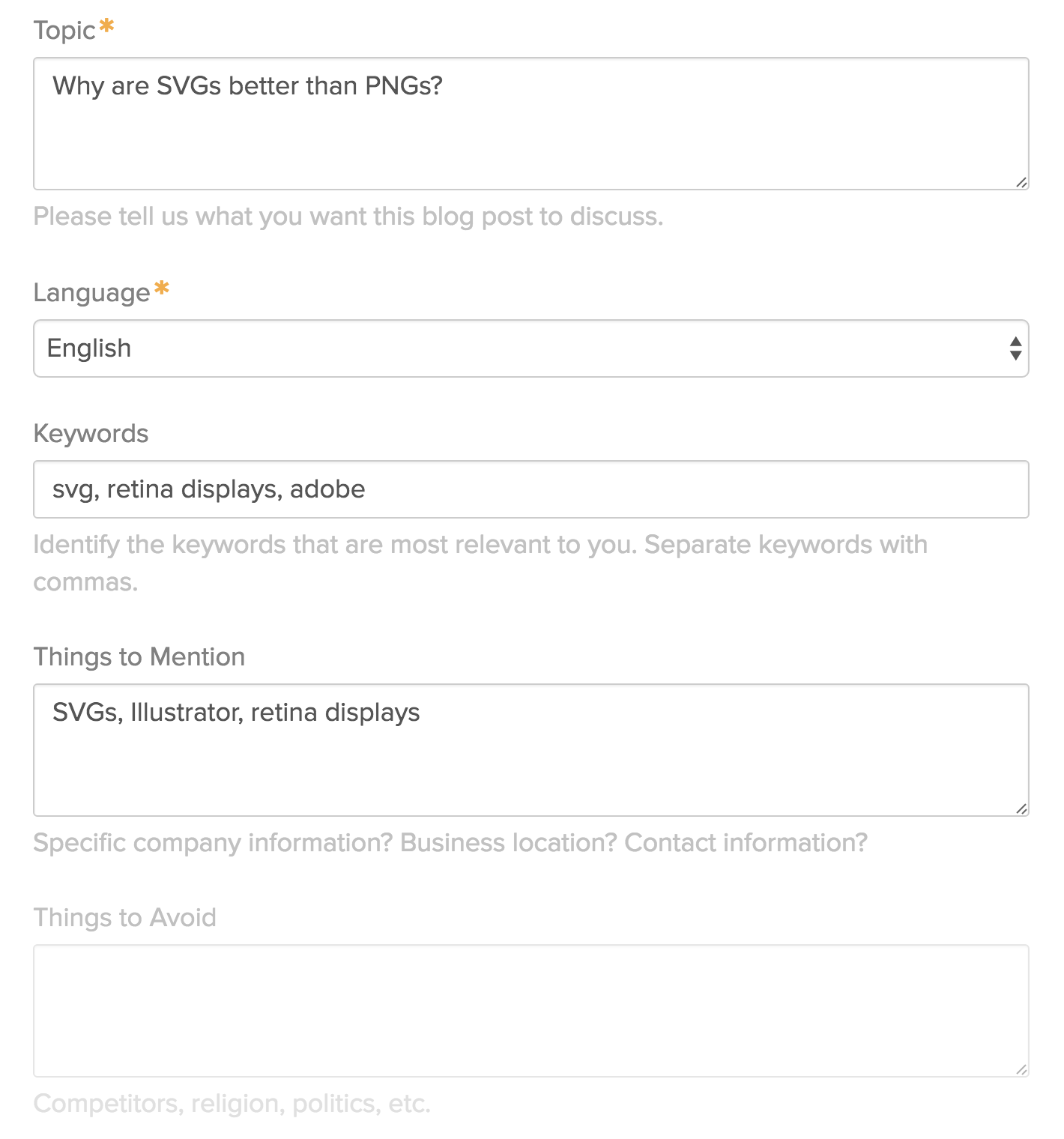 We offer a streamlined approach to ordering content. You provide us with information about the content you're ordering by completing this order form.
Review the Order
ContentWriters stands behind a 100% money back guarantee. Review your order criteria before making a purchase to ensure you've provided all of the information needed.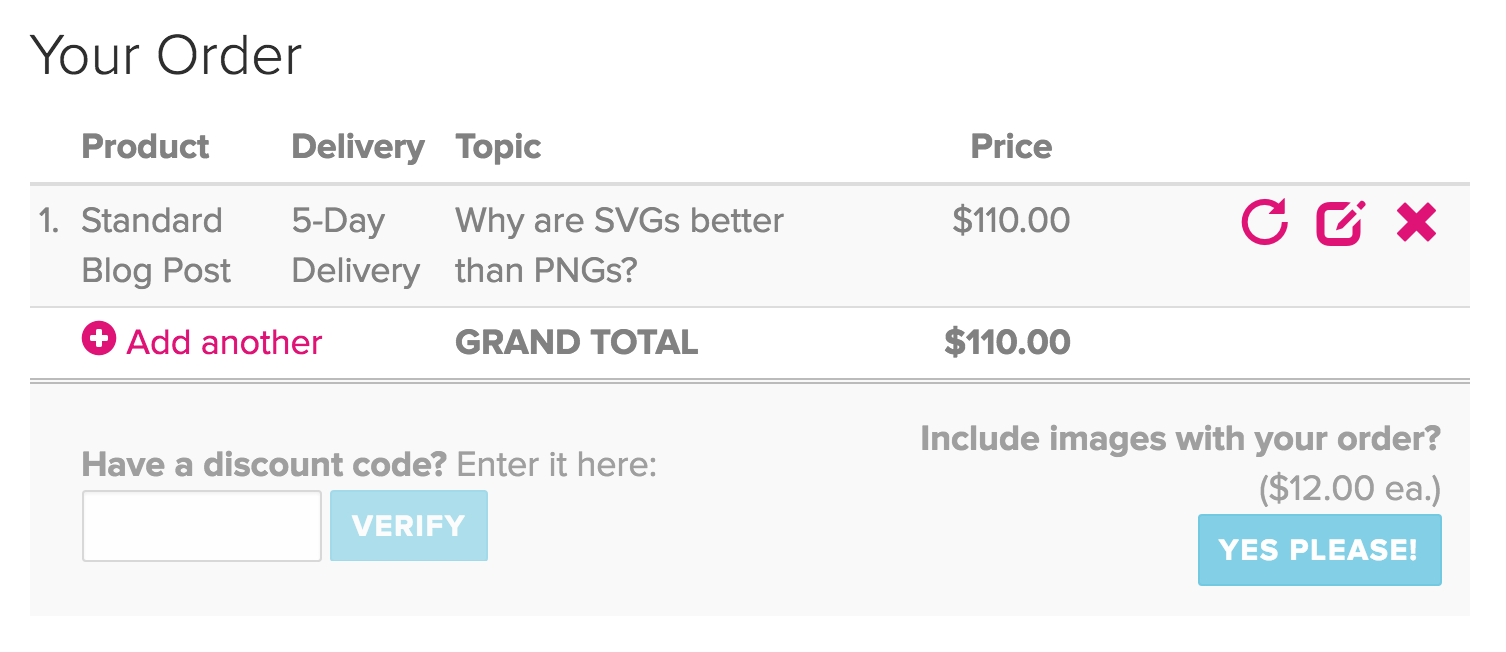 Our shopping cart makes reviewing your order easy. You have the ability to go back to edit or make a payment from the shopping cart.
Payments & Receipts
The last step is to pay for your order. An order is submitted for assignment as soon as payment is made. Expect a confirmation email about your order for your records.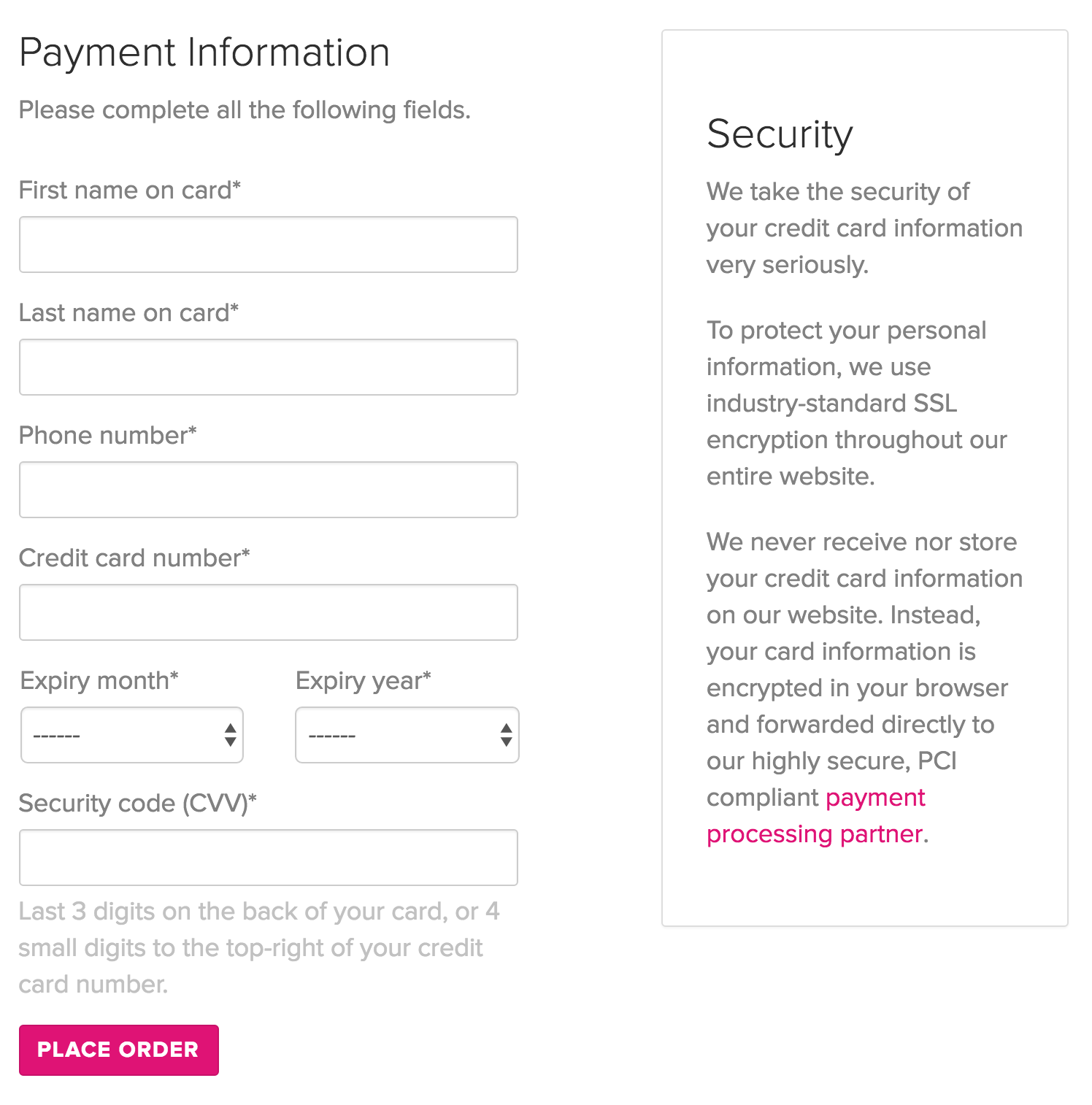 We provide a secure connection for payments to keep personal information safe online.
Receive a Receipt
Keeping track of your expenses is easy with our receipts. Clients receive a receipt via email immediately after placing an order.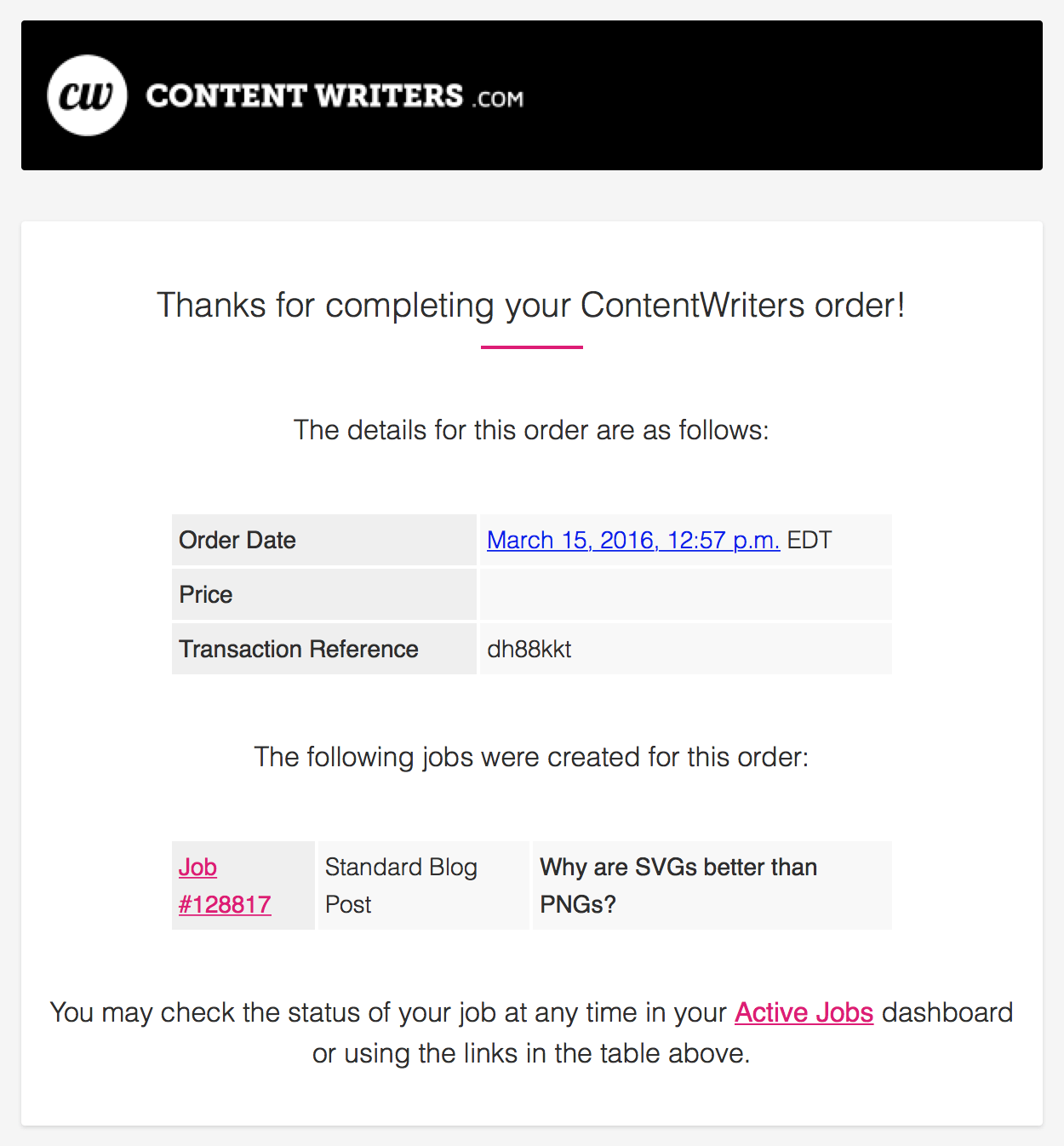 This receipt confirms your order. The information provided on your receipt is perfect for budgeting.
Using Labels
Organize ordered content with labels. Each product can be labeled with a color and title. This makes finding products you've ordered quick and easy.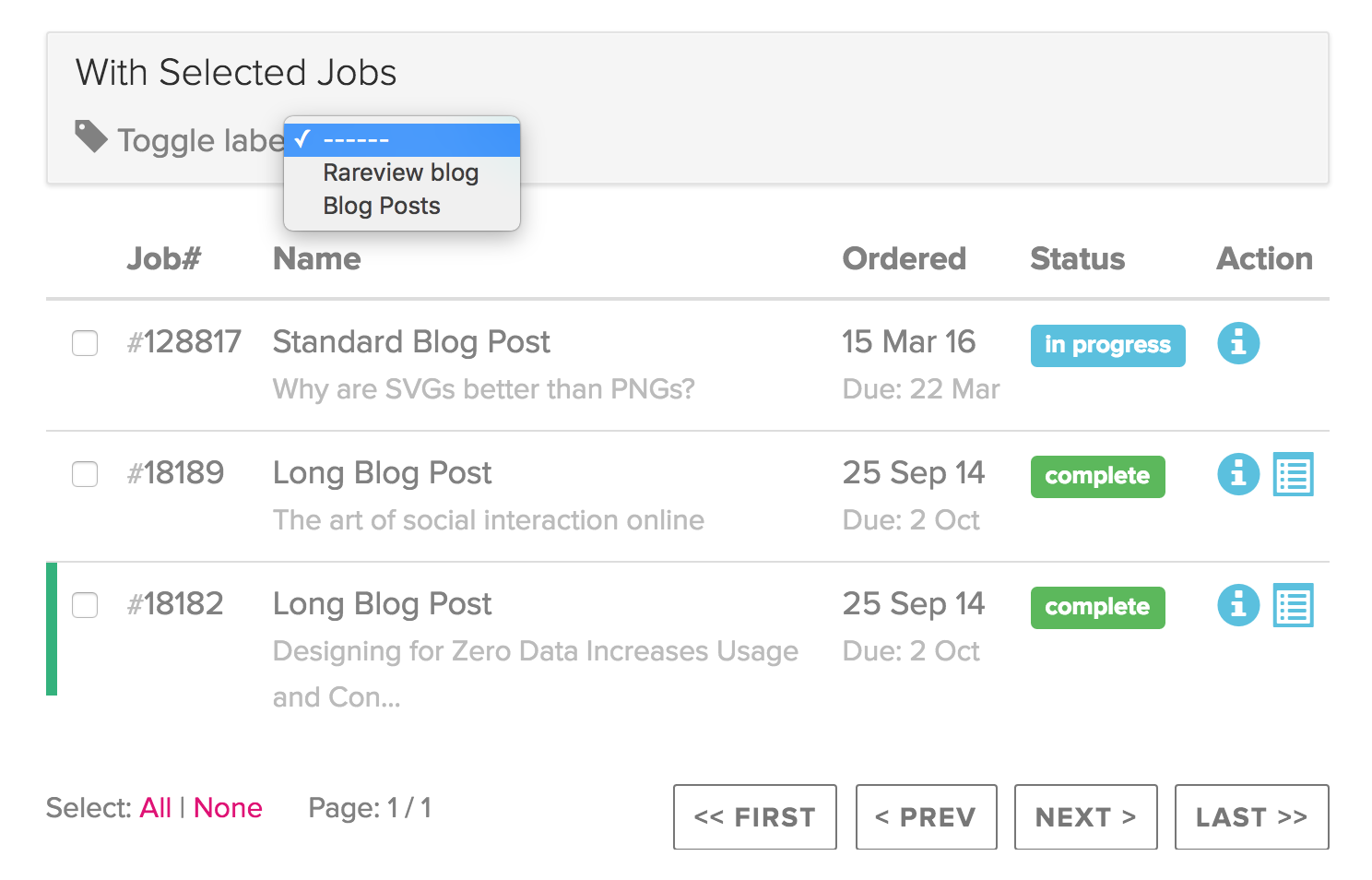 This is how you can create labels for your orders. Choose a name and color for labels.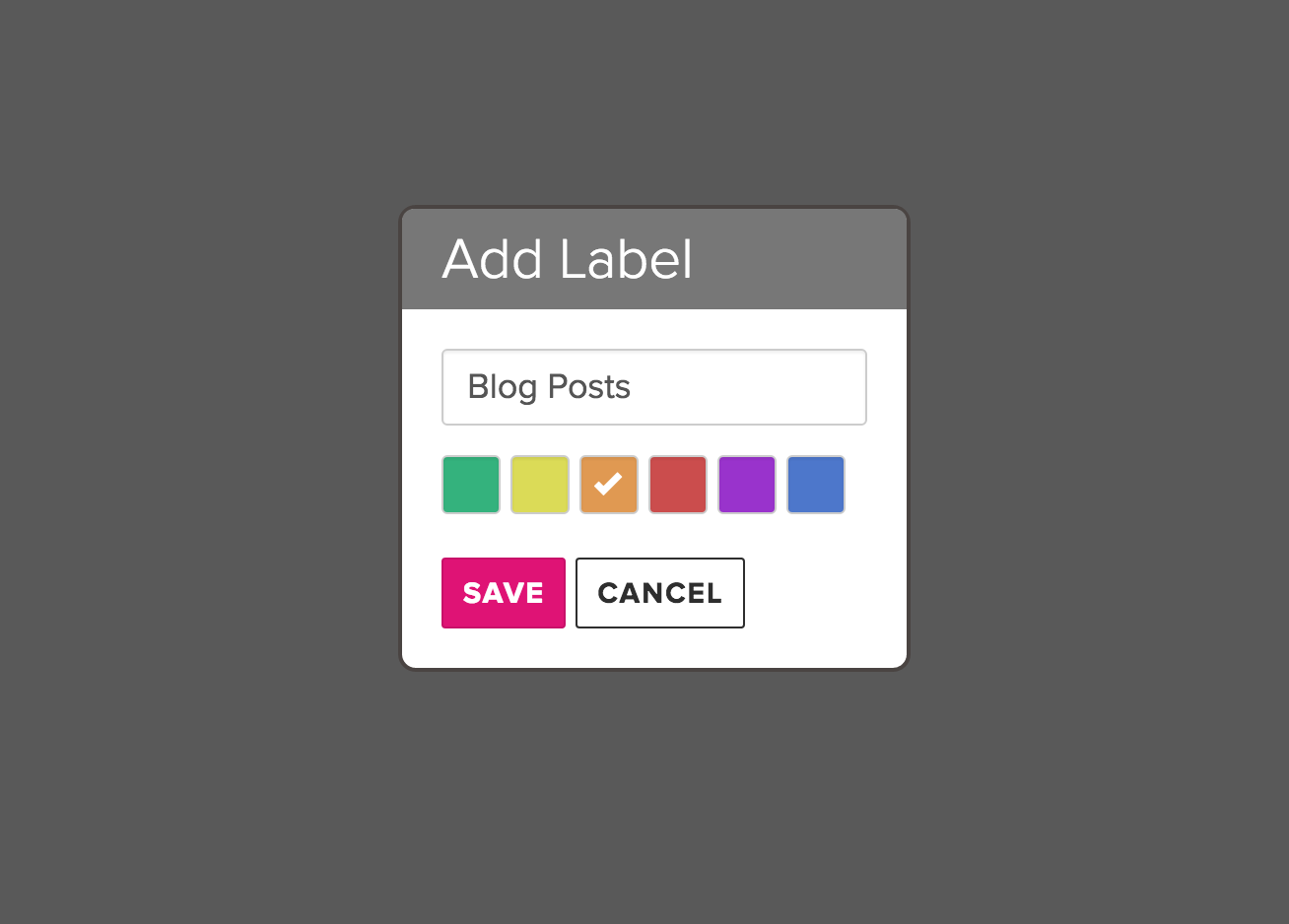 Place labels on orders to keep your content organized on your ContentWriters dashboard.

Filter orders by label. Choose a label to see all the content you've ordered and received.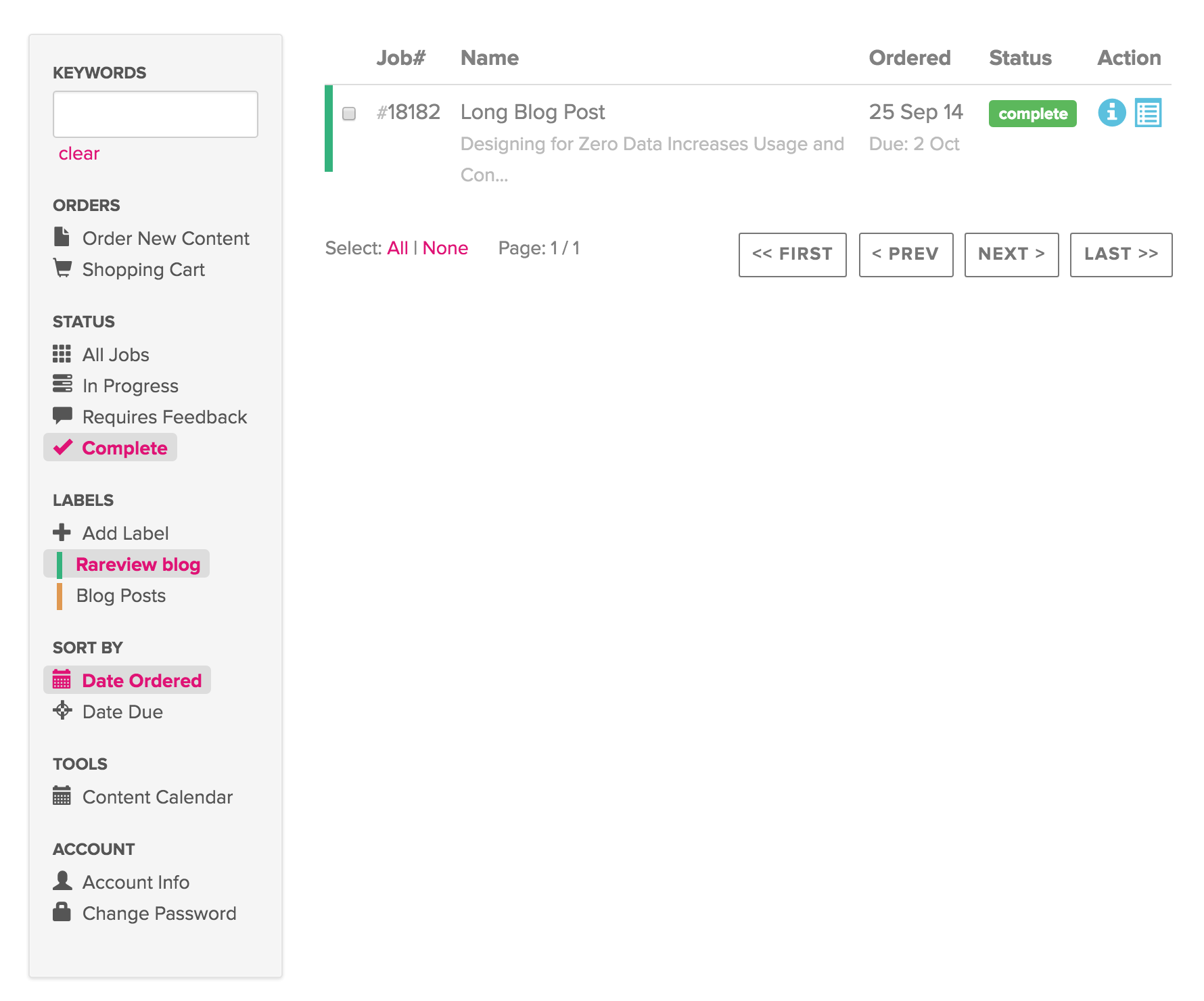 Content Deadlines
ContentWriters has two options for content delivery. You can choose a five business day delivery, or a three business day delivery for an additional $10.

You choose how quickly you want your content. Select five business days or three business days for an additional fee.
Approving Content
You will receive an email with your order attached to it. Approve or request revisions to your order by completing the feedback form. You will have a clearly marked review period in which you can request revisions. Upon approval, complete the feedback form regarding your satisfaction with the content.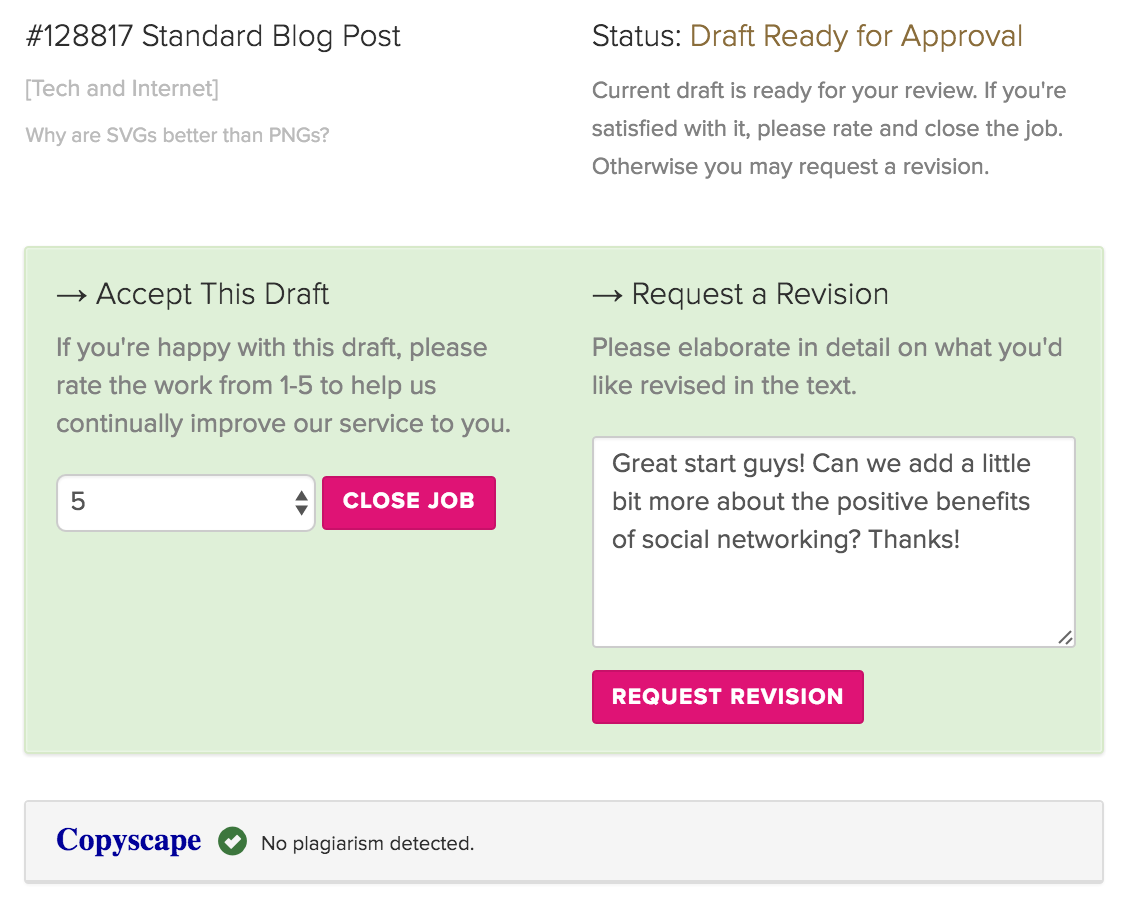 Feedback from you is important to us, as we are constantly working to improve the service we provide. This is why we ask you to provide feedback following each completed order.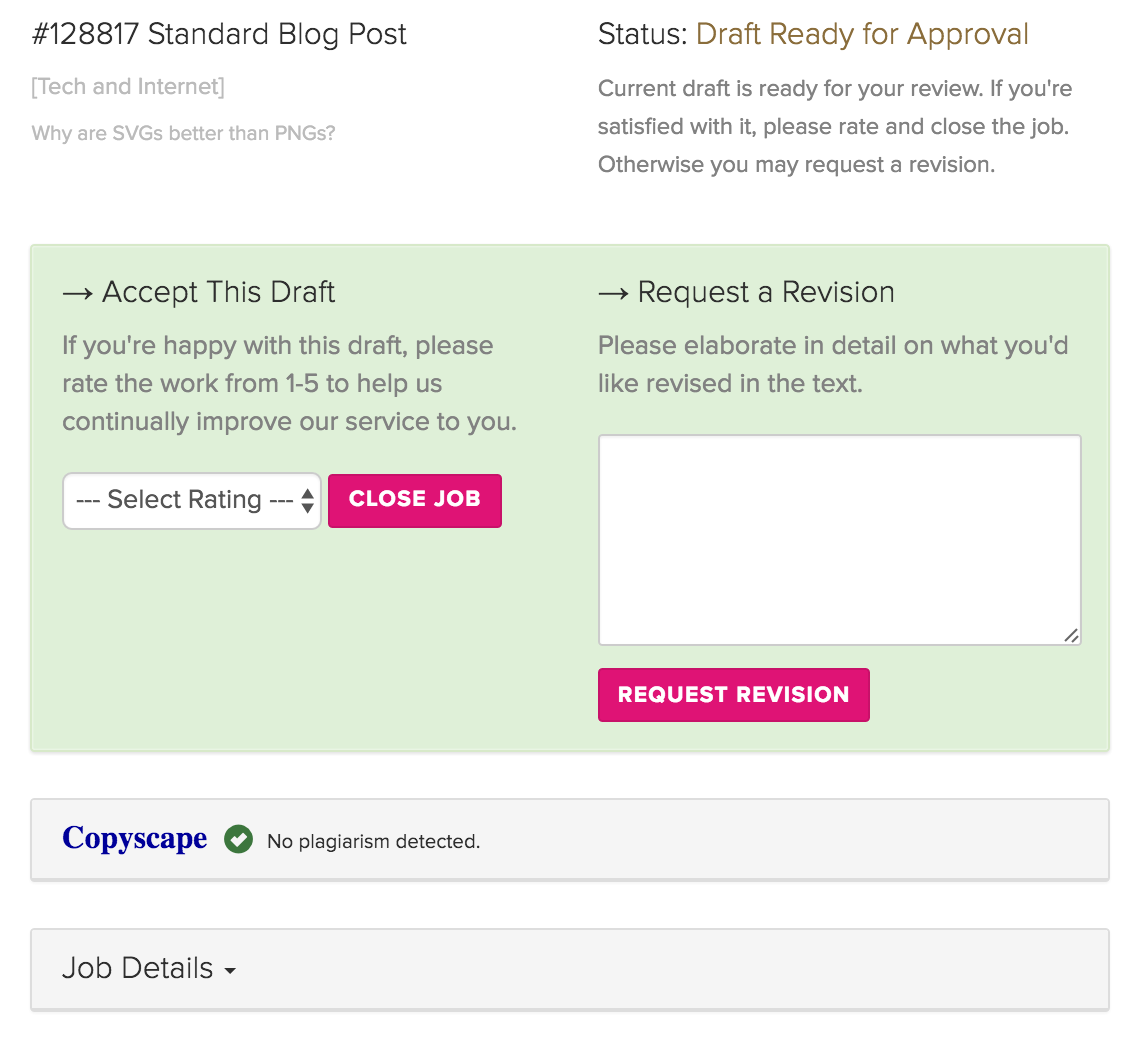 We want to know how we did on the content you received from us. Rate your satisfaction from 1 to 5 with 5 being completely satisfied.
Requesting Changes
ContentWriters believes in total, 100% satisfaction. To that end, revisions are included with each order.
To request a revision, click on the Active Jobs link in the email you received with your order. Explain the revisions you would like in the box labeled Request a Revision. Click on the Request Revision box.
As a subscriber client, you will have access to unlimited revisions. If you're not on a subscription, each order will have 2 rounds of revision included. You'll be able to clearly see how many revisions are available on each assignment in the dashboard.
Our Traffic Director will review the revision request and send it to the writer. You will receive your revised content as soon as it is complete.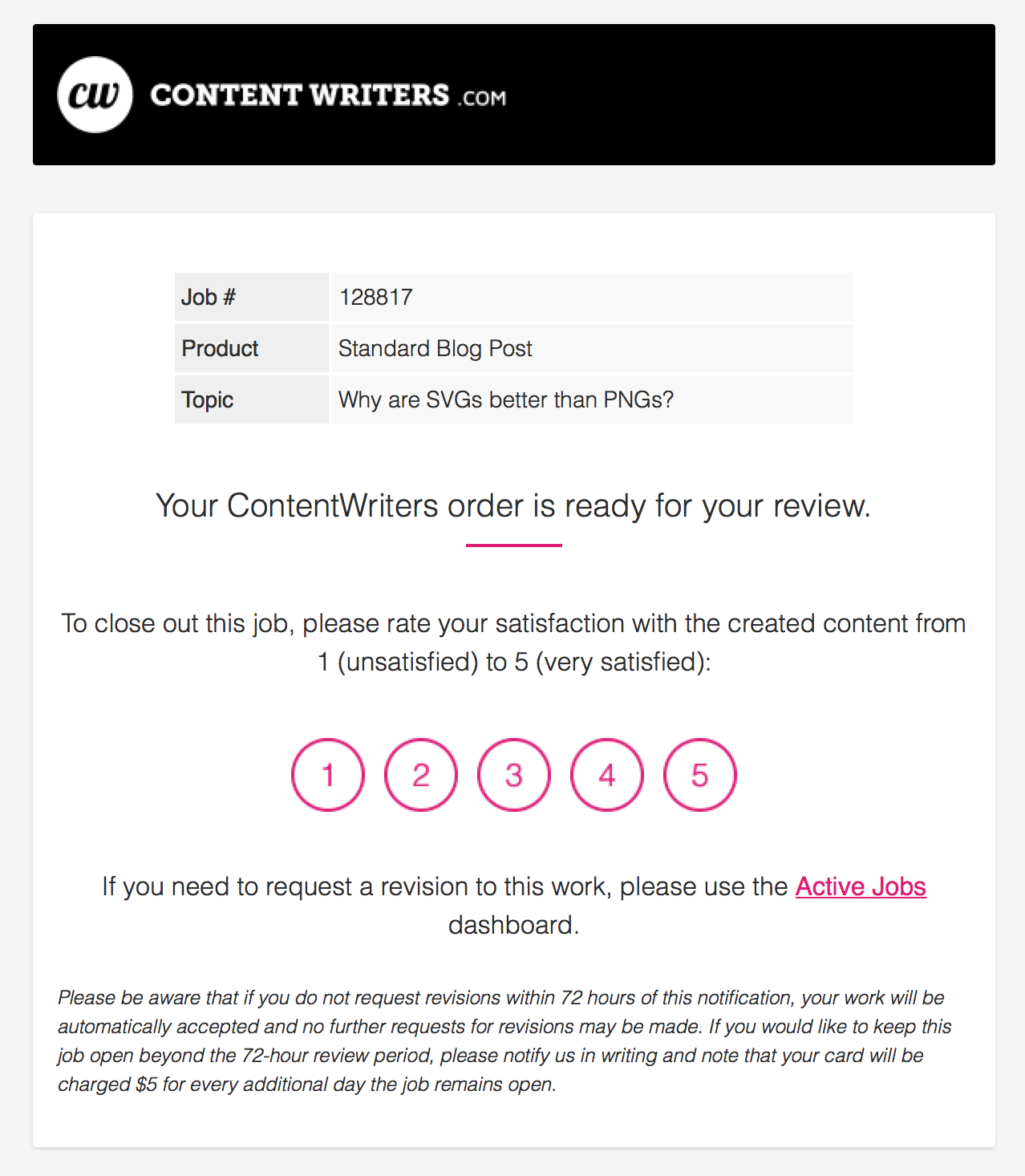 Approve content or request a revision with an explanation of what you'd like changed on this page.
Bulk Orders
Place a bulk order by completing an order form for each piece of content you'd like to order. You will see all the products you've ordered in your shopping cart.

Select the number of articles you'd like to order. You can provide details for each product by completing an order form.
Exporting Content
Content is delivered with an email. The email contains a TXT, HTML, and Word document for convenience. Simply right click on the document you would like to use and click on Save As to save it to your computer.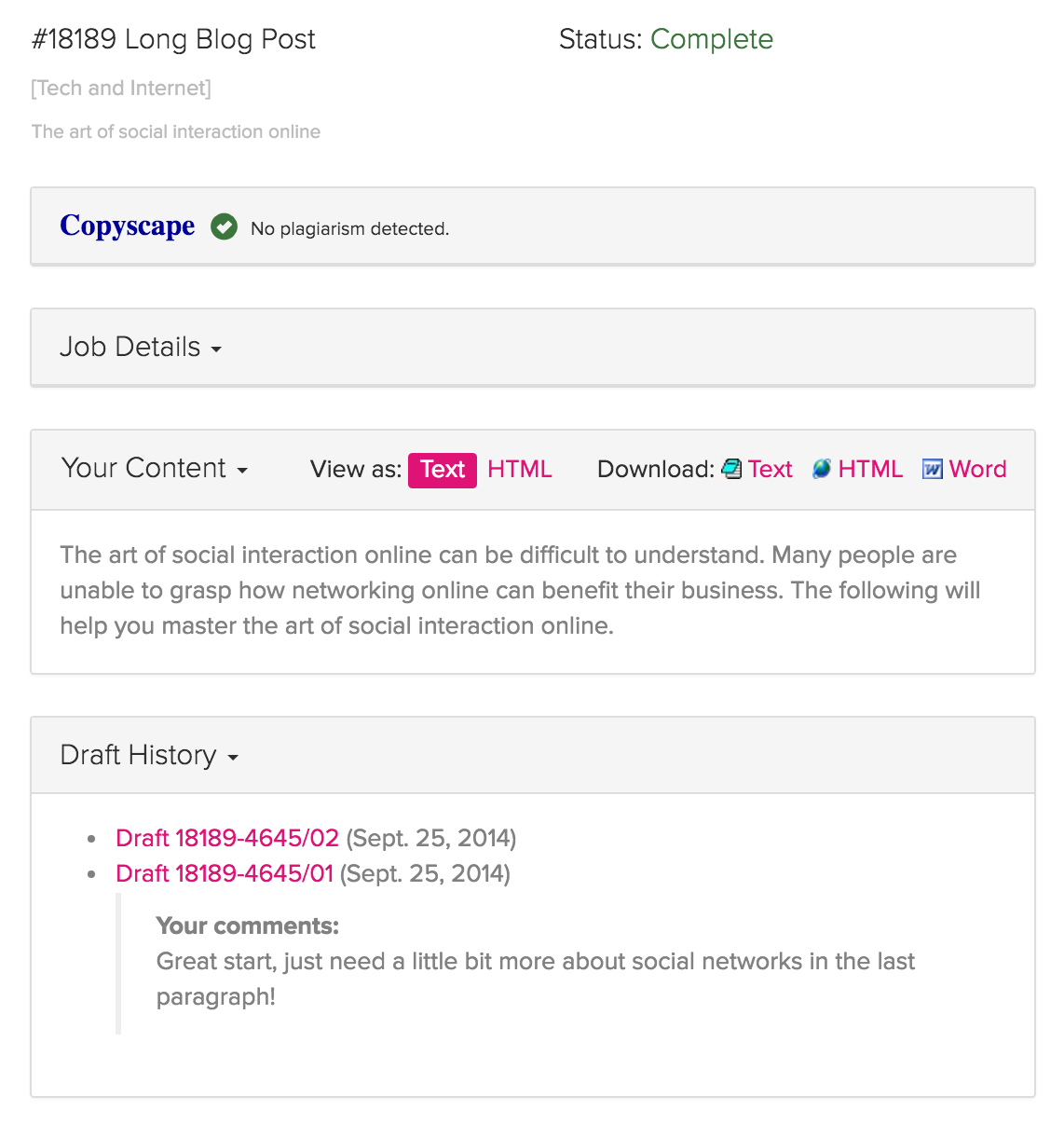 Right click on your mouse to save the document. To open it, double left click on your mouse.
You can also find your content online. Go to your account, click In Progress on the left sidebar, then click Review on the right. The draft can be found and downloaded in the Draft History.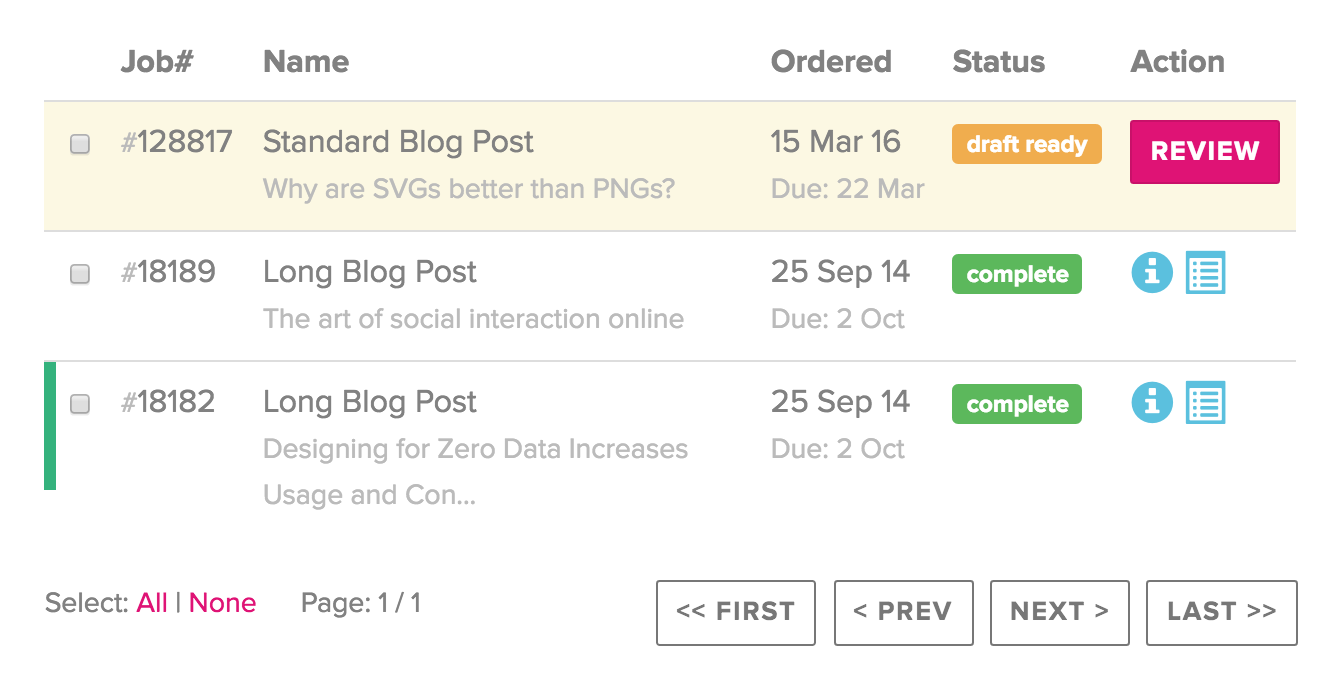 Click on the draft to download it to your computer. Open the file from the location you downloaded it to on your computer.