Outsourcing Your Content? How to Do it Without Losing Your Voice or Quality
The decision to start outsourcing your content has been made. Now, what's the next step?
While having someone else create your marketing content for you sounds like a dream, now you have a lot of unanswered questions swirling in your head.
How can you be sure you've found the right person to deliver quality content? How can you be sure your content will still sound like you? How can you trust someone else to get it right?
Luckily, with just a little bit of planning and monitoring, you can confidently start outsourcing content and free up more time to handle other aspects of your business.
Benefits of Outsourcing Your Content
First of all, why outsource in the first place?
#1 It creates more time
This is a huge one. When you're running a business, you don't have time to handle all the little tasks. There's so much to get done, and your time is better spent managing and working with clients. Not spending countless hours creating marketing content.
#2 You can create even more content
With someone dedicated to creating content for you, your business can start pumping out even more content. The result? More content means more ways to promote and more opportunities for customers to find you.
#3 You get added expertise
If you're outsourcing your content to someone who knows how to create it, you gain a working relationship with others who have marketing expertise. Working with an outside POV can greatly influence your brand presence.
How to Start Outsourcing Your Content
Now that you know why you should be outsourcing your content, let's look at how. Here are 4 tips to help you outsource your marketing content — without losing your voice or quality.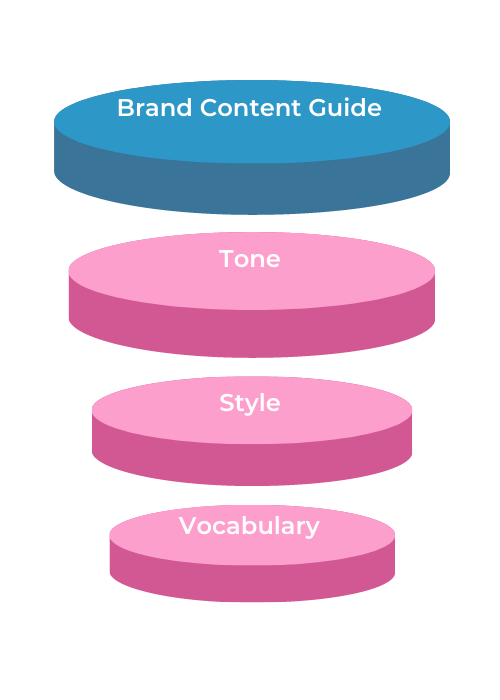 #1 Create your brand content guide
A brand content guide will not only help clarify what you want (and expect) in your created content, it will establish clarity on your brand's unique style and voice. Plus, it helps keep your content consistent.

This differs slightly from a brand style guide, which can include visual branding aspects like color and fonts.
Your brand content guide includes elements like:
Tone. How does your content sound? Are you funny? Slightly sarcastic? Authoritative?

Style. Does your content follow a specific style? Maybe you like headers and bullet points. Or short punchy sentences over longer ones. What POV do you write from?

Vocabulary. Are there certain words you like to use? Are there certain words you absolutely want to avoid?
You may also choose to include examples of what to do and what not to do. Remember, the clearer your guide is, the easier it will be for someone else to write your new or refurbished content.
#2 Know your marketing strategy
You already have your brand content guide, but you also need to be clear about how you plan to market your digital property.
For example, your writer should know how you want your content to sound, but they also need to know who your content should reach. This is why determining your target audience is vital.
In fact, a skilled writer will be able to finesse the words in a way that speaks directly to the people you are trying to attract.
Another marketing aspect that you need to get clear about is SEO. Be very specific here.
Does your content use keywords, and if so, at what ratio?

Do you have keywords already picked out that you want to target?

Do you want to avoid certain keywords?

Do you want those keywords placed in certain places in the content?
Keywords and SEO can get really complicated if you allow them to, and some people like to do SEO a little differently. If you're particular about it, make sure your strategy is clearly laid out for those working on your content.
#3 Create your topics ahead of time
Another way to ensure that your content maintains your brand voice and quality is to simply pick your topics ahead of time.
Creating topics, but still outsourcing the writing of your content will still save you a ton of precious time.
This isn't a task that needs to be done daily. You can do a brain dump once or twice a month, or simply keep a running list of topics and add to it whenever inspiration strikes.
Doing this will allow you to maintain control over your content and what your business shares, while handing off the bulk of the work.
#4 Have a review process
While someone else writes the content, you may choose to continue to review all the content — or hire an editor to do it for you.
This ensures the content is still on-brand with your voice and style giving you peace of mind about what your business is posting on the IoT.
Choosing an editor is much like choosing a writer. This person should know your content style, voice, tone, and marketing preferences inside and out. You may also look for someone with proofreading experience to catch any lingering grammatical or spelling errors as well.
Why? They're kind of like your last filter before your content goes out to the public. They put the polish on it to make sure it's all shiny and ready to be seen.
Besides looking over the words in the content, your editor might be the one to:
Add in branded images

Fix up the format of the content

Add in or take out keywords for SEO purposes

Add links to your content

Upload and publish the content when it's ready
Wrapping Up
Content marketing is an essential part of your business. But you also know that your time is better spent on other tasks.
That's when outsourcing your content can be a lifesaver! And the good news is, with proper planning and detailed instruction, you can ensure you get quality content without ever sacrificing your business' authenticity
карта рассрочки срочно


Corinne is a writer and blogging strategist, who specializes in finance and online business. After earning her BA in English, she began working in the fast-paced finance industry. After 6 years, she left it all behind and turned to her first love, writing. Focusing on valuable content that not only teaches and inspires, Corinne uses words to help businesses get the visibility they deserve online. She lives in Hawaii with her husband and two kids.