Follow These Best Practices When Transitioning from In-House Writers to Outsourcing Content
Customers are consuming more content than ever and internal marketing departments are struggling to keep up. And, with 76% of content marketing teams consisting of less than 3 people total, it's can feel almost impossible to create as much content as you need to stay competitive.
From blog posts to social media descriptions and everything in between, your in-house writers only have so much fuel in the tank! They can't possibly work every waking hour to keep up with demand.
The solution? Outsourcing your content.
The Ins and Outs of Outsourcing Written Content
There's a bit of misconception around the idea of outsourcing your content needs. Let's debunk those myths right now.
"Outsourcing means settling for low-quality content." Not at all! By outsourcing your content, all your business is doing is adding another set of skills to the mix. Whether you work with a freelance writer or a managed service, you're still set up to receive engaging, well-written content.
"By outsourcing, I don't need my in-house writers anymore." Again, not at all. In-house writers play an integral role in your content marketing and internal organization efforts. Outsourcing content takes the burden off of your writers' shoulders and frees them up to work on bigger, more pressing content tasks.
"Outsourcing content is time-consuming and stressful." Sure, it can be, if you're not clear about your objectives and receivables. Quality content is always the result of constant and clear communication, regardless of where and how it was created. Outsourcing content can be a fun and rewarding process if you're honest, open, and always in communication with your external writers.
When you decide outsourcing content is a good option for your team, you can choose to work with freelancers or managed services.
Working one-on-one with freelancers will give you full control of the process and provide direct communication with the writer. Managed services, on the other hand, take care of all of the administrative work such as coordinating deadlines, assigning a writer, and communicating project details. It's up to you to decide which route is best for your team and content needs.
And, you wouldn't be alone—more than half of content marketers outsource at least one content creation task.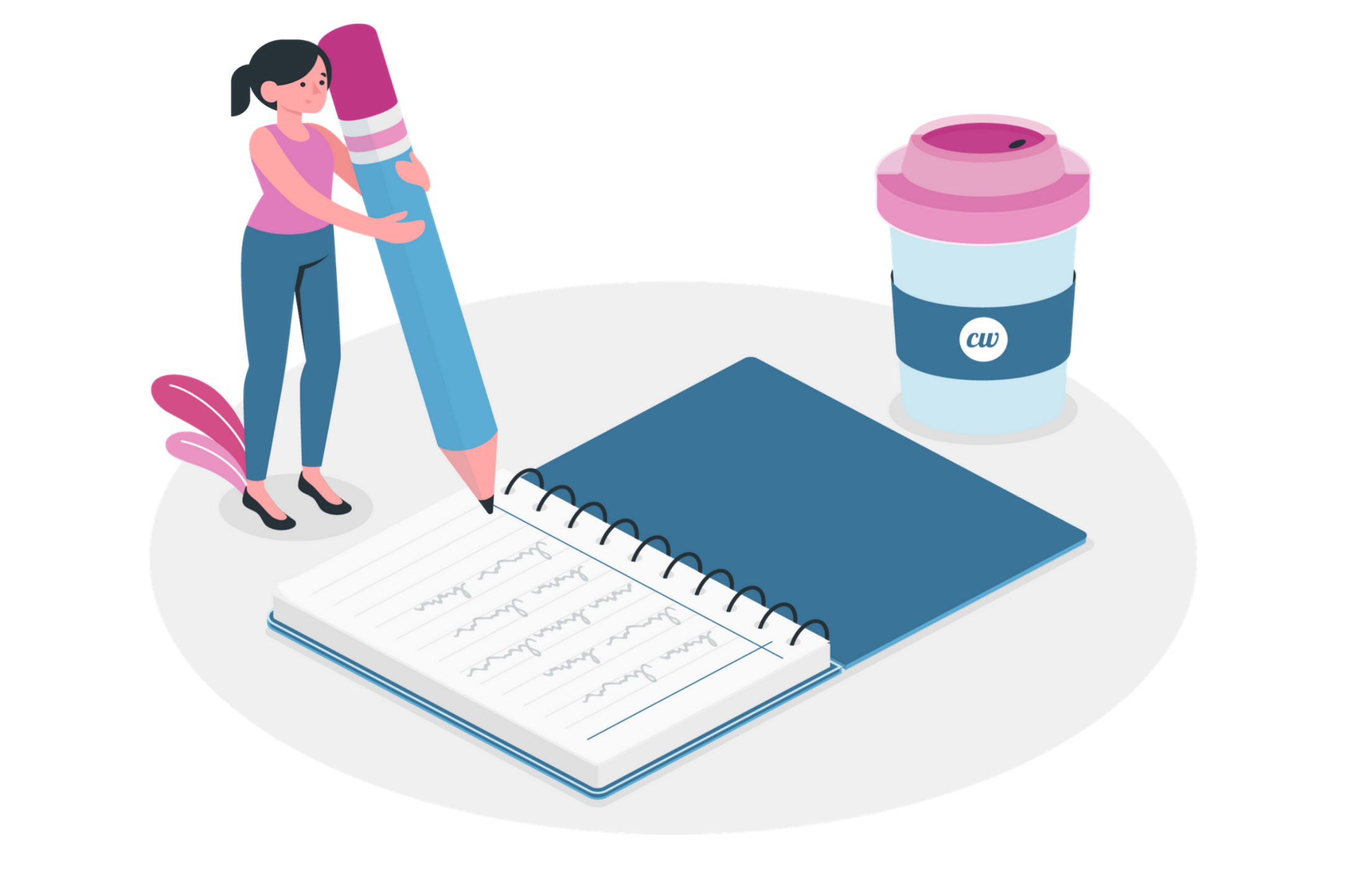 5 Powerful Benefits of Outsourcing Content
In addition to providing your team with a library of content for immediate and future use, outsourcing content provides your team with a handful of other benefits, such as:
1. Streamlined Processes
Writing is not a linear task. You can't close your eyes, push a couple of buttons, and hope a well-written and interactive content piece magically appears.
Writing takes time! Time to research. Time to edit. Time to write. You get the picture…
But, businesses don't always have all that time on their hands.
By trusting an outsourced writer or team of writers to take care of the content writing process, businesses can streamline and potentially expedite their marketing processes.
2. Renewed Internal Focus
Sales emails, blog posts, social media copy, you name it—there's always new content to write.
But your in-house writers are human. There's only so much content they can feasibly write without burning out.
Outsourcing content allows your internal team to work on bigger, better things within the company.
With a focus on higher priority responsibilities and projects, outsourcing content can also improve the output of your internal team. They no longer have to deal with last-minute requests for an Instagram caption or landing page. Those tasks can be outsourced!
3. Ability to Meet Deadlines
Again, your team can only work on so much content at a time. An aggressive content marketing strategy requires that content be created constantly.
Guess what?
When you outsource your content writing needs, you can meet those rigorous deadlines!
Employ a team of freelancers or writers from a managed service and get the job done on time.
51% of marketers report that a lack of time and the inability to produce a higher volume of content is the reason they chose to outsource content tasks. Join them!
4. Optimize Costs
One of the biggest benefits of outsourcing content is the ability to optimize your marketing budget.
When you outsource your content efforts, you spend far less than you would by hiring a full-time in-house content expert. These cost savings can then be used to:
Purchase new content marketing software or tools for your team
Fund social media or PPC ad campaigns
Give your in-house team a raise
Optimize or boost existing marketing efforts internally
And, who couldn't use a little extra money in their budget?
5. Peace of Mind
Listen, content marketing can be stressful. Adding more tasks and responsibilities to your plate and the team's to-do list only creates more stress.
Give yourself and your company peace of mind by hiring external writers.
When you outsource your content creation tasks, you can have peace of mind knowing they'll be completed on time and will meet your project objectives. You can focus on other projects or responsibilities while your content is created.
And, if for some reason the content isn't up to par, there are always more freelance writers ready to take on the job.

How to Transition from In-House Writers to Outsourcing Content
Fortunately, transitioning from a full team of in-house writers to outsourcing content is quite easy.
Follow these steps for a seamless experience.
Speak With Your Team
At first, your in-house writers may be confused as to why content tasks are being outsourced.
As the leader, it is your responsibility to explain why outsourcing is happening. Discuss the benefits of outsourcing and how it will help them with their job responsibilities in the long run.
Also, make it exceptionally clear that this is not indicative of their job performance and that their job is not on the line. Outsourcing is simply a way to keep up with demand while maintaining internal order.
Create a Plan for Outsourcing
Don't randomly pick and choose what content gets outsourced. Instead, work with your in-house writers to devise an outsourcing plan.
Be sure to discuss:
The types of content that are cumbersome, tedious, and would benefit from being outsourced
What is expected of the outsourced writers
The expected deadline and turnaround time for outsourced content
Defined goals for the outsourcing plan (how much content must be produced per month, what metrics to track, etc.)
Having every aspect of your outsourcing strategy organized will help make the process easier for all.
Determine How You'll Outsource Content
There are three main ways to outsource content:
Direct to freelance writers – Requires you to research and find writers in your industry
Content marketplaces – Websites like Upwork let brands post job listings and connect with freelance writers. These marketplaces can be convenient, but open up the applicant pool to anyone.
Managed content writing services – Managed services pair your business with an account representative. That rep is responsible for working as the liaison between you and their team of expert writers.
For businesses with extensive outsourcing needs, managed writing services are the best option.
Give Clear, Honest & Transparent Directions and Feedback
Even the best writers won't be able to knock it out of the park on their first project if they don't have clear directions. To combat this, you must be willing to provide thorough directions as well as honest and transparent feedback about their work.
It will take time for your designated writers to become acclimated to your brand, objectives, and processes. Providing precise direction and feedback helps everyone involved!
Allow your in-house writers to get involved, too. From putting together task instructions to reviewing the drafts, their feedback is imperative.
Designate an Outsourcing Point Person
Whether you choose to go the direct route or work with a managed service such as ContentWriters, it's key to designate a point person within your company to communicate with the writers.
This individual will be responsible for communicating with the writers or account representative, organizing content needs with your in-house writers, and ensuring that all goes according to plan.
Without such a person, outsourced writers will not know who to communicate with or report to for their assignments. And, having one person manage all of your outsourcing needs will make the lives of your team members easier.
Repeat Until You Find a System That Works
It takes time to develop a successful outsourcing system. With this in mind, don't be afraid to make changes if your outsourcing efforts are not working out both internally and with the external writers.
Regularly check in with staff to receive their feedback, too. Ask your in-house writers and marketing team:
If the outsourced content is helping or hindering their projects and company goals
If the content being received is up to company standards and meets defined objectives
What improvements could be made to improve overall content marketing results
Repeat the process of planning, outsourcing, and providing feedback until you create a system that generates consistent results for your company and your in-house team.
Trust ContentWriters With Your Outsourced Content
At first, outsourcing your content writing may feel a little uncomfortable. After all, you're trusting virtual strangers with your brand's content!
ContentWriters works with thoroughly vetted writers to ensure you receive high-quality, optimized content that not only meets your company's needs but exceeds them. You'll never have to worry about deadlines or who's writing your content—your CW representative takes care of all of that.
Sign up today and give ContentWriters a try!
кредитная карта оформить онлайн заявку банки


Anne is a copywriter and digital marketing specialist currently residing in the Greater Nashville area. Originally from New England, she leverages her three top talents (writing, marketing, and coffee consuming) for businesses and brands of all sizes across the globe.
Anne is a 2013 Marketing Communications/Advertising graduate from Western New England University in Springfield, MA. She credits her launch into writing to her legendary elementary school poem about pizza that wowed the judges and won the creative writing award in her school district.
When not writing or working on marketing campaigns, you can find Anne at a coffee shop, exploring somewhere new, or training in martial arts as a 3rd degree black belt.