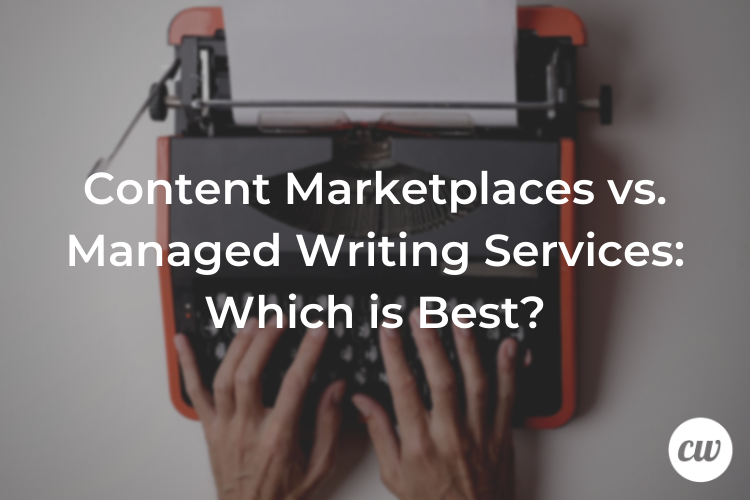 Content Marketplaces vs. Managed Writing Services: Which is Best?
Content marketing strategies have many moving pieces. From content distribution to scheduling posts, analyzing key performance indicators to refreshing old content, the work of a content marketer is never done.
But, arguably the most challenging aspect of any content marketing strategy is content creation. Between brainstorming topics and sitting down to write the content, this step takes up the majority of a marketer's precious time.
And, content isn't something you can skimp on and hope for the best. Quality content is the cornerstone of every marketing strategy, campaign, and task.
In 2020, HubSpot reported that 70% of marketers are actively investing in their content marketing efforts. For some companies, that investment lies in hiring content specialists to focus solely on content creation tasks such as writing, editing, and publishing high-quality content. SEMRush found that 78% of companies have anywhere from one to three content specialists on their teams.
However, for those who do not have the resources, time, or budget to create quality content in-house, outsourcing content creation tasks is a viable and effective option.
Outsourcing Content Creation Projects: A Quick Overview
Companies unable to hire a full-time content specialist or have more work than their team can handle benefit from outsourcing their projects to qualified content writers. These writers are usually hired on a freelance, part-time, or contracted basis.
Outsourcing content provides companies with benefits such as:
More effective use of the content marketing budget
Quick turnaround times
Affordable per project prices
While companies can seek out individual freelance writers and develop long-term working relationships with them, most businesses opt to either use a content marketplace such as Upwork or a managed writing service like ContentWriters.
What is a Content Marketplace?
A content marketplace like Upwork allows businesses of all sizes to post job listings to attract freelance talent. These marketplaces offer freelancers opportunities ranging from content writing to graphic design and beyond.
Most content marketplaces require freelancers to bid on a project.
For instance, the client will place a listing detailing their need for a certain amount of blog posts. When applying for the job, the freelancer must include their rate. This can be per blog post, per project, or hourly.
Other examples of content marketplaces include FlexJobs, Fiverr, SolidGigs, and Hubstaff Talent.
What are Managed Writing Services?
On the other side of the outsourced content writing spectrum, you have managed writing services. These businesses, such as ContentWriters, provide a full range of benefits and writing services to clients who expect to receive top quality content.
Managed writing services pair interested clients with a designated account manager. This individual is responsible for hand-selecting a writer for the client's project based on writing experience, specialties, the project scope, and other considerations. They are also available to discuss projects, writing goals, and any other content concerns with clients as they arise.
So, rather than doing the heavy lifting, clients can sit back and have peace of mind knowing their content will be delivered on time, on budget, and within the defined scope.
Comparing Managed Writing Services & Content Marketplaces: 4 Factors to Consider
For those new to outsourcing content, deciding between a managed writing service and a content marketplace can be overwhelming.
To make the process easier, we recommend you analyze these four factors:
1. Project Process
First, consider how much time and effort you want to put into the process of outsourcing your content creation.
Opting for a content marketplace means you'll be working one-to-one with the writer. While this can be beneficial, some companies and teams do not have the time to dedicate to completing all of the required tasks such as:
Writing and posting a job/project description
Vetting and interviewing applicants
Reviewing each submission or iteration of the project
Dealing with multiple payments/invoices
And, depending on the extent of your content project, this list can keep going! Content marketplaces do not have a set content process or workflow, meaning you have full control of the entire process. But keep in mind, it can be cumbersome if not organized!
For those who need a more guided approach, managed writing services offer and take care of everything including:
Account management
Topic pitching
Writing & editing
Proofreading
Plagiarism scanning
Revisions
Content calendars & scheduling
2. Project Types & Needs
Next, consider what you need to accomplish with your content.
If this is a one-time project where you need to work closely with a writer to achieve a specific outcome, a content marketplace will be the best option for your project. Websites like Upwork allow businesses to find a writer that works well for their needs and work one-on-one to accomplish an objective.
These marketplaces are also ideal if you need multiple aspects of a content campaign to be completed, such as graphic or website design.
On the flip side, places like ContentWriters provide businesses the opportunity to develop a long-term relationship with a full-service content provider. Managed writing services offer a myriad of different content types from blog posts to white papers and everything in between. This relationship is best for teams that need several types of content produced for a single campaign or objective.
3. Finding Writers
Before choosing either option, ask yourself, "How do I want to find writers for my content project?"
Do you want to be in control of the entire process or would you rather the writers be curated for your project?
With a content marketplace, you are responsible for finding the right writer for the job. You must dedicate a significant portion of time to reviewing each application, interviewing writers, and reading through submitted sample pieces. Are you willing to commit to that much work hiring an external writer?
Additionally, since content marketplaces require potential writers to bid on each project, this can make it difficult to truly find the best writer for the job. This process forces writers to compete on price rather than quality, experience, and passion for the subject.
One benefit to this structure, however, is the large pool of writers to choose from. Anyone can create a marketplace account on sites like Upwork and apply. Thus, increasing your chances of finding a great writer for your content needs.
For those without the time to dedicate to finding a writer, managed writing services always have dedicated and thoroughly-vetted writers on hand.
Managed writing services are extremely selective about the writers chosen to be on their team. Writers must first apply to the writing service before being assigned a project. Many require writing tests, submitted samples, and an interview along with a trial assignment.
By having a team of vetted writers, managed writing service teams like ContentWriters can identify the best writers for each client's needs. This gives clients confidence knowing that their content is being written by a subject matter expert or an experienced writer.
4. Cost
Lastly, it is critical to consider your budget when choosing between a content marketplace and a managed writing service.
By using content marketplaces, you'll pay less overall. But, remember—you get what you pay for!
Therefore, if you choose the lowest bidding writer, you might receive poor quality content in return.
While ContentWriters and other managed writing services may be more expensive and paid by the project, you receive quality content guaranteed along with a whole host of additional benefits.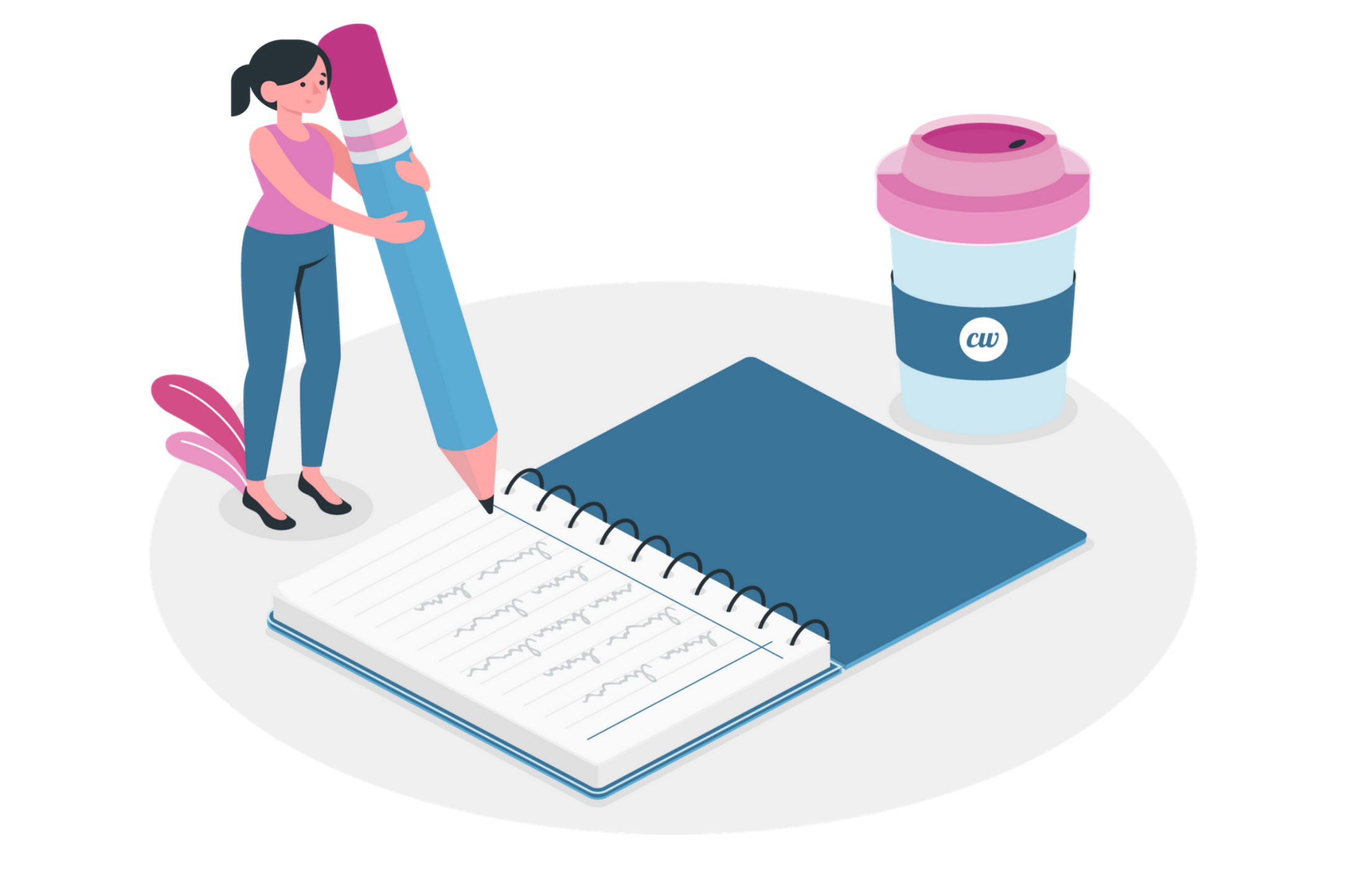 The Pros & Cons of Each Content Writing Option
Both content marketplaces such as Upwork and managed writing services like ContentWriters serve a beneficial purpose in the content marketing world. And, naturally, each option has its fair share of advantages and disadvantages.
It's up to you to determine which pros and cons align with your content marketing and creation needs!
Advantages of Using a Content Marketplace
Content marketplaces are advantageous for businesses searching for:
A quick and easy way to start creating content
No long-term content commitments
Lower budget writers
One-time project needs
Rapid turnaround times
Multiple services, such as writing, design, and coding
If your company needs an affordable method of getting a single piece of content written or a project completed on a rapidly approaching deadline, a content marketplace might be your best option.
Content Marketplace Cons
While places like Upwork offer several benefits, they do have a few major downsides.
Bidding System Issues
The bidding system forces writers to constantly underbid themselves to be chosen for work. This means that writers are often chosen solely on their rates, not by the quality of their work.
As a result, this system structure often undervalues the writers' craft, experience, education, and dedication.
Required to Choose a Writer
With a content marketplace, no one is holding your hand and telling you which writer is best for the job. Instead, you must review each application and interview potential writers.
This can be a time-consuming process for businesses with limited resources and/or staffing.
No Guarantee or Assistance
When using a marketplace, you're on your own. You are responsible for communicating with the writer throughout the process, including any edits, payment details, and so on.
If you are unsatisfied with the work, payment is not released to the writer. While Upwork does have dispute resolution services, do you want to get to the point where you have to use these resources? Not likely.
Advantages of Choosing a Managed Writing Service
There are many reasons why most brands choose to enlist the help of a managed writing service such as ContentWriters.
By partnering with a managed writing service, clients enjoy a wealth of content-related benefits, such as:
A dedicated account manager ready to help and delegate content
Multiple quality control checks from the writer, editor, account manager, and others
Numerous content types to choose from
Vetted writers are hand-selected for each project
The opportunity to develop a long-term relationship for future content success
Aside from the quality of the content produced, the sheer convenience of having all of these content resources at your fingertips is unparalleled.
Managed Writing Services Cons
Of course, a service like ContentWriters may not be right for your business if these disadvantages resonate with you.
More Expensive
Because content types are priced per project, this makes a managed writing service more expensive than a bidding system like Upwork's.
However, a per-project system ensures that all parties are satisfied with the result, including the payment.
Requires Client Commitment
While content marketplaces require constant client attention and effort, a managed writing service requires upfront client commitment.
Many services will require an initial starting fee and deliverables from the client before the project can begin. If you are not able to adhere to these commitments, a managed writing service may not be the best option for your content needs.
Ready to Make a Content Writing Service Decision?
If you still need help deciding between a marketplace like Upwork and a writing service like ours, we're here to help you decide. Let's find a time to discuss your content needs and how ContentWriters can help!
в каком банке лучше взять рефинансирование кредитов


Anne is a copywriter and digital marketing specialist currently residing in the Greater Nashville area. Originally from New England, she leverages her three top talents (writing, marketing, and coffee consuming) for businesses and brands of all sizes across the globe.
Anne is a 2013 Marketing Communications/Advertising graduate from Western New England University in Springfield, MA. She credits her launch into writing to her legendary elementary school poem about pizza that wowed the judges and won the creative writing award in her school district.
When not writing or working on marketing campaigns, you can find Anne at a coffee shop, exploring somewhere new, or training in martial arts as a 3rd degree black belt.