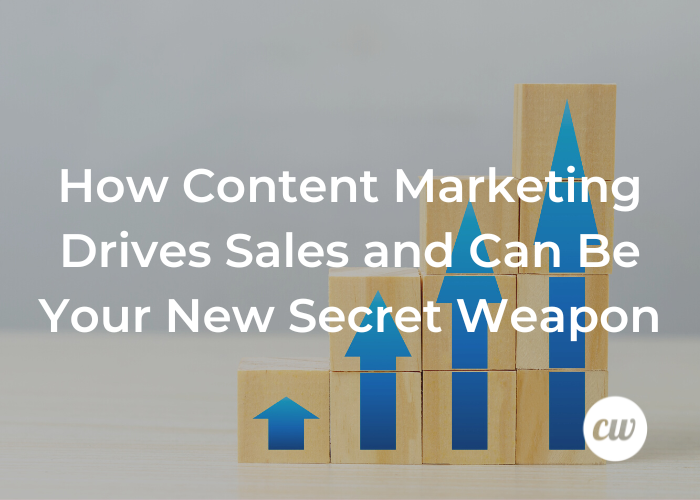 How Content Marketing Drives Sales and Can Be Your New Secret Weapon
Content marketing has long been recognized as one of the most effective ways to build brand awareness for your business. However, many people don't realize that the benefits of content marketing go far beyond simply getting your website in front of more people.
Content marketing is also an excellent way to drive bottom-line sales—if used strategically. It's also one of the only digital marketing investments that, if used consistently, will continue to generate residual ROI over time.
Whether you are a content marketing veteran or not, we will share with you how content marketing can drive sales and how you can use it to turn your business into a lucrative, well-oiled machine.
What is Content Marketing?
Content marketing is a form of online marketing that focuses on creating, publishing, and distributing high-quality content to acquire new customers, engage with existing ones, and convert prospects. This type of marketing includes blogs, social media posts, videos, infographics, downloadable content, and more.
The biggest mistake that many businesses make in their content marketing is using it as another way to promote their brand, products, or services. An effective content marketing strategy does not directly involve promotional material and sales collateral. It is intended to provide value to potential customers.
While this may seem counterintuitive, creating content that adds value to your customers' lives will earn you more brand authority, lifetime value, and new customers over time.
How Content Marketing Drives Sales
The objective of content marketing is to attract an audience by leveraging valuable information related to the subject matter that you are trying to promote. You can create and scale a powerful online sales funnel by creating content that can appeal to users at all stages in the buying journey.
Below, we have outlined some of the ways that content marketing can benefit your marketing strategy and ultimately drive more sales for your business.
Generate Brand Awareness
An effective sales-generating content strategy must adhere to all parts of the buying journey (awareness, consideration, and conversion.) If your ultimate objective is to drive sales (which, if you're reading this article, it probably is), you may be tempted to skip this step and jump right to conversion-oriented content. However, you will be severely restricting the ultimate number of sales you can earn by doing so.
Top-of-funnel or awareness-generating content is the first step in creating a content marketing funnel that will work passively to bring you more sales. By using content marketing to generate brand awareness, you are increasing the pool of relevant users who now know who you are.
By offering that first touch point, users will feel a sense of brand familiarity that will make them more inclined to buy from you in the future. Furthermore, if they find this piece of content helpful, they may start coming back to the site, join your email list, or follow you on social media.
Awareness-generating content can include blog posts or social media content that addresses the broader topic your user is interested in. Because the goal of this content is to reach as many people in your target audience as possible, it's a good idea to use keyword research or address trending events or topics related to your content.
Generate Product Excitement
This type of content should be used in tandem with more general, awareness-generating content. But it can be very effective at generating product interest and even earning you sales on the spot.
While oftentimes, we discourage businesses from creating content that focuses on their products or services—with the rise of social media's "TikTok Made Me Buy It" trend, we have witnessed a rise in product-oriented content that people actually love.

This strategy involves using social media, and preferably user-generated content (UGC) or influencers, to generate hype around your products. This tactic tends to work best for eCommerce brands and is most effective when you have users and influencers share the content on your behalf (rather than posting it on your page.)
While it's ok to periodically share user product reviews and demonstrations on your own social media pages, remember that users are there to be educated or entertained…not to be sold. For this reason, if you share product-oriented content, be sure to do so sparingly, among plenty of other types of content.
Generate Website Traffic
The next way that content marketing can help you drive sales is by earning you more website traffic. By creating content that addresses popular search queries and uses SEO best practices, you can drive more relevant traffic to your website. Not every session that you generate with this content is going to arrive at your website with intention of buying, but some of them will.
And for those that aren't ready to buy yet, they now have developed a sense of brand trust and familiarity that, again, will make them more likely to choose you when they are ready to make a purchase.
Blog posts are considered by many to be the most effective form of traffic-generating content, and you can maximize the traffic generated by sharing these posts on social media platforms like Pinterest or Facebook. While you don't want to over-promote your brand or products in this type of content, it's ok to include a subtle CTA at the end (like we did at the end of this very post) or include a subtle mention of how your business can help solve this particular pain point or problem.
Create Viral Growth
Whether your business is just starting or you have been around for a few years, it's no secret that virality can help your business explode. And what is the number one, most effective way to make your business go viral? You guessed it—content marketing!
Many brands have found success simply by creating a viral piece of content—from the ALS Association's "Ice Bucket Challenge" to Blend Tec's "Will It Blend"—you can probably think of many businesses you came to love due to a great piece of content.
While there is no secret formula to virality, by creating consistent content that entertains, educates, and generates shares, you can generate more publicity, website authority, and new loyal customers.
Generate Leads
Content marketing can also be an excellent way to generate leads for your business. Try creating a downloadable piece of (great) content that your users can access for free in exchange for an email address or another way for you to contact them in the future. The key here is to create a freebie that adds value to your target customers' lives and pain points.
The better the content is, the more likely it is that people will give you their information and even share it with their co-workers and friends.
For example, if your business is in the food industry, you may offer a free recipe book. If your business is in the fashion space, perhaps it is a dress-code guide. If you are in SaaS, maybe it is an in-depth guide to implementing a technical product or hiring industry talent. The possibilities are virtually endless.
Create a landing page that discusses the piece of content and includes a lead form where users can sign up to receive it. You may even want to feature the page in your main navigation, include a pop-up window that entices users to get it, and in some instances, it may even be worthwhile using paid ads to promote it.
Convert Leads
Now that your funnel generates awareness, recognition, and leads for you, it's time to convert your users. Again, it's crucial not to over-use this type of content and to do it tactfully so your users don't feel like they are being spammed with promotions. The goal of this content is to create the additional piece of information that the previous users (those who visited your site or gave you their contact information) need to make the purchase.
This type of content can include a comparison chart of why you are better than your competitors, a video that shows how your product works, or a social media post that offers a limited-time discount. The type of content you should use for this will depend on your product's complexity and price point, your target audience, and the length of your customer's buying journey.
If you are unsure what kind of content is best for your business, it is a good idea to talk with the sales team and see what the most common questions are that come up. If you don't have a sales team, refer to comments on your social media posts, inbox messages, or forum threads to learn what prospective customers want to know.
Increase Customer Lifetime Value
Finally, one of the best ways that content marketing can drive sales is by getting previous customers to keep coming back. Often times it's easier to retain existing customers (or clients) than earn new ones, and content marketing is an excellent tool for retention. Repeat buyers will ultimately improve your customer lifetime value which can exponentially increase the ROI of your content marketing funnel.
Content marketing can help keep your brand top of mind and generate loyalty within your prior customer base. By posting content on social media or on your blog that continues to bring value to your customers, they will continue to see your brand as a thought leader and trusted source in the space.
Tips for Creating Content that Generates Sales
Now that you understand how content marketing drives sales, we wanted to leave you with some tips on how to create the most effective content possible.
For starters, understand your target audience and the kind of content that may interest them. Put yourself in their shoes, or talk to them directly and see what kinds of questions they have and the pain points they deal with daily.
Secondly, use content to educate and entertain—not to sell. Selling will come as a byproduct of good, valuable content.
Finally, pay attention to what's working and do more of that. There are many tools out there that can provide you with social media and website analytics to help you determine what kind of content your users are most engaged with. Don't keep reinventing the wheel if you find something that is resonating.
Remember, consistency is the formula for success when it comes to content marketing. Not every piece of content you create is going to move the needle, but over time, all the content you create will begin to work in unison to create a beautiful sales funnel for your business.
If you need help generating high-quality content consistently, consider using Content Writers to get the job done.


Emily is an experienced digital marketer with almost a decade of experience helping businesses scale through online channels. In addition to her business background, she is also a personal trainer and nutritionist and runs a growing wellness blog called Girl Let's Glow.