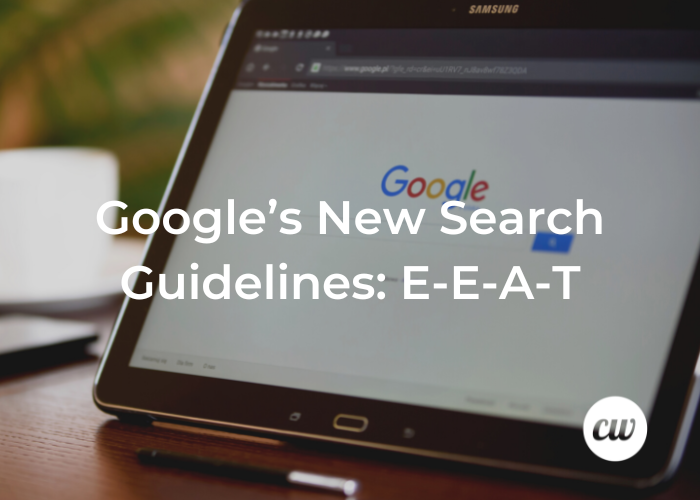 Google's New Search Guidelines: E-E-A-T
Google is constantly tweaking its algorithms and providing updates both big and small. This one's kind of a big deal.
For several years now, Google has told us the key to capturing search intent was to ensure every piece of content you put online includes E-A-T: Expertise, Authoritativeness, and Trustworthiness. Now, they've added an additional E, and it can have a significant impact.
The extra E in E-E-A-T stands for Experience.
If you want, you can read the entire Google Search Quality Guidelines update published in December 2022 by Google. It's 176 pages long. In this article, we'll hit the high points to save you time.
Google E-A-T Update
In adding the extra E, Google is acknowledging the value of first-hand experience. It's one thing to write about a concept or product, but it's another thing to have actual experience using it. This provides a level of knowledge that helps demonstrate trustworthiness.
While Trust is the last letter in E-E-A-T, it remains the most significant.
"Trust is the most important member of the E-E-A-T family because untrustworthy pages have low E-E-A-T no matter how Experienced, Expert, or Authoritative they may seem."
— Google Search Quality Guidelines.
As an example, Google describes how a financial scam is not trustworthy even if the content was developed by a highly experienced scammer who is seen as an expert.
Experience Matters
In evaluating page quality, Google's search quality guidelines will take into account:
What websites and creators say about themselves: Content about the author and on the About Us page. Google wants a clear indication of the author of the content or who owns the website to provide transparency.
What others say about websites and creators: Independent reviews, references, new articles, and other trustworthy sources that help establish credibility.
What's visible on the page: Supporting material, such as how-to videos or responses to comments.
Google also notes, however, that experience alone is only one factor. For example, an influencer that's paid to promote a product may have hands-on experience but is not an unbiased source of trustworthy information.
Google is looking for experts and expertise that deliver quality content that matches search intent.
What qualifies as quality content can vary depending on what people are searching for. If you're searching for how to use a particular type of enterprise resource planning (ERP) software, you probably want information from the software provider. However, if you're searching for ERP reviews, you're more likely to want an independent source or reviews from actual users.
Who Is E-E-A-T For?
E-E-A-T is a tool that Google will use to rate the quality of its results. These guidelines are what search raters use to evaluate the search engine's ranking system. Google says they do not directly influence page ranks, however, E-E-A-T is a useful tool as part of your content marketing strategy as you create content to help you rank better.
This aligns clearly with Google's recent helpful content update, which gives greater weight to content that best meets searcher intent and provides helpful information.
E-E-A-T (or Double E-A-T as Google also calls it) should be an important piece of your search engine optimization (SEO) roadmap.
Page Quality Ratings
In this E-A-T update, Google also made significant changes to how page quality will be rated when it comes to assessing websites. The updated guidelines use these high-level evaluations to help determine quality.
Identifying the True Page Purpose
If a site or content piece is designed to deceive visitors about its true intent, it will be rated poorly. An example might be a site that redirects you to an unrelated topic or a blog post that promises helpful advice to solve a problem but is really just a landing page for a product.
A key element here will be assessing how well a page achieves its purpose. So, a page that is a landing page for a product is fine — if that is the purpose and is not misleading.
Potential for Harm
Another factor that will be taken into account is whether the information contained is potentially harmful, untrustworthy, or spammy. This is especially important for what Google classifies as YMYL (Your Money or Your Life) topics, which have higher standards.
Type of Website
Raters will also take into account the different types of sites and pages. For example, large corporate websites compared to those created by hobbyists or content created by volunteers versus professionals.
Main Content Quality
Google will also assess how the main content is created. Content that is low-quality, spammy, auto-generated, or lacking skill or expertise will rate lower.
Pages will also be evaluated based on ads, interstitials, and download links. If they obscure content or do not benefit the visitor, they can detract from the quality.
Creator and Reputation
The reputation of the website and/or content creator will also be evaluated. A site or person with a negative reputation or pattern of disinformation will be flagged. A lack of information about who created content for YMYL pages that demand trust will also negatively influence quality.
Page Titles
Since the goal of a search engine is to deliver relevant content that meets searcher intent, Google wants to see that the content meets that intent. If the content fails to deliver on the premise of the title or is misleading or exaggerated, it will fail to meet search quality goals.
E-E-A-T Trustworthiness
Pages that demonstrate experience, expertise, authoritativeness, and trust have a positive impact on quality ratings. As such, Double-E-A-T needs to be a foundational component of your content marketing goals.
The Highest Quality Pages
So, what does Google consider the key to achieving E-E-A-T and being tagged as the highest quality? The update gives us some guidance here. High-quality pages will:
Have a beneficial purpose
Not cause harm or mislead visitors
Deliver on promises made in titles
Not have ads or elements that block or interfere
Have information about the website, owners, and content creators and a highly positive reputation.
Include content that was created with a very high level of "effort, originality, talent, or skill" to achieve its purpose.
Demonstrate the highest levels of E-E-A-T based on the page's purpose.
Google will also consider the inclusion of customer service information for sites or stores that process financial transactions, such as an eCommerce platform.
Google provides some examples of the highest quality for various types of content.
News Content
Original reporting that uncovers new information that would otherwise be unknown. Accurate, original, in-depth, and investigative reporting that meets professional journalistic standards and requires a high level of skill, talent, experience, and effort.
Artistic Content
Unique and original content created by talented artists and creators that require a high degree of skill, talent, and effort.
Informational Content
Original, accurate, comprehensive content that provides valuable information that is not available elsewhere. This may include a unique approach, insight, or added value to existing resources.
You can read more specific examples of how different types of content can achieve the highest E-E-A-T ratings starting on page 68 of the Google Search Quality Guidelines for raters.
Meeting Searcher Intent
Delivering the highest-quality content that meets searcher intent is fundamental to any search engine's success. Adding experience to the list of what defines high-quality content provides another layer that content creators can leverage to help them meet searcher intent and appear more trustworthy to Google.
If you need help creating high-quality content, Content Writers is here for you. You can find experienced and expert writers that will provide the content you need to engage your audience. Contact our team to help you find the right writer to deliver E-E-A-T.


Paul is a multiple Emmy Award® winner with more than 20 years of experience as a journalist working for some of the country's top publishers. For the past 10 years, Paul has worked as a marketing and advertising expert on projects for hundreds of clients.