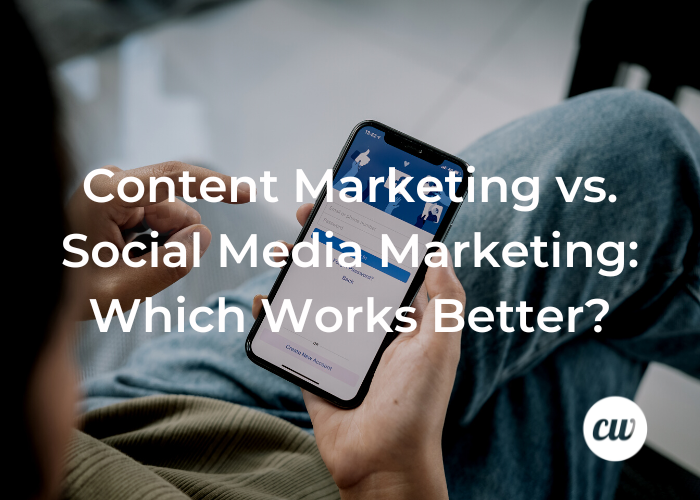 Content Marketing vs. Social Media Marketing: Which Works Better?
As marketing professionals, we are always looking for greater performance from our strategies and campaigns, so it's not unusual to question what types of marketing work best. We scour the web for research, trends, and statistics to further our understanding. In the case of content marketing vs. social media marketing, the answer is not immediately evident.
Are we asking a question similar to the chicken and the egg? Content marketing involves the use of social media to distribute content. And, social media requires the use of content to create messages. Perhaps there is no need to choose one over the other, but to better understand the similarities and differences, and where there is overlap.
Stepping back a bit, it all begins by understanding two key elements: your brand and your customers. Your marketing strategy has to be true to the brand as well as to the customer. So, understanding what your brand stands for and what your consumer needs and wants should drive your marketing strategy.
With so many forms of content and channels for distribution, it can be confusing at times. But one thing is certain — all channels use content. So, for a marketing strategy to exist, there must be content.
Most brands and marketers use both content marketing and social media marketing. Even though these two can blend well together, it's important to understand their distinctions. Digital marketing and social media consulting company Convince & Convert describes them succinctly when it says, "Social media is the new telephone. Content marketing is the new brochure."
Keeping this comparison in mind, let's define these two marketing methods.
What Is Content Marketing?
Content marketing is comprised of the creation and publishing of original and relevant content designed to educate, entertain, and influence target audiences. The content can take many forms including:
Blog posts
Emails
White Papers
Videos
Infographics
Articles
Photos
The goal is to attract, retain, and provide customer service for prospective and current customers. To attain the goal, the content needs to be distributed on various media channels. Social media is an important channel.
Content marketing promotes a product or service by raising brand awareness, informing audiences of benefits, features, and uses, influencing customer perception, and helping to move prospects through the funnel. The target of content marketing is almost always the brand's website.
What Is Social Media Marketing?
Social media marketing (SMM) specifically uses social media networks as the distribution channel to communicate, engage, entertain, and inform prospects, customers, and the community. Through this SMM channel, the company can provide information about products, services, news, events, and more.
What is intrinsic to social media marketing is the dialog and interaction between a brand and a lone audience member as well as between numerous audience members. Whereas content marketing pushes information to its target audience, social media marketing is a two-way conversation.
Social media marketing's primary goals are about building relationships, growing community, and communicating the culture and values of the brand. Social media marketing can extend the reach of content marketing by distributing it through numerous social media platforms.
A Comparison of Content Marketing vs. Social Media Marketing
While content marketing and social media marketing are two distinct forms of marketing, there is much overlap. You can't execute a social media marketing campaign without content and you can't fully push your content without social media. Many of the processes for building out campaigns are similar. These include:
Develop business objectives.
Develop personas and define target customers.
Generate content ideas that meet your objectives and audience.
Create a plan and timeline for the delivery of the content.
Gather campaign stats and measure results.
Content marketing and social media marketing have unmistakable differences as well: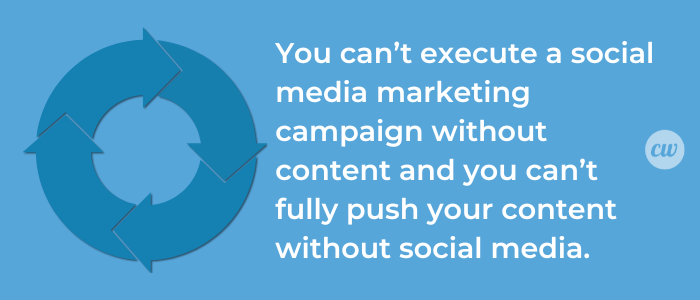 Focal Point
In social media marketing, the focal point is the social networks used and the people with whom you are interacting. Their comments and likes become a contributing part of the content. In content marketing, the focal point is the brand's website where the marketer has sole control over the content.
With social media marketing, the social media content is an end unto itself. Without leaving the channel, conversations and relationships are deepening. Links and click-throughs are an aspect of social media marketing, but many objectives can be met within each social media platform.
For content marketing, the consumer must take an additional step — clicking within an email to learn more on the website, scanning the QR code in an article, or following links in a white paper.
Objectives
Social media marketing objectives aim to increase awareness of the brand, its offerings, values, and personality by reaching people on social media platforms such as Facebook, Twitter, Instagram, TikTok, LinkedIn, YouTube, and more. Over time, and through interaction with followers, the community is built around shared interests. This helps to solidify the customer-brand bond resulting in greater customer loyalty.
Content marketing's objective is to generate leads through content distribution which includes social media. In content marketing, creating content that addresses the needs of prospects in differing stages of the buyer journey helps lead the target audiences through the pipeline, converting them to customers.
Types of Content
For social media, the content is driven by the platform and its constraints. A tweet can contain 280 characters, Instagram restricts hashtags to 30 per post. In addition to these requirements and restrictions, there are ideal specifications. For instance, according to BuzzSumo, Facebook allows up to 63,206 characters per post, but the ideal post length for optimum engagement is 50 characters or less.
Overall, social media content is short form comprised of text with an image or video. A social media marketing plan will capitalize on the best practices of each platform to meet objectives.
Content marketing, as a rule, focuses on more long-form content such as articles, white papers, podcasts, and videos that are more in-depth and informative. The benefit of this is that longer pieces can be repurposed by breaking them into smaller chunks or other formats for distribution to other places including social media. It's not unusual to find one aspect of a white paper turned into an infographic for more visual audiences.
Measuring Statistics
While both strategies involve gathering and measuring statistics to measure results, the stats gathered are different.
For social media, stats such as reach, likes, comments, shares, and clicks are relevant.
For content marketing, the metrics are mostly gathered from website analytics such as overall traffic, traffic sources, time spent on a page, web paths, and conversions.
Content Marketing Plus Social Media Marketing
To look at content marketing and social media marketing from a versus point of view is a short-sighted approach. Versus puts each into a silo that will not serve the long-range marketing objectives of a brand well. Brands require an integrated approach to marketing in which relevant content is created and distributed through multiple channels.

The question about whether content marketing or social media marketing is better may just go the way of the chicken and egg. Content marketing and social media marketing are both effective strategies and both should win a place in your integrated marketing plan.


Deborah was the kid who would rather write book reports and essays than play ball during recess. Although she didn't score many points with her peers, it did lead to her career creating content for TV, radio, print and new media for companies as varied as Dooney& Bourke, Panera Breads, Visa, SUNY Ulster and Hudson Valley Federal Savings Bank.
She is also a principal of small packages – a digital design company, and past partner/marketing director of whatis.com, the world's foremost reference on information technology. And, her love of food enabled her to become a contributing editor of both Gourmet Retailer and Food Distribution Magazines.
Deborah has a bachelor degree in fine art from the Hartford Art School, University of Hartford and a masters in higher education administration from Stony Brook University. When she's not writing, her love of quilting, furry animals, friends, and family sustains her.