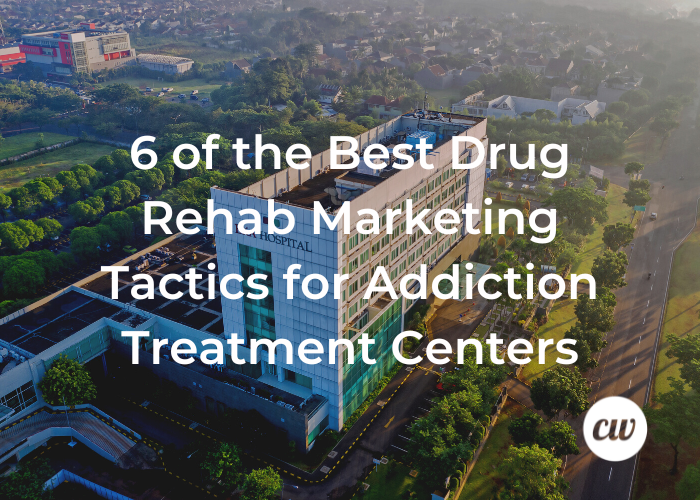 6 of the Best Drug Rehab Marketing Tactics for Addiction Treatment Centers
Addiction treatment marketing comes with unique challenges, requiring a deep level of empathy and sensitivity towards the target audience. People searching for a rehab center are often facing an urgent situation, and also need to hone in on the right facility that is nearby their home.
There's a barrage of marketing tips and tricks popping up online every day, so you may be tempted to try every strategy that comes along hoping that one will stick. Many try the "hit them with everything" approach, but instead of results, they usually empty their marketing budget. The most effective strategy is to dedicate all of your marketing resources to the specific techniques that will give you the most impact.
But which drug rehab marketing tactics should addiction treatment centers use?
In this article, you'll learn why you should focus on six main processes to maximize your success:
Word-of-mouth marketing
Social media marketing
Email marketing
Strategic partnerships
Creating quality content
PPC (Pay Per Click) ad campaigns
Marketing for Drug Rehab Centers is Challenging
As of 2022, treating drug abuse has become a $42 billion industry with over 15,000 drug rehabilitation centers in the US treating 3.7 million people. Not only is it a highly competitive industry, but there are also a variety of scams taking advantage of people when they are the most vulnerable.
The common hype and lingo of typical marketing styles won't go over well with rehab marketing, nor should it. You need to represent the facts with empathy, using ethical marketing that speaks directly to your target audience.
Substance abuse treatment is a sensitive subject for anyone to search. So when that person finds your content, you want the experience to serve them with details that are relevant and informative. Your audience will respond well to sensitivity and understanding. This also helps to reinforce their confidence that your site isn't a scam.
Word of Mouth in Drug Rehab Marketing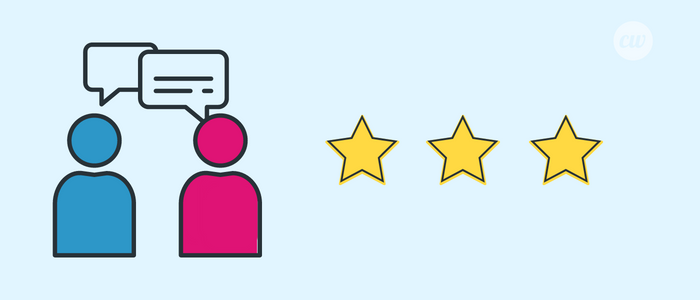 Nothing beats good, old-fashioned word-of-mouth marketing (WOMM). Why? Because customers trust the opinion and experiences of others over a commercial or a social media post. Today's word of mouth takes place online, where people share advice with their friends on social media sites, leave reviews, and discuss a shared interest in forums.
You don't just want to be seen—you want to instill trust by delivering the best content for the right reasons. For rehab centers, reputation is everything. A good reputation will lead people to recommend your facility and share your site as a valuable resource to others.
Today, word-of-mouth marketing also includes:
Online customer reviews on websites, such as Google, Yelp, and industry-related sites such as Rehabs.com
Social media posts and testimonials from clients and their family members
Press, both positive and negative
Embrace Feedback, Even If It's Bad
A large percentage of businesses in every field make the mistake of ignoring feedback and reviews—good or bad. What they don't realize, is that online testimonials of actual experiences have a major impact on how Google will factor your relevance and ranking.
More importantly, people trust the word of others more than anything that comes straight from the business. Have you ever heard the old business saying, "A happy customer will tell 3 people about their experience, and a mad customer will tell 10"? Word of mouth has always been one of the strongest marketing tactics, especially for addiction treatment centers.
If there are negative reviews, you should thoughtfully communicate with the person to try and right a wrong, or at least show you care. Online reviews are an opportunity for you to learn from patients and their loved ones.
Social Media Marketing for Rehab Programs & Addiction Treatment Centers
Everyone uses social media. It's one of the few marketing methods that can achieve high results at a relatively low cost. Along with email and content marketing, social media provides several ways for rehab centers to improve their online presence.
However, this is only true if you utilize the proper tactics. You can generate better enrollment results by using the following social media processes:
Launching a lead generation advertising campaign targeted to a specific audience
Posting relevant and timely content of interest to your audience
Engaging with users that interact with your content
Updating your audience on news, events, and the latest addiction treatment research
Utilizing the best social media channels, such as Facebook, Twitter, and Instagram
Your social media channels are a great way to communicate directly with followers and answer their questions. With social media and other digital strategies, it's easy to analyze users who engage with your addiction treatment marketing campaigns. This will help you better identify and target this audience of engaged users for future marketing efforts.
Email Marketing
Even after a client leaves your addiction treatment center, they are still vulnerable to relapsing and cravings. Learning to live drug-free is a lifelong journey.
One way to stay in touch is to send an email newsletter filled with educational tips and content to past and present clients and their loved ones. By providing this content, you're nurturing the trusting relationship you've developed during their time at your facility, increasing the chance of positive word-of-mouth marketing.
Be Consistent
Just like your other efforts, consistency is key to the success of your email marketing. Decide on a schedule for the type of content you send out to your list, and stick with the plan.
People who remain subscribed to emails interpret your consistency as building trust and instilling confidence. Most people don't mind getting these familiar reminders along the way, and you never know when your emails can become a lifeline to someone in need.
Strategic Partnerships
Your addiction treatment marketing efforts will position you as the go-to authority on substance rehabilitation. By placing your focus on consistent messaging, you'll be used (and shared with others) as a valuable resource.
With this in mind, you'll have more opportunities to forge strategic partnerships with advantageous organizations and companies within the industry.
Getting On the Right Lists
Sometimes the best way to compete for better visibility in search results is to get included on a website with high-ranking positions. You can do so by getting added as a resource from an authority in the addiction treatment industry.
One of the best examples of this is to get listed in the SAMHSA (Substance Abuse and Mental Health Services Administration) database. Getting on a page with high authority is a great tactic when it comes to drug rehab marketing strategies, as it will not only improve visibility but also credibility.
Keeping It Local
Most people who are searching for drug rehab centers are doing so with a sense of immediacy and urgency. They're likely only looking at local options. Making your facility easy to find is an important aspect of your addiction treatment marketing. Register with relevant sites like Google's local directories, and include the same details on your website.
The helps people to easily find your business name, description, address, and phone number. Fill in everything that directories request. Not only is this the direct kind of information people need in an emergency, but it also helps add credibility to your addiction treatment center, setting you apart from the scams.
Creating Quality Content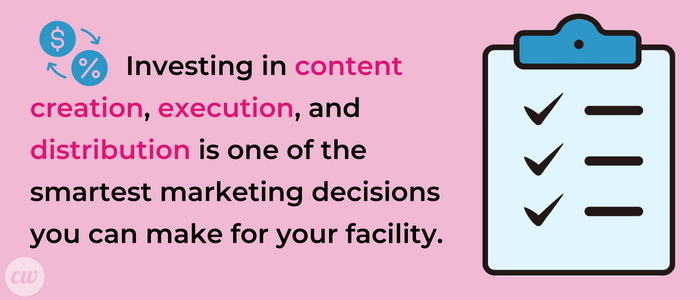 No matter which marketing strategy you choose for your drug treatment center, you need to have quality content available. Investing in content creation, execution, and distribution is one of the smartest marketing decisions you can make for your facility.
Simply targeting the right audience and creating content with the best keyword phrases isn't enough. Every word counts. You need to use your expertise in the field to stand out as an authority. This will help ensure you rise above the competition by building trust and confidence in your facility.
Producing great content that's well-organized isn't just a way to engage with visitors to your site, it's a way to enhance the entire site's SEO (search engine optimization.) Creating great content signals to search engines like Google that your site is considered an authority in your industry.
Quality addiction treatment content should include blogs, resource articles, and informative landing pages that invite users to take some type of action or contact your organization directly.
One unique challenge that drug rehab centers face, is that Google now places the National Helpline website provided by SAMHSA at the top of all relevant searches in the field. By getting listed in their directory and applying good SEO practices, over time you'll gain the right attention from the people who need you the most.
While consistent, high-quality articles are a must when marketing for rehab facilities, you aren't limited to blogs and articles. There's a whole world of content you should leverage in both print and digital marketing. Utilize different types of content, such as:
eBooks, whitepapers, and research
Videos
Presentations
Imagery and infographics
How-to guides
Print marketing materials
Press releases
Email newsletters



PPC (Pay Per Click) Ad Campaigns
PPC (Pay Per Click) campaigns can be a good method of achieving your addiction treatment marketing goals. Just take a look at any search engine results on Google. You'll see SAMHSA at the top, along with a lot of different sites competing for the first page.
You'll also notice several paid advertisements, along with organic results. These ads link directly to your content, wherever you want that person to go, and the ad only appears when the user is searching for your exact keyword(s). Especially in addiction treatment marketing, the person is likely to be in a state of urgency, either to help a loved one or themselves.
More Immediate Results
Often, PPC is used aggressively at the start of a new marketing campaign. Since it can take time for SEO, social media, and published content to start getting noticed organically, PPC is an effective way to connect to your target audience the instant your content is ready to be seen.
Even better, natural results start working for you, like building your social media followers, results appearing in search engines, and people sharing your articles. Now, you may choose to spend less of your budget on PPC. Then, you can use those funds for social media, email, and strategic partnerships.
Anyone placing an ad pays per individual click. However, before you start writing ads, it's best to read up on how to find the most valuable ad keywords you can target. The more competitive and effective the keyword phrase you want people to search for, the more expensive the ad will be.
Remember, you're competing with thousands of facilities that are also developing their rehab marketing services. To leverage ad keywords as best as possible, consider investing in digital marketing services from a trustworthy professional.
Connect With the Right Content Partner For Your Drug Rehab Center
The best way to make sure your content reflects the level of excellence you provide for your clients is to team together with talented writers who possess the skills to translate your knowledge into marketable content.
By working with you on word of mouth, social media, targeting local directories and helpful alliances, along with planning out a proper email campaign, ContentWriters can help you reach the people who need your services the most.
We have a deep knowledge base of the healthcare industry, with talented writers who understand the sensitive nature of treating addiction and getting patients on the right path to a healthy and productive life. The right content marketing team can make all the difference in helping you find your voice online, striking the right balance between compassion and quality care.
Interested in receiving high-quality medical content to enhance your drug rehab marketing campaign? ContentWriters has a team of experienced medical writers ready to develop the content you need, to increase enrollment and build a positive brand reputation through targeted treatment center marketing.
Ask about our content writing services to get started today.
Editor's note: This post was originally published in 2016 and has been completely updated for comprehensiveness and accuracy.