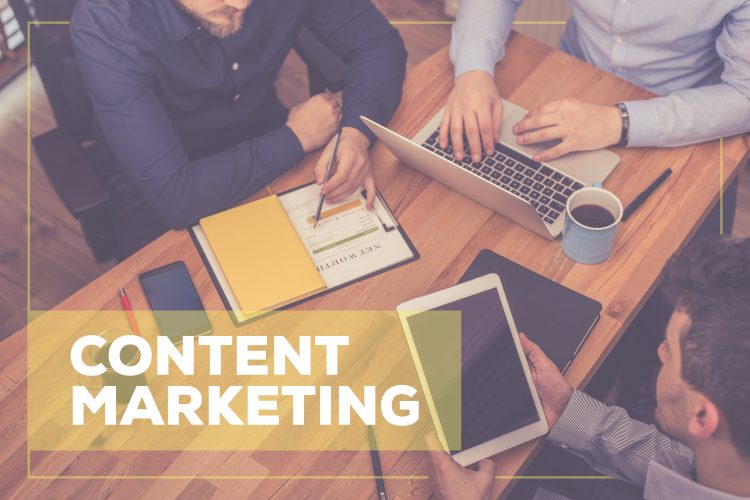 Why Content Should Be Your Main Lead Generation Channel
Content Marketing is the creation and distribution of valuable information to attract and engage a target audience. However, that is only one definition. Many thought leaders in the space have shared their definitions in recent years.
One of the most interesting definitions on the list is by Robert Rose , who says, "Traditional marketing and advertising is telling the world you're a rock star.  Content Marketing is showing the world that you are one."
Content marketing is not something new. It dates back to late 19th century. Here is a quick two-minute video by Content Marketing Institute on the history of content marketing. It briefly outlines the history of content and how it has evolved over the years.
As you can tell, it has come a long way since the phrase 'Content is King' was coined by Bill Gates in 1996.
Content Marketing Is A Cheap Solution
Compared to other traditional marketing channels like advertising on television or print media, Content Marketing is a much option. In fact, according to Content Marketing Institute, content marketing is 62% cheaper than traditional marketing. Because of the price, Content Marketing has made it possible for small businesses and startups to communicate effectively with potential customers.
There was a time when blogging was synonymous with content marketing. Now there are over 15 types of content that businesses create to try and capture leads. When created strategically, content can complement each stage of the buyer journey. It can also motivate your target audience to make decisions based on supporting rational facts.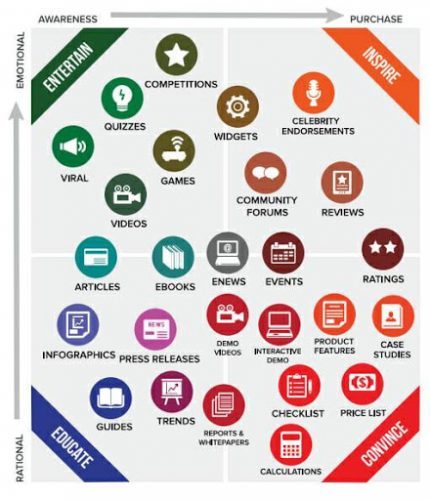 Source –
https://www.adinfusion.com/content-make-you-feel-some-type-of-way/content-matrix/
The above matrix explains how different forms of content help in educating, convincing, inspiring and entertaining customers. The inspiration drives them to purchase your products and/or solutions.
Among the above discussed content types, user acquisition cost is lower for the following forms:
Blog Posts are the easiest forms of content you can create when you know your business and industry well. Even though they are simple to create, they educate your customers and help drive traffic to your website. The cost of content creation is the only cost associated with the creation of blog posts, so blogs help in achieving a low user acquisition cost.
Case Studies are success stories of how other businesses have used your solutions and how it has benefited them or helped them achieve success. The effort needed to create a case study mainly lies in getting your potential customers to agree to participate in the case study.
Infographics is a great visual piece that can be effectively used to increase your website traffic. When you create informative content, creating an infographic becomes simple. There are several tools like Venngage which help marketers design their own infographics.
Tools, Tips and Resources is an evergreen approach to generating leads as your audience is almost always seeking information to make their tasks more effective and well-organized.
eBooks are highly informative for potential customers who are researching about solutions to their problems. They are comprehensive and in-depth information bundles and can take a while to create if not planned well. A simple tip is to create an eBook by repurposing various pieces of content you have created in the past.
Whitepapers and User Guides are primarily for high value or higher consideration solutions and is particularly effective in B2B markets. Even though whitepapers are more expensive to create than eBooks, when you compare it with other marketing efforts for high consideration products, the acquisition cost is lower for whitepapers.
Customer Testimonials or personal stories that can vouch for your products and solutions can help establish trust among your target audience. People like to believe users of the product over the businesses that sell these products.
Content Marketing Is Branding
Over the past decade, the internet has transformed the way consumers research. Consumers now rigorously research the various possible ways in which their business problem can be solved. This is the first stage in the buying cycle. At this stage, your business should aim to satisfying their need for information. Consumers want answers and trust brands that provide with valuable and credible content.
Source –
https://digitalbrandinginstitute.com/content-marketing-helps-build-digital-brand-infographic/
Content marketing helps in building your business' digital brand by increasing your brand's visibility online. By showcasing the industry knowledge and thought leadership expertise, businesses enhance their brand image. When you educate potential customers and provide them with relevant information, you lay the framework for a loyal relationship.
Advertisements focus on users who are watching a movie or a football game On the other hand, content marketing serves the consumer when they are seeking the information.
Content Marketing Generates Leads
Content Marketing should be the foundation of your lead generation efforts.
Businesses must create content that caters to their audience at different stages in the consumer buying cycle. This nurtures and motivates the consumer in the right way. It also drives them through the sales funnel.
When your content preemptively answers potential consumers' questions, they will consider your solution over your competitors.
According to HubSpot, content marketing generates 3 times as many leads as traditional outbound marketing.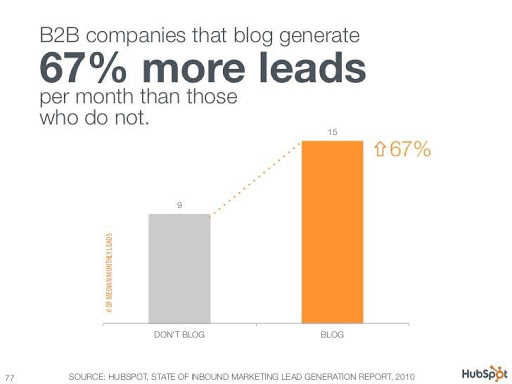 Source –
https://neilpatel.com/blog/beginners-guide-to-content-based-lead-generation/
Here are some of the ways content marketing aids your lead generation efforts:
Optimizes Your Website for Search Engines – High quality content improves your website's search engine ranking. When you create and optimize content targeting a set of industry related keywords, your website's SERP ranking improves significantly and this would in turn drive huge volumes of website traffic, that could be nurtured and converted to leads.
Boosts Search Engine Marketing – Your content also helps your business market on search engines. When you have amazing content, your quality score would improve and this will drive a higher click through rate on your search ads.
Generates Backlinks for Your Website – Quality content can attract a lot of backlinks for your website as other industry players will make reference to your content if it is remarkable.
Improves Social Media Engagement – Outstanding content can boost your social media engagement and drive social media followers to visit your website. Also, note that visual content like videos and images results in greater social media engagement than text based content.
Increases Time Spent on Your Website – High quality content like videos, case studies and eBooks maximizes the time relevant users spend on your website, giving businesses more time to convince and convert them to leads.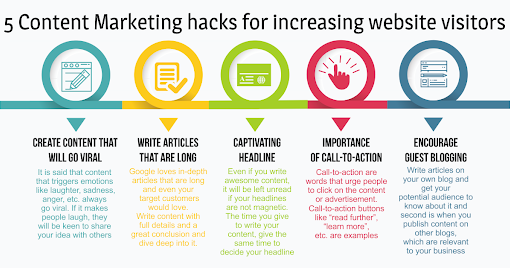 Source –
http://www.webtraffic.agency/2017/09/content-marketing-hacks-attracting-website-visitors/
Having seen how content marketing can help your business, here are few steps that you can follow to create highly relevant content for your business and utilize it for lead generation:
Identify your target audience is key in any content marketing strategy.
Understand your customer buying journey and the kind of content they would seek at each stages of the buying journey.
Decide on which types of content would be suitable for your business and create that variety of content.
Develop interesting lead magnets that will convert visitors to leads.
Optimize your landing pages to drive lead generation.
Establish clear call to actions and conversion paths.
Distribute and promote your content through various marketing channels like social media, email marketing and search engine marketing.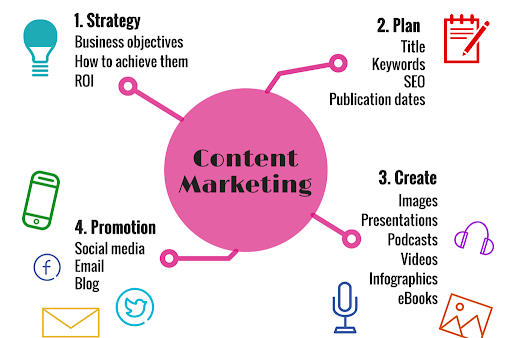 Source –
https://www.marketingcolcuore.com/segreti-del-blog-marketing/
Keep Calm and Content On
Content Marketing continues to dominate; however, marketers need to plan and strategize well in order to create high quality content that generates ROI.
Content Creation requires considerable efforts from your team. Therefore, package and repurpose content in different forms to utilize its maximum potential.
A well-designed content marketing strategy and blueprint can boost your business' lead generation efforts and ensure that your business grows exponentially.