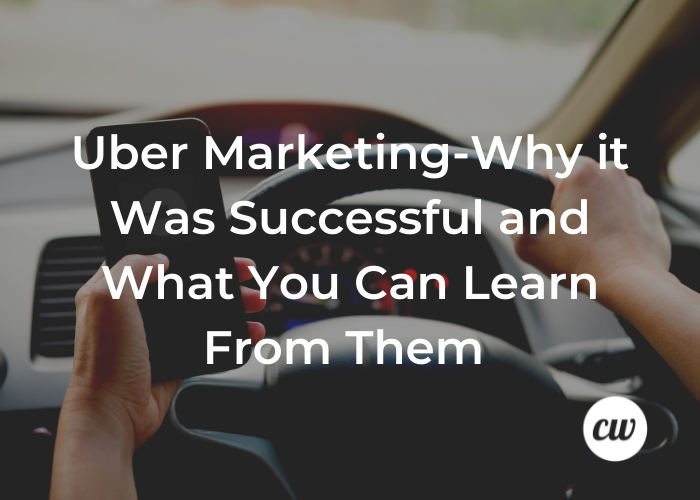 Uber Marketing – Why it Was Successful and What You Can Learn From Them
There are a lot of business owners who can learn from the example set forth by Uber, the global company known for allowing users to hail rides via their mobile app. Uber has become a massive success thanks in large part to its marketing know-how.
The best part is, you can take some of the strategies used by Uber and apply them to your own marketing practices. Let's take a look at some of the company's most successful marketing campaigns and how you might be able to implement them within your own business.
Uber Offered The Perfect Solution
The founders of Uber saw a need that was not being met and came up with an innovative, new way to meet it. Sure, taxis had been around for decades, but the problem was the process of hailing one. There's nothing enjoyable about standing in the rain or snow waiting to hail a cab. Uber founder Travis Kalanaick saw a problem and created a new way to solve it with a unique solution: allowing users to hail a cab from their smartphones.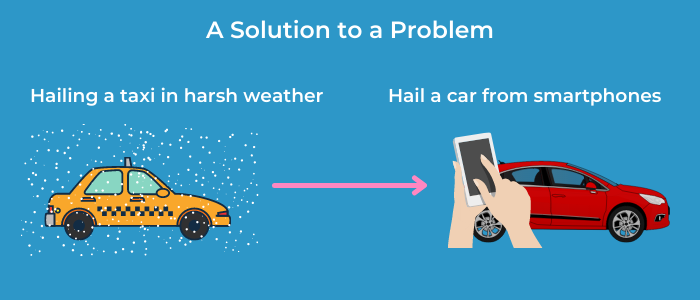 Take Myspace, for example. Myspace was the online platform that first introduced us to social networking, but Facebook came along and refined it. If you don't have an innovative strategy in place or a strong marketing plan, be prepared for competitors to come along and trump your idea with an even better one. That's what Uber did. They reimagined the taxi experience to make it more attractive, seamless, and convenient for everyone involved.
The biggest foundational element of creating a winning marketing strategy is to have a winning product or service—unlike anything anyone else has seen before.
Uber Connected a Great Team with a Sizeable Market
Business launches and marketing strategies can certainly have success without a great team, but not having a great team definitely makes it harder. You can better set yourself up for success when you have a strong team in place first. In the case of Uber, they had a top-notch team and a sizeable market to connect with.
Sometimes, luck plays a huge role in the success of a company, but luck wasn't the only thing Uber had on its side. Travis Kanalick understood the importance of having a strong project manager, so his first step before launching the business or thinking about a marketing campaign was to align himself with the right person for the job.
Uber Got The Funding They Needed
To get funding for your business idea, you need investors. To gain investors, you need a powerful investment pitch that catches the attention of investors and gives them plenty of good reasons to invest. Uber would not be the massive success it is today without capital. Remember that when you start your business. It is going to be a lot harder to orchestrate successful marketing campaigns without proper funding.
In its first round of funding, Uber had raised $11 million from backers. Today, Uber has funded over 22 rounds of funding for a total of $24.2 billion. The first $11 million was raised in 2010. This was a time before fundraising platforms like KickStarter had become popular. Today, you might be in an even better position than the Uber founders because can use these platforms to raise capital and generate buzz for your business.
Uber Knows Their Customer Base
Know your target audience. That may sound obvious, but it is a fundamental truth that businesses must know their target audience to effectively market to them. Although people of all ages use Uber, it is most popular among smartphone-using millennials. Uber also understood they needed to not just market to ride users, but their drivers too.
Another example is the approach Uber took during the pandemic when millions of restaurants and small businesses shut down. Uber emphasized their UBER EATS food delivery service. They went even further and acknowledged and praised the work of frontline healthcare workers with their campaign #GratefulUK. They offered healthcare workers free rides and meals. Uber understood the needs of both their riders and drivers and was able to create effective, innovative marketing strategies to meet the needs of both sets of people.
Uber Skillfully Aligns Itself With Strong Partners
No man is an island and it could be argued that this is the same philosophy every business should apply. Uber certainly did. They partnered with such companies as Capital One, Spotify, and Starwood Hotels and these alliances helped increase brand awareness.
Capital One banking customers get discounts on their Uber riders, Spotify users can connect their Spotify playlist while riding in an Uber vehicle, and Starwood Hotels members can earn hotel discounts every time they take an Uber. Current Uber customers were incentivized and rewarded with discounts and perks while customers of Capital One, Spotify, and Starwood Hotels who may not yet have been customers of Uber were enticed to use the ride-sharing service.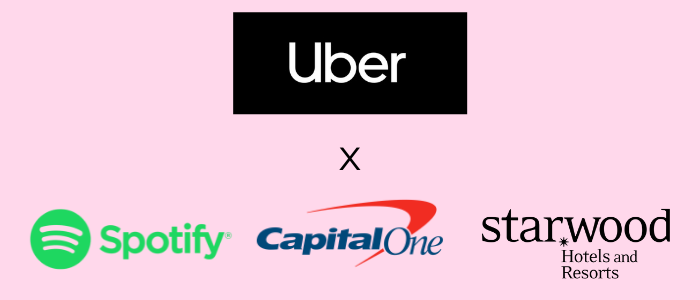 Uber Created a Unique Review System
Uber set up a unique approach regarding reviews. Not only could riders rate and review their drivers, but drivers could rate and review passengers. Having this two-way street established helped solidify trust in the reputation of not just the driver or passenger, but the Uber company as a whole. Allowing drivers to rate and review passengers made the opportunity of working as an Uber driver more appealing. It makes the process a more seamless experience for everyone involved and makes Uber a trusted brand name.
Uber Knew They Needed Good Tech
It could be said that Uber was one of the early adopters of AI technology. The founders knew they needed tech to successfully launch and operate their business. Uber's technology allows the app to identify the rider and driver's locations and provide directions that both the driver and rider can see with its mapping software. Again, all of this plays into the seamless convenience of both the driver and rider experience.
Technology is designed to make everything more convenient and efficient and providing your own customers with an automated experience helps attract new customers and retain current ones.
Uber Offered Discounts
Uber founders came up with a reimagined idea and implemented tried-and-true marketing methods. Sure, they also came up with innovative marketing campaigns, but they still understood the value and effectiveness of concrete strategies. One such concrete marketing strategy was offering discounts. Uber attracted their target audience by offering free rides and discounts to first-time users. They took it a few steps further and also created an Uber Loyalty Program, a system that allows frequent riders to rack up points with each ride and use those points to gain Uber Cash and other benefits. This system allowed Uber to attract new customers and retain existing customers.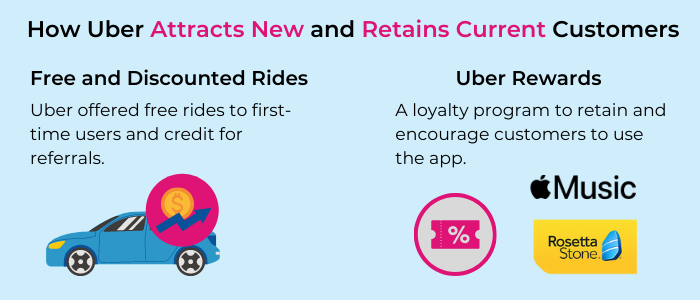 Uber Knows How to Handle Publicity
Entrepreneurs can learn a lot from Uber's successes, but they can also learn a great deal from their blunders as well. Just like any business, Uber didn't always do everything right and experienced plenty of their own pitfalls and failures. Uber also experienced a handful of publicity issues ranging from lawsuits to privacy concerns. And at one point, there was even a #deleteUber campaign circulating online. In fact, the series of PR issues Uber experienced eventually led to the resignation of the founder, Travis Kanalick.
Uber may not have been prepared for the publicity, but you can learn from this oversight and make sure you have all your PR ducks in a row. Maybe this means you have a rock-solid marketing campaign with an in-house publicity team. Or, if you have the budget for it, you may instead opt to hire a reputable PR firm.
Uber Founders Didn't Give Up on Their Idea
One of the first mistakes entrepreneurs make when thinking about starting a business is giving up on the business idea before even launching it. If you have a great idea, don't give up on it during the early innovative period. If founders Travis Kanalick and Garret Camp dismissed their idea simply because they weren't the first people to brainstorm new ways to create a transportation service, we might not have Uber today.
The difference between Kanalick and Camp and anyone else who may have come up with an idea similar to Uber is that they acted on it. Plenty of game-changing business ideas are dismissed early on, but Kanalick and Camp plunged full steam ahead.
Want to learn more about effective marketing and branding? Visit our blog at ContentWriters.com and connect with us on Facebook, Twitter, and LinkedIn.


Shannon helps businesses get more business by crafting content with the most engaging, user-friendly, and marketable material. For over five years, she has crafted thousands of written pieces for hundreds of clients. Her range of work includes blog posts, music reviews, articles, interviews, product descriptions, press releases, public service announcements, sponsorship proposals, and social media content.