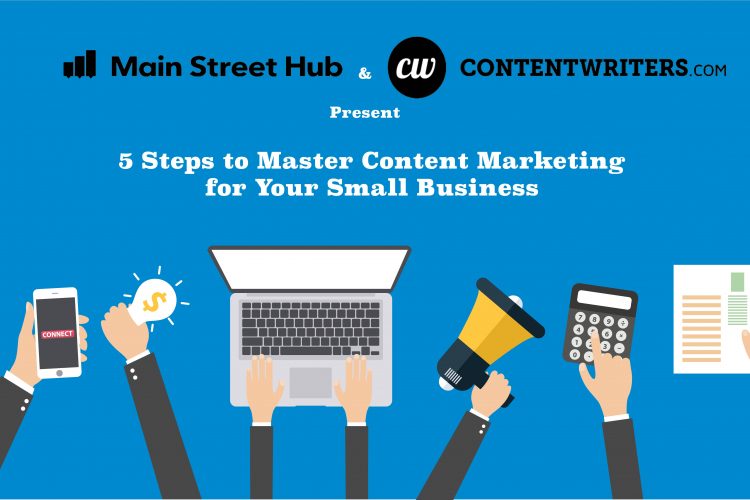 5 Steps to Master Content Marketing for Your Small Business
This is an awesome guest post by Evelyn Roberts, Content Marketing Associate at Main Street Hub, in collaboration with the ContentWriters team.
In 2017, consumers are looking online now more than ever to find a small business just like yours. In order to be competitive in your industry, you have to be visible when a customer looks for you online, and content marketing is a cost-effective way to boost your business in search results. In fact, 72% of marketers say relevant content creation is the most effective SEO tactic.
Content marketing allows your business to maximize its potential to drive engagement, gain new customers, and fortify relationships with existing customers.  
Not sure how?
Follow these 5 steps to develop and implement a comprehensive content marketing strategy, tailored to your business:
Step One: Brand
An effective content marketing strategy will be consistent, authentic, and tailored to provide value to your business's audience. You'll want to be very clear about your business's brand so that it can inform every single piece of content you post.
The most important factors to consider when developing your online brand are your identity, your audience, and your business goals.
Here are some questions to ask yourself:
What is the personality of my business?
Who is my ideal customer?
What results do I want my online content to accomplish?
No one knows the ins and outs of your business better than you do! By asking yourself these questions, you'll be able to get a sense of the authentic voice that makes sense for your business. From there, every piece of content that you create for your content marketing strategy will be inspired by your voice, your followers, and your goals.
Step Two: Social Media
As a business owner in today's market, you have to integrate social media marketing into your content marketing strategy in order to be competitive. Setting up Facebook, Twitter, and Instagram profiles for your business is free and comes with many benefits for you and your customers alike!
The benefits of being present, active, and engaged on social media are a boost in SEO, increased opportunities for customer service, a cost-effective means of increasing brand awareness, and visibility in local search results.
If you don't have the time or the know-how to keep up with all of these platforms at once, choose the one platform that makes the most sense for your target audience. If your business caters to a young demographic, Instagram is the most effect way to reach the youngest group of Internet users. If you mostly serve or sell to customers 30 years old and above, Facebook the best place for you to start. Twitter is the most receptive platform to non-visual content, so if you don't have access to strong photography of your business and your products, Twitter might be the best match for you.
Try to post at least once day, mixing up your content so that there is variety for your audience. Provide value by posting educational content relevant to your industry, photos of your product or service, and news about your community! From there, interact with and respond to all comments, mentions, wall posts, and reviews that your customers leave on your profiles. This of this as good customer service. It will show your fans and followers that you are grateful for their support and engagement.
Don't have time to manage your business' social media? Let Main Street Hub do it for you. Learn more here!
Step Three: Email Marketing
Once you've used social media to bring in new customers, outlining an email marketing strategy is the next step to build brand loyalty and keep those customers coming back time and time again.
By sending out a weekly or biweekly email newsletter to your existing client base, you'll stay top of mind with your customers, making it more likely that they'll become repeat customers and loyal fans.
Integrate your social media and email marketing efforts by including links to your social channels in each email you send! That way, your loyal customers have the opportunity to interact with you online in more ways than one.
Step Four: Blog
Content marketers who prioritize blogging are 13 times more likely to achieve a positive ROI on their efforts. And, as an added bonus, regular blog articles give you extra content to share on your social media channels!
When deciding what kind of content to create for your blog, you'll want to strategize how to provide value to your audience and stay true to the brand you developed in Step One. Show variety in your content so that your customers will want to check back, and make sure everything you post is relevant to both your industry and your target audience.
From there, measure the results of each blog you create. By comparing the number of views, reads, and shares on each piece of blog content you publish, you'll be able to determine what kind of content your audience enjoys most and allow that inform your content strategy moving forward.
Don't have the time to write blogs every week? Team up with the talented writers at ContentWriters to fill out your content!
Step Five: Evergreen Content
The beauty of creating content is that it lives forever on your site. Foundational content, or evergreen content, yields numerous benefits long after the minute you push that publish button on your blog. Once you publish a blog post or other form of extended written content on your site, it becomes part of the greater volume of work that establishes your business as a thought leader in your industry.
A great example of evergreen content is a white paper. White papers are designed to provide value to any customer reading it by giving them real insight into the business, specifically, your company's role in the industry. Having multiple white papers on your site increases the relevancy of your business, which helps immensely when search engines are trying to decide who should rank first.
We know that developing and executing a successful content marketing strategy is a time commitment, especially on top of running your small business every day. However, by following these five important content marketing steps, you'll be able to return on that investment with higher search results, increased brand awareness, visibility to new customers, increased loyalty with existing customers, and a better online experience for your customers.
Need help using content marketing to drive new business? Learn more about how Main Street Hub and ContentWriters can help you:
Main Street Hub is the only do-it-for-you, full-service online marketing platform for local businesses. Do-it-for-you is code for 'whatever it takes.' Using tools developed by our world-class engineers, designed with the needs of small business owners in mind, Main Street Hub brings together a mix of writers, designers, and tech experts to drive growth and take social media responsibilities off your plate – for good. Visit MainStreetHub.com to learn more, and head to our blog for more social media tips and best practices!
ContentWriters specializes in providing expert-level written content across a diverse range of industries. From blog posts to white papers, ContentWriters has the ability to craft content that is perfectly tailored to your brand message at any scale. By tapping into our robust network of talent, our team ensures that the perfect writers are assigned to your company's content needs.