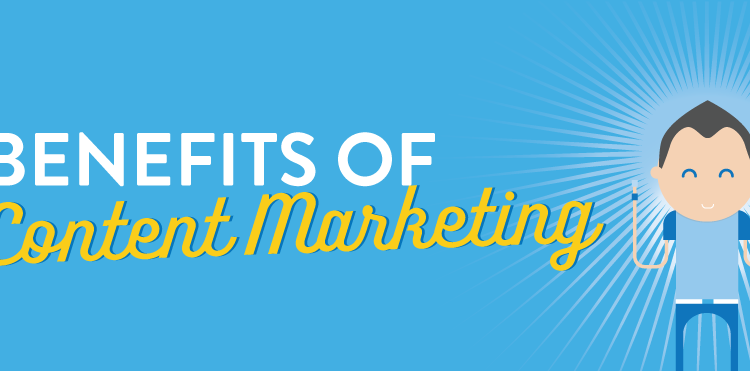 Marketing Infographic – The Benefits of Content Marketing
When trying to find the best way to promote your business, you probably want to know what the benefits are for each marketing effort. Content marketing is no different. Luckily, there are many benefits to this type of online promotion and the statistics show you how beneficial it is to increasing online and offline revenue.
In our infographic, we have identified some of the many benefits of content marketing and backed up our findings with statistics.
Marketing Infographic Statistics
In this marketing infographic, we have identified the following.
Content marketing:
Increases traffic to a website because Google places more weight on brands.
Is effective because only 6% of Google search results have websites with high quality content.
Gives you more pages on your site, which means it can lead to a significant percentage increase in indexed pages and links.
Influences your consumers to purchase from you, according to a Nielsen report that said 67% of consumers bought a product or service because of an online search.
Improves brand awareness, which is why 93% of B2B organizations use it.
Increases the likelihood of consumers clicking on your site in search results because they know your brand.
Boosts lead generation as much as three times compared to traditional marketing.
Is cheaper per lead generated when you compare the cost of PPC.
Is more likely to produce a positive ROI.
Tips for Content Marketing
It's important to realize that content marketing is only effective if it's done correctly. This is why we would like to help our fellow business owners with these tips:
Publish high quality content on a regular basis on your blog. The more content you have, the more traffic you'll receive. Try to publish a post every day, or at least three times a week.
Start a following by creating an email newsletter for people who come to your site.
Set up and be active on social media such as Facebook, Google+, Twitter, and Pinterest.
Tell consumers about the good news you have about your business, goods and services with press releases.
Videos are popular now, so be sure to use them on your site to increase ranking on search engine results pages.
Offer white papers to your consumers to give them information and promote your services and products.
We hope this information will help you make the decision to start content marketing to promote your business online. If you have any questions or would like help with content, contact us.