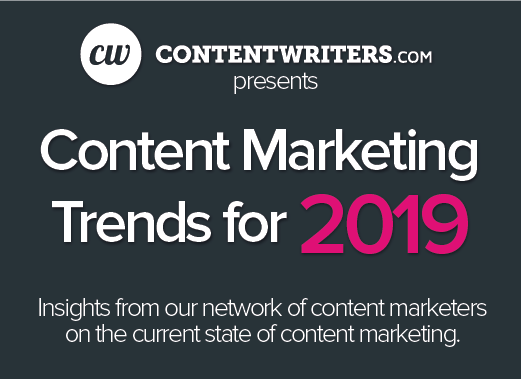 [Infographic] Content Marketing for 2019: What 2018 Trends Tell Us
In so many ways, content marketing is changing by the minute.
But in many other ways, it's not changing at all.
The demand for great content has always been consistent. Nobody craves mediocre content.
With more professionals utilizing content marketing as their primary marketing strategy, we wanted to know how they were doing.


The objective
One of our goals for 2018 was to quantify how effective content marketing can be for businesses.
Over the course of 6 months, we surveyed several hundred marketers, business owners, content creators, and SEOs asking them to answer a series of questions to help provide a better understanding of how content fits into their marketing strategy.
It was important for us to get valuable insights into some key areas: ROI, publishing frequency, types of content, and lead quality.
To reach these marketers, we tapped into several venues: our own client network as well as attendees from conferences such as Content Marketing World and Digital Marketing World Forum.
Content marketing has a positive impact on lead generation
More than half of our respondents said that content marketing has a positive impact on lead quality.
Only 6% said that it actually had a negative impact on lead quality.
This tells us that most companies are putting a greater emphasis on thought-provoking content that speaks to their customers.
Quality content appeals to customers further along the decision-making process.
We used to call it the funnel. HubSpot and Amazon call it the flywheel.
Whether funny, flywheel, or flux capacitor, quality content is going to make the most impact with customers at the most critical point of the consumer journey.
More publishing equals higher quality leads
The survey found a direct relationship between how frequently content is published and the quantity and quality of inbound leads.
68% of respondents who reported that they were publishing more than once per week reported higher quality leads as a result of content marketing.
In comparison, marketers who published once per month or less reported that they were getting lower quality leads out of their content marketing.
Companies are spending more on content
In 1996, Bill Gates proclaimed that "content is king."
He was right, but this outdated marketing colloquialism has drastically shifted since then.
Now, we can say that quality content is king.
Producing content can be pretty inexpensive. There are plenty of companies out there who will do blog posts for $5 each.
These companies falsely subscribe to the notion of quantity over quality.
If that were the case, companies would be spending less and less on content.
But that's not the case.
What our survey tells us is that companies see the value of quality content, which costs significantly more than $5 a piece.
39% of respondents noted that their organizations have increased their content marketing budget from the previous year, while only 13% have decreased.
This tells us that companies are willing to pay more for high-quality content because it produces a discernible return on investment.
Content marketing yields a higher ROI than other forms of marketing
The bottom line (literally) is all about return on investment.
When we asked respondents how they compared the ROI of content marketing to other forms of marketing, 42% replied that it was higher than other forms of marketing.
Only less than a quarter of respondents claimed that content marketing yielded a lower ROI than other forms of marketing.
So, I should spend all my marketing budget on content, right?
Not really.
When done right, content marketing can be the most effective and sustainable form of marketing.
But that doesn't tell the whole story.
It works even better when it's a vital part of a greater marketing mix.
Content marketing casts a wide net, but a diverse marketing strategy ensures that you're reaching potential customers at every possible point.
So, PPC might be great for getting people to your site, but content is what's going to keep them there.


Francesco is the Director of Marketing for ContentWriters. He has a passion for all things digital and creative, but balances out that positivity with the complete and utter hopelessness that comes with being a die-hard New York Mets fan.