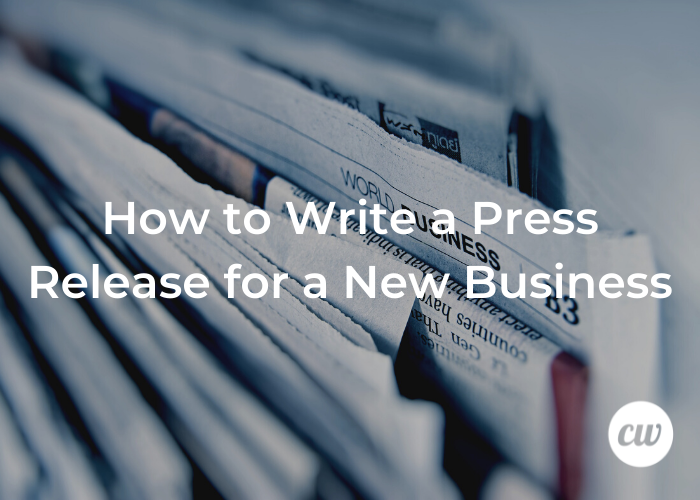 How to Write a Press Release for a New Business
A well-written press release is a powerful tool to inform potential customers as you prepare to launch your new business. A press release can also help firmly establish your business' brand and set the proper tone from the outset.
This article will explain how to write a press release for a new business, which will help you raise awareness of your brand and earn media attention.
What is the Goal of Your Press Release?
If your press release is the official announcement about your new venture, the primary goal is likely to raise awareness among potential customers that you are open for business.
This communication tool also is your chance to tell your story as you want it to be told. Since your business is new, your initial press release can help you get the facts out and set the tone for how you will conduct business going forward—professionally and with excellent quality.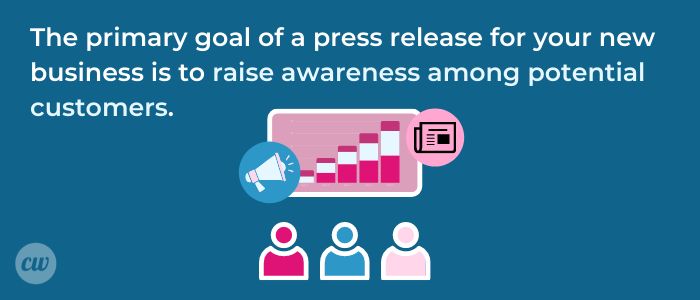 Who is the Audience for Your Press Release?
Journalists and media influencers are the first audiences for your press release. They may pick up and write about, or reshare, your story. A well-crafted message aimed at reporters and influencers can help you reach potential customers through media channels like newspapers, online news sites, radio and television—and even social media.
To appeal to journalists and influencers, your press release should have a strong news angle. Since you are new in the marketplace, simply announcing you are open for business may be newsy enough.
If you're planning a grand opening, a special event to celebrate the launch of a new product or service, reporters and influencers may be more likely to pick up your press release if it is pegged to an upcoming event or product launch.
Who is Your Press Release's Underlying Audience?
Whether your business provides a product, service or experience, those who are most likely to want to consume what you are offering are crucial to consider as you compose your press release.
Your ideal customer—which is likely outlined in your business or marketing plan—is the underlying audience of your press release. They're who you're trying to reach.
Before beginning to write your press release, take a moment and imagine yourself as this person. Ask yourself: what most appeals to me about the product, service, or experience offered by this business?
The answer should be the key component of your press release's message.
Writing a Press Release: What to Include
Press releases typically follow a set formula. Whether the news is the opening of your business or future news once your business is launched, like the hiring of a new employee, an upcoming event, or an anniversary, here is a checklist of the standard elements — in the proper order — to include:
Your logo to visually reinforce your brand at the top.
Your contact information so the media knows immediately who to call, text or email for more information. Be sure to include both cell phone, landline and email address.
The date. If applicable, you may embargo a release simply by stating "Embargoed until DATE." This means nothing will be published prior to the embargo date, and any reputable media outlet will respect this. An embargo may actually help news outlets plan ahead. Don't embargo a release for more than a day or two at most.
A headline that highlights the news in a memorable way. Use keywords here to optimize any search engine activity if your release is published online. Don't force it, though, the language should be natural.
A sub-head may provide secondary details about your news. Again, use keywords here.
A dateline with your city, state or country. If you are sending only to news outlets in a certain state, you need only include your city. Likewise, if you are sending to all 50 states, include your city and state and if you are sending it internationally, include state and country.
The body of your release may include—in the following order:
The 5 W's of your news—who, what, where, when and why. This is where you can include your news peg with the where and when, who your ideal customer is, and why your business would uniquely appeal to them.
A quote from your business' leadership or a testimonial that adds human insight into your news.
Any facts and figures that are important or meaningful to your business.
Links to your website or social media pages or other relevant information. Embed links in the narrative, don't use "click here." Don't overdo the hyperlinks since too many may impact search engine optimization.
Photos or other media like embedded infographics or videos.
At the very bottom of the release, include your boilerplate language. This sentence or two very succinctly describes what your business is about. It usually is part of your branding and is included in all marketing materials.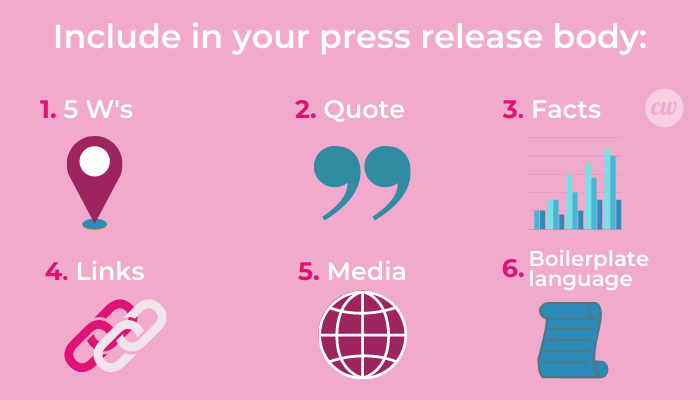 Other Things to Keep in Mind When Writing Your Press Release
Be conversational but professional in tone—imagine speaking to your potential customers.
Don't use jargon or insider language and either avoid or spell out any acronyms on first reference.
Write for people, not to optimize search engine hits. Use keywords, but use them naturally and sparingly.
Keep paragraphs short and break up your text with subheads where appropriate.
Keep your release as concise as possible — depending on the complexity of your business' product or service, one to two pages or 400 to 600 words should be sufficient to communicate the essentials.
Edit out extraneous information and be sure to proofread thoroughly for typos, misspellings or grammatical errors. This communication reflects your business and you want to come across as professional and competent.
Where to Send a New Business Press Release
As mentioned earlier, journalists and media influencers are your key targets. You can reach them in several ways:
If your business serves a local audience, send your release directly to the major media outlets and influencers in your area. This may require some research to determine the proper contact at each outlet.
If your aim is to reach a broader regional, national, or even international audience, consider paying for a newswire service that will disseminate your release via a variety of online means as well as directly to key outlets in the media market you identify.
Post your release on your social media platforms and reach out to social media influencers in your market with the release.
Consider trade associations that may be interested in your product or service and send the release to their communications and marketing team to include in their communications.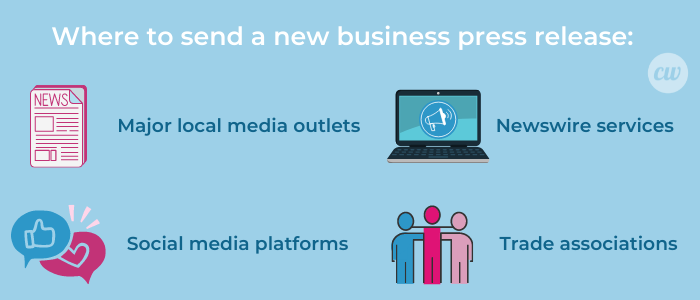 Any mention of your news is considered 'earned media' and is invaluable to your business.
If a reporter or influencer reaches out to get more detail about your business, an additional quote, or to do an original story based on your release, this is a huge opportunity. It lends extra credibility to your new venture since the outlet has determined your news to be of broad enough general interest to warrant extra time and valuable space in its publication, broadcast, or post.
To recap the key steps in writing the ideal press release for your new business:
Clarify who would be most interested in the opening of your business. Write for them.
Identify the news angle. This could be the business' launch or a special event around the opening.
Write your release following the formula outlined above.
Determine what media would be most likely to share your news, focusing on outlets with an audience that includes your potential customers. Send them the release.
Congratulations on your new business and taking the first step toward sharing all you can offer your community through a stellar press release!
If writing isn't part of your skillset, ContentWriters can help. Create an account here to get started today.


Elaine has more than 10 years of experience writing in the fields of public relations, journalism, gardening, travel, and medical field.