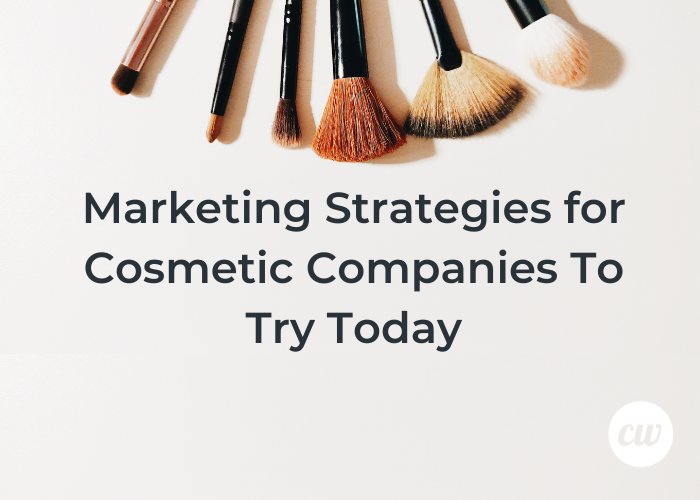 Effective Marketing Strategies for Cosmetic Companies To Try Today
The beauty industry is worth billions of dollars and continues to grow every year. To stand out, it's essential that you have a marketing plan that helps you get in front of your target audience and convince them to buy your product.
In this article, you will find fool-proof marketing strategies for cosmetic companies that can be implemented starting today.
Start By Perfecting Your Brand
Many beauty businesses (and businesses in many industries) are so focused on launching their first products and making sales that they often gloss over this underestimated but essential step. It is crucial that your brand personality be ironed out before you press "launch." Especially in an industry as competitive as beauty, you need to prioritize having a brand that resonates and attracts users.
Your brand should clearly communicate who you are, what your mission is, and what makes you unique—all without saying it verbally. These traits should be prevalent in your colors, logo, packaging, brand assets, and more. After you nail your cosmetic branding strategy, you can confidently move on to some of the other marketing strategies outlined in this article.
Hone in on Organic Social
Building an organic social media following can be cumbersome and seem like an endless road ahead. Organic social is in many ways, a road that never ends, but it is one worth walking.
While it might be tempting to bypass the process of building your social media platforms and go straight to advertising, your social media accounts are still one of the most effective ways to build your cosmetic brand.
Platforms with visual prominence like Instagram, TikTok, and YouTube are effective channels that can help build hype around your products and brand. Many massive cosmetic companies such as Anastasia Beverly Hills, Morphe, and Huda Beauty grew to success almost entirely through their social media accounts.
Stick to a consistent posting schedule every day, test different types of content, see what performs the best, and do more of that. Try boosting your posts to help gain more visibility and get more eyes on your page. The next tip will explain this further.
Expand Your Reach With Social Media Ads
If you have a business account on Instagram, Facebook, or TikTok, you will be given the option to promote your posts. YouTube also offers a similar feature but it's a bit less straightforward to use.
After you publish a post on your social accounts, try boosting it to your target audience with the objective of driving profile visits. This will show your post to users who are likely to visit and follow your page.
Remember, the lifetime value of an organic social media follower (especially in the cosmetic industry) is far greater than that of a one-time-purchaser. So, for the first year or so of business, growing your social media following should be one of your top priorities.
While social media ads can be used to drive purchases, with recent IOS privacy updates, these campaigns are far less effective than they used to be and can result in wasted ad spend.
For this reason, we suggest using ads only to grow your following (at least to start) and then encouraging them to buy with your organic content (in a non-salesy way). Often times this can be as simple as posting a tutorial using a given product, boasting a sale, or showcasing swatches.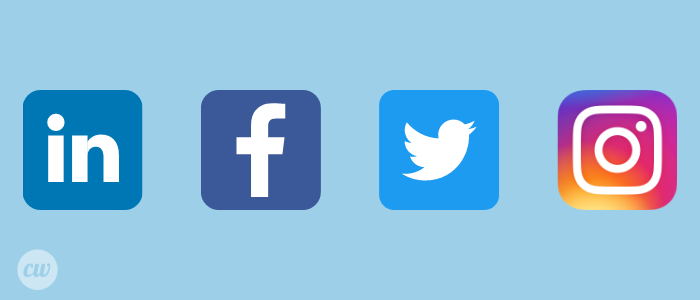 Partner With Beauty YouTubers
It's no secret that influencer marketing is one of the most effective marketing strategies in this day and age, and for cosmetic brands, YouTube is one of the best platforms. Not only is this platform the second largest search engine in the world, with over 2.6 billion users, but people are both watching and listening to the content—something that is not always the case with Instagram and Facebook, for example.
Furthermore, buying intent on YouTube is often greater than it is on other platforms such as Instagram and Facebook. Users utilize the platform to learn how to do something or to hear influencers' thoughts on a given topic. For this reason, cosmetic brands can really thrive by partnering with influencers who can talk about your products and also show how to use them.
The advantages of working with YouTubers are two-fold: you get the benefits listed above plus most beauty YouTubers will also have Instagram accounts so you can negotiate a feature on both platforms—whereas the reverse is often not true with Instagram creators.
Develop and Consistently Create Blog Content
Despite what some self-proclaimed "experts" may have you believe, blog content is just as effective now as it has ever been when it comes to marketing beauty products. Maintaining a blog can help you develop more reach and visibility on the Google (or Bing) result pages, and help you build thought leadership and authority with your target audience.
Try creating blog content about beauty trends, tips and tricks, and other things that will resonate with your readers. Use a keyword research tool such as Ahrefs or SEMRush to determine what questions people are asking that relate to your business and then write posts that address them. This can be a great way to earn organic search engine rankings and create engagement on your website.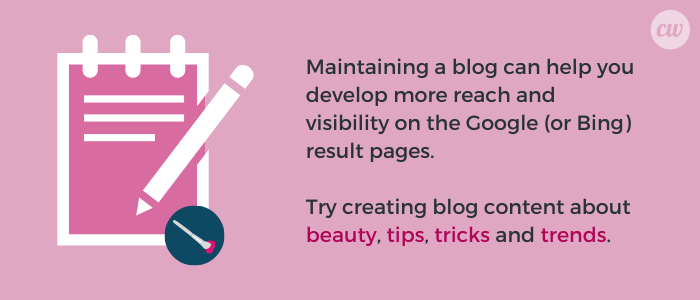 Perfect Your Video Content
The beauty industry is one where video content is particularly effective. While the consumption of video content is rising across the board, it continues to be one of the most impactful marketing strategies for cosmetic companies. Video has been proven to engage viewers in a way that other mediums simply can't.
Videos are easily digestible and visually appealing, which makes them popular among beauty enthusiasts, and eyeliner-amateurs alike. Especially in an industry where the product in itself has a visual appeal, this content is even more effective.
We suggest posting transformation videos, swatching your shades, and including tutorials that use your products.
Collaborate with Spas and Industry Pros
The beauty industry is highly collaborative, especially on a marketing level. Collaborating with spas and makeup artists can be an excellent way to distribute and promote your product.
If you have higher-quality products, many times, salons and spas will buy them at wholesale price and use them on their clients. Makeup artists will do the same. This is a win-win solution for you and them. It gives the salon or makeup artist an opportunity to make some extra money while getting your product in front of their clients.
Connect with spas, salons, or makeup artists and offer them complementary products to try before approaching them with the business opportunity.
Leverage User-Generated Content
Another beauty industry marketing strategy that you can count on is user-generated content. User-generated content is a great way to diversify your content feed and resonate with users who recognize or follow the original creator. When users begin to realize that you repost customers who share their products, they may want to share as well.
If you can get your customers to create content using your products, it is the quickest way to generate virality, grow your social following, and increase your customer base. Encourage purchasers to tag you or use your hashtag so you can find their content.
Incentivize content creation by reposting content on your page. If your followers love your products, they will often want to share them with others. But if not, you can also pay influencers to promote your products and create social buzz around them.
Create PR Lists With Up-and-Coming Influencers
PR lists are one of the most notorious ways for beauty brands to quickly generate hype around their products. If you aren't familiar with PR lists, it is a list of influencers to whom you send free products (often on a regular basis) with hopes that they will share or use your products in their social media posts.
Because nearly every beauty brand is already taking advantage of this strategy, we don't suggest approaching the biggest influencers out of the gate. The reason for this is that the influencers with the most followers are receiving hundreds of PR packages every day, so if they aren't already loyal users of your brand, your products are likely to go into a donation bin.
However, smaller influencers don't receive too many packages and are ecstatic to receive anything for free so the probability of them using your products in a post is high.
Even if they post an unboxing story, it's generally enough to attract some new followers to your page, and any content that they share using the product can be reposted on your page.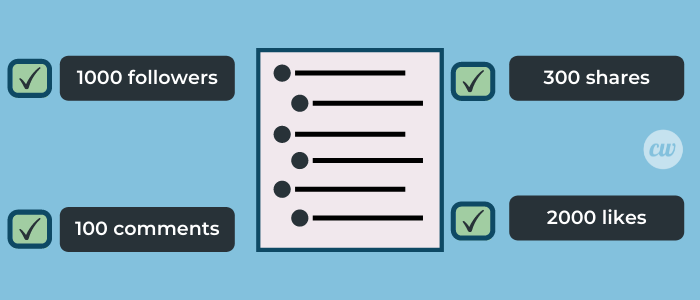 Final Thoughts
Competing in the increasingly competitive cosmetic space is no easy task. By creating a robust marketing strategy that gets your brand in front of your target audience and provides them with consistent value, you will be well on your way to success


Emily is an experienced digital marketer with almost a decade of experience helping businesses scale through online channels. In addition to her business background, she is also a personal trainer and nutritionist and runs a growing wellness blog called Girl Let's Glow.