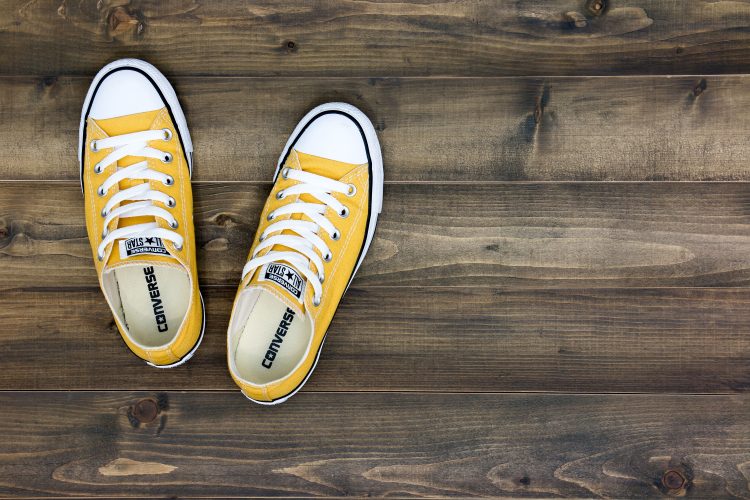 How Converse's Marketing Works: Understanding Their Multi-Generational Strategy
Every generation has owned a pair of Converse shoes at some point in their lifetime. I've been wearing Converse shoes since middle school. I even wore a pair at my wedding (who wants to deal with heels?) Whether your parents flaunted Converse back in the day or your favorite celebrity dons a pair today, the company continues to appeal to multiple generations.
With such a diverse customer age range, Converse relies on a multi-generational marketing strategy to appeal to the masses. Thanks to today's technology and promotional strategies, they are able to target specific marketing messages to each subsection of their customer base.

The History of Converse
The legend of Converse shoes begins back in the early 1900s when Converse Rubber Shoe Company produced the Converse All Star shoe in 1917 as basketball was skyrocketing into popularity. Chuck Taylor, an icon in the world of basketball, first laced up a pair of All Stars in 1918. After Chuck joined Converse in 1921 and helped to perfect the basketball shoe, "Chuck Taylor All Stars" started to be worn by players across the United States. From then on, Converse shoes became directly associated with basketball history.
Around the 1970s, athletic shoes became part of everyday wardrobes. To stay on top with consumers, Converse developed new lines of its classic shoes featuring various colors, patterns, and prints respective to different age group desires. This started the trend of Converse shoes as fashion statements rather than just functional athletic shoe, and helped establish Converse as a lifestyle brand.
Since 2003, the brand has been a subsidiary of Nike, supporting Converse shoes' global reach. With such a deep history, Converse works to preserve its iconic status within several generations.

Converse Marketing Strategy to Older Generations
As you can see, the older generations, particularly babyboomers in the United States, have an emotional connection to this timeless shoe brand. To capitalize on this, Converse uses storytelling tactics throughout their marketing campaigns. Even though the storylines may not necessarily be directed at older generations, the stories seek to connect with the audience.
For instance, as part of the Forever Chuck campaign, Millie Bobby Brown narrates a video which looks at why characters in film wear "Chucks". The short video discusses how iconic characters, such as Marty McFly from Back to the Future, wearing the style of shoes symbolizes personal freedom, doing your own thing, or succeeding as the underdog. Even the way the video was filmed seeks to engage with older audiences, drawing on previous video production tactics and effects.

How Converse Markets to Younger Generations
Today's youth look up to influencers, celebrities, and other individuals of status. Converse utilizes influencers and celebrities in their campaigns, with both product placement and digital marketing playing strategic roles in giving younger consumers a tangible connection to the shoes. Influencers either partner with the brand, appear in campaigns or flaunt the products in social media posts or during press appearances and red carpet events.
Recently, Converse has partnered with popular stars such as:
Pete Davidson

Millie Bobby Brown

Winnie Harlow

Maisie Williams
The brand also produces content with bands across genres to appeal to multiple young audiences.
While newer generations know Converse from their parents, building awareness through famous personalities is the strongest way to reach younger audiences.
How Does Converse Maintain a Multi-Generational Appeal?
The use of storytelling and connecting the brand with beloved celebrities is apparent in marketing strategies geared toward both generations. However, each generation prefers different social media platforms, devices, and trends.
As with most brands, the Converse brand is apparent on several social media platforms including Facebook, Instagram, and YouTube. Each of these platforms provide brands with ad targeting capabilities, which allow brands to serve certain audiences content. While ad targeting isn't a new marketing technique, it is helpful when attempting to reach various age groups as Converse needs to.
Since the beginning, Converse has managed to create an unparalleled connection with consumers. To this day, the brand utilizes that connection with all generations.
This is a strategy that fashion brands can use to invest in long-term brand loyalty. Explore our blog for even more tips on marketing for fashion brands.


Anne is a copywriter and digital marketing specialist currently residing in the Greater Nashville area. Originally from New England, she leverages her three top talents (writing, marketing, and coffee consuming) for businesses and brands of all sizes across the globe.
Anne is a 2013 Marketing Communications/Advertising graduate from Western New England University in Springfield, MA. She credits her launch into writing to her legendary elementary school poem about pizza that wowed the judges and won the creative writing award in her school district.
When not writing or working on marketing campaigns, you can find Anne at a coffee shop, exploring somewhere new, or training in martial arts as a 3rd degree black belt.