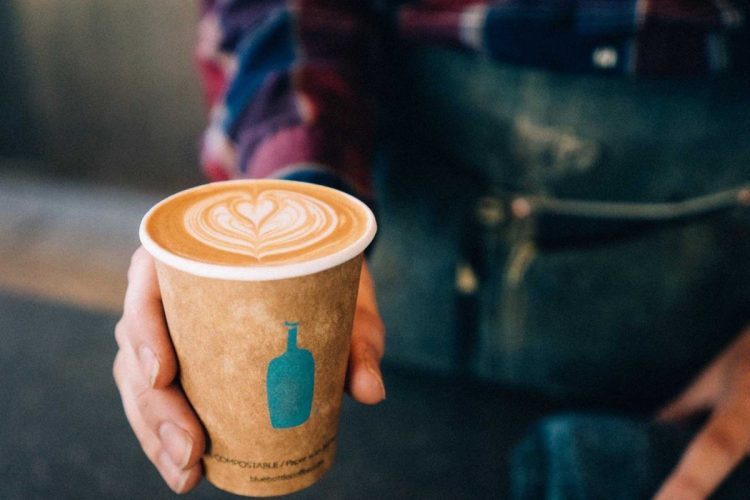 Blue Bottle Coffee: Gaining Loyal Fans and Educating Customers through Content Marketing
Do you like coffee? Of course you do. Have you noticed an abundance of coffee shops opening in your closest city? You probably have. But there's something different about these coffee shops. You can't quickly order a cup of coffee and dart out the door. Baristas like the ones at Blue Bottle Coffee don't grab a pot of coffee brewed four hours ago and sling it into a cardboard cup for you. Instead, they carefully brew your coffee to be the absolutely freshest cup possible.
Blue Bottle Coffee, headquartered out of Oakland, California, is leading this charge and customers are—excuse the pun—addicted. This movement, commonly referred to as third wave coffee, focuses on providing fresh coffee via a variety of high-tech or strategic brewing methods. Cafes of this nature commonly have sleek branding, comfortable and modern decor, and highly knowledgeable employees. Blue Bottle Coffee has taken all of this a step further with their content marketing efforts.
Blue Bottle Coffee on Social Media
If you have an Instagram account, you know just how many coffee mug and espresso pictures there are on the platform. Visit Blue Bottle Coffee's Instagram account and you'll be amazed at the clean, consistent imagery used to connect with their audience. The cafe doesn't need to rely on contests, influencers, or marketing gimmicks—their images tell the story.
From their branding to the cafe decor to their social media accounts, Blue Bottle Coffee understands the benefits of simplicity. With a world of marketing noise, sometimes simple does it best.
Educating Coffee Lovers Everywhere
Third wave coffee utilizes a multitude of roasting and brewing methods to produce a fresh cup of coffee to the taste preferences of the individual. Of course, not all consumers truly understand what this means—especially if they're used to grab-and-go convenience store coffee. Blue Bottle Coffee saw this market challenge and faced it head on.
To inform the masses about proper brewing techniques, roast profiles, and more, the company went ahead and created educational resources such as:
Blue Bottle Coffee realized that the more customers knew about the process and the industry, the greater the chance they'd purchase from the company. From educational guides to in-person events coupled with instructional content, this is coffee content marketing at its finest.
Coffee Subscriptions for the Masses
Blue Bottle Coffee understands that their entire audience isn't confined to California, New York, and Japan. With this in mind, the company has created a subscription service. No matter where you're located, you can have Blue Bottle Coffee's signature beans delivered to your doorstep, packaged with the company's recognizable branding.
The best part about the subscription service is that Blue Bottle Coffee puts the control in the customer's hands. When you purchase a subscription, you have complete say in how much coffee you receive and when.
Content Marketing Done Right
How does Blue Bottle Coffee excel at content marketing? By focusing on simplicity, education, and customer control. All three of these components combine for superb content marketing and overall success.


Anne is a copywriter and digital marketing specialist currently residing in the Greater Nashville area. Originally from New England, she leverages her three top talents (writing, marketing, and coffee consuming) for businesses and brands of all sizes across the globe.
Anne is a 2013 Marketing Communications/Advertising graduate from Western New England University in Springfield, MA. She credits her launch into writing to her legendary elementary school poem about pizza that wowed the judges and won the creative writing award in her school district.
When not writing or working on marketing campaigns, you can find Anne at a coffee shop, exploring somewhere new, or training in martial arts as a 3rd degree black belt.