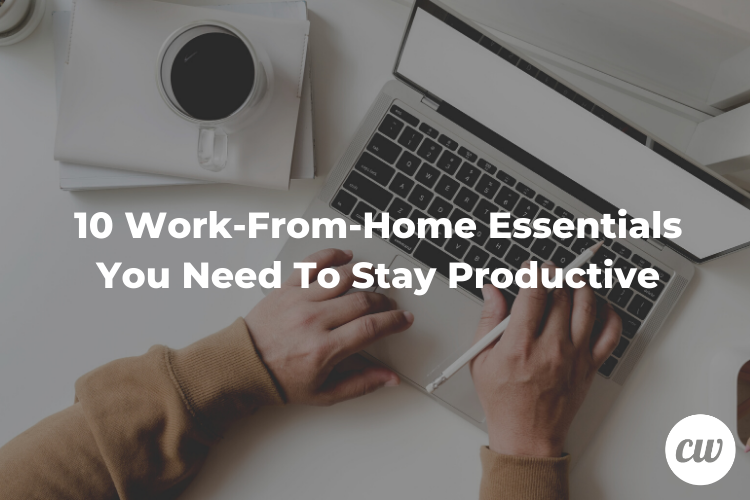 10 Work-From-Home Essentials You Need To Stay Productive
In this unprecedented time, companies are adopting a work from home policy allowing their employees to stay safe from the COVID 19 pandemic. Yet employees who are used to working at the office may not have the best tools for working at home.
While we'd all love to throw on sweatpants, make the long commute from the bed to the couch and call it a day, that's not a productive way to work from home.
Remote workers need a few necessary tools to transform their home into a productive workspace. Read these 10 tools and see how many you might be using already.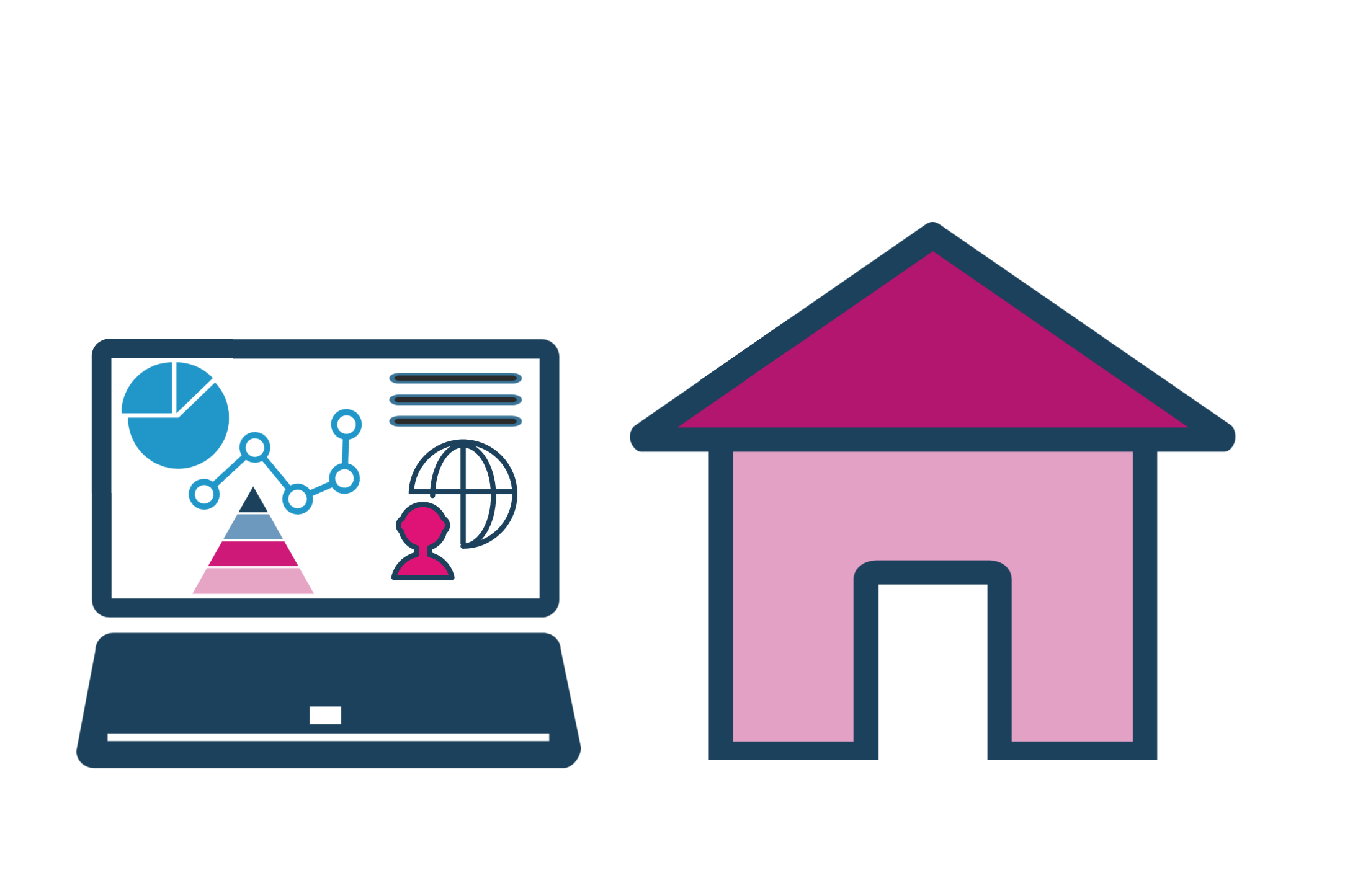 1. A Dedicated Workspace
All new remote workers run into the same problem when they first leave the office: the entire house suddenly becomes your workspace.
Making pancakes while on a conference call? No problem! Copywriting on the back patio? Why not?
While these situations are feasible and offer great flexibility, they aren't always the most productive environments. After a while, you'll notice yourself working from wherever whenever, leading to several unhealthy work habits.
And if you're working from home due to the global health crisis, chances are others in your home are too—leading to a battle for attention and space.
Find a room or a space you can call your own and dedicate it to work. When you're in that spot, it's time for uninterrupted work. Be sure to communicate these boundaries to everyone in your home, too.
2. A Desk… Of Some Sort
Once you've designated a space to call your "office," you need something to set up camp on. You don't need to rush to Ikea for a new desk, but you do need something sturdy and comfortable to work on.
Your desk could be a card table, a folding table, whatever you have available in your home! Or, you could invest in a standing/sitting desk from sources like Fully, Wayfair, or Amazon.
Don't forget to get a comfortable chair too. Working from the bed or couch is only productive for so long!
3. Noise-Canceling Headphones
Whether you have roommates or kids working on their school work online, distractions are everywhere when you work from home. Even the dog barking at cars passing by can be enough to disrupt your workflow.
Remote workers across the globe agree that a quality pair of noise-canceling headphones is one of the top tools for working at home.
No matter if you're in your home office or at a noisy coffee shop (ah, the good old days), you can completely focus on your work without being distracted by nearby noises.
4. Computer Accessories
Everyone has their own style of working. Some people prefer to only use a laptop while others need two or three monitors to get the job done. There's no right or wrong style for working from home.
Whatever your preference may be, make sure you have the computer accessories you need to get your work finished effectively and on time. Common remote work accessories and equipment include:
External monitor
Bluetooth mouse or trackpad
Bluetooth keyboard
Charging stations
HDMI/VGA cables
Additional power cords
Think about the equipment you used back at the office and work to replicate your setup as best as possible at home.

5. Communication Tools
Once you're all set up in your designated space, it's time to download tools to effectively communicate with your colleagues.
Most companies already have a system in place for employee communication. If your organization doesn't, consider implementing work from home communication platforms like Slack.
Although you can't have meetings in person anymore, you can still chat regularly with your team through video and audio conferencing communication tools available online. Popular choices include Zoom, Google Hangouts, Skype, GoToMeeting, and Microsoft Teams.
6. Scheduling Tools
One of the beauties of working from home is the ability to set your ideal schedule. Not a morning person? Start your day at 10:00 am (assuming your boss is cool with it…)!
But, that schedule must be effectively communicated to all members of your team. If employees need to schedule a meeting with you or speak to you, they need to know about your availability—especially now that everyone's routine is all over the map.
Tools like Calendly allow your teammates and clients to schedule meeting times with you based on the availability you select. So if you prefer those late afternoon naps, make sure all your meetings are scheduled in the morning by blocking out the afternoon!
And, if your company has offices in multiple states or countries, it's imperative to be on the same page about meeting times. That's where tools like Timezone.io come in. The last thing you want is to miss a meeting because you mixed up your timezones!

7. Project Management Tools
If you suddenly find yourself working from home, collaborating with your colleagues may seem difficult at first. Instead of brainstorming together around a conference table, everyone is relying on each other to keep your projects rolling.
If your team doesn't already use a project management tool to organize projects, campaigns, and internal goals then working from home is going to be difficult.
Project management tools such as Trello, Asana, and Zoho offer several functions designed to help streamline and organize projects across departments. No matter what timezone you or your teammates are in, everyone can be on the same page about projects, tasks, and deliverables by interacting with these tools from home.
Best of all, these tools allow for seamless integration with your file-sharing tools such as Google Drive or DropBox for seamless collaboration.
8. Time Tracking
When it comes to working from home for the first time, employees often fall into one of two traps (or both if they're not careful!): working too little or working too much.
It's all too easy to switch on an episode of Law & Order: SVU and tell yourself that you'll get to those social media posts later. Or, on the other hand, it's 9:00 pm and you're still plugging away at your latest article. Because why not, right? It's not like you have a commute now.
Each of these scenarios leads to unproductive and potentially overworked remote employees. While most of the problem boils down to a matter of discipline, it also deals with improper time management.
Stay on top of your time management at home with time tracking tools like Toggl. Toggl provides remote workers with basic and advanced features to effectively manage their time and workflow including reminders, project classifications, reports, and billable rates.

9. Tools for Focus
Listen, working from home isn't a vacation. From friends texting you every two seconds to your neighbors deciding to fix their roof at 7:00 am, distractions are everywhere.
Luckily, plenty of online tools are available to help you tune-in and focus.
Ambient Noise
Writers experience a shared problem when it comes to blocking out noise with music. We end up writing the lyrics we hear rather than the words we intend to write!
To combat this many writers use ambient noise tools to help focus while working at home. These websites recreate a variety of environments such as a coffee shop or the great outdoors to help workers focus. You'll feel like you're there, even when you can't be.
A few of the top options include Coffitivity, Noisli, and HipsterSound. Cycle through a few of the programs and see which spikes your productivity best!
Pro Tip: pair these sounds with your favorite movie soundtrack for ultra-focus!
The Pomodoro Technique
The Pomodoro Technique is a time management approach that starts by concentrating on a task for 25 minutes. Once that time is up, take a short break before hopping into another 20-25 minutes of focused work. After four cycles, take a longer break.
Many remote workers find this technique helps them focus better at home. However, setting the timer on your iPhone can get tedious or you might forget all about the timer, derailing your time management efforts. Tools like Focus Booster utilize the Pomodoro Technique to help remote workers concentrate better on their work. Similar tools include FocusTimer and Timepiece.
Website Blockers
If you find yourself scrolling through Twitter more than checking off items on your task lists, it's time to get serious about which tools to use at home. Apps like StayFocusd will block distracting websites like social media, news sites, or games.
Remote workers also like programs such as Freedom, which block websites and apps across all devices. This means you can't block Facebook on your laptop and have instant access to it on your phone.
Many of these apps also come with time tracking capabilities so you can monitor your productivity at home simultaneously.

10. Miscellaneous Tools for Working from Home
When gathering tools for working at home, don't forget these miscellaneous but imperative devices.
WiFi Extender
Now that everyone is at home and needs WiFi access, you'll find that your connection may be a little slow in certain spots throughout your house. A WiFi extender will amplify the signal throughout the home for uninterrupted use.
Your Favorite Coffee Mug
You're going to be drinking a LOT more coffee/tea/hot chocolate now that you work from home. Why not do so in a mug that makes you smile? It's an essential tool for remote working!
Proper Attire
Don't get me wrong, I'm a big fan of sweatpants and slippers. But there's a psychological switch that flips on when you dress for the workday, so continue the routine at home. While you can skip the suit and dress pants, preparing yourself for a day at work will help you step into a productive mindset before you sit down at your desk.
Make Working from Home Simple
Make remote working one less thing to worry about during these uncertain times by implementing some of these tools for working from home into your routine. Be sure to share with your co-workers and others now making a living from home.



Anne is a copywriter and digital marketing specialist currently residing in the Greater Nashville area. Originally from New England, she leverages her three top talents (writing, marketing, and coffee consuming) for businesses and brands of all sizes across the globe.
Anne is a 2013 Marketing Communications/Advertising graduate from Western New England University in Springfield, MA. She credits her launch into writing to her legendary elementary school poem about pizza that wowed the judges and won the creative writing award in her school district.
When not writing or working on marketing campaigns, you can find Anne at a coffee shop, exploring somewhere new, or training in martial arts as a 3rd degree black belt.