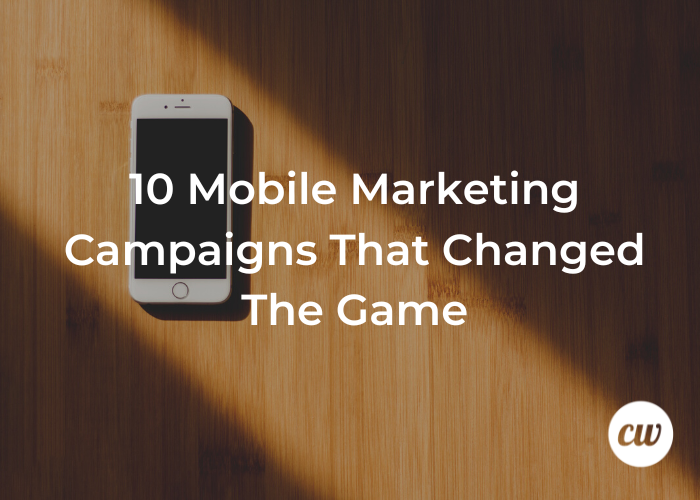 10 Mobile Marketing Campaigns That Changed The Game
As people increasingly depend on their smartphones for information, entertainment, and connecting with one another, mobile marketing campaigns have become a necessary component of any effective content marketing strategy.
According to bankmycell.com, a leading trader of technology gadgets, nearly 84 percent of the world's population owns a mobile phone. That's 6.64 billion people, and Statista predicts this will rise to 7.5 billion by 2026.
Bankmycell.com further outlines just how attached we are to our mobile phones:
The average mobile phone user checks their device 63 times per day.
86% of users will even check their phones while with friends and family.
69% of smartphone users check their devices within five minutes of waking up in the morning.
These statistics underline why having a hearty mobile marketing strategy is imperative.
What is Mobile Marketing?
Mobile marketing is a digital strategy of reaching your target audience on their smartphones or tablets via email, websites, social media, apps, text, and MMS.
Must-have components of mobile marketing include:
A mobile-friendly website that loads quickly and needs no side-to-side scrolling
Responsive landing pages. You don't want someone to click on your ad or text only to be taken to a landing page that isn't optimized for mobile use. That would be a lesson in how quickly your audience will simply click away.
Texting in the right media and tactics for your audience: reminders, videos, product alerts, and promos
Ecommerce solutions that are mobile-friendly and customer-centric
Campaigns that support your acquisition, retention, engagement, and conversion goals
Mobile apps that are continuously useful and engaging
If you think your target audience may not be a mobile one, think again. Pretty much everyone is a mobile phone user, even grandma. The key is to know how your audience uses their mobile device.
Benefits of Creating A Mobile Marketing Strategy
Mobile marketing can be as involved as creating an app or game or as simple as sending out a strategic text to engage customers and prospects. Whatever your approach, there's no denying that the most significant benefit of mobile marketing campaigns is that people always have their smartphones by their side to receive your message. With mobile marketing quickly surpassing that of laptops and desktops, here are a few more benefits that make mobile marketing a tactic that shouldn't be ignored:
Consumers will receive your message wherever they are instead of waiting until they are sitting by their computers. You have 24/7 access to your customers and prospects.
If your campaigns are well-tailored to meet customer expectations, brands can establish two-way communications that build strong relationships.
User response is easily tracked and monitored to measure success and help you better understand your audience for future communications.
When the campaign hits a positive chord with your target audience, it gets shared with others.
Mobile marketing, when used for customer service, provides a superior customer experience because of its immediacy.
10 Outstanding Mobile Marketing Campaigns To Learn From
A mobile marketing campaign suits almost any goal, from raising brand awareness and increasing sales to gaining web traffic and growing leads. What separates an outstanding mobile marketing campaign from the rest is the instant engagement received from customers and prospects. No matter what activity they are in the middle of on their phone, they cannot help but react and engage. Here are ten effective mobile marketing examples.
1. Burger King – Burn That Ad
Competition is intense in the fast-food industry, and Burger King was unafraid to hit Brazillian competition hard. The burger giant added an augmented reality scanner to its mobile app that allowed users to burn their competitor's ads in exchange for free burger vouchers. Appealing to those who enjoyed technology, Burger King expected to give away half a million Whoppers. The campaign won a 2019 Clio Award.
2. Oreos – Dunk in the Dark
Quick thinking created one of the most memorable moments of Superbowl marketing history. And it wasn't even an ad! In 2013 when the power went out during the Superbowl, Oreo posted a simple tweet, "Power out? No problem. You can still dunk in the dark." This witty and fast on one's feet reaction was retweeted 10,000 times in one hour, according to AdAge. While others spent millions on Superbowl ads, Oreo was able to light up social media with its brilliant and quick thinking.
3. Quaker Oats Salutes Frontline Workers During Covid
With help from the Smile Foundation, Quaker Oats launched a campaign on National Doctors Day (July 1) by providing nutritious oatmeal to hospitals across the nation to sustain those on the front lines of the battle against Covid. They also developed stories of healthcare workers in different areas of the country and shared them one per week across social media. Quaker Oats served over 100,000 oat-based meals to the hospital community.
4. Ocean Spray's Craisin Influencer Campaign
Ocean Spray asked food and lifestyle influencers to produce content that showcased craisins as an ingredient in their holiday recipes. They asked their influencers to mention buying craisins at Walmart and partnered with Walmart to track in-store sales. The results showed a 4.2 percent sales increase in craisin sales at Walmart and landed them on the shortlist for a Maddie Award for Most Effective Marketing in2021 (Mobile Marketing Award).
5. Twix & Coffee Instagram Campaign
Twix, an avid Instagram-using brand, encouraged their fans to purchase more through an Instagram campaign promoting coffee-lovers to dunk a Twix bar to enhance the flavor of their coffee and create a deliciously more gooey Twix experience. This fairly straightforward campaign exceeded its goals by understanding its audience and what would resonate with them.
6. IKEA Place Augmented Reality App
IKEA Place allows users to browse their catalog on a mobile phone. It employs augmented reality to demonstrate what a piece of furniture will look like in your home environment in a 3D and is accurate to scale. The ability to envision a couch, coffee table, or bookcase as it would look and fit with 98 percent accuracy certainly gives IKEA a leg up over the competition. The app has brought IKEA 370,000 new monthly users globally.
7. Sephora Video Campaign
Sephora created an "Identify As We" video campaign to kick off Pride Month that celebrates beauty and the LGBTQ, nonbinary, and gender fluid population. The videos show influencers such as non-conforming model Aaron Philips, among others, as they go about their day, including putting on makeup. As Sephora is a company committed to diversity and inclusion, this campaign was perfectly in-line with its branding.
8. Honda's EvoTrack Mobile Game
To promote the new 2022 Honda Civic, they created a free game that allowed players to virtually test drive the new Civic and the Honda RB16B Formula One car. Players are supposed to complete as many successful rounds as possible. In exchange, they receive vouchers for Honda and Red Bull licensed merchandise. Because Honda already has a track record of creating games and has a gaming channel on Twitch, this promotion was well received.
9. Cottonelle's #ShareASquare Campaign
At a time when people were hoarding toilet paper during Covid, Cottonelle created a campaign that helped assure people that there would be enough toilet paper to go around while also encouraging them to share the posts. By committing $1 for every share, they inspired people to spread the Cottonelle brand.
10. KFC's Facebook Messenger's Mother's Day Campaign
Mother's Day is surprisingly KFC's biggest sales day of the year, but Covid put a huge damper on that. KFC organized a virtual experience occasion that included invitations, an event reminder, digital stickers, and video chat to offset social distancing. Through this campaign, KFC focused on what families would really be missing on Mother's Day during the pandemic.
Lessons Learned From These Mobile Marketing Campaigns
Whether your brand is established or new, global or local, funded or running on a shoestring, every type of business can benefit from mobile marketing. Almost everyone is engaged on their phone, so that's the place to be when you want to reach them.
The examples above show that while apps are extremely popular and effective, you can also be wildly effective by simply making a post that catches the eye of thousands of people who are talking about a timely event. Just like Oreos did when they took advantage of the Super Bowl blackout. All that's needed is an open creative mind and the ability to act quickly to grab the moment.
It's a mobile-first world, and enhancing your users' experience is what's making or breaking these mobile marketing campaigns.


Deborah was the kid who would rather write book reports and essays than play ball during recess. Although she didn't score many points with her peers, it did lead to her career creating content for TV, radio, print and new media for companies as varied as Dooney& Bourke, Panera Breads, Visa, SUNY Ulster and Hudson Valley Federal Savings Bank.
She is also a principal of small packages – a digital design company, and past partner/marketing director of whatis.com, the world's foremost reference on information technology. And, her love of food enabled her to become a contributing editor of both Gourmet Retailer and Food Distribution Magazines.
Deborah has a bachelor degree in fine art from the Hartford Art School, University of Hartford and a masters in higher education administration from Stony Brook University. When she's not writing, her love of quilting, furry animals, friends, and family sustains her.