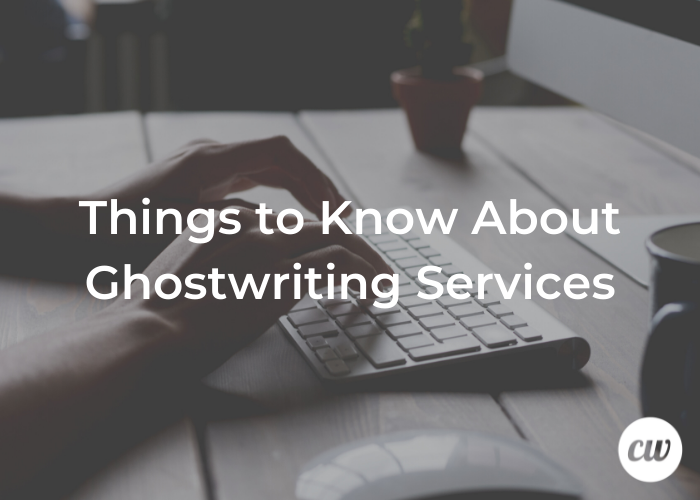 Things to Know About Ghostwriting Services
If you're planning to use ghostwriting services to create content for your company, you may have lots of questions about hiring a ghostwriter. You might wonder, "Exactly what is ghostwriting?" and "Where can I find a qualified ghostwriter?" You may even wonder what types of content a ghostwriter can create, and what you can expect from a ghostwriting service.
It pays to get educated about ghostwriting before you hire a content creator, that way there are clear expectations on both sides. A good relationship between the ghostwriter or content agency and your company's marketing team can make the difference between ghostwritten content that doesn't quite meet the mark and high-quality content that helps you achieve your goals.
What Is a Ghostwriter?
A ghostwriter is a writer who creates content under someone else's name. Celebrities often hire ghostwriters to pen their memoirs or even novels. But anyone can hire a ghostwriter if they need content for their online marketing campaigns and don't have the time, capability, or inclination to write it themselves.
Although ghostwritten content usually bears the name of your company president or CEO, you can attribute the work to anyone in your organization, from a product manager to a marketing director. From the reader's perspective, and also in the view of the search engines, no one will know you or someone in your organization didn't write the content.
What Types of Content Can a Ghostwriter Create?
Businesses use ghostwriting services to create all types of written content, including:
Blog posts
Articles (published on your website or third-party sites)
Social media content
Thought leadership articles
White papers
The complexity of the article and the level of detail required will determine how involved the in-house marketing or executive team should be with content creation. But a quality ghostwriter can handle any type of content, ranging from simple overviews to in-depth topics.
Some ghostwriters or the content agency they work with can also assist with content strategy and SEO, which are also important elements to creating a successful ghostwritten piece.
Should You Hire a Ghostwriter?
Some experts at HubSpot believe that c-level executives should write their thought leadership pieces rather than contracting them to an outside writer who may not understand your business or your value proposition as well as you do.
But a high-quality writer should be able to replicate a business leader's voice and, after an interview or two, capture the brand's message. Outsourcing ghostwriting frees business leaders up to focus on the big picture, including business strategy and growth.
If you have content ideas and no time to write them, or if you know your company needs to produce more content as part of your inbound marketing strategy but you don't know where to start ramping up your efforts, ghostwriting services can help.
Also, just because a company executive is a successful business leader doesn't mean they are a good writer. Some people have a passion and talent for writing. Others do better at conveying their company's message through video, public speaking, or some other medium. Some people have a talent for writing but don't enjoy it.
If any of these descriptions sound like you, it could be time to outsource writing to a ghostwriting service.
Is Ghostwriting Ethical?
Before you dive into the ghostwriting waters, you may have questions about ethics. Let's clarify a few points. If you are a researcher covering medical topics for trade journals, hiring a ghostwriter may be frowned upon. Likewise, it is unethical for students, especially college students, to hire a ghostwriter for term papers or a thesis.
But ghostwriting is a commonly accepted practice amongst celebrities, business leaders, public and motivational speakers, and even authors. The key is to ensure that your ghostwriter has created content that you can be proud to put your name on. After all, the work should represent you and your brand accurately.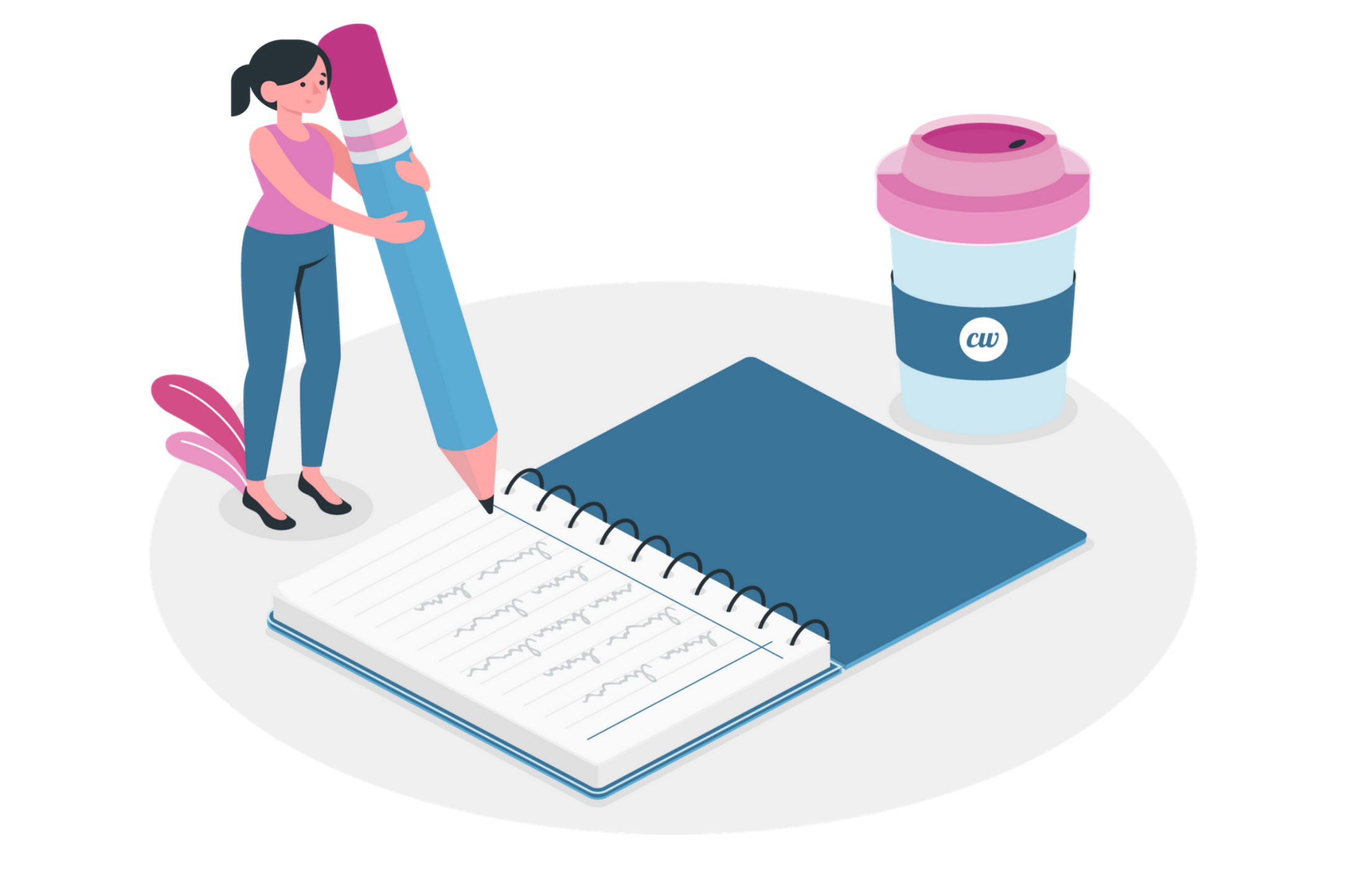 Benefits of Hiring a Ghostwriter
Hiring a ghostwriter has many benefits beyond the obvious of saving time and permitting you to focus on other aspects of your business where you have greater expertise. A professional writer can achieve a better result, often faster, than someone who is not a trained, expert writer.
Ghostwriters also understand the finer points of content strategy and can ensure your work includes all the elements of good content, including:
Being easy to read
Using keywords strategically
Using language to appeal to your audience
Weaving in anecdotes to tell stories that resonate with readers
Creating content optimized for the web, with subheads and short, scannable paragraphs
If you hire a content agency for ghostwriting services, you will often get so much more, including someone who can be a trusted partner to help you develop a cohesive content marketing strategy.
Ghostwriters can also provide an outside perspective. Often, if your company has been writing a lot of content in-house, the topics and language may start to feel stale. A fresh set of eyes reviewing your value proposition for the first time can find new, exciting ways to convey your message using different language. This direction can appeal to a new set of readers or get your regular visitors to view your company differently.
SEO and Brand Benefits of Ghostwritten Content
If you've recently launched a content marketing campaign, you're probably hoping to use your content to build your brand and establish authority. Publishing content under the byline of executive leaders can improve the authority of your website, or how trustworthy Google deems your content. This can help your site's search engine optimization, or where it appears in the search engine results pages (SERPs).
If your CEO or other leaders are in the public eye, writing content under their byline can also help you control the messaging about your company in the search engines. Rather than having potentially negative articles appear first in the search engines when they look up your name, you can start to get your content ranking when people Google your name. That helps promote your brand and improve your reputation as a business leader.
Publishing articles under your byline also makes you seem friendly and accessible as a company leader which, in turn, can improve your brand's reputation.
What You Should Know Before Hiring a Ghostwriter
Before you hire a ghostwriter, you should realize that having articles ghostwritten may not be a "hands-off" proposition for your company. The ghostwriter or content agency will likely want to speak with the executive or the marketing team to pinpoint the voice they should use in their writing.
A good ghostwriter will choose phrases that are in alignment with your brand and a style that matches the voice of your other writing work or other content on your website. If you've written articles in the past, you should share those as samples of the voice and style you are trying to achieve.
You might wonder if you should hire a ghostwriter who already has knowledge of your industry or the topics they will be writing about. While that's often desirable because there may be a shorter learning curve to get up to date on the material and company jargon, it's sometimes better to gain an outside perspective with a writer who is learning your industry from the ground up. They might see things from different angles and find new ways to appeal to your readers. A high-quality ghostwriter should be able to research and catch on to any topic quickly and write as if they were an expert in the field.
You may want to provide an outline to your ghostwriter so you know they are delivering the information you need that answers the questions you want to address in your content. Or you may lean on the ghostwriter to determine the best way to approach a topic.
Understand that the more information you provide to the ghostwriter about your company, your brand, the voice you want them to capture, and even the content you want to cover, the happier you will be with the end result.
Questions to Ask Before You Hire a Ghostwriter
When you're scoping out ghostwriting services, you'll want to know the right questions to ask before making a decision.
First, determine what you need from a ghostwriter. Do you need a full-service content agency that can provide SEO services, determine the best keywords to use, and help you map out your content strategy with an editorial calendar? Or do you have a marketing team that has created a content plan and you just need someone with the time and talent to develop the content you need?
Ask what add-ons may be available with the content, such as social media assets, SEO meta descriptions, keyword research, or photos.
Also, ask how many revisions are included in the final price for the content; you want to be sure you are happy with the end result, and sometimes it takes a draft or two to get it right, especially when you first start working with a ghostwriter.
You'll also want to find out how quickly they can deliver content, and if there are any rush fees added for a piece needed quicker than the contract stipulates.
You may also want to confirm with the writer or agency if the ghostwriter can (or cannot) use the piece in their portfolio? Or if you want to be sure no one ever finds out that it was ghostwritten. In most cases, writers understand that ghostwritten work cannot be shared as their own.
But sometimes a writer will want to use the work in an online portfolio. It's your choice to agree to this, or not, but understand that if you don't grant permission, the writer may request more money. You can also agree to provide a testimonial or endorsement for the writer in lieu of letting them use the work as a sample.
Companies in virtually every industry use ghostwriters to help create content that can bolster their brand's reputation, improve SEO rankings, and drive sales. If you feel as if you could be doing more with your inbound marketing campaigns, but don't have the bandwidth inside your company to create the content you need, ghostwriting services may be the answer.
займ на карту виза срочно


Dawn A. is a full-time freelance writer, editor, and social media marketing consultant with close to 20 years of experience writing for print and online. A former magazine editor, Dawn specializes in creating content to help business owners generate leads and enhance brand recognition. She writes about a broad range of topics, from personal finance and parenting to technology, HR, and finance.