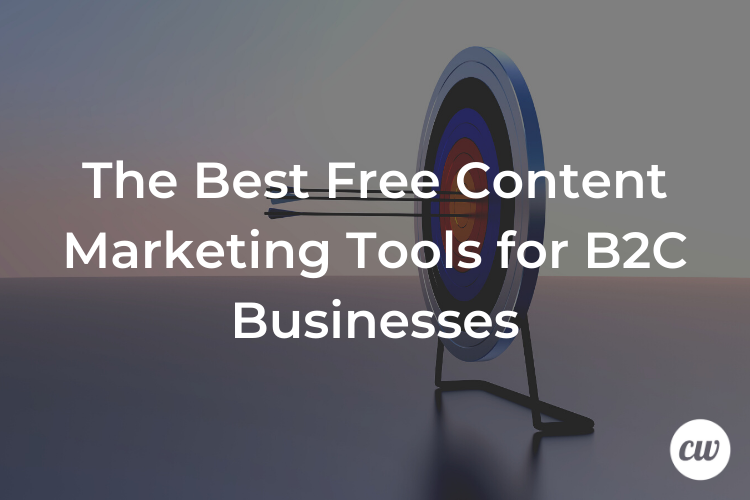 The Best Free Content Marketing Tools for B2C Businesses
B2C companies have different needs in their content marketing than B2B businesses. Consumers and businesses expect to see content that reflects their respective buying journeys. Using the right tools to reflect those differences can enable your company to stay ahead of customer needs and improve sales outcomes. Here is an overview of the best free content marketing tools that B2C businesses can use in their digital marketing efforts.
SEM Rush
SEMRush is an online tool that can provide more information about search engine optimization and competitor research. You can review where your website is positioned to similar websites. This will help you gain insight into ways that you can improve the content to increase backlinks, authority, and traffic. There are also integrated tools that you can use to brainstorm blog topic ideas and optimize your existing pages.

Medium
Medium is a popular journalism platform where you can post articles you write. It doesn't cost any money to post content. You can create your own content and include the appropriate keywords so your post is found on the popular site. Hopefully, your content attracts new customers and brings them to visit your company's website.
Facebook
Some businesses overlook the power of Facebook, even though it's free and easy to use. You don't need to pay for Facebook Ads to benefit from maintaining an active presence on the social media platform. You can collect customer reviews on the platform to build credibility for your company. You can also publish engaging photos of your products or completed services.
Mail Chimp
Email marketing is an extremely effective way that you can keep in touch with prospects and existing customers. You can advertise sales and let subscribers know about the latest blog posts. Ideally, you can create an auto-responder campaign that properly keeps in touch with new subscribers, without a member from your team having to manually send out emails to them.
Mail Chimp is an excellent option that is popular with many small to medium-sized businesses, as it allows you to benefit from some of the more advanced functionality without any cost.
Canva
Canva is a creative and free online tool that helps with your graphic designs. There are hundreds of free templates for infographics, brochures, flyers, social media posts, and more that can be used in your digital marketing efforts. For example, instead of using a stock photo in a Facebook campaign, you can use Canva to create a custom campaign to accompany your written text.
Woo Commerce
WooCommerce is a free ecommerce plugin for WordPress websites. It is an intuitive way to sell products and services online. You do not need a web developer to install the plugin or to upload the photos and content for each of your product listings. Companies of all sizes rely on the WooCommerce plugin. It is a reliable and easy to use system for content marketers to simply start an ecommerce store.
Grammarly
Grammarly is an online grammar checker that can ensure you publish typo-free copy. It checks for contextual spelling mistakes that most spellcheckers miss. Grammarly will also check your social media posts and give you strategies to improve the quality of your writing.
While an online tool will likely never be able to completely replace human proofreaders, it can be a safeguard against poorly written content across your company. With so many scams out there, consumers are more worried than ever before about losing their money or purchasing a subpar product.
Typos and other errors can make customers second guess their purchase. If you are going to invest time, money, or your marketing department's energy into content marketing, using Grammarly can serve as a way to reduce common typos.
There are premium plans available, as well. With premium plans, you get access to additional corrections and the use of certain plugins that are restricted under the free plan. However, for many companies, the free version is good enough.
BuzzSumo
BuzzSumo is a free tool that allows you to see what new content is popular on the internet related to your industry or desired search terms. This is a good tool when searching for ways to capitalize on what's popular and creating blog post content. However, you can only conduct a set number of searches for free each day. However, if you find the tool particularly helpful for brainstorming content ideas, there is a paid plan available.

Hootsuite
Hootsuite is one of the most popular social media publishing platforms you can use. While the monthly plans can be pricey, there is a free tier that offers some of the more beneficial features for a select number of accounts.
Using the free account, you can follow your brand across its different social media accounts and look for mentions, interact with customers and prospects directly, and retweet their content about positive aspects of your company. You can also set up your company's blog as an RSS feed that automatically publishes to selected social media networks.
The best feature is you can draft up to a month's worth of social media posts in advance so that you do not need to remember to create a new social media post each day. If you work with a content creation company like contentwriters.com, you can even have these posts written in batches that are then uploaded into your account for you by granting appropriate access. Hootsuite offers free training through the company's website if you are interested in giving it a try.
Google Analytics
If you wonder where your website traffic comes from and what page causes leads to leave your site, Google Analytics is your solution. It is a free tool that can benefit your content marketing efforts tremendously.
For instance, do most potential customers access your website through their phone? If so, is your website responsive and optimized for mobile use? If Google Analytics shows that customers leave your website from certain pages, it can be an indication that the written copy on those pages is not effective.
These pages may need to be rewritten. Furthermore, what blog posts attract the most traffic to your website? These types of blog posts should be duplicated in terms of the types of content, organization of the blog post, or audience. Your website visitors seem to like it.
Google Analytics is a powerful tool to see where and how your content can be improved.
Answer the Public
Answer the Public gives you information about what questions people actually search for in search engines. If you want to sell to the general public, it is a good idea to know what they want to know.
When you enter a search term, you will see dozens of different queries that search engine users have used related to your topic. It is organized by question type. This means that all "how to" questions would be grouped together.
Effective content marketing addresses what people want to know. Seeing what they actually search for in terms of questions related to a topic can give you a head start in your content marketing creation.
SurveyMonkey
SurveyMonkey is a tool that you can use to ask your customers questions through online surveys. It can be an effective strategy to use to gather information about your customers almost like a focus group would do.
It works on a freemium plan allowing the use of basic tools for free. More advanced features are paid.
You can send out a survey to your email subscription list or post it online on one of your company's social media accounts to gather critical information about the type of content your customers want to read about.
It can also be an effective way of reminding customers about your company by engaging them in a survey where you let them know that their opinion matters.
Editorial Calendar
If you plan to truly invest in your company's content marketing strategy, you will need a place to gather all of your content marketing ideas and blog post topics so that they can be assigned out to your writing team.
Creating an editorial calendar using a free project management software program is one easy way to tackle this. Asana, Teamwork, Basecamp, and Trello all have free tiers.
The process of setting up an editorial calendar does not need to be complicated. Even just having different virtual cards that you drag into different columns is enough. One column could be "ideas" and another can be "published".

WordPress
You can download WordPress on any website for free. You do not need to use WordPress.com to use the interface and functionality on your website.
Simply have your webmaster or IT department upload the necessary files. This would enable you to use other free content marketing and search engine optimization tools on your website, such as Yoast.
This list represents just a small number of the content marketing tools available to B2C businesses. Many of these tools offer free versions, as well as some paid options. Some may have limitations based on the size of your team or subscription list.


Melanie G. is a freelance writer and editor living in Tampa, Florida. She's freelanced full-time since she left her writing job at Nielsen in 2012.