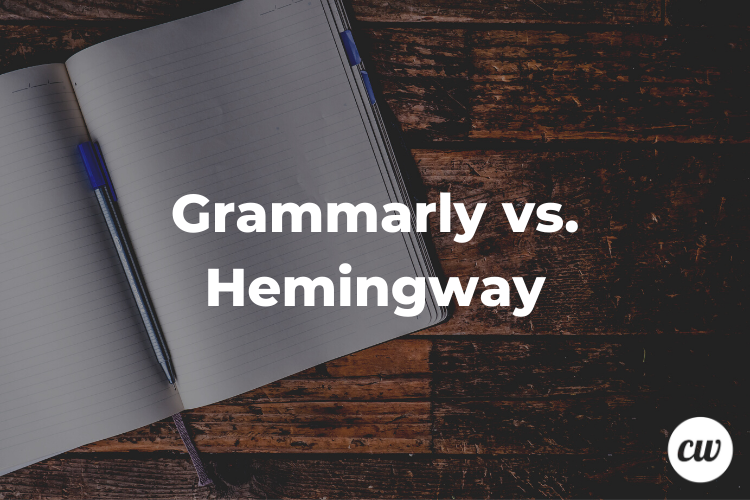 Grammarly vs. Hemingway
One of the most important aspects of working as a professional content writer or copywriter is your ability to deliver error-free, grammatically correct text for emails, press releases, landing pages, social media posts, and blogs. The quality of your written communication matters, even if you do not work as a professional writer.
You can't afford to send a resume filled with embarrassing typos to potential employers. What if the grammar on a work report you create is bad? The spelling, grammar, punctuation, and sentence structure of what we write impacts our professional (and sometimes personal) lives.
Most word processing programs, including Microsoft Word and Pages, have an integrated spell check built into the software programs. However, these features are notoriously unreliable and face challenges when it comes to subject-verb agreement. If you solely rely on the spellcheck found in your word processing program, there are many types of errors that you will miss.
Today's writer can use third party spelling and grammar checking software programs that can provide greater proofreading capabilities. They also check email programs, as well as social media posts. Two of the most popular third party editing software programs are Grammarly and Hemingway. Here is an overview of both programs and tips on when to use each one.


What is Grammarly?
Grammarly is among the most popular grammar software checkers for the English language. It checks for errors in spelling, punctuation, context, grammar, passive voice, and sentence structure. It will make recommendations for vocabulary. You can even check for plagiarism.
The Premium version is paid, but there is a free version with more limited features available for anyone to use. There is a Grammarly plug-in for Microsoft Word, Chrome, and some email programs that enable it to check all sorts of everyday writing, from social media posts and emails to novels and blog posts.
Beyond just trying to identify writing mistakes, the program gives you feedback about your writing skills and suggestions on how to improve your writing. By reading through the suggestions, you can improve your writing. This can make you a more employable writer.

What is Hemingway?
Hemingway is a software program that scores the readability of your writing. If you need to write on an 8th-grade level, for instance, it will grade the current writing level of a piece of your work. You can make changes and run the assessment again to see if you reached your writing level goal.
It does highlight unclear sentences and provides a lot of feedback about sentence structure. If you are someone that loves to have guidance about how to change your writing, you will like this app. It gives you specific areas of your work to focus on, unlike professors and editors that may offer only generalized feedback.
If you choose to use Hemingway, also read through your work or use Grammarly, too. In many cases, you will find other errors that Hemingway didn't find. In some ways, Hemingway is not meant to be a grammar checker in the way that Grammarly is programmed to do. The programs are not complete substitutes for each other.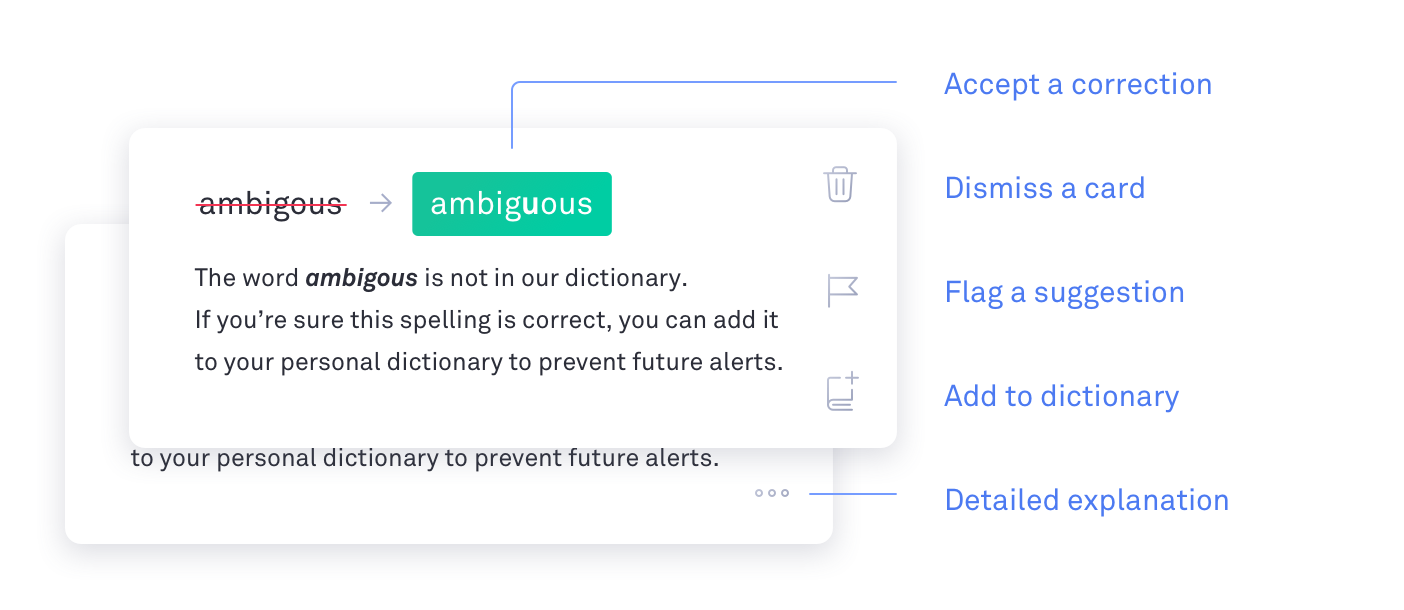 Pros and Cons of Grammarly
Grammarly is the number one spellchecker for a reason. It provides an unmatched level of proofreading for a software program, including common contextual spelling errors that other spellcheckers will miss. You can change the type of writing assignment so that it will provide more customized feedback about your writing. The conventions and feedback for an academic dissertation would be different than for a novel.
Grammarly's design is also much nicer and easy to use. By comparison, Hemingway comes across as more dated than Grammarly. (You could argue that Grammarly is more expensive and should have a nicer interface). It creates reports for your writing with numerical scores, which it rates against its own internal standards. It has a word counter and some other standard features that you can see within the system. Plus you can download a PDF copy of the report.
Grammarly can also check for plagiarism, which can be helpful for numerous reasons. First, it can ensure that you don't unintentionally plagiarize something else by writing an identical phrase. This can happen accidentally, even if you never read the source. If you are writing SEO copy, plagiarism can hurt search rankings so it is a good idea to ensure that your text is free from duplication. Second, you can use the plagiarism checker if you want to ensure that the work of other copywriters you hire is not plagiarized.
However, the free version of Grammarly is quite limited and doesn't provide the same level of coverage for more advanced grammar issues. To get the most out of Grammarly and to use it on the largest number of software programs including Microsoft Word, the cost for an individual plan is $29.95 a month for the Premium version. There are discounts available if you pay quarterly or annually. Business plans start at $12.50 per member month with a three-person minimum.
This is a much higher cost than the Hemingway software program.
The best feature is that Grammarly checks your writing everywhere. If you send text messages through your computer or use Facebook Messenger, the Grammarly plug-in will check this, too. If you don't want to see grammar and spelling suggestions in these other areas, you could find Grammarly a little annoying.

Pros and Cons of Hemingway
Hemingway is less expensive than Grammarly. You can use the free version through your internet browser or pay a one time fee around $20 to download the program to your computer. If you do not want to have an ongoing expense of Grammarly Premium, it could be a good option to consider.
Some users indicate that Hemingway is more focused on sentence structure and components of top-notch writing over grammar. The program will look for overuse of adverbs, difficult to read sentences, and text that could be simpler. This is a little different than what you would find in Grammarly.
Having a program that is more focused on making you sound like a top-notch writer can help you achieve a higher level of professionalism in your writing. This will help you stand out from other writers by polishing the overall work. However, this could be at the cost of technical quality as Hemingway is less focused on the technical aspects of writing, such as grammar. This could lead to a different type of quality problem, especially if grammar issues are missed in your work.
Hemingway also gives you a letter grade that you can work to improve, which is somewhat simpler than the number system used by Grammarly. This is overall a very minor difference, but one that is worth noting.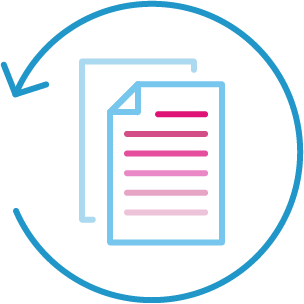 Deciding Which One to Use
Deciding on which editing software program comes down to personal preference. In most cases, Grammarly works well enough on its own to prevent obvious typos and to help you improve your writing. For most business communications, this is enough. However, the best version is the premium version. Without the premium version, you may miss some of the most essential features the program has to offer.
Hemingway is less expensive to use with the full version downloaded on your computer. The free version in your browser can be enough to identify areas of improvement in your writing. It will not catch typos in the same manner that Grammarly will through the Grammarly plug-in and may provide too much information about everyday writing.
For instance, it probably does not matter much how many adverbs there are in an email you are writing to your coworker. This is simply information that you don't really need to know. There is an argument to be made that for informal conversation it wouldn't be worth the extra time spent on each email.
There is no reason that you can't implement both programs into your daily writing. For more important prose, maybe run it through the free Hemingway app using your internet browser. Learning new ways to improve your long-form blog posts, ebooks, and lead magnets can be time well-spent. For most professional writers, using Grammarly in all forms of writing just makes the most sense. It is that extra form of professionalism that is well worth the cost of the premium subscription. Plus, it's a business expense for professional freelance writers that could potentially be deducted from your tax liability at the end of the year.
When it comes to editing your own work, these tools can also help you catch some of the errors that all writers miss. However, these software programs are not a replacement for human proofreaders. Consider it a system of checks and balances. While you should still read your own work out loud to look for any strangely worded sentences, either of these grammar checking programs can help you to find misspelled words and highlight some potential errors in subject-verb agreements. The correct software program for you depends on your needs and preferences.
микрозаймы на карту срочно онлайн без отказов


Melanie G. is a freelance writer and editor living in Tampa, Florida. She's freelanced full-time since she left her writing job at Nielsen in 2012.