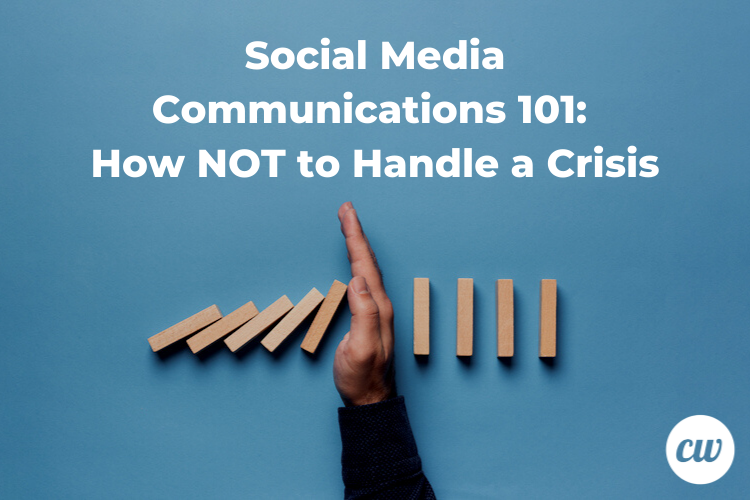 Social Media Communications 101: How NOT to Handle a Crisis
Every social media professional dreads it: the day your brand faces a crisis.
The minute you receive word of bad news, you're ready to leap into action, responding to tweets left and right, crafting the perfect announcement for customers, and handling the situation as best you can.
But let's take a step back and face reality. You can't prepare for every crisis, whether internal or external. It's impossible to predict what situations your company will face.
Yet, you must continue communicating with customers and stakeholders. In times of high stress and uncertainty, there's an inherent risk of making common crisis communications mistakes on social media.
Instead of dealing with yet another issue, set your brand up for success by avoiding these social media blunders.
8 Social Media Communications Mistakes Brands Make During a Crisis
1. Failing to Pause Scheduled Content
As social media professionals, we're advised to schedule our content well in advance. However, in times of crisis, letting these pre-scheduled posts continue to auto-publish can be in poor taste.
A perfect example of this snafu is when Joan Rivers' social media pages were promoting the newest iPhone weeks after she had passed away.
If your community was hit hard by a horrific event or your brand is under fire for a particular incident, these posts will seem out-of-touch with reality.
Imagine if your city was impacted by a tornado. Do you really want your brand to be happily posting about a sale or your latest blog post? Of course, not.
Instead, pause your post queue immediately and schedule content related to the crisis at hand with your team.
Most social media scheduling tools like Buffer offer the ability to pause and reschedule posts as necessary.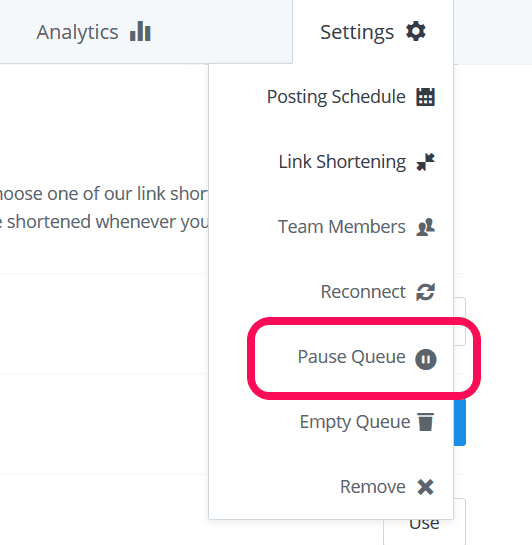 2. Posting Too Soon
When a crisis strikes, brands often make the mistake of posting too soon.
If you don't take the time to gather the proper information and craft a well-written message, your posts will sound hastily worded and could potentially spread misinformation to your audience.
As a result, your audience could become anxious and respond out of fear on social media. This leads to more work and stress for your company in the long run.
To avoid this anxiety, meet with those responsible for tackling a company crisis and work together to develop a well thought out and diligent response to the situation. Then, and only then, should you post it on social media.
3. Not Posting at All
The phrase "No news is good news" is horrible advice to follow during a crisis.
When your brand faces a public relations dilemma or is tackling a major product crisis, the last thing you want to do is go radio silent. Your customers and stakeholders want to hear from you!
If your brand is unprepared to put out a statement (following the "don't post too quickly" rule), a simple update can do the trick. Post a message such as:
"We at [Brand Name] are aware of the situation at hand and are actively working to develop a solution. Please refer to our website for all company updates."
Naturally, you will receive pushback from customers who want an answer immediately. In such a situation, respond in a calm demeanor and provide as much information as you can.
4. Placing the Blame on Others
In a crisis, we are all frustrated, confused, and looking for someone to blame. That doesn't mean your social media communications plan has to do so!
Taking responsibility in times of an internal or community crisis shows your stakeholders that you plan to take action and remedy the situation. Brands who shirk their responsibilities in trying times often lose out on lifelong customers as a consequence of their actions.
When developing your social media posts addressing the situation, demonstrate to your followers that you are aware of what is happening and will do everything in your power to make it right.
With situations such as a national emergency or local crisis, word your post to focus on how your brand will help the community during this time instead of fleeing in fear. If possible, reach out to other businesses in your area and discuss how you can partner together to make the situation better for everyone in your community.
5. Not Having a Social Media Crisis Communications Plan in Place
While you may not know what type of crisis will strike, you can have protocols in place for your social media team should a situation occur.
Your crisis communications plan should include information about:
Social media team members using this plan should have a thorough understanding of who to contact, what to do, and when to do it.
Even if you can't foresee a specific crisis happening, your team can have peace of mind knowing exactly what to do should an emergency arise.
6. Incorrectly Defining a Crisis
We've all overreacted before. Without a social media communications plan in place, your team may accidentally turn a small, manageable situation into a full-blown company crisis.
When developing your social media communications plan for crises, be sure to define what a crisis looks like and when to act on it.
A bad review from a frustrated customer? Not a crisis.
Your database got hacked and customer information was leaked to the dark web? Definite crisis.
Having a clear definition of a crisis and the procedural steps to follow will help your social media team know when to take action. And, if they're implementing a social media listening strategy, they'll be able to remedy potential crises before they escalate.

7. Ignoring Customer Concerns
During a crisis, customers will reach out on social media with questions and concerns. Ignoring them to focus on internal tasks is not the way to handle the situation.
Instead, be sure to respond to each tweet, comment, and tag with a thoughtful response. While you don't have to divulge everything your company is doing to manage the situation, you can ease customers' worry with a timely answer.
Remember to communicate with customers in your brand's defined voice throughout all crisis communications. While you can tailor it to meet the demands of the situation, don't stray from your brand persona. That'll only worry customers more!
8. Handling the Crisis through Channels You Don't Own
Although you may want to spread the news to as many people as possible outside of your social media audience, working with other sources to communicate your message on channels you don't own is not the way to alleviate a crisis.
In times of uncertainty, communicate with customers and the general public through your own social media profiles. Do not rely solely on press releases distributed to news outlets and influencers, who may edit the message to meet the needs of their audience.
Rather than distributing a press release and hoping for the best, ensure that all communications are delivered from your company social media accounts and direct readers to a dedicated news/updates page on your website.
The Best Social Media Communications Tools to Tackle a Crisis
When the time comes to de-escalate a crisis, you don't want to find yourself scrambling for post content or manually responding to customers one-by-one.
Instead, rely on these effective and efficient social media tools:
Social Media Scheduling Tools
Social media scheduling tools allow brands to create, schedule, and analyze published content for all of your social media platforms. Rather than worrying about what to post each day, it's already scheduled in advance.
However, in a crisis, you'll either need to pause your post queue or schedule additional content to handle the situation at hand. When that time comes, these social media tools will come in handy:
Research each tool and find which one has the features your company needs and meets your budget.
Social Listening Tools
Wouldn't you love to thwart a potential crisis before it came to fruition? With a social listening strategy already in place, you can.
Social listening involves monitoring all conversations, articles, and mentions about your brand, products, and services on social media. This can be accomplished through a quick search or by utilizing specific tools like:
Many social media scheduling platforms also offer listening and tracking features for an all-encompassing tool.
Crisis Communications Management Tools
In times of crisis, your team needs to be on the same page about everything from social media posts to brand announcements and communications. This means everyone needs to use the same tool to manage every element of your campaign, too.
Although your brand may already have a project management tool to coordinate with all teams, consider adding these popular project, social media, and content management options to your efforts:
Let the Pros Handle Your Social Media Crisis Communications
When the going gets tough, you have more to worry about than your social media channels. Let the team at ContentWriters work on your brand messages for social media while you remedy the situation at hand.


Anne is a copywriter and digital marketing specialist currently residing in the Greater Nashville area. Originally from New England, she leverages her three top talents (writing, marketing, and coffee consuming) for businesses and brands of all sizes across the globe.
Anne is a 2013 Marketing Communications/Advertising graduate from Western New England University in Springfield, MA. She credits her launch into writing to her legendary elementary school poem about pizza that wowed the judges and won the creative writing award in her school district.
When not writing or working on marketing campaigns, you can find Anne at a coffee shop, exploring somewhere new, or training in martial arts as a 3rd degree black belt.