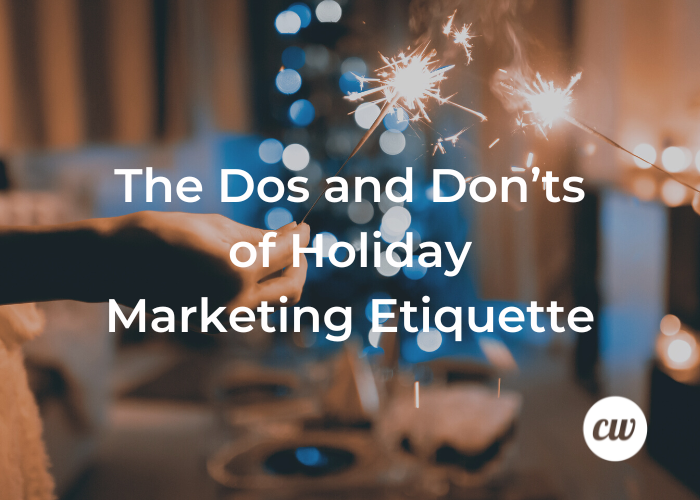 The Dos and Don'ts of Holiday Marketing Etiquette
Holiday marketing campaigns can be fun yet stressful. The biggest shopping season comes with constant deadlines making it easy to forget marketing etiquette.
Don't worry! We've got your back with our list of holiday marketing etiquette dos and don'ts. Below you'll find many useful tips to make your holiday marketing campaigns stand out, generate goodwill, and deliver your message.
Do Be Mindful of Your Audience's Preferences
Some marketers think the most challenging part of any holiday marketing campaign is deciding whether to say, "Merry Christmas" or "Happy Holidays." While it's often better to use phrases like "Season's Greetings" or "Happy Holidays," the phrasing in your marketing strategies ultimately depends on your audience.
Sometimes, businesses are concerned about the potential backlash when using holiday-specific language. When in doubt, "Happy Holidays" is simple and works well. If your brand is deeply rooted in a specific community, religion, or tradition, your company may prefer using holiday-specific phrases, like "Merry Christmas," "Happy Hanukkah," or "Happy Kwanzaa," to address its audience in a more personalized manner.
The key is to thoroughly understand your target audience and structure your content language around their preferences.
Do Put Customers First
One common mistake many businesses and brands make is focusing on their company instead of their audience. They pummel consumers with cheeky social media posts, heartwarming videos, and creative holiday emails featuring their brand, products, discounts, and other marketing messages.
However, businesses and brands must remember the season is about more than holiday shopping. It's also about gratitude. Showing gratitude can endear you to your customers and/or clients.
Rather than inundating your customers with offers and discounts, stand out by thinking of holiday first and offer second. It's more productive to focus on creating engaging campaigns that generate goodwill and entertain your customers.
A solid holiday marketing strategy should integrate your customers and their families into your holiday marketing campaigns. This not only creates business but also makes you stand out from the crowd. Instead of focusing on your brand, focus on the holiday meaning to your customers.
People appreciate being recognized in positive ways. Subtly highlight your appreciation by offering gifts, exclusive discounts, or featuring their stories as part of your 'happy holidays' marketing efforts.
If you're looking for help with holiday email ideas, consider a professional content writer. These wordsmiths often have a wealth of ideas to inspire you.
Do Thank Your Customers
You can (and should!) let customers know how much they mean to you all year long. However, celebrating your customers and sharing your appreciation around the holidays carries extra impact.
If you're on the marketing team of a small business, consider sending handwritten holiday cards to your loyal customers and vendors as part of your holiday marketing strategy. Handwritten good wishes and gratitude is a small but often meaningful gesture. It stands out. Very few people take the time to handwrite notes and cards in our digital world.
The marketing team of a large business or brand will often send a complimentary gift to its most loyal customers. This gift could be an exclusive discount or a small token of appreciation.
Email marketing is another effective way to celebrate your customers and show appreciation. Let your audience know it's a holiday email by using a targeted subject line. One proven holiday marketing strategy is to include an expression of appreciation, or an exclusive offer in the subject line to increase open rates.
In 2019, 68% of holiday shoppers reported they pay more attention to emails from companies they know during the holidays.
Regardless of your company's size, celebrating your customers and putting a smile on their faces should be the priority of any holiday marketing strategy.
Don't Bypass the Holidays
Some businesses refuse to acknowledge the holidays. They may dislike the perceived extra work involved with holiday marketing plans. What a mistake! In addition to being a hot shopping season, the holidays create good moods, inspire more spending, and are meaningful to many people across various cultures and segments.
People in all cultures celebrate the holidays. They like knowing the brands they support either share or acknowledge their values. You don't have to celebrate the holiday season or even highlight a specific one but publish a "Happy Holidays" social media post or send a heartfelt email at the very minimum.


Why is Holiday Marketing Important to a Business?
A successful 'happy holidays' marketing strategy helps a business gain more exposure, build on existing customer relationships, and attract new customers.
Because the holiday season only rolls around once a year and lasts around four weeks (beginning at Thanksgiving and ending on New Year's Day), it ushers in a sense of urgency. People don't want to miss holiday sales, bargain discounts, and special promotions not found at other times of the year.
Announcing special promotions, exclusive offers, and limited-time sales entices holiday shopping. Many consumers are looking to capture these money-saving deals.
This sense of urgency, combined with the festive mood the season stirs in many shoppers, drives demand higher. This boost in demand creates a great opportunity for businesses with solid holiday campaigns.
While forming your holiday marketing strategy, you need to take urgency, demand, and festiveness into serious consideration because these three factors feed into each other. Your holiday marketing ideas should maximize the season's good cheer and engage your audience across all mediums, from social media platforms to email marketing.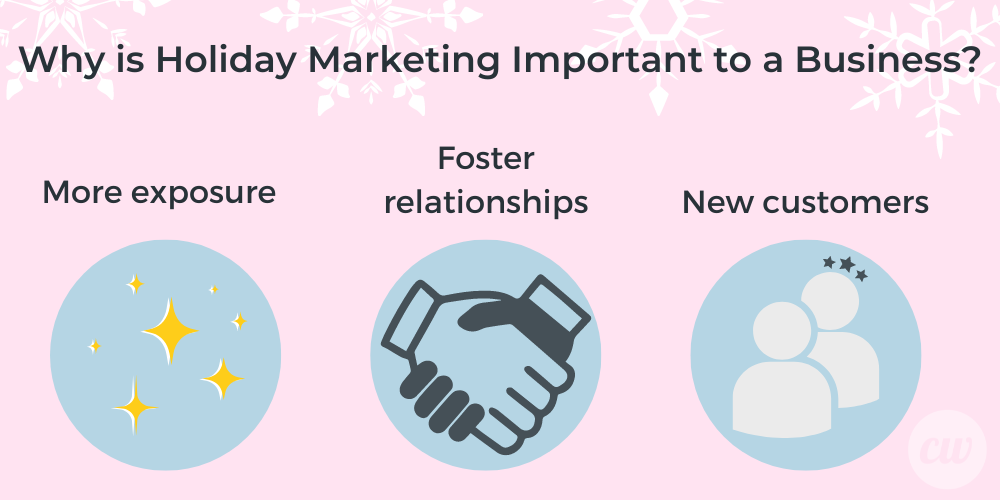 What Holiday Marketing Strategies Should Your Business Implement?
The key to holiday marketing is to start strategizing and preparing early. The holiday season brings in a large bulk of annual sales revenues for many companies, so planning holiday marketing campaigns early is a practical first step.
Your next step involves making sure that your holiday marketing team is ready to create all the copy and prepare all graphics needed ahead of the campaign's launch. Larger companies usually have this team in place, but small and mid-size ones may tap outside marketing or content writing agencies for added help.
Holiday Marketing Tips to Help You Get Started
Now that you have the big picture of holiday marketing etiquette and how to get the most from your end-of-the-year campaigns, here are seven specific tips to get you started.
Whether they're held in-store or online, holiday promotions are sure to attract interested customers — both existing and new. Consider how many sales events you'll hold and which promotions to put in place.
Define your target audience
You may already know what segment(s) your target audience falls in and what their preferences are. If you don't, or if it's been a while since you last checked in with them, it's a good idea to do this before you begin crafting your holiday marketing campaigns.
What marketing channels get the most engagement? What are their preferred shopping methods, and are they on a mobile device or desktop? These answers will help you make informed decisions while planning your holiday promotions.
Review last year's holiday marketing campaign
What worked well? What didn't work? The results of last year's happy holiday marketing campaign are lessons learned, and these lessons can help shape and guide planning for the upcoming holiday season.
Identify what you are going to promote
Review all the items or services you plan to offer during the holiday rush and identify all the ways you can get the word out about them.
Craft a marketing message
What are you going to say to customers? What is the overarching message? What's your theme? Will it be playful, celebratory, or thankful? Having a clearly defined overall message helps your marketing team develop and implement the holiday campaign strategy.
Plan festive holiday sales events
Whether they're held in-store or online, holiday promotions are sure to attract interested customers — both existing and new. Consider how many sales events you'll hold and which promotions to put in place.
Schedule Social Media Posts and Emails Ahead of Time
Social posts and emails need to go out on schedule. However, when you get busy, they aren't always the easiest thing to crank out. Luckily, there are easy-to-use scheduling tools for social media and email marketing. For social media, Buffer, Hootsuite, and CoSchedule are popular choices. Most email marketing platforms, like MailChimp, HubSpot, and ActiveCampaign, allow you to schedule an email in advance with a couple of clicks.A little planning and scheduling in advance will allow you to enjoy the holidays, too. Rather than frantically posting at the last minute–or realizing you forgot to send something out that your team spent hours creating.
Send and post messages at least a week before the holiday
Engaging holiday messages can get more engagement before the holiday, but if you wait until the last minute, you'll lose your audience to family, food, and time off. Deliver your marketing messages about a week before the actual holiday. You can start sooner, but much later, and you'll have missed the best window of opportunity.
These seven details help lay the foundation for planning your holiday marketing. From there, you will be better able to focus on how your marketing campaign will foster audience engagement.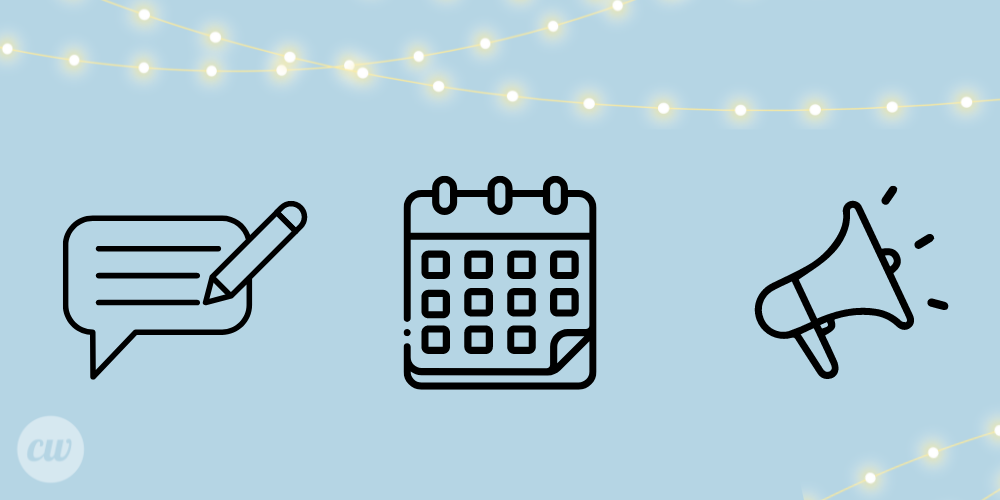 What Holiday Marketing Strategies are Most Effective?
The holiday marketing strategy that works the best will depend on your company and how your customers prefer to engage with you throughout the year. Focus on the marketing channels you have developed throughout the year.
Social Media Holiday Marketing
If you have an active social media following, include social media posts in your holiday marketing. If you send out regular emails all year long, your audience will expect something special from you around the holidays.
Social media posts receive much attention during the holiday season. Beautiful images and sentimental scenes combined with sales promotions can attract viewers and create positive engagement.
A few tips for holiday social media campaigns:
Be aware. A poor choice of image(s), words, or hashtags may create a negative buzz instead of increased sales and holiday cheer.
Use discernment when using slang, trendy phrases, and edgy wording.
When using hashtags, stick to accurate and descriptive words. Take time to research if you are unsure of a hashtag's meaning.
Encourage engagement by inviting your customers to follow and share their stories and ideas
Email Marketing During the Holidays
For emails, email subject lines that refer to the holidays, give a sense of urgency, or offer specific discounts get the highest open rates.
Some examples of holiday email subject lines include:
Merry Christmas (if appropriate for your audience)
Happy Holidays
Celebrate With Us
Give the Gift of…
Savings, Discount, Deal
Save X%, X% Off
Last Minute, Final
Ring in the New Year
Don't forget to email customers who start shopping and abandon their carts! That is a solid marketing practice year-round, but abandoned cart emails are crucial in the frenzy of the holiday season.
Other Holiday Marketing Tactics To Try
If you run digital ads during the holidays, make them festive. Don't just send prospects to your website. You want a special offer landing page that is decorated for the occasion and invokes a sense of joy and fun (even if it's general holiday decorations to be inclusive).
Another holiday marketing tactic to try out is video marketing. Video marketing can be a lot of fun during the holidays. You can include a video in your social posts, emails, or on landing pages. Videos can be a festive display of products, a playful team message, or sharing what is special and unique about your brand.
Regardless of the channels you use, one key to successful holiday marketing is having a great content writer who can engage your target audience. If you need writers to help with your holiday campaigns, look for a content writing agency that offers project-based engagements.
Don't Worry About Holiday Marketing Etiquette — We Can Help
If you need writers to help with your happy holiday marketing campaign, the ContentWriters team is here to help, exercising the utmost care and etiquette to get your message across. Let us take the reins this holiday season and create the marketing copy that helps your company stand out.
Editor's note: This post was originally published in 2016 and has been completely updated for comprehensiveness and accuracy.


Anne is a copywriter and digital marketing specialist currently residing in the Greater Nashville area. Originally from New England, she leverages her three top talents (writing, marketing, and coffee consuming) for businesses and brands of all sizes across the globe.
Anne is a 2013 Marketing Communications/Advertising graduate from Western New England University in Springfield, MA. She credits her launch into writing to her legendary elementary school poem about pizza that wowed the judges and won the creative writing award in her school district.
When not writing or working on marketing campaigns, you can find Anne at a coffee shop, exploring somewhere new, or training in martial arts as a 3rd degree black belt.