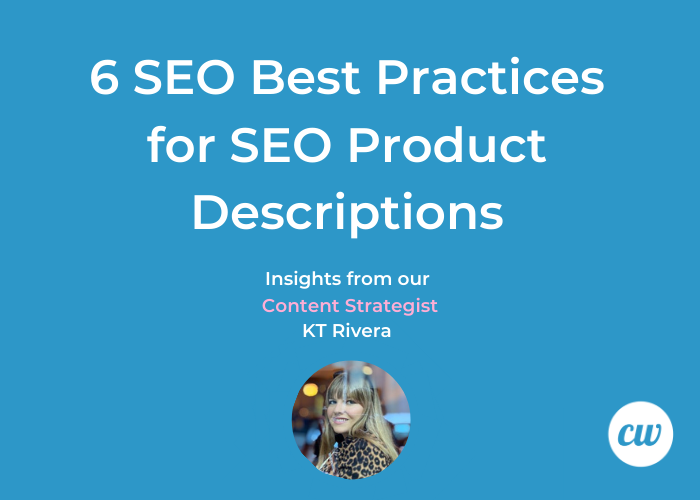 6 SEO Best Practices for SEO Product Descriptions
Mastering the art of search engine optimization (SEO) is not as cut and dry as you may think.
When working in eCommerce SEO, your goals are to increase rankings and traffic, ultimately increasing product sales. To do that, you need to know what search engine algorithms are prioritizing—and you need to appeal to shoppers. Then you can apply that knowledge to your product pages.

You're in luck because there are 6 SEO best practices that are easy to implement into your product description writing. Carry out these best practices and watch your products become best sellers because you're connecting with more customers online.
In this article, we'll review best practices you can apply to your SEO product descriptions & product pages to increase traffic and conversions.
1. Focus on Keywords with High Search Frequencies and Low Competition
One of the most common mistakes people make when writing SEO product descriptions is failing to perform adequate keyword research.
Products seem straightforward. For instance, if you are in the fashion industry and selling a baseball cap, you might assume 'baseball cap' is the best keyword to target.
The problem with this approach, however, is that millions of others are also trying to sell a baseball cap. So, it will have a high search frequency, but also a high level of competition.
By opting for a keyword that is more specific to your product, such as 'blue baseball cap for men', you retain a high search frequency but cut down on the level of competition significantly.
Honing in on the right keyword for each product description will take some research, but it will make a notable difference in your SEO performance. Use a keyword research tool, such as Google's Keyword Planner, or opt into ContentWriters' keyword research services, to determine which ones make the most sense for your brand.
2. Write SEO Product Descriptions for Humans First, Search Engines Second
One of the biggest mistakes that people make when writing optimized content is that they focus too much on search engine algorithms and not enough on their human audience.
Inserting unnatural keywords—or stuffing content full of them—will negatively impact user experience. Since search engine rankings are partially based on content's usefulness, these practices can result in penalization.
Instead, imagine that you are in the market for the product. Which questions would you have before committing to a purchase?
Aim to insert important information, such as:
Materials
Dimensions
Country of Origin
Color
Weight
Price
Features/Benefits
Use Cases
To determine the most effective information to include for your specific products, browse competitor product pages. Search the product in Google and take note of the information included in the top results.
3. Don't Reuse Product Description Content
When you are writing SEO product descriptions at scale, it can be tempting to rely solely on manufacturer details or reuse content for similar or related products.
This may save a lot of time, but it can harm your SEO rankings. Search engines view duplicate content as spam or plagiarised content (even if you are re-using your own words).
If you are struggling to come up with unique product descriptions on your own or do not have the time, consider hiring an eCommerce content writing service. This approach will help sales, as your product descriptions will be unique and curated for your target audience. Likewise, it will save you hours of frustration if you don't have a natural knack for writing.
Although it may be the same product in a different color or size, write a unique description. This enables you to include a wider variety of target keywords, while shielding you from potential duplicate content penalties.
4. Consider Word Count: How Long Should an SEO Product Description Be?
For SEO, the most effective word count for product descriptions will vary based on the type of product you are selling.
Aim for at least 125 words for the simplest products and target 300 words for others. More complex or higher-priced products, like automotive parts and furniture, may exceed 300 words. Allowing space for key information can help shoppers make an informed buying decision.
Keywords must be used strategically and organically throughout content for it to be effective. Using keywords too frequently—known as keyword stuffing—can be detrimental to your SEO efforts.
Aside from the body text, be sure to insert keywords in the title, image caption, and the ALT image description.
5. Optimize Product Page SEO Structure & Schema Markup for Product Descriptions
Optimize the structure & schema markup of your product pages.
These pages should contain the SEO metadata of a typical landing page, such as title tags and meta descriptions. Images should contain ALT text descriptions with keywords, model numbers, product names, and branding information.
Schema markup, or structured data, is a form of language used by search engines to digest the information they are crawling. With the content more clearly defined in a language that the search engine understands, the information will be ranked higher on the SERP.
Monitor your search engine rankings and make adjustments to the content on the product page as needed to rank higher.
6. Ensure a Mobile-Friendly User Experience
As of 2022, approximately 76% of adults in America reported making online purchases on their smartphones. Because so many individuals now rely on their mobile phones, tablets, and other devices, it is essential to create a mobile-friendly user experience on your shopping platform.
Regardless of how convincing your product descriptions are, if users cannot easily navigate through your site from these devices, you aren't going to reach your maximum sales potential.
Search engines also prioritize mobile-friendly websites, giving them higher rankings than sites without a mobile-optimized experience.
Consider these steps for optimizing your eCommerce website for mobile devices:
Make product descriptions, images, and FAQs easily readable and accessible. Can someone easily understand and purchase a product with one hand?
Organize product information with clear headings and bulleted details.
Reduce the number of steps/taps in the purchase process to reduce cart abandonment.
Do Product Descriptions Affect SEO?
Simply put, yes. Product description schema markups, the keywords included, the length of content, and other factors all play a role in your site's overall SEO ranking.
A solid SEO product description can also allow the listing to qualify as a rich result on the "shopping" tab of a search engine. This can drastically boost sales and spread awareness of your brand and other products in the process.
You want to make it as simple as possible for search engines & shoppers to understand your content by following the best practices above.
Why Are Product Descriptions Important for SEO?
Product descriptions help search engines understand the product you are selling so that they are able to recommend the best match to searchers.
When SEO for product descriptions is executed effectively, it can increase rankings, boosting organic traffic, sales, and brand awareness.
By integrating SEO for product description practices, you can ensure that the search engine understands what you have to offer and that they are able to present it to your potential buyers in a simple and effective way.
Contact us today to discuss how our SEO keyword research and content writing services can help improve web traffic and sales for your eCommerce business.


As a content strategist, KT is committed to providing the most effective content solutions for her clients. With experience working in tech & eCommerce, she understands the importance of having a solid content marketing strategy with SEO in mind.