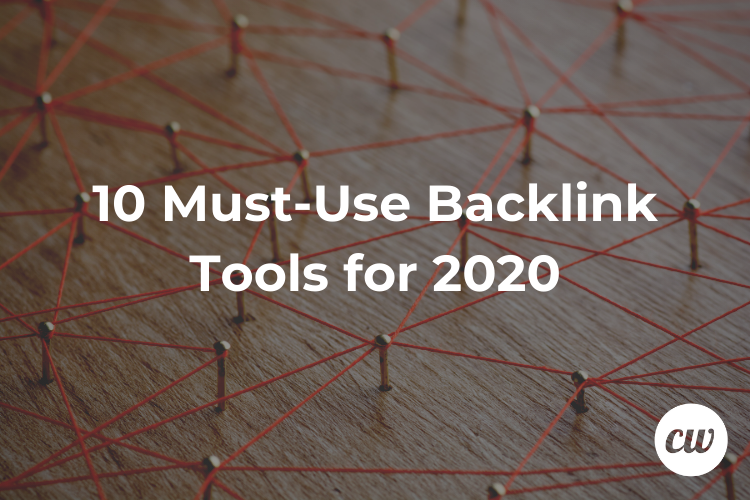 10 Must-Use Backlink Tools for 2020
Let's say you're in a room full of business professionals. Assuming this is where you want to be, your first thought might be, "Wow, look at these potential contacts!"
Unfortunately, not everyone in this fictional scenario will be willing to exchange contact info with you. Also, just because all the contacts you could potentially interact with are accessible, they may not be right for your brand, business, image, or professional goals.
Wouldn't it be great if you could zero in on the contacts you could form mutually beneficial relationships with? In a nutshell, this is what backlink tools do when you're on the hunt for reliable sources of links pointing back to your website and its related content.
Some of the better ones go a bit further and help you track the results you get from your backlinks.
Do a quick search and you'll find plenty of backlink tools, some of which are better than others. If you're looking for the cream of the crop when it comes to backlink "helpers," however, keep reading to discover ten backlink tools you should be using in 2020.
1. Moz

Moz has an assortment of tools that can be used for optimization purposes. One of these is an easy-to-use backlink checker tool. Moz's backlink tool is designed to, among other things, help you locate link-building opportunities.
It also helps you find broken or damaged links leading back to your site. This is important since such links are useless and potentially harmful SEO-wise, so you'll want to remove them and focus on finding quality, relevant replacements — a process known as link reclamation.
Officially called Link Explorer, Moz's backlink tool will give you a link profile analysis. The results will let you see what's working with your backlinks and what needs some attention.
Moz offers different plans and pricing options that will give you access to their backlink tool and other optimization features. Additional Moz Link Explorer perks include:
Historic link data
Competitor insights
Quality of domain authority assessment
2. Check My Links

A Google Chrome extension, Check My Links is a backlink tool that looks for broken links. Again, this information gives you a chance to reach out to the appropriate person in charge of the linking website to ask for a replacement link.
The backlinks highlighted in green are good. It's the red highlighted ones you'll want to pay attention to. Yes, it's similar to Moz's tool in some ways, but it's still a good tool to have in your arsenal since it provides fast, accurate results you can view with a quick glance.
All bad links can also be easily copied to your clipboard with a single click. Additionally, HTTP response codes and URLs for broken links are published in Google's Console log.
On a related note, Google Search Console has a Links Report that can provide additional link-related details.
You'll need to install and use Google Chrome to download and use this backlink tool.
3. Monitor Backlinks
This backlink tool rates links pointing back to your site from strongest to weakest. Just copy and paste the URL you wish to check into the text box and Monitor Backlinks will produce results related to that URL.
Results can be used to figure out which backlinks you may want to remove and which ones have the most ranking/SEO power. However, you're not searching for "bad" backlinks with this tool. But you will be able to fine-tune your backlinks and keep the ones that are performing better.
The free options have some limitations, but the paid plans are reasonable.
4. Linkbird
This is pretty much an all-in-one backlink tool. Many of the Linkbird features are designed to help with your overall link-building strategy. It's a backlink tool that will allow you to:
Analyze your backlinks based on effectiveness and popularity
Do keyword research that could help boost results you are getting with your popular backlinks
Track your overall rankings so you can see if your backlinks might be affecting the results
What's also appealing about this backlink tool is the ability to use the results to coordinate your link building, SEO, and content marketing strategies. But there's more to this tool than what you might assume from a first glance. It also allows you to:
Find websites for top-quality incoming links
Discover backlinks your competitors are using so you can use your link acquisition strategies to go after the same links
Integrate results with an email ticket system to further help you with your link outreach efforts
There's also a team member collaboration feature. This can be useful for businesses where multiple people handle marketing and link-building duties so everyone can help with link-building and monitoring efforts.
5. SEMrush

A popular tool suite, SEMrush offers an assortment of features perfect for website marketing, SEO, and other digital needs. The backlink tool available from SEMrush is primarily an auditing tool that will let you develop a better understanding of your links.
You'll also get 2,000 prospects for each domain with SEMRush's Link Building Tool. Plus, the tool will help you develop a better understanding of what links are available for your site.
The link-related analysis you'll receive is fairly in-depth, and you'll also get details about the referring domain's authority. This is important since a link pointing back to your site will only be beneficial if it's from a reputable and relevant source.
This versatile backlink tool also gives you details specific to:
Related keywords
Competitors' links
Lost and rejected backlinks
Mentions and manual uploads
6. Linkody

Linkody is a great backlink tool if you're looking to easily track your link-building campaigns. It provides insights you'll need to determine if you should ditch certain links or gain more from other partners.
Another good thing about Linkody is that it will give you some competitor details and an assortment of other metrics. These are the details that can help you analyze your link profile and spot places where you can make improvements.
This backlink tool can also be used to:
Identify and disavow bad links
Manage all links and domains in one place
Get a better understanding of competitors' link-building strategies
Linkody can be tried for free before deciding which plan is right for you. The plan that works for you will depend on how many domains you'll need to track regularly. If you only have one or two, the basic plan should work well for you.
7. Majestic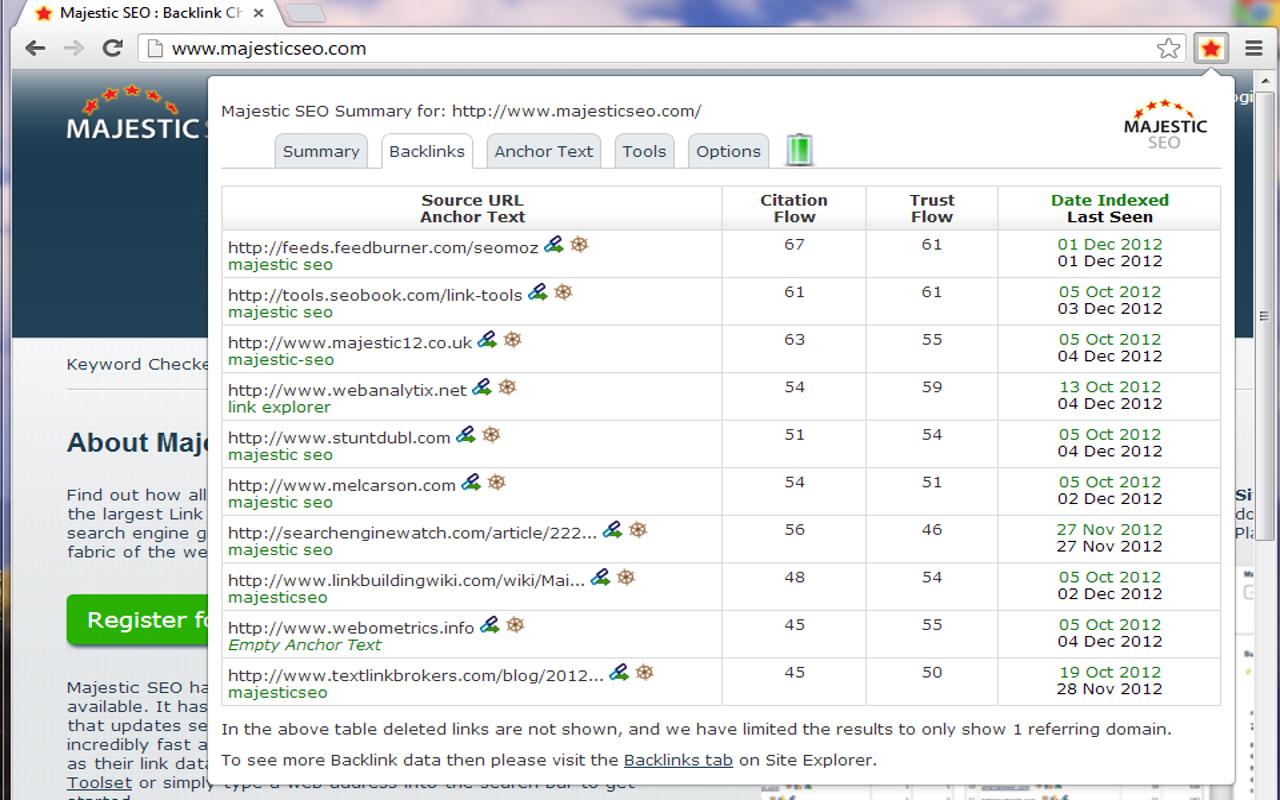 There's no denying the fact that the backlink building process can be complicated at times. After all, there are many elements and factors to keep in mind, one of which is being aware of how your competitors are doing backlink-wise.
This brings us to Majestic. It's one of the better backlink tools when it comes to getting the scoop on your competitors' backlinks.
In fact, Majestic's Backlink Checker won't just give you a general idea of what links your competitors are using. You'll actually be treated to a detailed, thorough report.
What's also appealing about Majestic is its massive link intelligence database. You can even use this backlink tool to develop a better understanding of links that were found (and performing well) in the past — even if those links are now broken or deleted.
This can give you some insights into why certain links have been added or deleted and also learn whether or not those links from the past really helped with your ranking goals. Then, you can determine if it's worth going back to the same sources to get new working links if they are now broken or not working.
Majestic is free if you just want basic link details. The paid plans come in a wide range of prices if you prefer more in-depth info.
For instance, if you are a small business owner, the Lite Starter plan is a budget-friendly way to get the extra link-related details you need. If you have a larger business, the API plan will allow multiple users to access a single account.
8. Pitchbox

Pitchbox is a link-building tool that does more than just monitor links. Its main purpose is to help you find and reach out to link prospects.
In a nutshell, it lets you find targeted opportunities based on your unique search preferences. You'll also get contact info and social profiles for each potential backlink source.
But don't forget about the automated follow-up feature! It allows you to stay connected with link prospects even when you don't have time to do this manually in a more traditional way.
You can also use Pitchbox's Intelligent Templates to put together personalized, well-organized templates for your outreach efforts. Do some browsing when checking out this tool and you'll find some other appealing high-level features to consider.
9. BuzzSumo
BuzzSumo firmly believes building backlinks is the most important element of SEO. While this can certainly be debated, it can generally be agreed that backlinks rank up near the top of SEO priorities.
Search Engine Journal also considers backlinks among the top 7 ranking signals for 2020, so let's just agree that backlinks are important and discuss BuzzSumo's backlink tool.
As for what this backlink tool offers, it allows you to view web pages linking back to specific domains; you can go further and see links directed back to various pages. The results help you spot which content on your site is generating the most backlinks.
In addition to backlink checking, you can use BuzzSumo to:
Run unlimited searches
Track brand mentions
Analyze online questions relevant to your business/brand
See which Facebook posts are performing best for you
You'll be able to use this tool free for seven days to see if it's one of the backlink tools you'll likely use regularly. After that, you'll have the option to upgrade to the pro version.
10. Ahrefs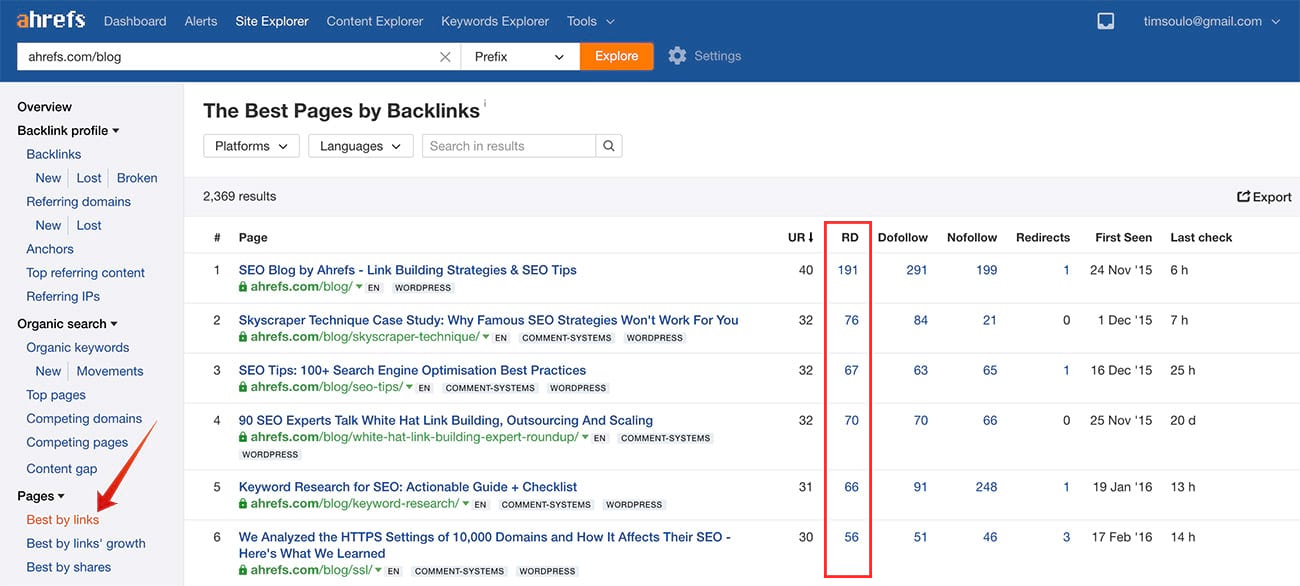 Consistently ranking as one of the top backlink tools, Ahrefs is a versatile resource with an excellent backlink checker tool. It's especially handy if you have multiple competitors going after the same audience.
With competitors, you'll be able to compare their backlink scores with your own to see if you have anything to worry about or any work to do. Also with backlinks, Ahrefs will give you access to:
A detailed backlink profile
A listing of the best pages by backlinks
Opportunities to build links with partners
A trial is offered for a small fee. After that, you'll be asked to pick a plan if you wish to continue using Ahrefs. Keep in mind that this tool also allows you to cross keyword research, web monitoring, and content research off your to-do list.
Honorable Mentions
These are just some of the backlink tools you're welcome to consider. Here are some others worthy of an honorable mention.
• SEO Kicks: This tool uses web crawlers to put together data-sets that can be used to help with your link building tasks. They have a cost-per-credit system, but it's still a tool that can be useful.
• Whitespark: Better known as a local SEO tool, Whitespark can also be used as a link prospector to find link-building opportunities from an assortment of sources that include directories, review sites, and professional organizations.
• Linkstant: This backlink tool will quickly give you all the basic details you need to know about each of your links. You can also see why other sites are actually linking back to yours.
Final Thoughts
The backlink tools mentioned here have the potential to help you locate and manage your backlinks, but they're not magic tools that will do everything for you. The purpose of this tough love advice is to remind you that quality content is another big part of the backlink and link-building process.
As long as you continue to focus on what matters most to your target audience, however, you'll be in a better position to generate beneficial links pointing back to your content.
Lastly, be diligent about monitoring your backlinks and the overall performance of your website and other online content so you can create a backlink strategy that works best for you.


Ken is a freelance writer currently living in the Pittsburgh area of Pennsylvania. Born in California, his fondness for writing dates back to elementary school writing contests and led to positions on both high school and college newspapers. He earned a degree in Journalism and Communications from Point Park University and did work in data entry after college before transitioning to a full-time career as a freelance writer. While his areas of expertise are marketing and health-related content, Ken is a versatile writer and enjoys exploring and researching a variety of topics. When not busy knocking out articles, he likes to spend time with friends, go for walks, and discover new and exciting things about the world around him.