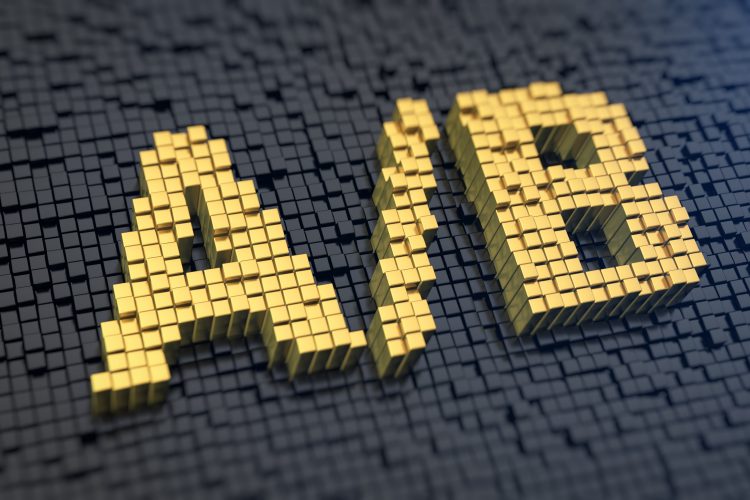 Smart Ways to A/B Test Your Content

There's always some degree of unpredictability with content, even if it's well-written and peppered with the images, videos, and other goodies today's searchers tend to prefer. After all, it's meant to be read, viewed, or shared by real people, not just scanned by automated search engine bots driven by algorithms.
Unless you have access to a crystal ball that actually works, you can't predict with absolute certainty what kind of response your content will get. But what you can do is get a better idea of what's likely to perform better if you present two versions of the same piece of content and compare your results.
In a nutshell, this is what A/B testing is. And when done right, it can be a smart and effective way to take some of the guesswork – and headaches – out of the content preparation and presentation process. If you're still scratching your head about how to do it, here are some simple, productive, and smart ways to A/B test (or split test) your content.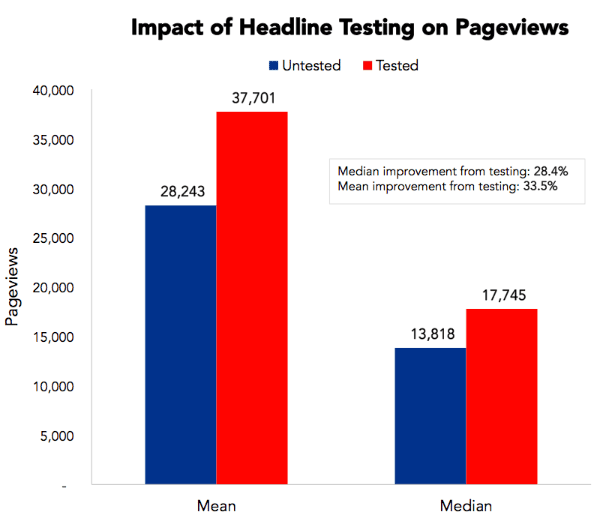 Roughly 80 percent of readers never make it past the headline. So, a smart way to A/B test your content is to start with, you guessed it, your headlines.
This is the simplest type of A/B test. Start by brainstorming some headlines you want to use for a blog article, social media post, ad copy, or any other piece of content.
At this point, you're not trying to come up with the perfect headline for A/B testing. You're just testing options. So, think of about 5-10 headlines and pick your two favorites. Next, complete the A/B test with the following steps:
Send out both versions to a live audience.
Show one headline to roughly 50 percent of your traffic and the other headline to the other half.
Analyze the results to see which headline provides better results.
Implement the headline that generates the most clicks (and conversions, if your goal is to generate purchases, calls, or visits to your business).

A website's click-through-rate (CTR) is nearly 50 percent higher when it contains images rather than text alone. This is why A/B testing should include the images you will use to complement your content.
According to one source, ad engagement increased by more than 60 percent when a new image was tested. Of course, you can A/B test any type of image used in your content, even if it's not ad copy.
Start by picking a few images relevant to your content, and then follow the steps discussed above to run your A/B test. As for what actually makes a compelling image, the following options tend to perform well:
Silhouettes: Basically, people have a tendency to visualize themselves in silhouetted images.
Portals: The human eye and mind naturally gravitate toward openings represented in images.
Cropped images: Strategic cropping increases curiosity since the human eye has a tendency to fill in missing parts.
Human faces: People are naturally drawn to other human faces.*
High-quality images: Clear, high-quality images are more likely to positively reflect your content and brand.
*Unfortunately, faces can take attention away from your headlines. So, if you do use an image with a face, consider one that appears to be looking at your headline.
With content, the general consensus is that longer is better these days. The average content length for page one results is roughly 1,900 words, according to a study conducted in 2016. However, there's another study that suggests the "sweet spot" for content length is 1,600 words.
Now, just because some studies state what the content length "should" be doesn't mean 1,600-1,900 words is actually what's going to work best for you. This is another time when A/B testing comes in handy.
The only way to really know for sure what the optimal content length is for your intended audience is to test different lengths. There are several ways you can do this. But one of the more effective methods is to present the content of a certain length for one week and make it a bit longer or shorter for the next week.
This approach to split-testing will allow you to dive into your Google Analytics (GA) stats to see which length actually performed better for you according to the metrics that matter most to you. Pay particular attention to:
Length of time spent on the page with the content being tested.
How much each piece of content is shared.
How many conversions are generated.
How much traffic each piece of content attracts.
A/B testing can also be used to find the right length for your video content. Again, there are plenty of stats out there suggesting what an ideal length "should" be – one source claims 4 minutes and 20 seconds is just right. But what you really want to know is what your audience is likely to respond to based on your target audience.
A simple way to do this is to use a longer video first and then break it down into shorter edits of varying lengths. Tap into your stats again to see which length your audience loved more.
According to the chart above, the optimal number of form fields is seven. But this is just one study. What you actually want to see with an A/B test is how many fields you can include before you start to see a conversion drop-off.
After you find out how many fields you should include on your form, run A/B tests to find the right location on the page for it. The most common form locations you can test include:
At the top: This clearly shows that the form needs to be completed.
At the bottom: This particular placement allows visitors to take action after you show them compelling content.
In the sidebar: Readers tend to naturally glance off to the side. Plus, this location allows you to provide some added incentives to subscribe or sign up with other content.
In a pop-up triggered by the act of exiting your site: This approach to form placement can be tricky because of the possible annoyance factor. It can still work, however, if you've done a good job with the other content on your site.
Do your A/B testing by trying different location combinations. If you use the four above, do two at a time. Then, follow the rinse and repeat method and perform one more A/B test with the better performing location from each group of two.
Also meant to be high-converting, landing pages can be subjected to similar A/B testing methods. The potential problem with landing pages is that they're often created and forgotten about – like what might happen if you make landing pages for certain ad campaigns.
If you do have landing pages not serving any real purpose anymore, just delete them. You want to A/B test landing pages currently relevant to your website and business. So, there's no need to test ones not serving any meaningful purpose.
Before you run your test, however, know what purpose your landing page is serving or will serve. You'll then be able to look at results specific to factors such as:
Conversion rates
Website visits
Sales increases
Data points related to your visitors
As for what you can actually test with your landing pages, a good starting point is with the layout. So, you would pick two layouts you like and see which one performs better. A/B testing for landing pages can also involve testing:
The offer: Comparing different offers – e.g., 15 percent off vs. 20 percent off – can show what your audience is likely to respond to the most.
The headline: As mentioned above, people tend to gravitate toward headlines first. So, use the most concise and effective landing page headline possible.
The copy itself: Some visitors need some extra info or an added incentive or two before they actually take the desired action. So, test different versions of your landing page's content to see what really delivers for you.
A/B testing on landing pages can include pretty much any feature on the page that can affect performance. Additional possibilities include:
Product descriptions
Images and videos
The call-to-action (see below for more on this)
Another way to run your A/B tests for landing pages is to use your first version as a control. You'll then make a few tweaks and see which one performs better. You can also use this approach with other A/B tests as well – especially if you have an existing page or piece of content that's only slightly underperforming.

If your goal is to move anyone checking out your content to a conversion of some sort, the last thing you want to do is create a content roadblock by using a call-to-action (CTA) that's either vague or just plain ineffective.
First, let's do a little CTA review. Ask yourself this question before you start A/B testing calls-to-action: What do you want to accomplish with your CTA? The most common CTA purposes include:
Making a clear sales pitch
Providing an opportunity for a content upgrade (whitepapers, e-books, etc.)
Encouraging a visit back to your website (if the content with the CTA is a blog or social post or an ad)
Generating productive leads
Encouraging phone calls or visits to your physical business
An effective CTA is one that inspires action, is direct and to the point, and is personalized. You may be surprised at how something as minor as tweaking your CTA can make a big difference with the results you get. So, once you have two versions you want to test, run your CTA split test by taking the following steps:
Select your CTA options. Random brainstorming is fine, but you can also tweak a CTA you're already using
Either use an A/B testing tool or present your content with two versions of your CTA and use Google Analytics as your "tool"
Measure the results of your A/B test
With CTAs, there are many variants you can test. The wording is just one of them. You can also A/B test the placement of a CTA on a page, the size of the text, and even the color of the text for your call-to-action.
Another method you can test with CTAs is how many to use on each page. Do this by presenting one page with a single CTA in the traditional location (the bottom of the page), another one with a CTA "above the fold," and then one below it to see if multiple CTAs on a page could give you better results.
A/B testing is just one technique you can use to fine-tune your content's performance. It's equally essential to have a solid understanding of what you want to accomplish with your content, what stage of the buying process you are focusing on, and how to use SEO and everything that it involves to your advantage to deliver your content to the right searchers.


Ken is a freelance writer currently living in the Pittsburgh area of Pennsylvania. Born in California, his fondness for writing dates back to elementary school writing contests and led to positions on both high school and college newspapers. He earned a degree in Journalism and Communications from Point Park University and did work in data entry after college before transitioning to a full-time career as a freelance writer. While his areas of expertise are marketing and health-related content, Ken is a versatile writer and enjoys exploring and researching a variety of topics. When not busy knocking out articles, he likes to spend time with friends, go for walks, and discover new and exciting things about the world around him.