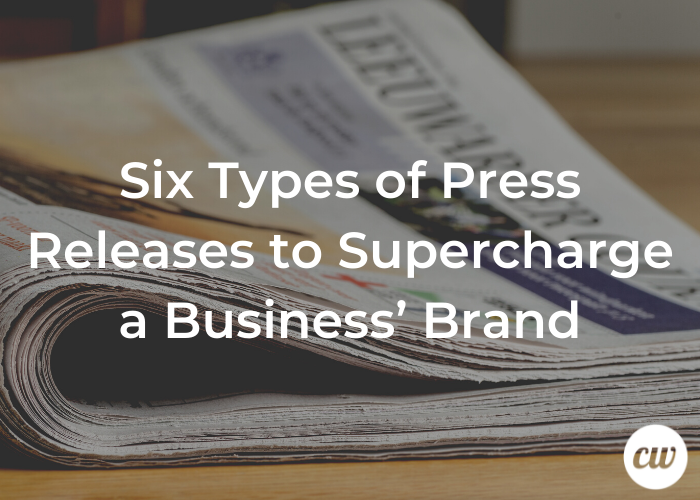 Six Types of Press Releases to Supercharge a Business' Brand
The consumers of the world need to know what you offer
When it comes to content marketing and broader public relations goals, press releases provide valuable outlets for informing the press and dedicated consumers about changes to your business. Depending on the type of engagement you're aiming for such as media coverage or more sales, the type of press release you draft should be tailored for your target audience.
Whether you're hiring a press release writer or promoting your business on your own, here are six types of press releases you can use.
News Releases

Business Launches

Product Announcements

Staff Changes and New Hires

Expert Hires

Event Releases
Let's go through each one so you'll know exactly which one is the most effective press release based on your goals.
News Releases
This one is the most common type of press release. In simple terms, it tells consumers something general about a business. For example, if your business just did something great such as donating to a charity, receiving an award, or saving someone's life, you'll want to write this type of press release.
In the body, you'll answer these questions, in order of priority the same way media outlets would cover a news story:
Who does this announcement involve?

What exactly are you announcing?

Where is this announcement relevant?

When is this news relevant?

How did this change happen?
Making it as interesting as possible is important because the more you intrigue readers, the more likely they will come to your website to learn more about you and your business.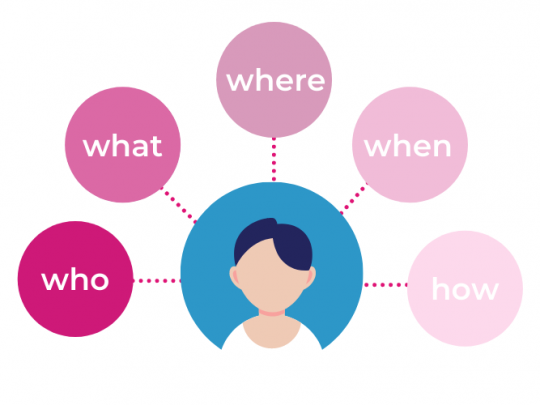 Business Launch Press Release
You just opened the doors to your business or you have a new division, so you want to let everyone know about it. This is the type of press release for you.
In the body, make sure to detail what's new about what you're announcing and why this is such a big deal. This one is time-sensitive, so you want to publish it close to launching time.
Product Launches and Announcements
Product press releases aren't just used to announce the launch of a product. They can be used to describe or promote a product or call out special recognition or accolades and awards a product has won for your company.
In the body for this release, you will detail it as much as possible. If it's a new product, what does it add to your current line-up? Is it something completely new that reinvents the category or is it a much-needed upgrade? If your product won an award, what was it exactly and why is it significant? Are there testimonials from real people who have used this new product?
Give people all of the information that your customers need to make a decision about buying it.
New Staff Announcements
Have you hired a new staff person or did someone just promote to an executive position? If so, you'll want to write a staff announcement press release.
In the body, you'll write about the biographical information of the person who was hired or promoted. You can include a photo of the person if it is okay with them.
New Experts
In certain sectors, such as finance, law, or healthcare, people love to know when a business owner has recently added an expert to the team. This type of media release is particularly important if you want to make your organization more authoritative. It means the business owner is committed to making sure the organization is backed by thought leaders, distinguishing the company in the eyes of the public.
In this type of press release, you should point out the expert's background and industry-specific credentials. Cite their educational history along with tangible successes they have had with previous organizations.

Event Press Releases
If your company hosting, attending or sponsoring an event, this type of press release is for you. Event press releases raise awareness of the event itself as well as your company's presence at the event.
In the body, be thorough with the what, when, where, why, and how of the event. What was the event? When was it? Where was the event held? Why was it held, and why did your company decide to get involved? How did people attend?
Other Press Release Details to Include
No matter what type of press release you're distributing, there are a few essential details all releases need:
Press Contacts: If you have a marketing manager, public relations specialist, or agency, include their contact information at the end of the press release so that people can contact them for more information. If you have not hired outside consultants like these, you should just include your own customer-facing email address and business phone number.

Boilerplate Information: This should be a short bio of your business. Think about the most essential details that someone would need to know if they have never heard of your company before. Keep out any superlative or sales-focused copy and focus solely on informational content. For example, "XYZ Corp. is the tri-state area's premier consulting firm specializing in shipping, logistics, and supply chain management."
Now that you know the different types of press releases, which one will you be writing?
For even more insights on public relations, read our blog posts with tips on writing press releases.