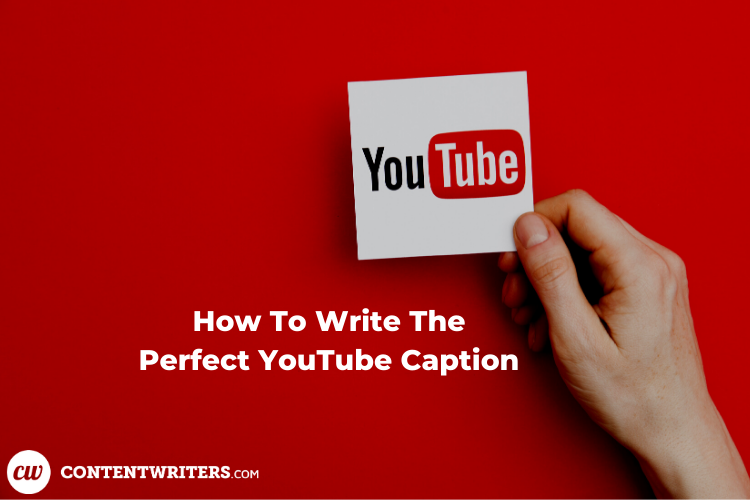 How To Write The Perfect YouTube Caption
YouTube is still one of the most popular and highly ranked websites on the internet. Uploading videos and maintaining an active presence on the platform is a good way to increase the amount of attention and traffic that comes to your company or website. People are naturally curious about the people and companies that produce video content that interests them.
When it comes to writing for YouTube, you have to consider the script you'll use while recording your video, as well as the text you'll post with it. When researching how to best use YouTube captions and descriptions, there are a few concepts and techniques that can be helpful from a content marketing perspective. Here are some things to know about writing YouTube captions.
Okay, Technically, They're YouTube Descriptions
Technically, you don't have much control over YouTube's official "captions," which appear on screen as a text transcription of your video. However, the description field is the perfect place to write quality content. You can use this to caption your video and create searchable content for users searching for content like yours. The other benefits are the ability to add  summaries, your website and other contact info, or even place affiliate links.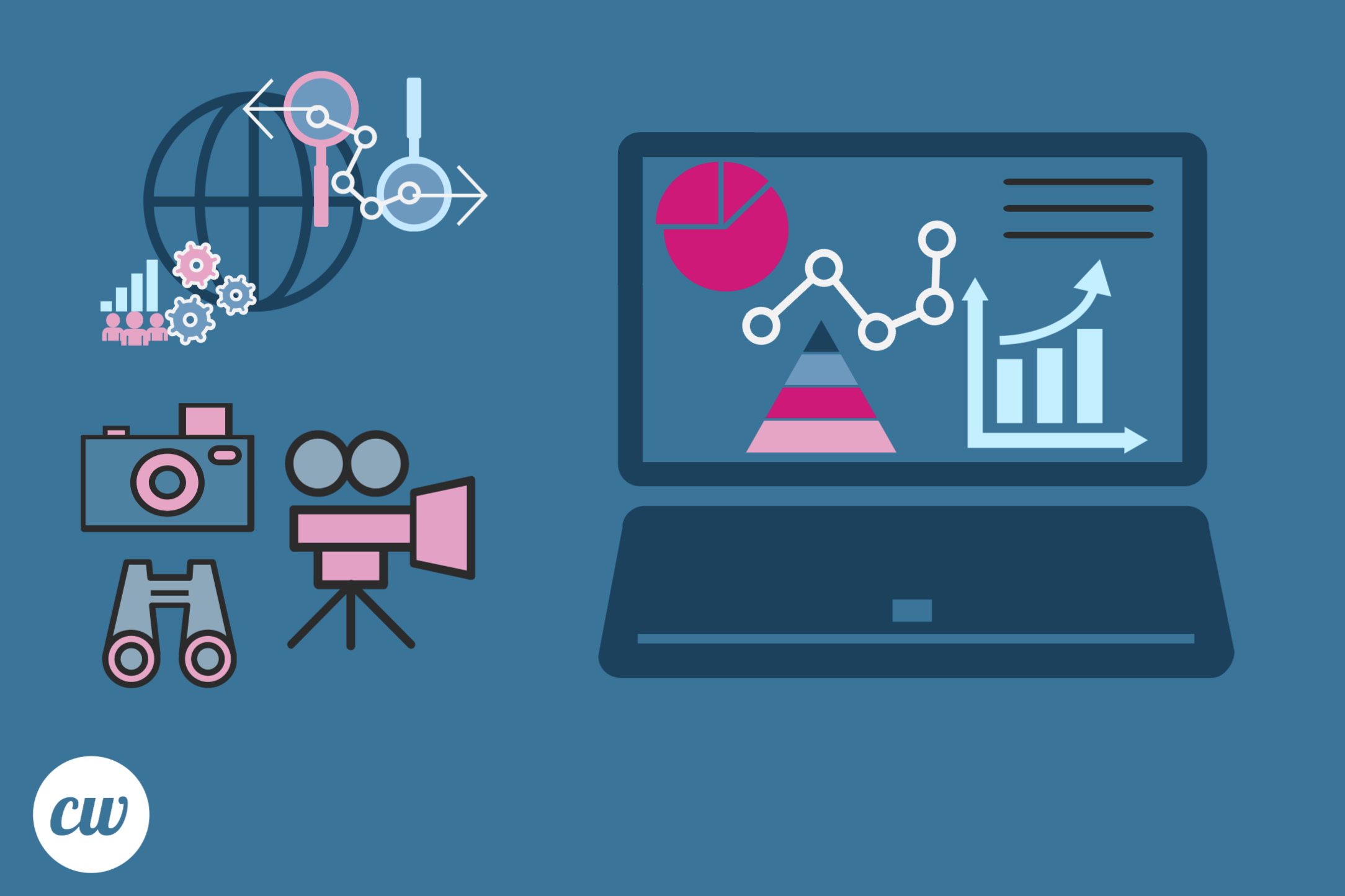 Identify Your Goals
There are many different ways to utilize YouTube in your marketing efforts. Identifying these goals can make a significant difference in the outcome and how you should plan your campaigns.
For example, if the goal is to create video content to drive new traffic to your website, the types of content you should post in the description field would be different than if your primary goal was to create brand credibility and thought leadership for existing customers.
Contact Information
As with any other type of content marketing or outreach, it is important to include your contact information. You need to make it easy for potential leads and business opportunities to reach you. This includes:
Email addresses
Phone numbers
Usernames for other social media accounts online
Links for other social media channels
Links to your website
PO Box or mailing address
Post Relevant Links
One of the most important, often overlooked steps of content marketing is sharing links to your blog post content on third-party websites. This can help boost new traffic to your website and reach more people with your content. Posting links to your company's new blog posts on upcoming YouTube videos is an excellent way to share new blog content with a targeted audience.
Since the user already searched for and found a video about your industry, services, or sector, they likely would be interested in similar blog content. This can direct them to your website, where they can learn more about your company, its services, and potentially purchase products.
Affiliate Sales
Many brands and individual content creators find success in affiliate sales with their YouTube channels. Affiliate sales systems allow readers to add trackable links to their videos so that sales sites can give them credit for drawing in new customers.
However, these links don't always work well in video content. Instead, many creators add them to their video descriptions to make them easier to use as a make them ever-present on the page. There is no limit to the number of links that you can have in the description making it easier to heavily monetize videos.
If you recommend a product or service in the video, you can use an affiliate link to receive a small amount of compensation for the referral. You can also put general affiliate links for products in your category or that would interest your audience in all of your videos. For instance, a YouTube channel all about cloth diapers could put an affiliate link for a cloth diaper retailer in every video description posted. Just be sure to comply with any disclosure rules to let viewers know that you use affiliate links. You don't want to be non-compliant with any guidelines for transparency and honesty with your viewers.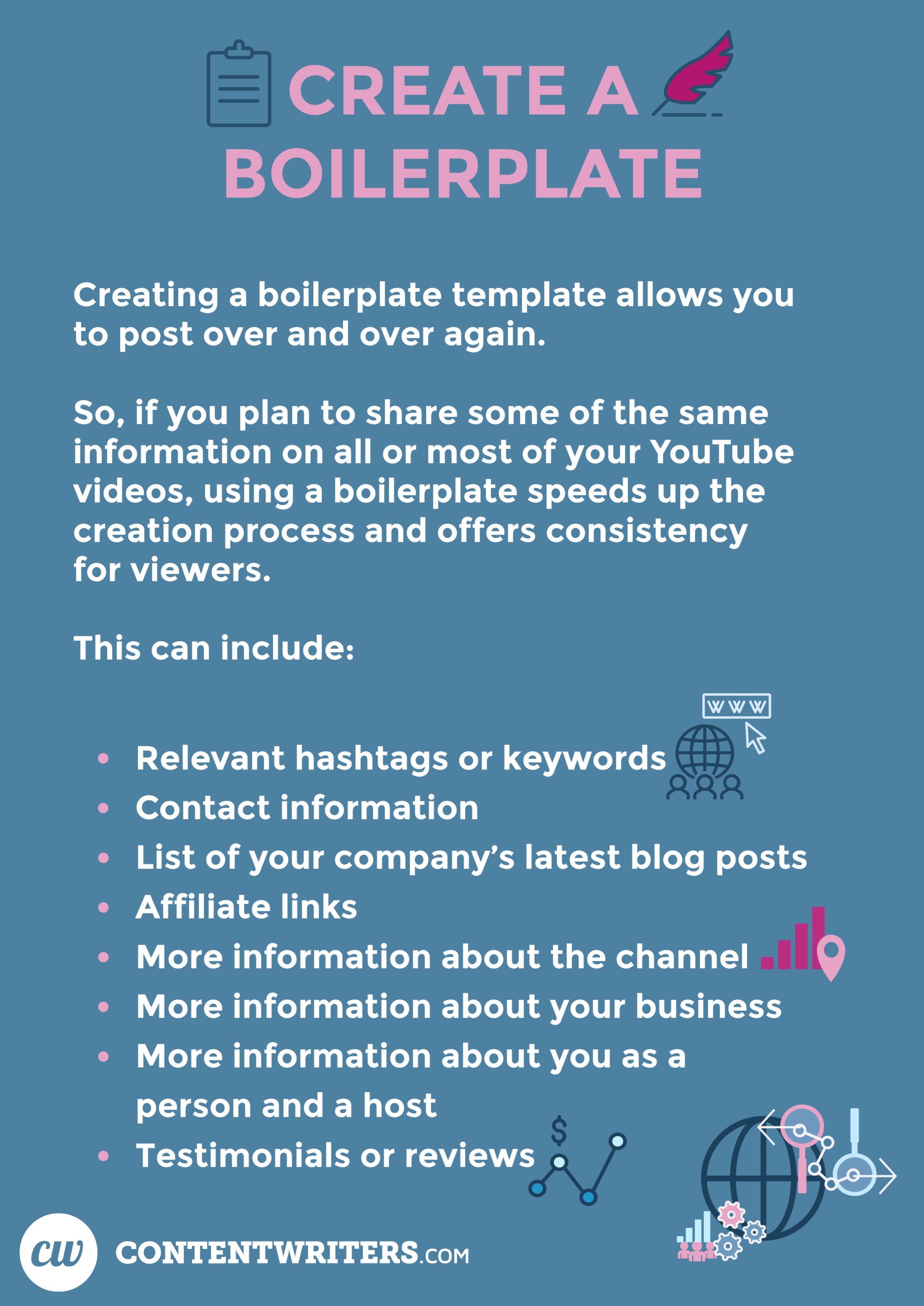 No Editors, No Fees
When trying to put up content on third party websites, including guest posts, you often have to work with an editor who can either approve or deny the content of your post. This can make it difficult to find places to post links to your company's products or latest blog posts. With YouTube, you skip the editor because there isn't one to say that you can't link to certain products or create content about topics relevant to your audience.
In addition, some websites charge for content placement. But, it doesn't cost anything to post content on YouTube. This makes the platform an excellent choice for businesses on a budget that would also benefit from the power of content marketing.
Ability to Vary Content for Each Video
Whatever content you choose to include in the description of your YouTube videos doesn't have to be consistent for every video uploaded. Depending on your goals, you may want to direct viewers to different things.
For instance, on one video, you may want to direct viewers to buy a product using an affiliate link. Whereas, you can include links to recent and relevant blog posts in another. Even if you post 500 videos, every description can be unique.
Always Include What the Video is About
It is a good idea to include a short summary of what the video is about at the beginning of your YouTube description. In many ways, this practice has become a standard convention. People want to know what your video is about before they spend time watching it. While the title of your video should be informative, it can be extremely limiting in terms of length. A YouTube caption needs to include at least a little information on what viewers can expect. A good description can help the viewer decide to continue watching a video they would otherwise abandon.
1,000 Character Limit
At the time of this writing, YouTube descriptions have a 1,000 character limit. The number of words that fit in 1,000 characters varies based on the length of the words used. In most cases, a post of 1,000 characters is roughly 120 to 200 words. This is not a significant amount of text available so good copywriting skills are needed.
People visit YouTube to watch videos, so there is a good chance they won't read all of the text that you include with your videos. That's why it's a smart idea to place the most important content near the top of the description, with less important text or links toward the bottom. Generally, your description or summary of the video is the absolute most important piece of written content for your viewer, and it should be placed at the top of the video's description.
Ramifications of Clickbait
On YouTube, clickbait often comes in the form of a misleading title that's interesting enough to capture user attention and cause them to click on the video, even if the video isn't really about the title. For instance, a video with a title of "How I Paid Off $85,000 in Debt This Year" may seem interesting to someone who's interested in paying off their own debt. But it's clickbait if the video ends up being about something else, such as how they found positive relationships by joining a multi level marketing company. Understandably, users are frustrated by misleading titles.

If the video had an accurate summary in the description field, the user would be able to know that the content of the video didn't match their expectations created by the title. If your goal is to get a lot of views from your clickbait, this probably wouldn't be a good idea for your number of views. Overall, it is a much better idea to create engaging and interesting videos that match their titles and descriptions.
When it comes to creating written content to upload with YouTube videos, it is important to take advantage of the opportunity to post searchable content on a high-ranking website. Too many people leave the description field for their videos blank, wasting an excellent opportunity to create valuable written content to be shared with a very large audience. Whenever you upload a YouTube video, be sure to draft appropriate written content to accompany it.



Melanie G. is a freelance writer and editor living in Tampa, Florida. She's freelanced full-time since she left her writing job at Nielsen in 2012.