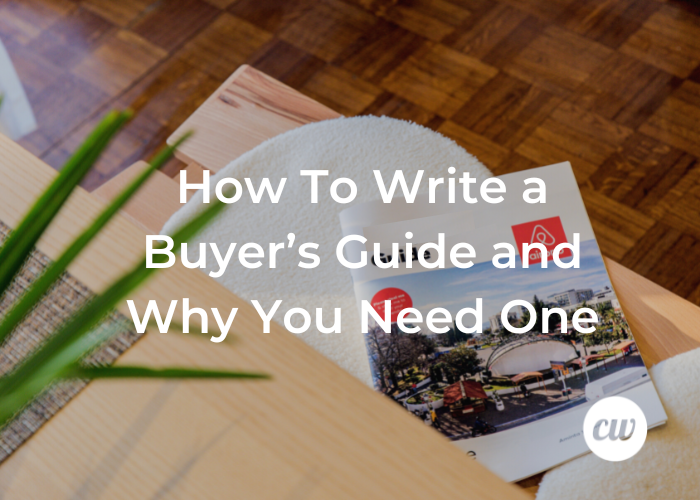 How To Write a Buyer's Guide and Why You Need One
In a fast-paced, gotta-have-it-now world, online shopping has become the norm. In 2022, analysts expect more than 266 million digital shoppers in the United States alone.
Consumers turn to websites for instant access to products, services, and all the information they need, including specs, details, and reviews. Consumers are looking for what they want to buy, and also searching for answers to questions about the things they want to buy.
Today's buying experience is high-tech and low-touch. Because of this trend, it's becoming essential for marketers to provide as much information about their offers as possible.
Enter the buyer's guide. This piece of content is fast becoming an essential part of online marketing. It's an easy way to give consumers what they need and help them decide to shop with your business instead of others.
Let's take a look at what a buyer's guide is, why you need one for your company, and most importantly, how to write a buyer's guide that will get people ordering from your business!
The Purpose of a Buyer's Guide
A buyer's guide (also known as a buying guide) is a piece of content — an article, a blog post, a video, a chart — that's created to inform and educate consumers. It includes information on the features, benefits, and details of a particular product or service.
The purpose of a buyer's guide is to give consumers all the knowledge they need to make an informed decision before purchasing. It should show your audience what sets your business apart from others in the industry.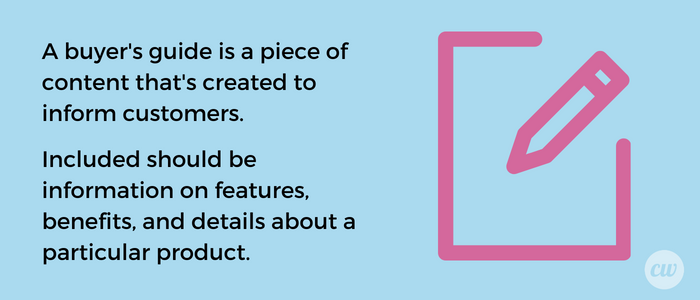 Why Your Business Needs a Buyer's Guide
Buying guides offer valuable product information, but are they necessary? No, they're not, but they are extremely beneficial. Here are just some of the benefits of writing a buyer's guide for your business.
More Conversions
This one is obvious. When consumers have all the information they need to make their buying decisions, they are less likely to abandon their carts or skip over to a competitor's website.
Sometimes, the difference between buying and not buying comes down to how easily consumers can find the info they need without having to do excess research, digging around, or actually contacting the company.
Better Customer Service
Have you ever had an online experience where you couldn't find specifics on the product? It's so frustrating. You need more info about the product you're interested in before you make a purchase, but you're not able to find it before clicking that "add to cart" button. Yes, you could call them or use the chat feature, but those options aren't always available.
Imagine if there was a piece of content that answered all your questions right there on the website. You'd be ready to head to that checkout page.
More Brand Trust
When a business is transparent, not only does it provide great customer service but it also builds trust with its customers or clients. These people can see that the business is upfront and honest about what it's offering. Done correctly, buying guides give you — the business owner — the opportunity to demonstrate trustworthiness, authenticity, and reliability.
Improved SEO
By offering buyer's guides on your company website, you can use keywords and SEO strategies to attract a broader range of traffic. Anchor text and backlinking give your web pages an extra boost in search engine results. This, in turn, gives potential customers new ways to discover your business while searching online.
How To Write a Buyer's Guide for Your Business
Now that you know why you need to include buying guides on your website, here are some steps you need to take to create your buying guide.
But not just any buying guide – you want to write something that gives your potential customers the exact information they want to know and convinces them that they're in the right place.
1. Choose Your Types of Buyer's Guides
There are different formats that your guides can take, and how you create yours is up to you. Choose a format that targets what your customers or clients most need to know.
Your buyer's guide content should:
Highlight the features and details of your product or offer. These are great for items that have a lot of specific features that might help make the sale.
Teach your audience how to use your product or offer. Does the item provide a specific solution and need to be used in a certain way? Creating info on how to use it is not only helpful, it highlights the benefits of the item itself.
Compare your offerings with those of similar companies. If your offer is similar (yet different) to others in your industry, a side-by-side comparison can help shoppers make an informed decision on which is best for them.
Offer solutions. If your audience is struggling with x, then they need y — y being your solution, of course. With this piece of content, you want to highlight pain points and also show how your product, offer, or service is exactly what can help alleviate them.
2. Write for Your Ideal Audience
Understanding who you're targeting is an essential part of how to write a buyer's guide. If your audience doesn't immediately connect with your content, there's a good chance they'll find their solution elsewhere.
Consumers generally want to be seen even when they're shopping online. They need to feel a connection with the businesses they frequent (which keeps them coming back for more!)
When creating your buying guides, ask yourself:
Who will be buying this product or signing up for this service?
What values, hobbies, and interests do they have?
What are they struggling with?
What do they really want?
What solution am I providing?
What would make them choose my product or offer over my competitor(s)?
Keep these answers in mind when creating the content that goes into your buyer's guides.
3. Make It Readable
The purpose of the buyer's guide is to make the purchasing decision easy for customers. That means the buying guide itself should provide information that's straightforward and clear.
If consumers are looking for quick and easy answers (without having to reach out to customer service), they aren't going to take the time to read a huge chunk of text.
Instead, make sure your content is scannable and easy to read. Make use of bullet points, headings, and categories. You may also want to use tables to compare items side-by-side.
4. Make It Understandable
In addition to being easy to read, your buyer's guides should be understandable for your target audience.
For example, if you're selling products that make technology easier for the everyday person, you probably need to avoid using tech industry jargon. Instead, you'd likely use words and descriptions that anyone can understand so they know what your products do and how they can help. Also, consider defining complicated tech terms and acronyms.
5. Link To Appropriate Products and Offers
This is all about making the online shopping experience as easy as possible. When creating a buyer's guide, don't forget to link to the appropriate product listings. Link back to the exact products and the categories that you mention in your content. Not only is this helpful for your shoppers, but it's also great for search engine optimization and getting your website ranked higher in online searches.
A word of caution: don't over-link and over-stuff keywords. Use them naturally in your content, while linking to other pages on your website.
6. Don't Be Afraid To Be Different
Like any other piece of content on your website, the buyer's guide gives you another opportunity to brand your words. Just because you're talking about the details of a product or service, doesn't mean you need to shy away from your voice. Use these pieces of content to accentuate your brand image, voice, and tone. You want the content to showcase your business or brand's identity.
7. Sell, Sell, Sell!
Even though the goal of a buyer's guide involves providing information to customers, you shouldn't shy away from key selling points. Showcase all of the specifics, but don't forget to include WHY your products or offers are so valuable and outshine the rest.
8. Include a CTA
Your buying guide provides all of the information a shopper could want. You've even linked back to specific items. But it still doesn't hurt to include a call to action in your buying guide. Make it even easier for people to make a purchase by adding a link to the checkout cart or a "buy now" button. This makes it super easy for people to complete their purchase on your website – as opposed to gathering information and turning elsewhere for their purchases.
9. Always Be Honest
Lastly, keep your buying guides honest and upfront. It should never just be about the sale. Remember, these articles are a great way to increase your customer service and trust factor without even having to speak to customers directly. Stay away from sales tactics and false claims. Instead, focus on real information, genuine reviews, and honest answers.
The Importance of Buyer's Guides
The main purpose of a buyer's guide is to inform consumers, but its relevance is much greater. Buying guides also help you boost your customer service, your trust factor, and your website's search engine optimization among other things. These guides greatly benefit your audience and make purchases easier for the consumer.


Corinne is a writer and blogging strategist, who specializes in finance and online business. After earning her BA in English, she began working in the fast-paced finance industry. After 6 years, she left it all behind and turned to her first love, writing. Focusing on valuable content that not only teaches and inspires, Corinne uses words to help businesses get the visibility they deserve online. She lives in Hawaii with her husband and two kids.