How to Monetize Your Email List
Whether you've heard it before or not, building an email list is still an essential part of any successful business. In fact, email users will top three billion by 2020. That's a lot of people checking their email.
While there are many upsides to having an email list of loyal followers, one of the biggest is the ability to effectively monetize that email list. A well-nurtured list of targeted subscribers is likely to yield paying customers. But making money from your email list isn't as easy as pitching your offer and watching the dough roll in. It's much more strategic than that. Here's everything you need to know about monetizing your email list.
To determine the best way to monetize your email list, start at the end!
When you start with your goal in mind, you can start building a list of targeted subscribers who are much more likely to buy what you're selling.
Not sure what to offer? The two most profitable ideas are:
Pitch your own products or services. Your subscribers signed up for your list and are now ready to be emailed by you, so, naturally, it makes sense to promote something you created or offer.


Share other products or services. No offer of your own? No problem! You can also promote products, services, or programs as an affiliate partner, which can earn you a percentage of the sales.
Now that you have an idea of what you'd like to offer, let's start building a list of email subscribers who will genuinely be interested in what you're offering.
It all starts with your freebie. If you want to take your subscribers from free offer to a paid offer, the freebie you create needs to have some strategy behind it.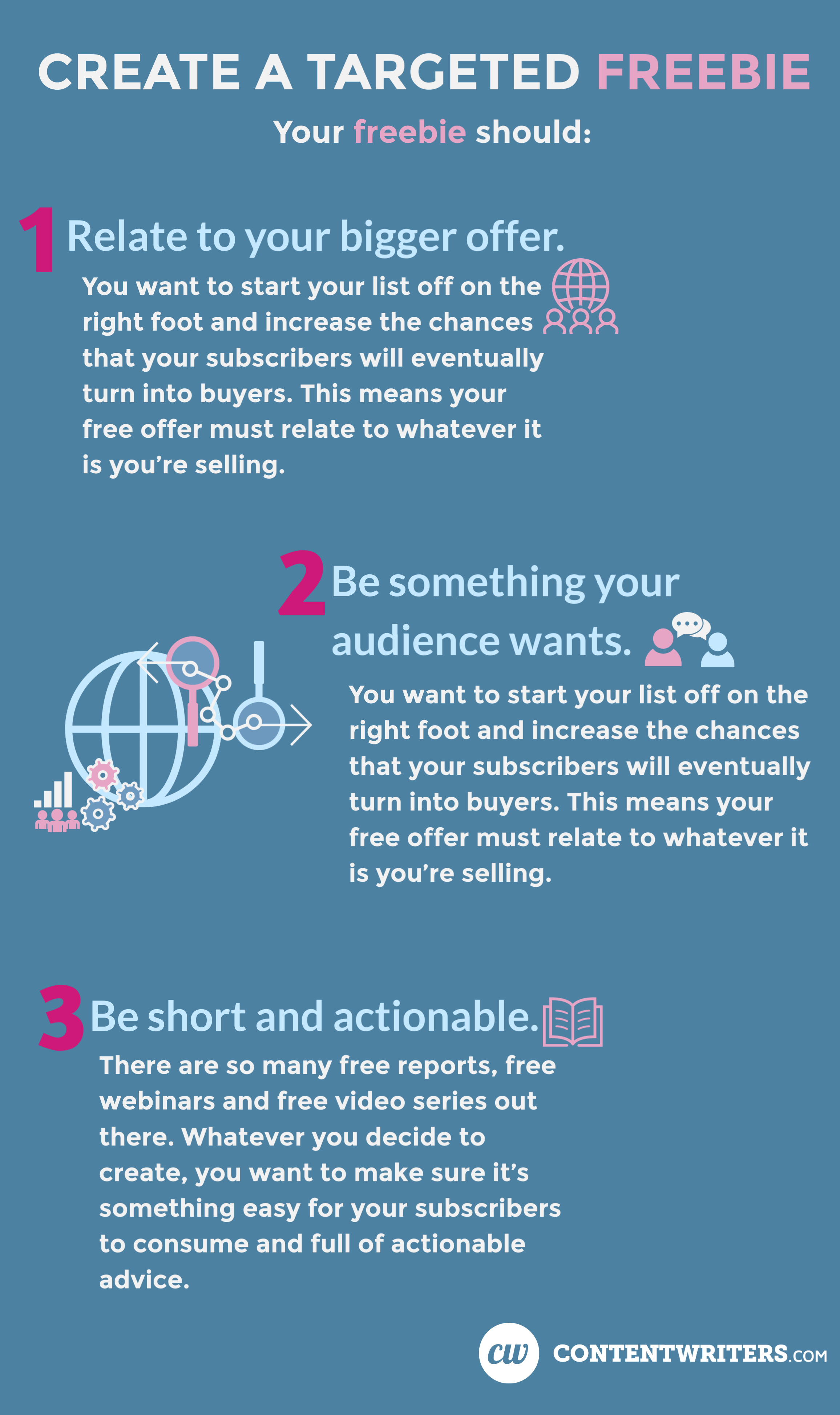 Freebies that convert include ebooks, templates, workbooks, video series and webinars.
What if you have more than one offer?
The simplest answer is to create multiple freebies and segment your list so they get offers related to what they signed up for. Basically, you always want your paid offer to line up with the interests of your email subscribers.
You've got your freebie. You're building your list.
But it's not quite time to pitch your offers yet.
Why not?
Because they're probably still not ready to buy from you. They signed up for your free offer, and they're loving it. But they still don't know enough about you (and how you can help them) to make them want to give you their money.
That's where a nurture sequence comes in. Nurture emails allow you to communicate more deeply with your subscribers while allowing them to get to know you. Plus, it gets you in their inbox on a regular basis. People are much more likely to buy from you when they feel they have gotten to know you.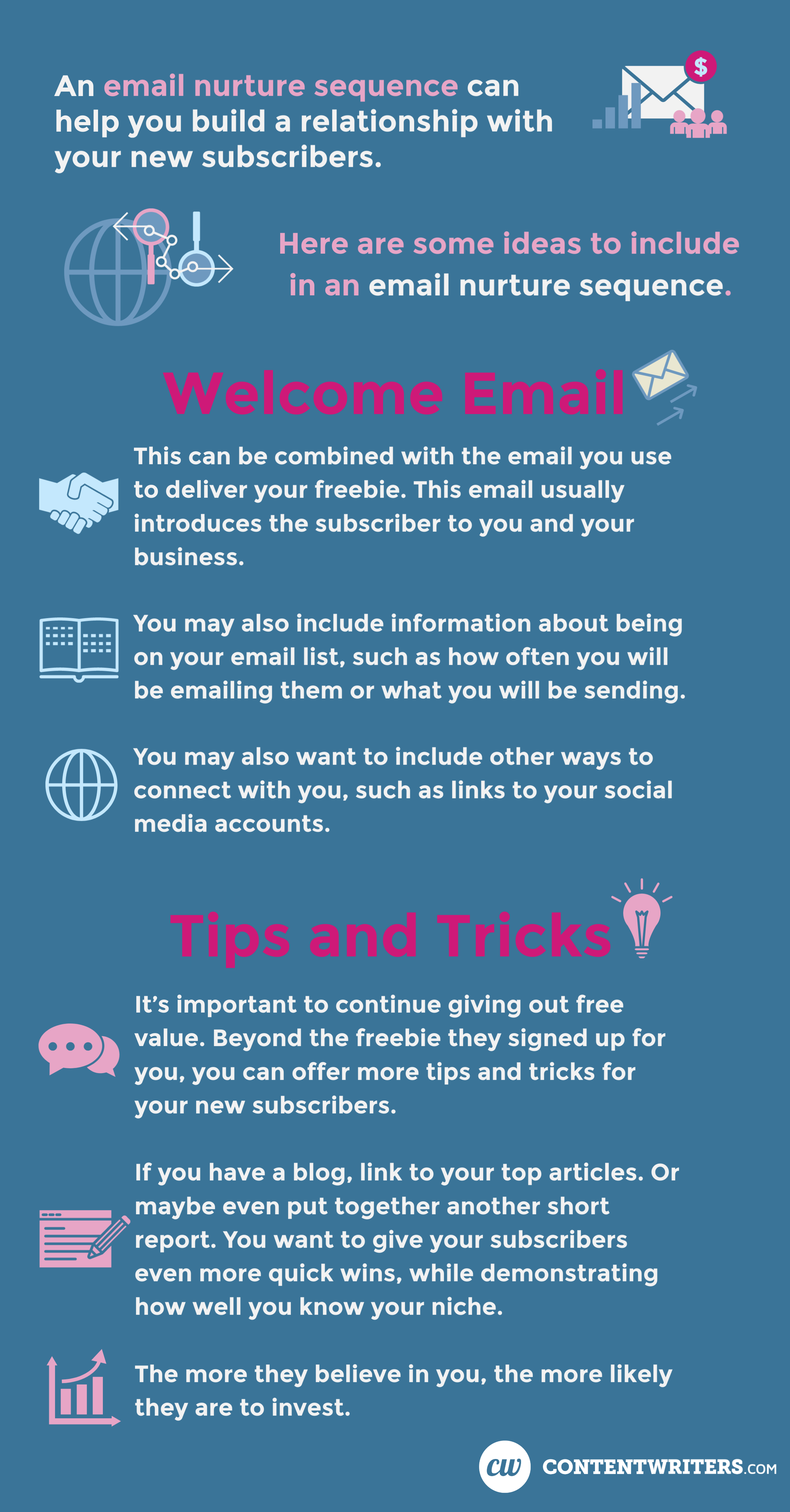 At the end of each email, pose a question and ask them to hit reply to let you know their answer. If you can make the question related to the topic of the email, even better! The point is getting your subscribers used to communicating and conversing with you. Remember, the more they connect with you, the more likely they are to want to pay you.
A quick word about frequency. In the beginning, email your new subscribers every two to three days. Do not spread your emails out too much; you want to stay on the top of their minds.
Finally! It's time to put your offer out there.
You've nurtured your list and given them a chance to get to know your brand or service. By now, they're used to hearing from you. They know more about what you do, and they have enough tips to feel you truly can help them.
They are now primed to buy!
So, go back to your offer in the first step. This can be a product, service, or program that you created, or it can be an affiliate product. As a general rule, if they've never bought from you before, you may want to start with a smaller price tag. It's not always easy to get someone to go from never buying anything from you to investing thousands. It can be done, but it's usually easier to get them to buy something at a lower price.
The good news: You now have an email sequence that is designed to transform people from subscribers to buyers. The bad news: It's not a sure thing. Even with the best free offer and an amazing nurture sequence, the open rate for most email marketers is around 37%. Unfortunately, the sales conversion rate is lower than that.
Luckily, you can have more than one offer. Here are some other ideas to monetize your email list: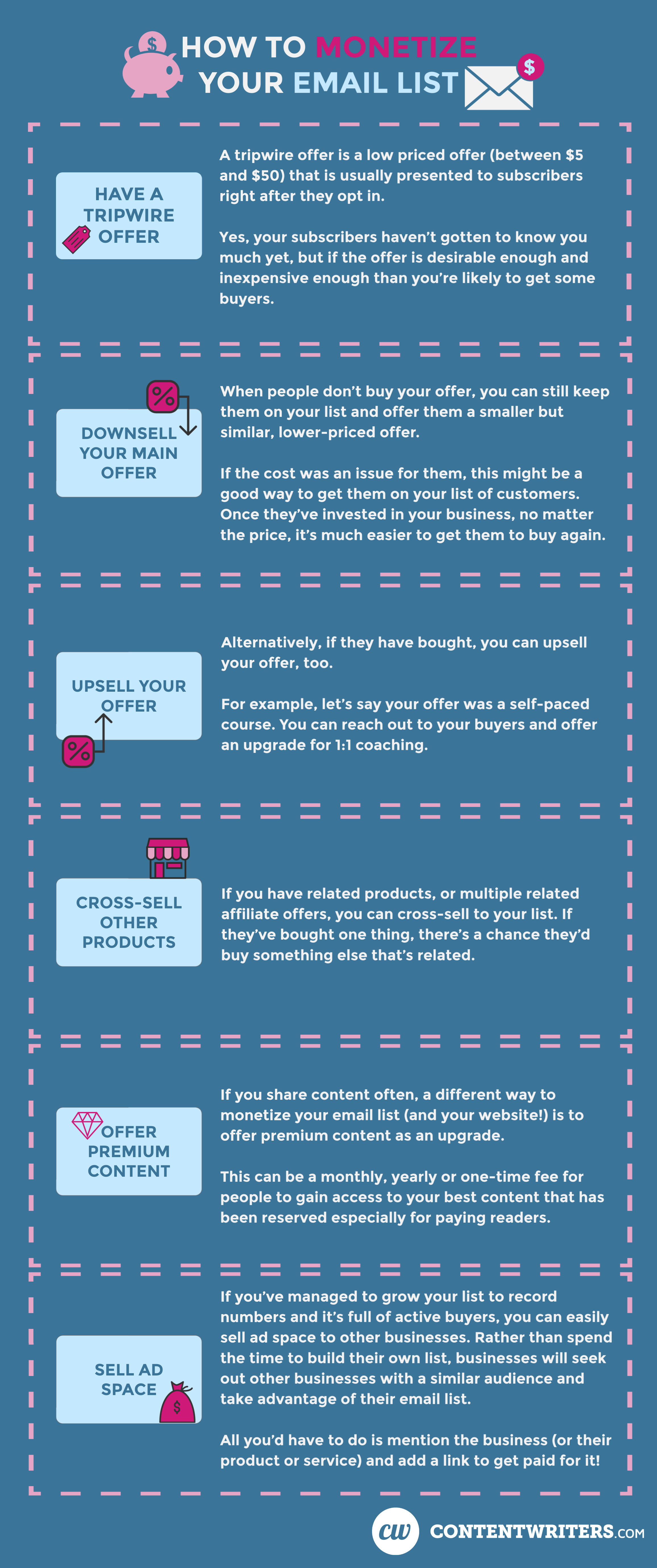 Building a list of email subscribers, and then monetizing that list, is one of the highest converting avenues to making money online. But like anything else online, there's a strategy behind it. Besides avoiding these email marketing blunders, you want to get strategic about monetizing your email list. Start with a free offer that really attracts. Nurture your subscribers and let them get to know you. Then finally, pitch an offer that you know your subscribers will really love.


Corinne is a writer and blogging strategist, who specializes in finance and online business. After earning her BA in English, she began working in the fast-paced finance industry. After 6 years, she left it all behind and turned to her first love, writing. Focusing on valuable content that not only teaches and inspires, Corinne uses words to help businesses get the visibility they deserve online. She lives in Hawaii with her husband and two kids.