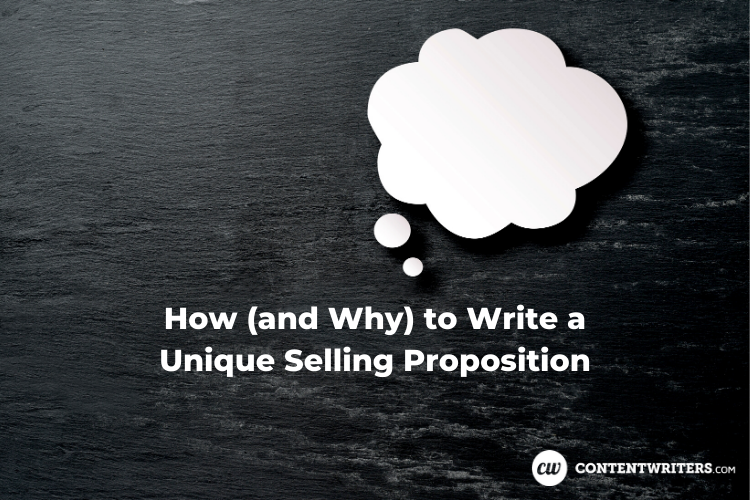 How (and Why) to Write a Unique Selling Proposition
"Competition is for losers," says billionaire investor Peter Thiel.
Thiel is pointing out one of the world's most common business mistakes: not having a unique selling proposition.
Many businesses try to offer the best stuff, the lowest prices, and as much stuff as possible. They want to be a one-stop-shop that removes the stress of shopping around. They want to win on product, price, and convenience all at once. The problem is, when you try to be the best at everything, you end up being the best at nothing. You end up drowning in the vast sea of competition. That's why you need to deliver unique value.
The Definition of a Unique Selling Proposition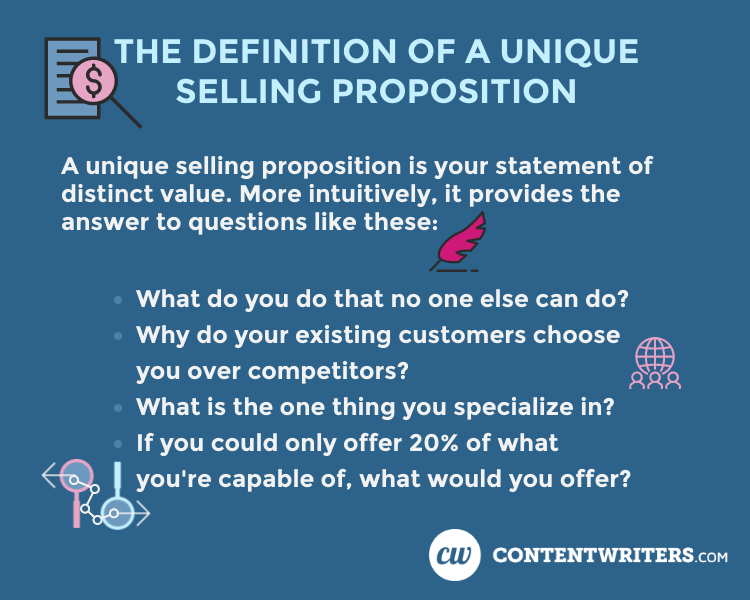 Neil Patel describes it as what your business is known for and what your business stands for.
Steffi Sekar with HackerNoon describes it as one exceptional value you offer that your competitors don't.
Your USP could (probably should) be only a few words. But you should spend many hours figuring it out. Start by checking out some examples!
Examples of Unique Selling Propositions
NAADAM
NAADAM "responsibly sources & produces luxury knitwear while preserving nomadic lifestyle in Mongolia."
Naadam doubles down on this USP by ferociously promoting its $75 unisex cashmere sweater. Although they sell other cashmere goods, they demonstrate their unique value with that flagship product.
Saddleback Leather
Saddleback Leather promises "they'll fight over it when you're dead."
Saddleback is all-in on timelessness. They're certainly not trying to be the most affordable leather company. They aren't even claiming to supply the most durable products, per se — just the most timeless ones.
Tattly Temporary Tattoos
Tattly sells "fake tattoos by real artists."
When you dig deeper, you'll see that each purchase generates royalties for the artists. But Tattly smartly frames their USP chiefly in terms of what customers want.
Twelve Saturdays
Twelve Saturdays offers "the most stylish gameday clothing and accessories from young and modern designers."
Most of the clothing on the site has nothing overtly to do with football. It's simply available in college-football colors. But instead of being yet another e-commerce fashion site selling styles by modern designers, Twelve Saturdays is a highly targeted marketplace.
In-N-Out
In-N-Out Burger has an ingenious "secret menu" that's done wonders for its customer loyalty.
Grayson
Grayson makes "the perfect button-up, engineered by women, for women."
Again, the brand isn't claiming to offer the best price or even necessarily the best quality. The value proposition is focused on a kind of "secret sauce" that only women can provide when designing a women's dress shirt.
Quirky
Quirky set out to "make invention accessible."®
Noticing that ordinary people often have great niche ideas for inventions, the founders of Quirky decided to specialize in sourcing those ideas and bringing them to market. One of the greatest things about Quirky's unique selling proposition is its simplicity. They could have made it something like "venture capitalism on a micro-scale" — but they were smarter than that!
Zappos
Zappos boasts the most generous return policy ever, which removes customers' fear of ordering shoes that don't fit. It's a brilliant unique selling proposition because it naturally lends itself to word-of-mouth (i.e. free) marketing.
How to Write a Unique Selling Proposition
Now that you've been ultra-inspired by examples of USPs, it's time to write yours. While you can look elsewhere to find a boilerplate template, I'd like to offer you something unique: intuition pumps!
Here are a few ways to get your creative juices flowing to write your own unique selling proposition.
What movie character would buy your product?
Okay, hopefully, you've already thought about your brand persona and target customer. But your favorite movie characters are meant to be larger than life. They amplify regular human traits for a more saturated personality. Which awesome movie character is most likely to buy your product? What would you say in order to sell it to him or her? What might he or she say to other people about your product?
What's your favorite thing about your business?
What aspect of your business could you never do without? This can be a guide to the true center of your brand.
Who are your "true believers"?
Your true believers, or power fans, are the ones who spread the word about your brand and come back repeatedly to shop with you. What is it that they love about your brand? Observe them closely, and they might reveal the unique value you're really providing.
Would your heroes buy from you?
When Steve Jobs unveiled Apple's "think different" campaign, he celebrated great historic leaders and thinkers. He also made the bold claim that if they were alive today, they'd be using a Mac. This illustrates how he thought about his business and its value.
You can apply this same thought process by thinking about your own role models. Who are they? Would you be able to make them into your customers? If so, what would draw them to you?
A Last Thought
Specialization is a sniper rifle. One bullet goes a long, long way. It's efficient and precise — but it takes skill and patience to apply the sniper approach to business. You can choose to take the shotgun approach instead; however, you need to be prepared to put a whole lot of lead through that barrel. The choice is yours.



Ellen F. has eight years of experience writing and editing B2B and B2C content for a range of industries, including medicine, education, digital marketing, law, sports/outdoors, and management consulting. She has a particular knack for captivating SMB business owners with B2B content and marketing copy.