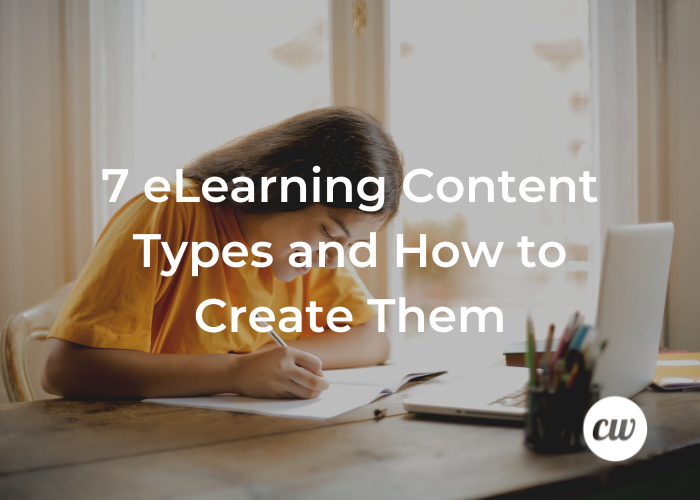 7 eLearning Content Types and How to Create Them
eLearning content has something for everyone. It allows students, clients, or employees to access key information when and where convenient. eLearning content reduces training costs, expands reach, and can help maximize knowledge retention.
What is eLearning Content?
eLearning content is coursework, structured content, or a learning experience delivered electronically. It can be passive, like a recorded lecture, or interactive, like a quiz.
An eLearning program may contain various types of content, including videos, text, infographics, slides, games, and quizzes.
Here are seven types of eLearning content, followed by tips on how to create yours.
1. eBooks
One of the simplest to create, eBooks allow you to easily transform existing blogs or other written material into a more comprehensive presentation. eBooks tend to be visually rich, using infographics and images to highlight and illustrate the text.
eBooks are a passive form of eLearning. They can be an effective way to give learners easy access to targeted content.
2. Videos
Videos can be more time-consuming to make, but many learners prefer the visual format. If the popularity of platforms like YouTube and TikTok weren't enough to demonstrate the crowd-pleasing nature of videos, a survey of educators found that 94% agree video improves student performance.
Don't feel like videos are required for effective eLearning programs, but if you have the capability and your content is a good fit for video, it's an excellent option. Here are several types of videos you can use as part of your eLearning content development.
Training Videos
Your eLearning course can be a series of simple videos of you teaching your topic. These are relatively easy to make and add a personal touch to the learning experience.
You can use props as you speak or graphs or other helpful visuals if you have the skills to do that. If you are demonstrating something on the computer, you can share your screen and talk viewers through the process. Otherwise, you can simply speak into the camera like you are teaching a class or explaining the concept to a coworker or client.
Once complete, you can share your videos on a platform like YouTube or Vimeo. If you want to limit access or charge for views, you can use a learning management system (LMS) or an online course builder like Teachable or Podia.
Simple training videos are most effective for straightforward topics without much complexity or where you can easily demonstrate with a screen share. You can post your training videos without any additional material but adding a transcript option keeps some learners more engaged.
Webinars
Many presenters find it easier to talk to an audience than to a camera. Recorded webinars are a great way to create material you can turn into an online course.
To host your webinar, you can live stream on Facebook, LinkedIn, or Instagram or use a paid platform like Zoom, WebinarGeek, or GoToWebinar. Your best option will depend on the size of your audience and where they connect with you.
Live training captures the excitement and energy of real-time delivery. You can include a question-and-answer section in the live webinar that will likely help later viewers as well. Recording your webinars allows you to develop your eLearning assets over time and with an audience.
Embedded Videos
Embedded videos are short clips that you put into your eLearning content to explain or demonstrate a specific point. For example, if you are using PowerPoint slides in your eLearning course, you can add a short video clip in one slide. It creates a more interactive feel and delivers targeted information where you want it.
"How to" Videos
How-to videos may be one of the most common forms of eLearning content. From cooking recipes to repairing an RV engine, users access videos to learn the steps to create, build, or fix something.
To create an effective "how to" video, include each step viewers will need to follow to successfully complete the task. The visual demonstration is a powerful learning tool for many people.
Software Tutorials
Software tutorials lead learners through a software program and help them learn how to navigate the program and use the different tools.
While demonstrating software can be helpful, giving students a chance to practice each step is the most effective eLearning process.
Software tutorials are one kind of interactive video. Students are guided to take specific actions to familiarize themselves with the software. For example, after selecting an option, the computer might display a message to "click here to navigate to the dashboard" or "click here to upload an image from your computer."
Interactive Videos
Interactive videos are training videos with additional interactive features. For example, after watching the video, students may be directed to take a quiz to test their comprehension.
Clickable links at the end of your video can give students the option of exploring a topic further. Polls or surveys have the double benefit of engaging learners and helping you gather more information.
Interactive elements in and with your videos keep learners interested longer and help them retain your material.
3. Podcasts
Podcasts are accessible on the go. Unlike text or video, learners can enjoy podcasts during a daily commute or while outside walking or exercising.
Podcasts are ideal for eLearning content that does not require a demonstration. For example, mindset, motivation, stories, big-picture concepts, dialogues, and interviews.
As an added advantage, podcasts can be repurposed as videos. You can record the audio and visuals simultaneously or add visuals to your podcast to create a video.
4. eLearning Games
Depending on your budget and commitment to the concept, there is a spectrum of eLearning games you can use. They range from simple gamification to custom-developed eGaming programs.
Most LMS systems include some gaming elements. Participants can earn badges, for example, or see how they stack up on the leaderboard. That's simple gamification and is easily accessible to eLearning creators.
Serious eLearning games featuring complex gameplay and rich graphics require specialized developers and a lot of imagination. This type of eLearning game rewards learners for completing tasks within the game.
5. Slide Presentations
Slide presentations are easy to create and combine text and visuals in an easy-to-digest format. You can create engaging eLearning slides by including gifs, animations, video clips, and graphs.
In a slide presentation be sure not to add too much text per slide. Slides are a multi-media format and work best with a good mix and targeted concise text.
Your LMS platform may allow you to create slide presentations. Otherwise, it's easy to create yours using Google Slides or Microsoft PowerPoint.
6. Infographics
Infographics are a visual presentation of critical statistics or facts. Before you dismiss them as static or unimportant, you should know that people on social media like and share infographic content three times more than any other content.
Infographics help learners conceptualize the information you are sharing. They keep them on the page longer and highlight essential information.
7. Quizzes
Quizzes help you track everyone's understanding and progress, but they also help your learners retain and understand the material. Quizzes can be a nice break in between videos or sections of content and help divide the eLearning course into digestible chunks.
Quizzes offer an opportunity to apply your eLearning content to real-life scenarios. Well-developed questions add context to the material and deepen the learner's understanding. Students get instant feedback on their understanding and see where they need to improve.
If including a quiz seems too formal, you can call it a "knowledge check" and add fun elements or graphics to lighten the mood. Several LMS platforms include customizable quiz makers to include in your course.
How Do You Write eLearning Content?
The first and most important step in writing eLearning content is to understand who will be consuming it. Who is your audience, and why do they need this information?
Since eLearning content is often consumed in a distracting environment, it's essential to put key information at the top and to break each easily digestible section up with relevant titles.
Here are some additional tips for eLearning content development:
Begin each section with a clear and concise introduction that sets expectations.
Write in short and easy-to-read sentences.
Make the content easy to scan with informative titles and by highlighting critical points.
Use an active voice to engage readers or listeners.
Include images or videos to add dimension to the text.
If your course is mostly video, include a text introduction on the page and consider transcribing the video for learners who prefer reading.
Help your audience understand transitions between steps or lessons.
Make sure your eLearning content has been reviewed thoroughly before you publish.
Pre-Assessment
Before diving into eLearning content development, a survey of your audience's current knowledge can provide insight and direction. You can do this through a pre-assessment test, a survey, or interviews. A little prep work will help identify the biggest knowledge gaps and areas for improvement.
Make a List of Significant Topics
If you are an expert in the topic you are sharing, you probably have a lot more information than you need to include. The key to successful eLearning content development is simplicity, so it can be helpful to break the content you want to include into three levels of importance.
Critical information you must include
Valuable information that learners should know
Knowledge that is nice to have but not essential
Organize Any Existing Content
eLearning content development is an outstanding opportunity to repurpose existing material or update outdated content. Rather than starting from scratch, go through the content you already have and pull out anything you can use.
Create a Detailed Outline or Storyboard
Now you are ready to outline or storyboard your course. Remember, it's important to deliver your content in digestible chunks with logical transitions.
Ready, Set, Create!
Whether you are a corporate trainer looking to build effective eLearning content to improve productivity or a landscape painter ready to share your skills, eLearning content development can be a win-win for you and your audience.
If you're looking for help with content creation, including video scripts, edited transcriptions, snappy headlines, or long-form content, ContentWriters can help.


Joan Weisman's strong research skills, SEO knowledge, adaptability of style and voice, and passion for staying current make her an asset for freelance web content, SEO, and copywriting.