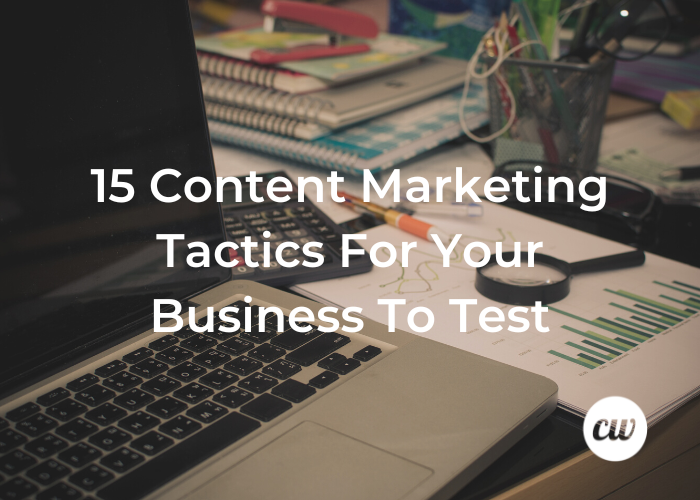 15 Content Marketing Tactics For Your Business To Test
In simple terms, content marketing is an approach focused on creating and distributing valuable, unique, and consistent content to attract, engage and retain a targeted audience.tic
While that explains content marketing at a high level, it's not nearly enough to point you in the right direction. If you want to win — and win big — with content marketing, you must implement the right tactics at the right time.
Below, you'll find a list of 15 content marketing tactics for your business to test as time allows. Some of these will produce the intended results. Some of them will fall flat. Others will require tweaking and additional testing.
1. Blogging
There's no denying the power of blogging. It's a great way to inform and engage your audience while giving your website's SEO a boost.
The key to success is taking a quality-over-quantity approach. One high-quality, in-depth, thought leadership piece is better than five 500-word blog posts that only touch on the surface of your subject matter.
Tip: Supercharge your blogging efforts by enlisting the help of your team members.
2. Social media content
Twitter, Facebook, Linkedin, and Instagram. Those are the most popular social media platforms, but there are many others to consider.
Consistently published social media content is one of the top ways to reach and engage your audience. Share insightful information, answer questions, and have fun. As long as you stay the course, you'll eventually reach your goals.
Tip: Choose one or two social media platforms to focus on to ensure that you're not spreading yourself too thin.
3. Case studies
Don't just tell your target audience what you can do. Show them the results by publishing case studies on your website. This allows a prospect to put themselves in the shoes of someone your company has successfully helped. If your content resonates with them, there's a good chance they'll contact you to learn more about your services.
Tip: Spice up your case study with graphics, charts, videos, and more. For many brands, case studies are among the most important types of content published on their website.
4. Email marketing
People will always tell you that email marketing is dead, but nothing could be further from the truth. It's alive and well. It's an excellent way to share your thoughts with an audience that has expressed interest in your brand.
According to HubSpot, 37% of brands are increasing their email budget. You can either go down the same path or risk being left behind.
Tip: Choose your email marketing software carefully, as its features will impact your approach and success.
5. Influencer content
You can post as much as you want on social media, but that doesn't mean you should stop there. Consider the benefits of combining your efforts with influencers.
From micro to mega-influencers, there's no shortage of people who are willing to promote you.
Tip: Set an influencer budget and do your best to stick with it. It's easy to overspend with visions of a more expansive reach in mind.
6. Infographics
Some people retain information better when it's provided in a visual format. This is why infographics remain popular among content marketing professionals.
Another benefit is that infographics help to attract links. This is an SEO boost without any additional work.
Tip: Hire a professional designer to help you create visually appealing infographics that will engage your audience and promote sharing.
7. Interactive tools
Consider if there are any types of tools you can publish on your website to generate greater interest and keep visitors around longer. For example, if you're in the mortgage industry, a loan calculator may make sense.
Tip: An interactive tool with bugs will frustrate your users as opposed to providing a valuable resource. Work closely with a developer to ensure your tool is bug-free and functional.
8. Video content
Video content is no longer the wave of the future. It's the here and now. Even if you don't want to personally go in front of the camera, there's probably someone on your team who's willing to take the lead.
Video content can include how-tos, company updates, industry tips, and more. If you can write it in a blog post, you can include it in a video.
Tip: You don't need thousands of dollars worth of equipment to shoot a high-quality video. Get started with a smartphone and go from there.
9. Podcasts
A podcast allows you to share your insights with your audience in whatever format you choose. Maybe you're the only host and you have industry guests. Or perhaps you co-host a podcast with a coworker.
With the popularity of podcasts on the rise, find a unique angle to ensure that your episodes stand out from the crowd.
Tip: You don't need to be a "podcast pro" to get started. You may struggle early on, but that's to be expected. The more episodes you record, the more comfortable you'll become.
10. Webinars
A webinar allows you and/or your team to share your knowledge with your target audience. Sticking with the mortgage industry example above, you could host a webinar on how to find a home, how to compare mortgage products, or what the closing process entails.
Tip: Watch several webinars from competitors to better understand what works, what doesn't, and what you can do to stand out from the crowd. This is a good step to take before you record your first webinar.
11. Print magazines
Print magazines are still a good way to spread the word about your brand. It may not be something that you pursue month after month, but you should always be on the lookout for opportunities.
For example, there are industry print magazines that align with your goals. Reach out to the editors, ask them about contributing, and make a short list of those to target.
Tip: The pitch process is easier said than done, as you're likely to face quite a bit of rejection. It's a harsh reality, but it's all worthwhile once you finally land a publication you've been chasing.
12. Content curation
It's good practice to create and distribute unique, relevant content. But did you know that there are benefits of content curation, too? With this, you curate several content pieces on a specific subject and share them with your audience on your blog and/or social media.
Take, for instance, a blog post titled "The 25 Best SEO Blogs of 2022." By sharing information on each blog — while also linking to it — you give your audience valuable guidance.
Tip: Share your curated list with any brand that you mention. This is an easy-in for establishing a relationship and possibly a link back to your website.
13. Guest posts
It's good practice to consistently publish content to your blog. Doing so drives traffic to your website while also boosting its SEO value. But you should also consider the benefits of guest posting.
This is exactly what it sounds like. You create content with the idea of another blog posting. This is an opportunity to reach a new audience while also gaining a backlink to your website.
Tip: Create a list of 10 to 20 blogs that your brand would benefit from. Carefully review each one so that you can create a unique pitch that improves your odds of acceptance.
14. A course
Depending on your industry, you may be able to create a course that provides the opportunity to connect with your target audience.
For example, if you own a web design agency, a free course on how to customize a WordPress theme is right up your alley. It will give your audience insight into the services you provide. The course can also show some participants that they're better off hiring a professional like yourself.
Tip: A course can take on many forms, ranging from text-based to video. Experiment with several formats to determine what works best for your audience.
15. eBooks
Think about an eBook in the same way as a blog post. The primary difference between them is that an eBook is much more detailed. For example, a blog post may touch on one specific subject, such as how to design a landing page. But an eBook generally provides more depth, such as how to design a landing page, create content for it, and present it to your audience.
Tip: Don't be shy about enlisting help to create an eBook. For example, you may be an outstanding writer but lack the design skills to make your eBook stand out. Find a designer who can assist you.
Try It Out
What are your thoughts on these content marketing techniques? If you need a push in the right direction, contact us online. One of our Content Strategists can answer your questions, provide direction, and help you get started on your content marketing journey.


Chris B. is a freelance writer and digital marketing consultant based in Pittsburgh, PA. When he's not creating content, Chris enjoys watching sports, working in the yard, and spending time with his family.