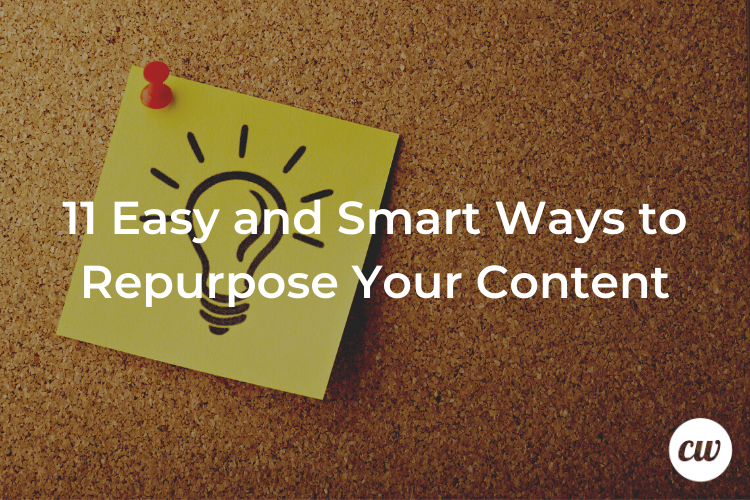 11 Easy and Smart Ways to Repurpose Your Content
Repurposing content can save valuable time and help reach a wider audience, so why aren't more companies doing it? Many marketing departments are focused on meeting content schedules and forget about the excellent content they have already produced.
If your team has been creating content for a while, you should have a goldmine of useful information to reformat for other platforms. Here, we'll look at which content to target and 11 practical ways to repurpose existing content to reach a larger audience.
The Benefits of Repurposing Content
1. Save Time and Labor
Creating quality content is time and labor-intensive. By reformatting and updating old content or creating new content with the goal of repurposing in mind, you save your team time and effort.
2. Meet Consumers Where They Spend Time
Not everyone in your audience loves to read. Some prefer videos, while others will get most of their information from social media. By adapting the same content for different publishing mediums, you make it easier for a broader audience to find you.
3. Reinforce Your Message for Better Sales
Marketing's rule of seven says that a prospect will need to see your message an average of seven times to take action and become a customer. Repurposing your content reinforces your message as consumers find you on different channels. Each iteration of your message brings them closer to engaging with you.
4. Boost Your SEO
Content in different formats on the same topic provides additional opportunities to target desired keyword phrases. Repurposed content outside your site can create backlinks to your site, boosting SEO.
5. Raise Your Company's Profile
Quality content published across different mediums can raise your profile in the industry, helping you gain extra authority as an expert.
6. Get More from Already Published Content
Don't let fantastic, useful content get buried or forgotten over time. Repurposing your content puts old favorites back to front and center and ensures it remains fresh and relevant. Users who missed your blog post, eBook, or video the first time have another opportunity to see it.
Which Content Should You Repurpose?
If you are creating content to repurpose and need topic ideas, sites like Quora and Reddit are accessible places to search for popular topics in your industry. When you're looking through your past content, there are three types of articles or videos that are excellent targets for repurposing.
1. Evergreen Content
Evergreen content never goes out of style. It is a topic fundamental to your industry that will continually be searched and is genuinely interesting to your audience. It does not include current events or time-based information. With evergreen content, your efforts can pay dividends for years to come.
2. Popular Content
Which of your posts and videos get the most traffic? Which of your social media posts get the most shares and comments? Popular posts are outstanding content to repurpose because you know your audience already finds it valuable and relevant.
3. Content That Needs Updating
Some older content might have great fundamentals but be outdated in specific details. Platforms and services you might have recommended three years ago may not be as relevant today. Give older content a makeover and bring back its shine.
4 Ways to Create Better Content Than Your Competitors
If you are sprucing up old articles or creating content to repurpose, here are four strategies to take the lead in your industry.
Check your competitor's content on the subject and include everything they include, plus more
Add images, videos, and infographics
Instead of appealing to a general audience, target specific niches with the same topic
Get creative and strategic with a unique slant or approach to the topic
11 Effective Ways to Repurpose Content
Need ideas about how to reformat and update your evergreen and popular content? Here are 11 ways to repurpose your content.
1. Turn Old Blog Posts into Guides or eBooks
Is there a topic you cover frequently? Any collection of blogs on a topic can be repackaged into a guide or eBook on the subject.
A digital marketing provider may have blogs on Creating a Facebook Group, Marketing to a Facebook Group, Making Money with Your Facebook Group, How to Advertise to Facebook Groups, and Choosing Between Facebook Groups or Pages. They can collect these blogs into a comprehensive guide or eBook called "Everything You Need to Know to Build Your Business with Facebook Groups."
Creating the guide or eBook is also an opportunity to update the blogs with new information.
2. Convert Internal Data to Case Studies
People appreciate proof that your product or service gets results. Shoppers love stories, and data builds trust.
When you have results that look great – share them! Data makes the basis for a compelling case study that will help shoppers trust your company.
3. Promote Blog Posts in Your Newsletter
If you have a list of solid email subscribers, don't assume they see every blog you publish. To maximize the reach of your blog posts, consider promoting them in a weekly newsletter.
You can also revive old, popular posts by reformatting them into newsletters.
4. Select Popular Blog Posts for Podcast Topics
Unlike blogs and videos, podcasts are easy to consume on the go. People can listen in the car, on public transport, or at the gym.
If you and your team don't feel confident recording podcasts, you can hire voice talent to record them for you. Start with a catchy intro and conclude with a call-to-action and position your company as an expert to a whole new audience.
5. Add YouTube Videos to Your Blog Posts
Starting your blog posts with an embedded video engages audiences who prefer visual learning. It also can boost your SEO. People love videos! Each month, 85% of all internet users watch video content on one of their devices.
For social media platforms, YouTube is second only to Facebook in its number of users. It is also a powerful SEO engine. Many people will still read the blog, but having a video at the top makes your content available across more than one platform.
6. Convert Interviews into Expert Advice eBooks
People love to hear from experts! They have stories and experiences to share. Interviews are easy to conduct, and they engage your audience. Often, the people you interview have their own audience, which expands your content's reach.
You can use interviews for blog posts, podcasts, or videos. If you interview a few people on the same or related topics, the collection can make an outstanding expert advice eBook.
Your eBook is easy to download and read as people have time. It makes all of the interviews available to those who missed them the first time around.
7. Share Statistics as Twitter Posts
Want to get more leverage out of compelling statistics? Interesting facts and data about your company or industry make sharable Twitter posts.
You can also highlight statistics inside your post by turning them into individual tweetable elements. Add a click-to-tweet link to a statistic or create a Twitter-friendly image displaying exciting data.
8. Use Webinar or Livestream Content to Create Online Courses
Online courses effectively collect content into an easy-to-consume format that customers can absorb over time. Whether in blog posts, webinars, or live stream content, any topic cluster is a good source for online courses.
Online courses show off your business' expertise and provide extra value.
9. Share Testimonials on Social Media
Highlight enthusiastic testimonials in your social media strategy. Social proof works. 84% of people trust online reviews as much as a recommendation from a friend.
The volume of offers online makes shoppers skeptical. Seeing testimonials in a visible place such as your social media posts reassures them your product or service is already trusted by other people.
It is also a great way to appreciate customers. You can share a testimonial with a special thanks or acknowledgment.
10. Insert Infographics That Are Easy to Share on Social Media
A shareable infographic is visually appealing and straightforward. The header and data should make sense and be verifiable while catching the reader's eye.
Useless or confusing data will dilute the power of your infographic. Misleading information may get attention initially but can hurt your company's credibility over time.
A well-crafted infographic can be a powerful social media tool. People will share, like, and comment on it. If you don't have a team of designers, tools like Canva can make the design process easy with customizable templates.
11. Compile Customer Service Queries into an FAQ Page
FAQs are a great way to answer common questions while boosting SEO. Customers appreciate easy access to answers, and your customer service team will be happy to repeat the same responses less frequently.
Expand Your Reach and Online Authority with Repurposed Content
Whether you are creating content with repurposing in mind or looking to mine what you've already got to expand your reach, using the same content across multiple formats saves time and effort while delivering your message to more people.
Any popular post, outstanding review, interesting static, or often-asked question provides an opportunity to deliver value to your customers. Build relationships through quality content.
кредитные предложения от банков для физических лиц


Joan Weisman's strong research skills, SEO knowledge, adaptability of style and voice, and passion for staying current make her an asset for freelance web content, SEO, and copywriting.