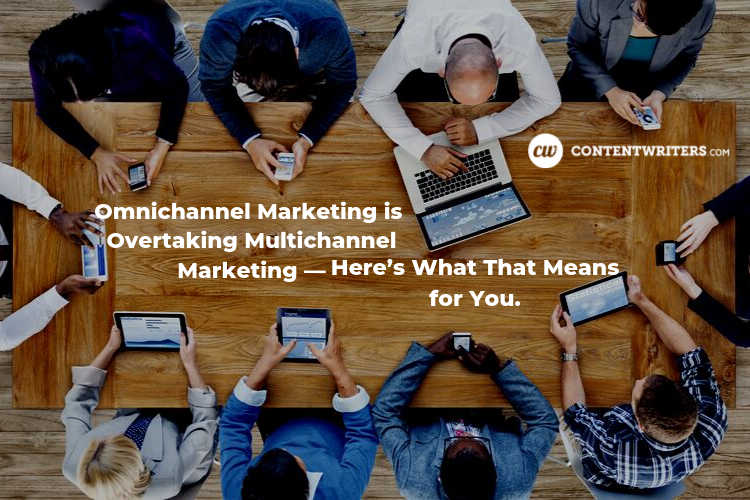 Omnichannel Marketing is Overtaking Multichannel Marketing — Here's What That Means for You.
While multi-channel marketing is a well-established marketing method, omnichannel marketing, its evolved cousin, is starting to take over. According to Core DNA, omnichannel marketing is one of the biggest marketing trends of 2019.
Companies with an omnichannel strategy experience a 91% increase in customer retention rates compared to those that don't use it. Specifically, they achieve an 89% average retention rate, which is vastly higher than 33%—the retention rate of companies that don't use this method. This shouldn't be a surprise: 87% of consumers think businesses should pursue more omnichannel marketing to better serve their needs.
Omnichannel marketing is the newer, more efficient way to reach your top customer personas and reallocate your efforts into a more streamlined approach. This method treats every channel you market on as a whole entity, not separate playing fields.
By centering the experience around the customer instead of individual channels, you can create a holistic, seamless experience that is more likely to generate brand awareness and trust which allows the relationship with your consumers to develop further.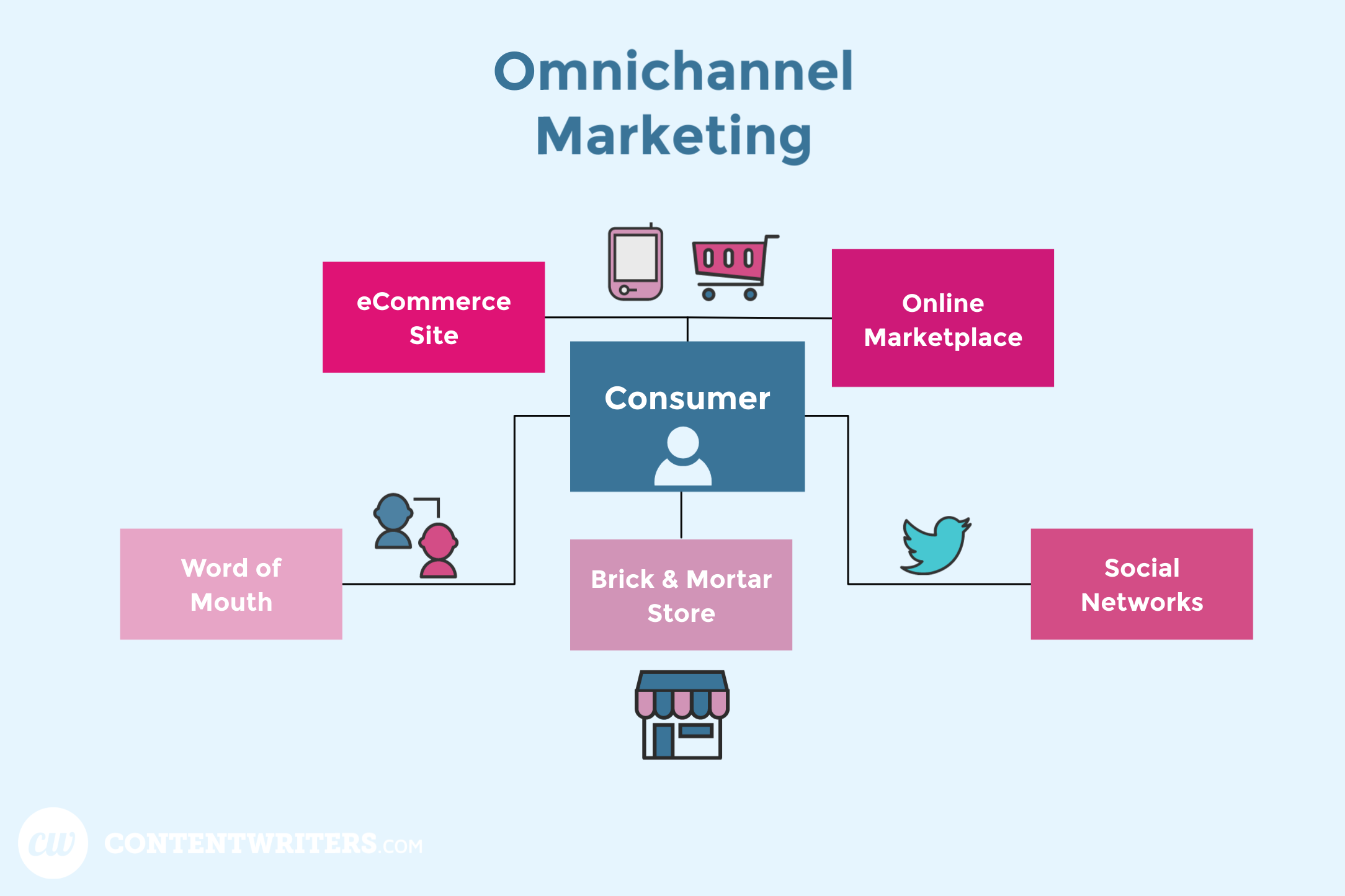 Omnichannel marketing is the next evolution of multi-channel marketing. Multichannel marketing reaches different types of customers on different platforms and channels, such as email, google ads, and social media. This method treats every channel as its own entity, forcing you to create unique content for each channel. Each channel has its own specific target audience and informational requirements.
Omnichannel marketing, on the other hand, inverts this model and puts your customer at the center of the marketing process. The channels are no longer the focus. Instead, you study your top customers to find out where they like to be online. This leads to you creating content that they connect with. You can also re-use that content again and again on different channels. You aren't focusing on how to market on a certain platform, but viewing the platforms through the lens of your valued customers.
Once you gain a good understanding of your customers' values, interests, habits, and needs, you can make appealing content appear everywhere they like to be online. This method allows you to make multiple impressions on the same customer through different channels, with the same or similar content.
This method resonates better with modern internet use habits of customers who jump between different social media channels, email, websites, while using different devices. According to Marketing Week, today's users have an average of around 6 touch points during the buying process. 15 years ago, the average was only two touch points. Getting a consistent experience when switching between devices, social media platforms, and other online channels lets the customer know they're getting the same version of you—a trustworthy brand—no matter where they go.
As you can see, this marketing trend can benefit your brand in many ways. Here are four main reasons businesses switch to this model:
Higher marketing efficiency
Spend less on making content
Generate more brand awareness
More profits
Who doesn't want to gain more time and get the same results while spending less? As marketing continues to evolve with updated data on consumer behavior, this model is proving to be useful and less expensive than multichannel marketing.
Higher Marketing Efficiency: When you work on appealing to just one top target group, your content has fewer variations across different channels. Therefore, although you're creating different content, the content for one platform is not dramatically different from content for another platform. This allows you to spend less time on target groups that may not make up a significant portion of your business and redirect your energy toward the group you need to market to the most. You can also get better results by making multiple impressions on the most fruitful group instead of scattering your efforts.


Spend Less on Creating Content: When you don't need to create content for 5 different groups for 5 different channels, you get a more focused content stream. Being able to gently tweak and repurpose the same message and information for one group takes less work. This naturally leads to spending less on content, since you don't need to make different videos, blogs, visuals, or ads all the time. But though you spend less, you put yourself in a position to be seen more frequently by the same people. Refining your marketing budget like this can also allow you to spend more money on higher-quality content.


Generate More Brand Awareness: Omnichannel specifically targets your top customers where they go online the most, which maximizes the number of times they encounter your brand. It takes many impressions to become familiar with a brand, and omnichannel methods make it easier for your customers to encounter the same message on different devices and platforms.


More Profits: By nurturing brand awareness, trust, and familiarity, you gain more loyal customers. According to Google, omnichannel shoppers have a 30% higher lifetime value for a business compared to customers who shop on just one channel. The benefits of trust are increased business, customer loyalty, and overall growth. Also, companies that engage through omnichannel methods are rewarded with an annual revenue increase of almost 10% AND a 7.5% decrease in spending on each contact. Spending less and earning more is the perfect formula for better profits!

Your top customers can be frequenting a different combination of places online compared to those of another business. It's important to do thorough research to find out where your customers are finding you. Discover their values, needs, and other key information that helps you reach them.
Depending on the group you target, you may use a variety of methods, like investing in paid ads, using targeting tools on Facebook, nurturing an email list, and more. When you work toward appealing to the top group that benefits you, you're more likely to meet the same customer in different places—but where your customers are is a puzzle you need to solve.
It will take research, time, and a good look at who you are and what you have to offer. In some cases, you may need to adjust your brand or rebrand altogether to reestablish a clear message to your top audience.
The kind of content that works best for you will be specific to your type of service or industry, but there are some general trends that can help you decide.
Recent data from Core DNA shows that video is constantly on the rise. As of now, 75 million users in the United States watch video daily. Podcasts are also quite popular, as 25% of Americans enjoy listening to them consistently.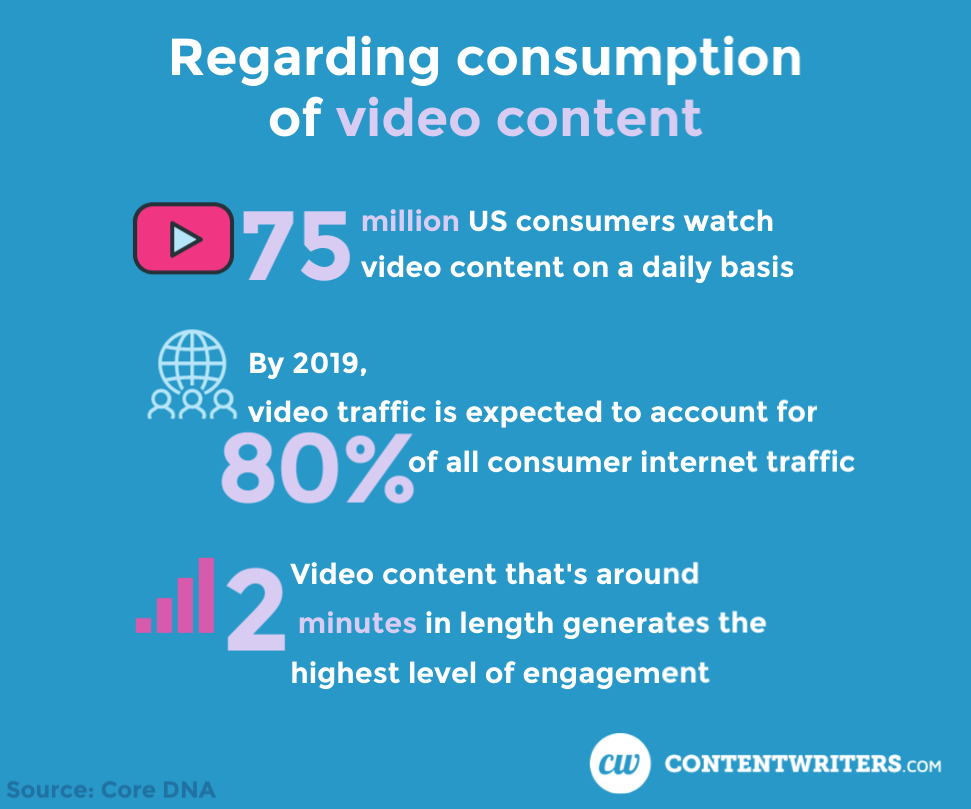 Also, people are switching between devices more than ever, as nearly 100% of users no longer use a phone or laptop exclusively. This makes it more important than ever to create content that is optimized for mobile devices. Here are some ideas to explore:
Branded podcast
Influencer marketing
2-minute YouTube videos
Live event on social media
Paid ads in video
Google ads
Blogs
Infographics
Whitepaper
Email drip campaign
It takes a collaboration of great minds to research and discover what content to pursue. Identifying who you're marketing to is the first step. Discovering where they like to be on the internet is another crucial step. Then, having a content strategist on your team, excellent writers, graphic designers, and other creatives will help you make informative content that is intelligent, attractive, and appealing to your customers.

You also need in-depth knowledge of your business, what you stand for, and why you stand out from the competition. Today's customers are more technologically competent and adept at finding what they need online, so it isn't enough to have basic information. You need to create a compelling brand image, purpose, and message. Give these people an awesome, consistent experience that harmonizes with their daily online habits, and you'll reap the rewards of omnichannel marketing.


Offering a seamless experience across multiple channels is still a new concept. In fact, according to the CMO Club, 55% of companies still have not implemented an omnichannel strategy. Meanwhile, 90% of customers desire and expect this kind of consistent interaction with your brand across channels. This is a great time to get on board and deliver what customers want. Gain an edge on the competition by offering what over half of brands still aren't doing— and save yourself some time and money in the process!


Alicia is a professional content writer who specializes in the field of real estate and home living. Alicia is particularly knowledgeable in the area of marketing and promotion, having posted many listings online herself while also managing leads through CRMs. She has recently become HubSpot Inbound Marketing certified (valid until June 2019) and HubSpot Content Marketing certified (valid until July 2019).