Insider Secrets to Eye-Catching Headlines
How long do you have to catch someone's attention in the digital world? Current research shows that you have less than 8 seconds to convince someone that the rest of your content is worth seeing.
Headlines are essentially a "sneak preview" of your content. But when it comes to headlines, you have only 3 seconds to lure a reader in. When people give movie trailers a longer chance, how can you create an engaging headline?
Here are some insider secrets to creating headlines that bring in more followers.
Tell them what they want to hear.
Before you can start any actionable marketing plan, you should have relevant marketing data on hand. Who are you marketing to? Who are your typical customers? Before you make a video, infographic, or another type of content, you need to first know who you are talking to. Then, you can create content that they want to see.
For example, let's say your customers are those who visit your online home goods store. The headline "5 Ways to Clean Your Kitchen Naturally" can be interesting to them. Meanwhile, a blog entitled "5 Axes You Need for Your Next Larping Tournament" may not interest the same group.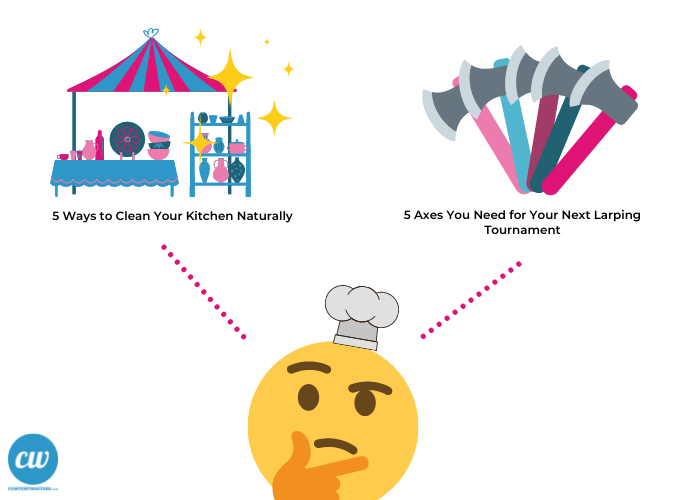 No matter how well-written the second blog is, it doesn't contain the information that your customers want. They want to make their home beautiful, not engage in fantasy combat in a field, and nothing will change that. Therefore, you must always adjust your content to whom you want to reach.
Invest in your online presence.
No matter how great an seo-friendly headline is, it won't gain traction if it isn't seen. This is why it's important to invest in marketing, whether you need to boost your content on social media or get paid search on Google. Though it's possible to also organically boost your website through creating good content, paid promotion puts your content on the fast track to more views.
Now that you know the foundation for making your headlines work practically, here are the formats that work.
Effective headline formats
The best headlines are straight to the point and leave no mystery as to what they want to say. They also offer information that is valuable to your audience. If you're in doubt about a headline, convert it (and the content therein) into one of these popular formats.
Here are some examples:
How-to / Tutorial: Many people look for information about doing a task online. Whether it's a DIY project, craft, or interesting life "hack", a "how-to" blog typically does well in attracting interest.

Example: "How to Get Your House Ready for Guests in 15 Minutes or Less."


Listicle: As one of the most popular types of articles, people love listicles because they offer information in small, digestible sections.

Example: "10 Ways to Wear a Cardigan."


Testimonial: People love to get exclusive information about first-hand experiences. They could be researching a new trend and be curious about its benefits. Seeing how it worked for others works wonders because it uses curiosity to draw them in.

Example: "I Tried Keto for 90 Days: Here's What Happened."


Guarantees: Loop in a little mystery with a guarantee to rope in curious clickers. Just be honest about the results and not give empty promises to your customers.

Example: "Try this Simple Exercise and You'll Be Stronger in a Month — Guaranteed."


Exclusive Offers: Nothing is more straight to the point than a good offer. No gimmicks, no games, just old-fashioned deals. This is typically effective at getting people's attention.

Example: "Want 50% Off Your Next Purchase? Get the Coupon Code Here."


Explanatory: Satisfying curiosity is a big part of effective content. Any headline with a "why" that answers a burning question of your target audience is destined to get more clicks.

Example: "Why 80% of Your Fitness is Made in the Kitchen, Not the Gym."


Urgent News: Breaking news about significant events in your field draws in a lot of clicks. If some juicy news about your industry comes out, you can capitalize on the trending information by writing a short article or making a video about it— with a catchy headline.

Example: "Breaking News: X Product Just Recalled Due to Safety Issues."
By following these simple tips and adjusting your headline's format to one of these popular types, you can increase interest in your content. Want more insights? Check out our ultimate headline writing cheat sheet!


Alicia is a professional content writer who specializes in the field of real estate and home living. Alicia is particularly knowledgeable in the area of marketing and promotion, having posted many listings online herself while also managing leads through CRMs. She has recently become HubSpot Inbound Marketing certified (valid until June 2019) and HubSpot Content Marketing certified (valid until July 2019).