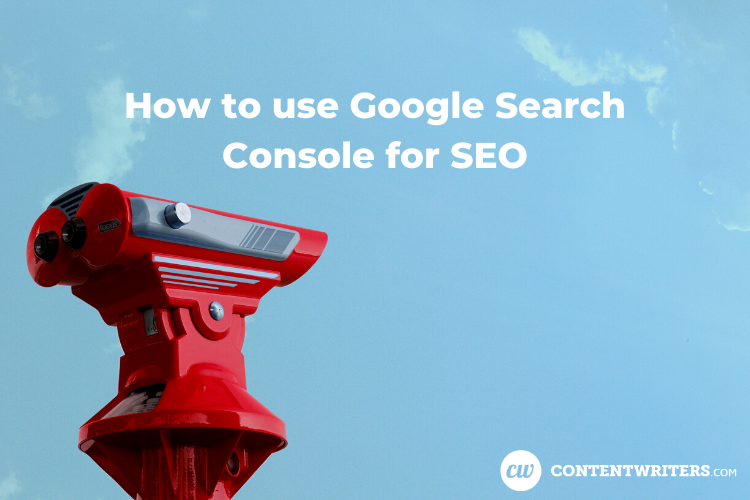 How to Use Google Search Console for SEO
Are you using Google Search Console to evaluate your website performance and identify any issues that may be affecting how it ranks in search engines? If not, you're missing out on important data that can provide key insights and significantly impact your search performance.
Continue reading to learn how to use Google Search Console and start taking advantage of the wealth of data it provides.
What is Google Search Console?
Google Search Console is a free tool from Google that provides data regarding how your website performs in Google Search results. It can help you understand which search queries your site is ranking for, which queries are driving traffic to your site, and more.
It also allows you to perform important tasks such as monitor issues that may be affecting your site's performance, submit new content to be crawled, and make sure your site is performing well on mobile devices.
What's the difference between Google Analytics and Google Search Console?
Google Analytics and Google Search Console are both free tools provided by Google.
If you're serious about understanding how your website performs in terms of key metrics such as total website traffic, acquisition, user behavior, and rankings on search engine results pages (SERPs), you should be using them both.
Although closely related, Analytics and Search Console provide different data and are both extremely valuable in evaluating your website's performance.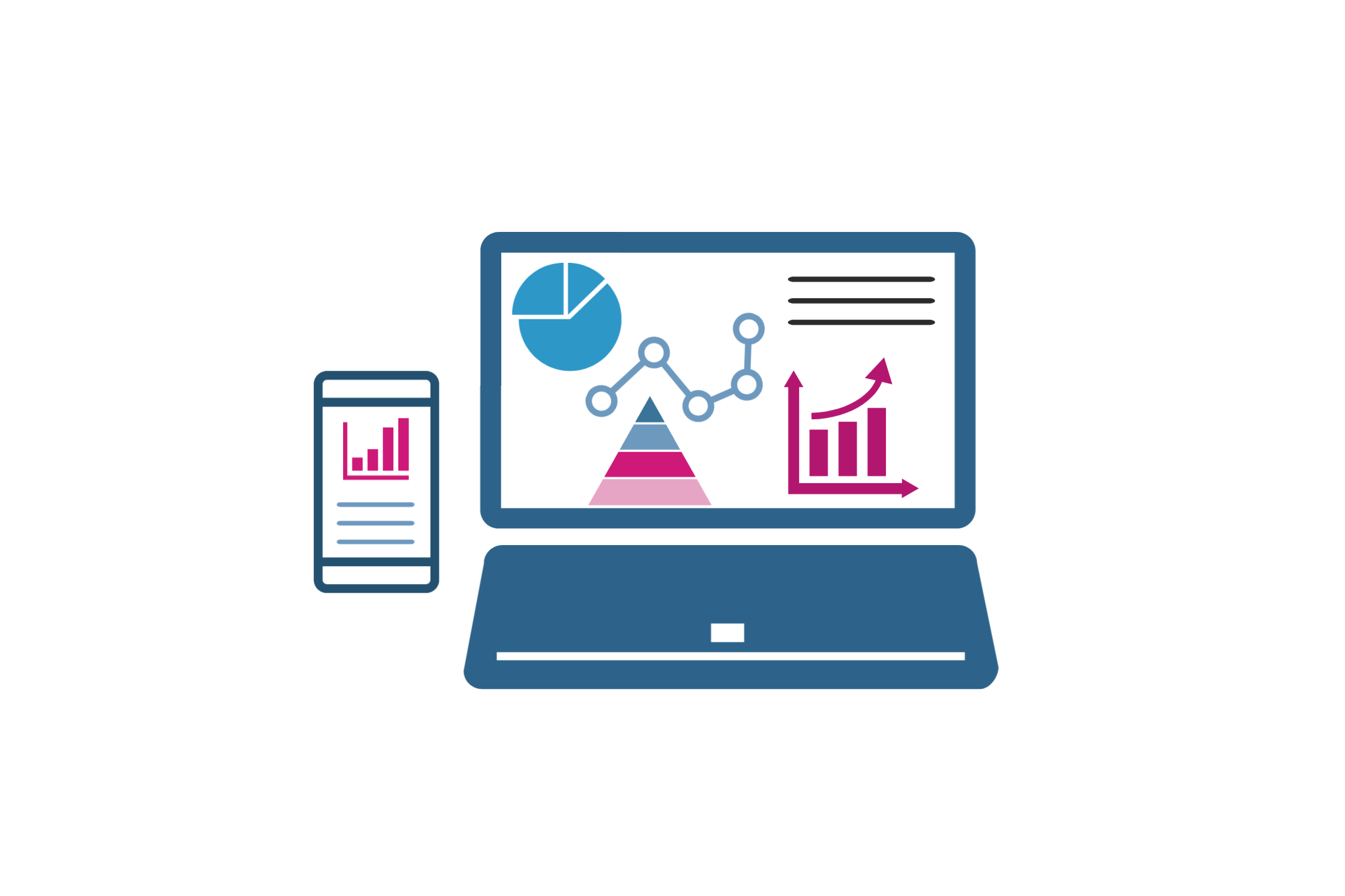 Google Analytics
Google Analytics provides a wealth of information regarding traffic statistics. It's primarily concerned with how users interact with your website: how people arrive at your site (acquisition), which pages they visit and how they move throughout your site (behavior), how long they spend on your site (duration), and whether they leave your site without visiting a second page (bounce rate).
It also provides demographic information, such as the geographic location, age, and gender of your site visitors. All of those can help you better understand who is visiting your website and whether they find your content valuable. It also integrates with other tools such as Google Adwords to help you monitor and evaluate ad campaign performance.
Google Search Console
Google Search Console, on the other hand, is primarily concerned with how your website performs in search engines. It allows you to access data such as impressions, click-through rates, and crawl errors.
Some of the tasks you can perform with Google Search Console include:
Submit your sitemap
Identify the search queries that your site is ranking for
Identify your most popular web pages
Learn which devices visitors are using to access your site
See how your site performs on mobile devices
Inspect specific URLs to make sure the page is indexed, mobile friendly, and error free
Identify other websites that are linking to you
We'll take a closer look at these below.
Search Console is especially valuable for anyone looking to improve their organic search rankings and traffic.
If you're running a personal blog that's strictly for your friends and family, then you probably don't need it. If, however, you're operating a business website and you want more people to find you on Google, it's a must.
How do I use Google Search Console?
Before you can start using Google Search Console, you must activate your account and link it to your Analytics.
Activating Search Console
Once you have your Google Analytics account set up and your tracking code on your website, go to Admin – Property Settings. Scroll down, and you'll see a button that says "Adjust Search Console."


You can also navigate directly to Search Console at https://search.google.com/search-console.
On the Search Console Settings page, click "Add." This will open a new page with a list of any sites you have access to and their associated Analytics property. If the site you need is listed, select it and click "Save." If the site you need is not listed, click "Add a site to Search Console" at the bottom of the page. You will be directed to Search Console, where you can add your site. You'll also need to verify that you are the owner of the website. Search Console gives you a few different ways to do this.
Once in Search Console, click the dropdown arrow at the top left of your screen, and then click "Add Property." From here, you can add a domain. This method requires DNS verification, which means you'll need to sign into your domain name provider and add the provided TXT record into the DNS configuration.
If you don't have access to the domain name provider, you can use the URL prefix method. This will verify only the URLs under the specified protocol (for example, http or https). Click continue, and you'll see a list of options for verifying your property. You can upload an HTML file to your website, add an HTML tag to your home page, or use your Google Analytics or Google Tag Manager account. If you have edit permissions for Google Analytics and your tracking code is already on your website, this is often the easiest verification method.
Once your account is verified, you can start using Search Console.
Submit your sitemap
For any new website, it's a good idea to submit your sitemap to Google Search Console. This tells Search Console that your site is live and ready to be crawled.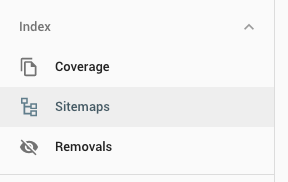 Sitemaps are digital maps that provide Google's site crawlers with important information about your site pages: the important pages on your website, when they were last updated, etc. Some WordPress plugins like Yoast SEO will provide you with a link to your sitemap, or you can use a sitemap generator.
Once you have the link for your sitemap, go into Search Console and click on Sitemaps in the left-side menu. Then fill in the URL in the space provided.
After Search Console reads the sitemap, it will send you a report if it discovers any errors. You can also log into Search Console at any time to see the status of your sitemap and how many URLs were discovered.
It isn't necessary to resubmit your sitemap every time you make a change to your site, but you may want to do so if you make major changes to your site content, fix errors, or add some important new pages.
View your performance report
Once your site is live and indexed, Search Console will start tracking data such as the search queries that your site is ranking for, the most popular pages, countries in which users are viewing your site, devices they are using, and more.
In Search Console, click on Performance in the left-side menu to open the report.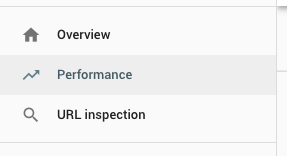 At the top of the page, you'll see a chart showing clicks and impressions. The date range will default to the last 3 months, but you can edit this as needed.


Below this, you'll see a list of search queries showing the impressions and clicks for each. Impressions refers to how many times your website appeared in search results for that query. Clicks refers to the number of times a user clicked through to your site.


These figures can help you determine the topics your readers are interested in, and if there is content on your site that warrants further attention.
You might be surprised by what you discover in your top search queries. It's not uncommon for a large portion of website traffic to be focused on one topic. From the example above, we can see that three of the top five search queries for this nutrition website were related to sinus issues. It might be a good idea for the site owner to develop some additional content around that subject, or at the very least, look at their existing content to make sure that it provides valuable information on the topic.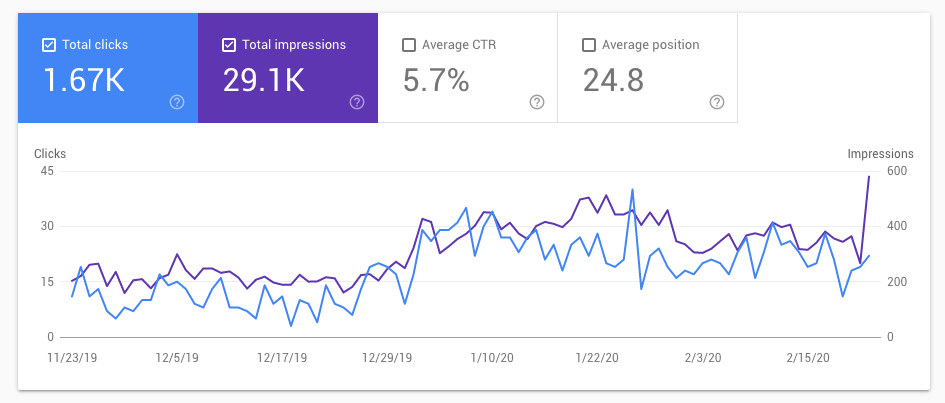 The same page allows you to filter the report by pages, countries, devices, and other options. By clicking on devices, we can see that most traffic to the same nutrition blog is on mobile devices. So it's important to make sure that all site pages are mobile friendly. Search Console can help with this also.
Evaluate your site's mobile performance
Starting in July 2019, all new websites submitted to Google are now ranked using mobile-first indexing. That means the mobile version of the site is used for indexing and ranking purposes, rather than the desktop version. Mobile traffic now accounts for more than half of all website traffic worldwide, so it's absolutely essential that your site is mobile friendly.
To view data about your website's mobile performance, click Mobile Usability in the left-side menu. If your site has any mobile issues, they will be displayed here.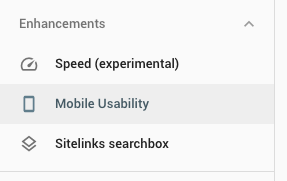 Inspect a specific URL on your site
If you want to know how a specific page on your site is performing, you can inspect the URL in Search Console. At the very top of the page, enter the URL into the search box. The URL inspection page will tell you if the page has been submitted and indexed, if it can appear in search results, and whether it's mobile friendly.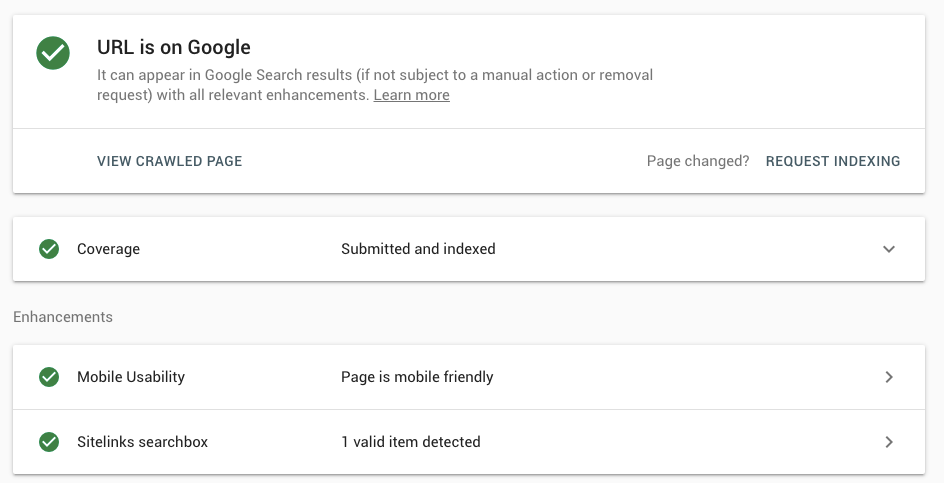 Identify sites that link to you
Links to your website, also known as backlinks or inbound links, are another important ranking factor for SEO. Having high-quality websites linking to your content tells Google that those sites find your content valuable.
To see which sites are linking to you, click on Links in the left-side menu in Search Console.
You'll see a list of websites that link to you, along with other information such as which pages on your site receive the most inbound links, and the specific text that other pages are using to link to your content.
Conclusion
If you aren't already using Google Search Console, start now! The tool is completely free and packed with information that can improve your website's performance and help you better understand your site users and what kind of information they're looking for. If increasing organic traffic to your website is important to you, the data available in Search Console is essential for helping you improve your website and refining your SEO strategy.


She is the Director of Content for a medical marketing agency, and is certified in inbound marketing, content marketing, email marketing, site structure, and keyword research.