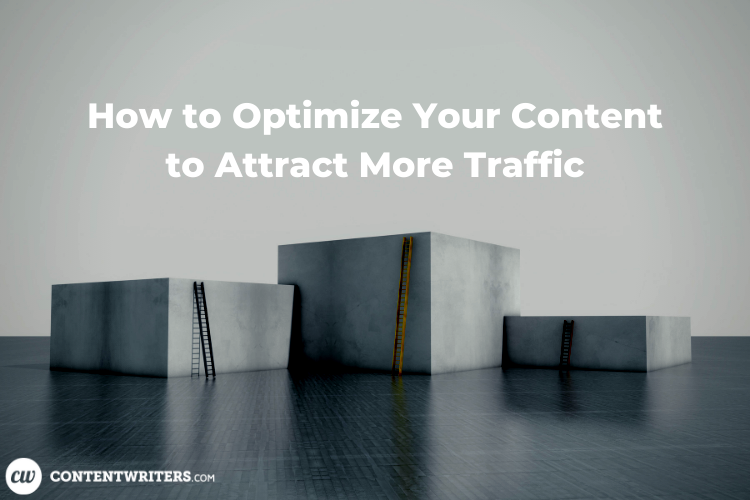 How to Optimize Your Content to Attract More Traffic
SEO (search engine optimization) is a constantly evolving field. This is largely due to the fact that Google is continually updating its algorithms to meet its goal of delivering the best information to users.
In the early days of SEO, it was often enough to fill your content with target keywords and hope for the best. These days, if your goal is to optimize your content to attract more traffic, there are far more factors to take into consideration. And while it's true that there's more content than ever online, a thoughtful, properly executed content strategy can put you way ahead of the competition.
Make sure you're including these 10 steps in your SEO strategy.
1. Prioritize user experience
If you remember only one thing about optimizing your content, it should be this: what's good for the user is good for SEO.
Your website should provide a good user experience in all areas. User experience encompasses factors that you might not immediately think of when optimizing your content, such as your website navigation, site speed, site structure, and mobile responsiveness.
If your website is hard to navigate, full of intrusive ads, or not optimized for mobile devices, it will hurt your traffic potential.
Make sure users can find the information they need. Don't provide a long list of confusing options or drive them to dead ends. Creating an unusual or novel navigation won't make your website stand out; it will only frustrate your existing and potential customers.
The way your content is formatted also plays a role in user experience. Use short paragraphs, headers, and bulleted lists to structure your content properly and make it easy to read.
2. Provide value
With so much content available online—and a staggering 4 million blog posts published every day—how do you stand out from the crowd?
Now, more than ever, it's crucial to create content that provides real value. Taking someone else's content and "spinning" it to get around plagiarism claims is not an indication of quality. It could even get you penalized.
As an expert in your field, you have insights into your customers' needs and pain points. Write something new and interesting that addresses these issues. Write something people aren't going to find on 100 different websites. Yes, that takes time. Creating anything of value does!
It's better to post one truly thoughtful, valuable piece of content per week than five short blog posts that don't really have anything to offer. The latter approach may have worked in the past, but Google is now prioritizing content that is more comprehensive and authoritative.
3. Choose the right keywords
To attract more people to your site, you have to know what people are searching for that is related to your business. Tools such as Google Trends and Google Adwords Keyword Planner can help you discover popular search queries.
Make sure you're using the same language that your audience uses. For example, maybe you're a personal injury attorney, and this is how you refer to yourself on your website. But Google Trends shows that the term "personal injury lawyer" has a slightly higher search volume. Therefore, it is a good idea to use both terms throughout your content.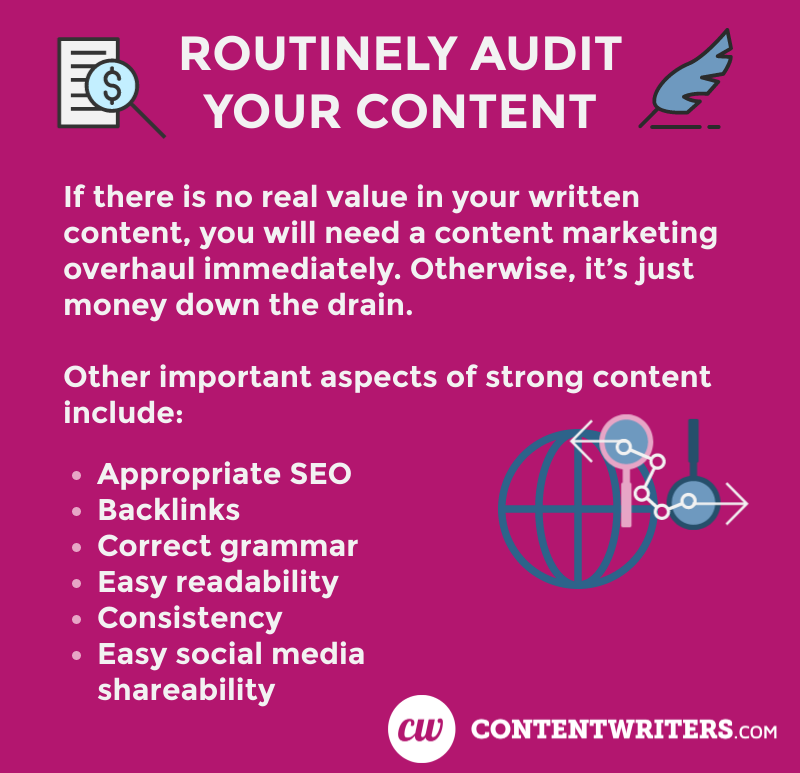 Learn more about keyword research.
4. Focus on long-tail keywords
Long-tail keywords are those made up of several words. Long-tail keywords are often easier to rank for, especially if your website is new or doesn't have a lot of domain authority.
For example, let's say you sell your own skincare line. You aren't going to be able to rank for the keyword "skincare." This would be considered a head keyword: it's very broad and very competitive.
You might, however, be able to write a comprehensive, authoritative article on "skincare ingredients to avoid." This is a more specific, long-tail keyword that will most likely have a lower search volume and also less competition.
5. Look at what's already ranking
When writing your content, look at the SERPs (search engine results pages) in Google. Which target keywords are already ranking? Can you write something better that provides more value?
Pay close attention to featured snippets and People Also Ask boxes. Featured snippets are results that appear at the top of the page, under paid ads but above organic results. Sometimes the article that's currently appearing as a featured snippet isn't the most comprehensive, but it answers the question in a way that Google considers valuable. If you can create something that's better and more comprehensive, you could have a chance at grabbing that coveted featured snippet spot.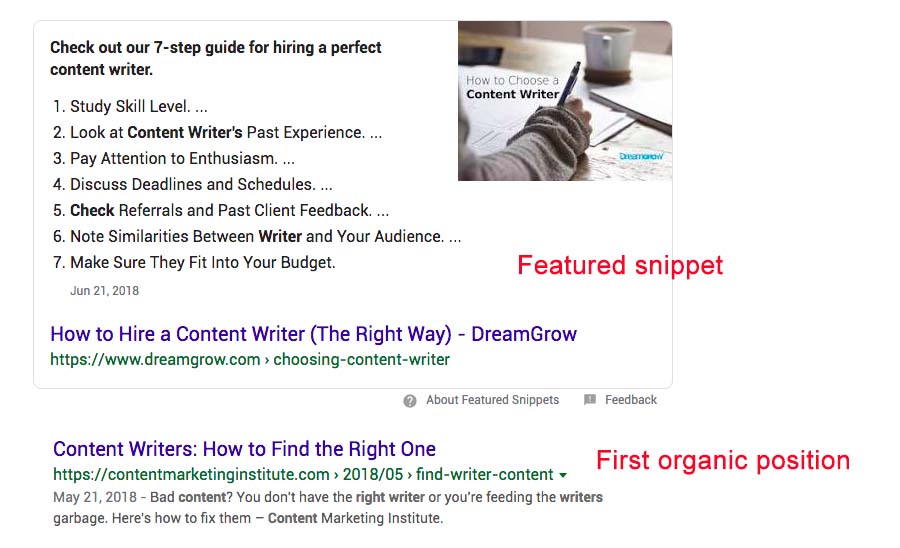 The same applies to People Also Ask boxes, which often appear further down the page.
Featured snippets and People Also Ask boxes can provide great opportunities for content development, because you know this is information people are actively seeking.
Learn more about featured snippets.
6. Use your keywords properly
Proper keyword optimization involves much more than using your keyword a certain number of times on the page.
Your content should be written naturally with the keyword occurring throughout. Do not try to force your keyword into every paragraph. That's considered keyword stuffing, and it's another black-hat (and ineffective) SEO practice.
Look at where you're using those keywords in your post. It's a good idea to include it in the title, the slug, and your headings. You can also use it in your image name and image alt text.
WordPress plugins such as Yoast SEO can help evaluate how well your content is optimized for your focus keywords. While helpful, these plugins have their limitations. They don't do the work for you, or take the place of proper keyword research.
Don't waste your time going through all your content with the sole purpose of getting green Yoast SEO scores on every page. It won't do you any good if you aren't taking the time to make sure you've written valuable content and selected the right keywords.
7. Build your E-A-T
Google wants to provide users with reliable content that is written by subject matter experts. One way it accomplishes this is by evaluating a website's E-A-T, which stands for expertise, authoritativeness, and trust.
E-A-T applies mostly to websites that fall under the YMYL (Your Money or Your Life) category. These are websites that are medical, legal, or financial in nature, or that help people make important life decisions.
If your website falls into the YMYL category, it's especially important to demonstrate that you're an expert in that field. If your content strategy has relied on hiring inexpensive bloggers to create content for you, you may need to rethink your approach. If you're hiring freelance writers, make sure they have the appropriate credentials to write about the topic. Display author bios on your website, and make sure content is reviewed for accuracy.
E-A-T involves off-site efforts, as well. Guest posts on other authoritative websites, good-standing membership in relevant industry associations, and other demonstrated industry expertise can all impact your perceived E-A-T.
Learn more about E-A-T and how it impacts your SEO.
8. Have an off-page strategy
Off-page, or off-site, SEO refers to actions taken outside of your website. This includes tactics such as guest blogging on other websites, as well as backlinks, social media, brand mentions, positive reviews, and influencer marketing. Think of it as anything that can improve a user's perception of your expertise and authority.
A key element of off-page SEO is building backlinks, which are links to your site from other websites. When another site links to you, they're telling Google that your site is trustworthy and authoritative. Therefore, the more authoritative the other website, the more valuable the link.
Some SEO services will focus on creating links on so-called link farms, which are websites created for the sole purpose of linking to other websites. Link farming is a questionable SEO tactic that provides little value and could lead to penalties.
You're better off gaining quality backlinks by creating valuable content that people actually want to share and link to. Guest blogging, building positive relationships with other industry experts, earning positive press, working with influencers, and gaining positive reviews can all help with your off-page strategy.
If you have a physical product, consider offering free samples to influencers for review. Ask happy customers to leave a review online, too. They may not think to do it on their own, but they're often happy to do so if asked. Furthermore, offering incentives to employees who receive a positive review can be an effective way to get your staff involved in the process.
9. Include internal links
When posting new content to your site, make sure you are including internal links: that is, links to other pages on your website. Not only does this provide readers with an easy way to learn more about a given topic, it also helps build your own site structure.
The most important pages on your site, sometimes referred to as cornerstone content, should have the most links leading to them. This helps Google recognize that these pages are important.
When adding links to your content, pay attention to the word choices for the link text. The text used in the link is another SEO signal that tells Google what the linked page is about. Never use "click here" as your link text!
And when you're publishing a new blog, you aren't finished until you have at least one other page that links back to it. Look at your existing content and identify opportunities to link to the new content. You don't want pages on your site with no links pointing to them. Those are considered orphan pages! Without any links pointing to them, they may not get indexed by search engines and therefore, won't show up in search results.

10. Analyze, analyze, analyze
Analysis should be a constant part of your marketing strategy. Don't just post a blog and forget about it.
Review your Google Analytics and Google Search Console regularly to determine what's working for you, and how you can improve upon your organic traffic. What search queries are already driving traffic to your site? Many websites find that the bulk of their organic traffic comes from a few key articles. Can you do an even better job of optimizing that content? What insights can you gain from the search queries that are driving users to your site?
If you have a large library of content, it may make sense to spend some time optimizing your existing content rather than focusing on creating new content.
As you can see, attracting more traffic to your website involves much more than tossing up a new blog a few times a week. Many companies have embraced the concept of blogging regularly, but not everyone is doing it right. Being more strategic about your content practices takes some effort, but the payoff can be exponential in terms of more traffic, and ultimately, more conversions.



She is the Director of Content for a medical marketing agency, and is certified in inbound marketing, content marketing, email marketing, site structure, and keyword research.