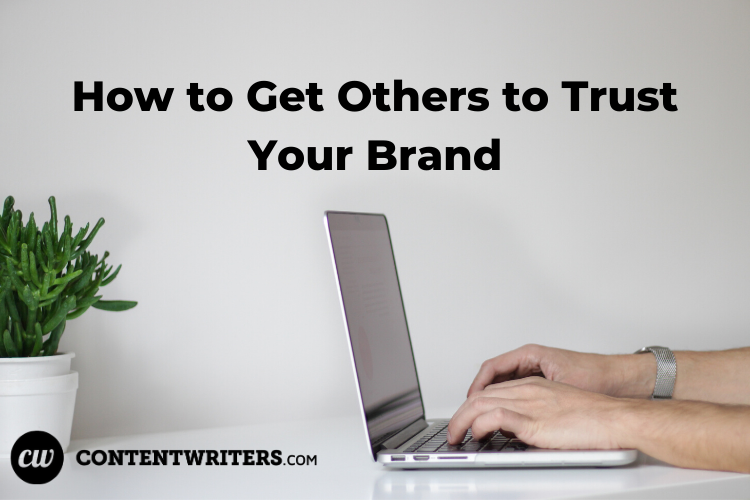 How to Get Others to Trust Your Brand
Success in business means you have to get others to trust you and your brand.
When people meet you or your brand for the first time, it's understandable if they are a bit cautious or hesitant. They don't have a relationship with you. They can't trust you if they don't know you.
That's why it's so crucial to work through trust barriers by carefully building relationships with your ideal audience.
Telling people to trust you will never make people trust you, no matter how persuasive you are. You will always have to earn someone's trust. But the good news is, getting others to trust you and your brand is easier than you probably imagined.
Start With Your Story
The most successful campaigns are deeply rooted in strong, authentic storytelling. And that's never been more important or relevant than in today's constant pop-up climate of interruptive ads and push notices.
Being honest with your brand's real value and illustrating how it can help address issues your audience is experiencing is the first step to building relationships that last. When you tell your story authentically, warts and all, you'll start earning that much-desired trust.
Get Out of Your Own Way
One of the most effective ways to nurture trust in your audience is to make it easy for them to do what you want them to do. Want them to purchase something? Make the process simple and straightforward.
Make the action – in this case, the sale – a natural extension of a visitor spending time on your site.
Reinforce the importance of their choice.
Let them know you think the way they do; that alignment is trustworthy.
Play to Your Core Strengths
Grow as big as your imagination can take you, but don't sacrifice what makes you unique in the process. You need to leverage who and what your brand is and make it the best it can be.
It's time to identify your core strengths. As yourself these questions:
How are you different from your closest competitor? What sets your brand apart from the next guy or gal? What makes you unique?
Got exceptional customer service? Offer a call-back rather than have a customer wait on hold?
Did you create a brand to fill a need you experienced personally? What happened that compelled you to take action? Will others experience the same scenario?
I specialize in technology, but have had the opportunity recently to create content marketing materials for the senior living space. I wrote about wearable technology. That way, even though I'm branching out into senior living, I still keep my focus on my core strength: technology. By bringing your core strengths with you, you naturally develop your integrity and build trust; you build your audience rather than lose them.
Don't Forget the People Factor
Sometimes, despite the best of intentions, we can forget the people around us, especially if you run your own business. There are always more "just let me finish these few things" lists that will chip away at your day. You have to know when to slow down, take a step back, and focus on those around us.
It's essential too, as a brand, to carve out time for the people in your community – whether that community is virtual real-life. Concentrate on creating a positive change. In other words, "pay it forward."
Do you create the most awesome resumes? Consider volunteering an afternoon for a local rehabilitation organization helping clients find jobs.
Are you a whiz at creating high-converting original content? Look for charitable organizations that align with your brand and are also in need of new blog content.
Could your chocolate chip cookies bring world peace? Partnering with a fundraising campaign by offering a percentage of every box of cookies sold is a win-win for everyone.
Whatever you do for your business, you can also do for your community while contributing to your overall brand story. The added benefit of helping groups or individuals get a foothold on the next rung is an awesome footprint for your brand to leave behind. It's by helping others that you cultivate respect, build relationships, and get others to trust you.


Freedom is an award-winning writer and marketer. In her current role as a B2B digital marketing specialist. Her writing has appeared in global publications including The Independent (UK), Huffington Post (USA), The Telegraph (UK), The Chicago Sun-Times, The Los Angeles Times, The Jerusalem Post, and more.