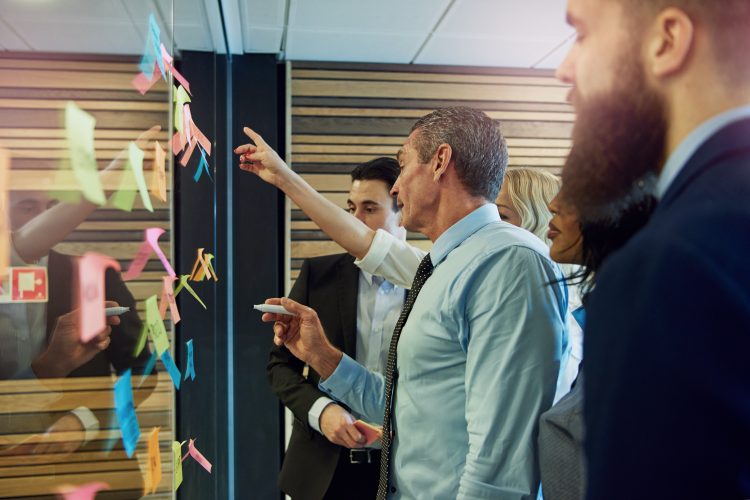 Learning From the Best: Brands That Are Dominating Content Marketing
With each passing year, content marketing becomes more vital to every brand's marketing strategy. With evolving technologies and changing audience preferences, staying on top is seriously hard work.
The challenge is not just consistently coming up with new ideas for relevant content, but to keep the momentum going. In addition, the quest for understanding which campaigns are working and which are not is daunting.
Zazzle Media says that 60 percent of companies struggle to produce content consistently, and 65 percent are challenged by creating engaging content. The Content Marketing Institute's B2B Content Marketing 2018 Benchmarks, Budgets, and Trends for North America revealed recently that 63 percent of businesses don't even have a content strategy.
Yet, they also show that content marketing budgets and content creation is on the rise.
What's emerging here is that even though most marketers feel less than confident in their content marketing, their plan is to continue to focus their attention and budget toward this still-growing area.
Content Matters to Consumers
Effective, relevant content matters to consumers. Today's consumers are marketing averse. There is a powerful resistance afoot to any hard-sell. But there is a hunger for good information and relationship-building. If most brands don't even have a strategy, then the upside is there's plenty of room to move up in your market. One effective way to take stock of your content marketing is to look around at the brands that are excelling and analyze what's working for them.
Magazines
For a low cost of $10 per month, Birchbox will send subscribers a personalized mix of makeup, hair, skincare, and fragrance samples. The samples come with information on how to use the products along with where to buy the ones they love full sized.
Its online magazine is chock full of tips and how-to's that increase the value of their $10 subscription. By pairing the content of its magazine to each month's subscription products, subscribers feel supported in their quest to find the perfect beauty products.
Birchbox homes in on their customer as a youngish overly busy multitasker who wants to look her best but hasn't the money or the time to explore beauty options. For this woman, the Birchbox subscription allows experimentation at a low cost with the tutorials to help her learn. And Birchbox has now expanded to include subscriptions for men, too.
The Furrow is timeless and considered to be the oldest content marketing publication. John Deere, a manufacturer of farm equipment, has published The Furrow since 1895. Its mission was then, and continues to be, to market its products through what it calls its "journal for the American farmer." Over time, the articles have become shorter and the images larger. But its strategy has remained the same—to tell stories about farming while providing readers with knowledge they can apply to their own farms.
Infographics
One of the largest suppliers of royalty-free images, videos, and music, Shutterstock creates an annual Creative Trends Report from conducting an analysis of its customers search and download data. The report is hosted on its website in the form of an infographic. It basically compiles useful marketing information from its own proprietary data. And it's done in a way that's true to the business its in—visual imagery.
It's good to see LinkedIn, one of the most popular social media networks, using infographics to its own social media advantage. LinkedIn's blog often pairs its articles with an embedded infographic. It's a clever way to give readers a second, more visual way to digest their information. The infographic is also a more shareable piece of content.
One, in particular, A Well-Balanced Blog, uses the food groups as icons to depict how to balance a blog for optimum growth.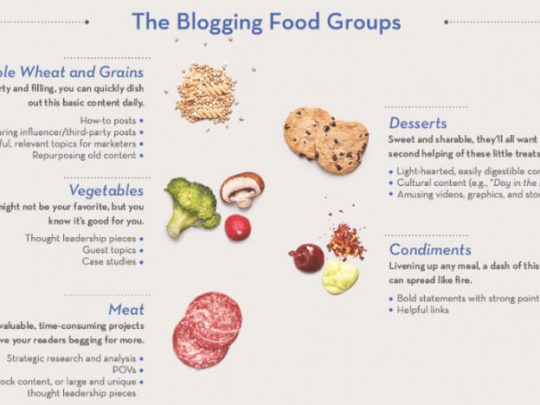 Mobile Apps
Charmin is a brilliantly useful and funny app. This app truly helps people solve a problem—finding clean public bathrooms. When on an outing or traveling, especially with kids, this app can be a godsend. Green and red toilet rolls tell people which bathrooms get the green light for sitting, which takes the stress out of searching where to go.
BMW, which uses the tag line, 'Don't be driven by technology' has an app which allows owners to use technology for greater convenience, comfort, and performance of their BMW. No more having to scrape ice off the windows or find the car in a large, crowded parking lot.
The BMW Remote App lets owners lock and unlock, set inside temperature, and find the location of the car. Videos on Youtube provide tutorials on how to get the most out of the app.

White Papers
As a leading business outsourcing solution provider, ADP used its expertise to create white papers on a wide range of human resources topics that have become quite valuable to its customers and prospects. In a social media landscape where almost all content is going visual, ADP delivers on deep information.
Digital marketing agency, Single Grain, reports that it's also created a search engine to help companies find white papers relating to their individual industries. Unlike many companies that ask for information in exchange for the white paper, ADP lets readers read the intro first, with the ask for information coming once the reader decides the topic is pertinent to them. This allows ADP to qualify leads more effectively.
RethinkX is a think tank that analyzes and forecasts technology, so industries can make informed decisions. So, while it may not be surprising that it publishes white papers, what is impressive is that it's well designed, incredibly detailed, written by experts in their fields, and is chock full of statistics. For those looking to delve deep into the future in order to make profound decisions, RethinkX delivers.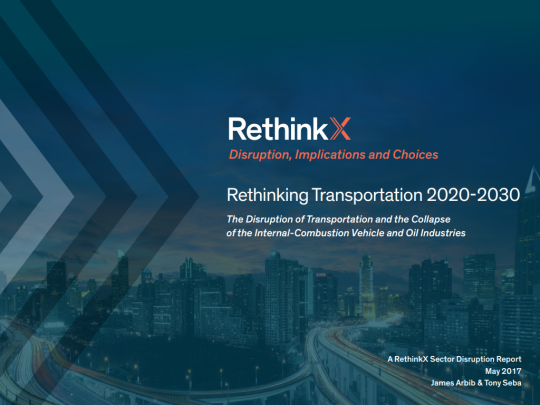 Twitter
Not everyone has heard of Innocent Drinks. It's a smoothie and juice brand consistently recognized for its quirky and consistent branding. It nurtures the idea that falling in love with a brand is not very different than falling in love with a person. In search of dependable, smart, funny, and real? Innocent Drinks keeps its Twitter account real by keeping "selling" to a minimum while sharing silly, creative and just fun posts like a photo of a baby skunk or a list of unconventional pancake toppings. People follow because they like the posts and don't mind if every so often, there's a post about a smoothie.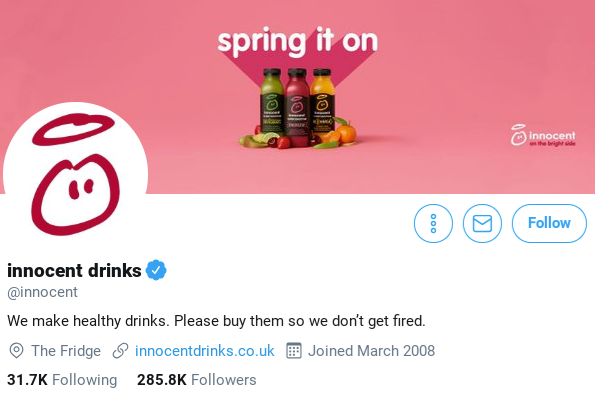 Toms does so well at Twitter because it does equally well at promoting its cause as it does its shoes. Its "buy a pair of shoes and we'll send a pair of shoes to someone in need" caught on like wildfire. Twitter accounts for Toms have sprung up on college and university campuses. Tackling issues like gun safety to food insecurity, Toms has truly mastered the art of creating a loyal following.
Just Plain Clever
Cloud-based customer support software provider Zendesk went out on a limb with its Zendesk Alternative campaign. When Zendesk discovered people were searching online using the keyword phrase, Zendesk alternative, it jumped on the opportunity and hijacked the phrase for its own. It created a website and video of its fictional Zendesk Alternative punk rock band. This alternative website has pages for sold-out merchandise and tour dates coming soon.
Staying on top of the competition by rerouting SEO back to its own brand was Zendesk's way of taking the offense and it worked. Sometimes thinking outside the box pays off bigtime.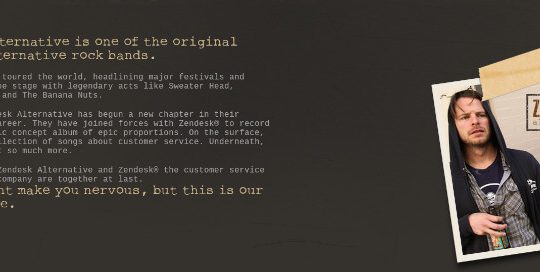 Coordinating it All
Cleveland Clinic provides a healthy dose of information through its Health Essentials Campaign. It started with a web section that provides great information on health, illness, and prevention. Now, it's integrated interactive infographics, Alexa flash briefings, Facebook Live broadcasts, a podcast, and Instagram stories to the mix.
Its goal is to be everywhere its audience is when they need health-related answers. The consumer-facing site has received 45 million visits to date.
The Take Aways
When social networks are the primary way most consumers determine what to buy and where to buy, no brand can afford to take a back seat. The Digital Marketing Institute reports that 78 percent of companies have dedicated teams for social media. It takes strategy, constant monitoring and measuring, stamina, and a bit of gumption to grab the audience and keep them coming back for more. From banks, insurance companies, and tech giants to start-ups and niche companies, content marketing reigns supreme for building brands that resonate. Below is a list of takeaways:
Always keep your eye on what your competition is doing as well as any company you admire. Aspirational brands that can inspire your creativity have much to offer.
Always put your audience and customers first.
Ideate from the heart but analyze from the brain.
Quality is better than quantity.
Build empathy by paying attention and listening carefully.
Valuable content can be informative, entertaining, or both.
These examples demonstrate that the best content marketing stays true to branding, provides useful information, supports customers, and lets personality prevail. The best advice someone gave me once was to go for a walk, talk face to face with real humans, then come back and create your most engaging campaign yet.


Deborah was the kid who would rather write book reports and essays than play ball during recess. Although she didn't score many points with her peers, it did lead to her career creating content for TV, radio, print and new media for companies as varied as Dooney& Bourke, Panera Breads, Visa, SUNY Ulster and Hudson Valley Federal Savings Bank.
She is also a principal of small packages – a digital design company, and past partner/marketing director of whatis.com, the world's foremost reference on information technology. And, her love of food enabled her to become a contributing editor of both Gourmet Retailer and Food Distribution Magazines.
Deborah has a bachelor degree in fine art from the Hartford Art School, University of Hartford and a masters in higher education administration from Stony Brook University. When she's not writing, her love of quilting, furry animals, friends, and family sustains her.