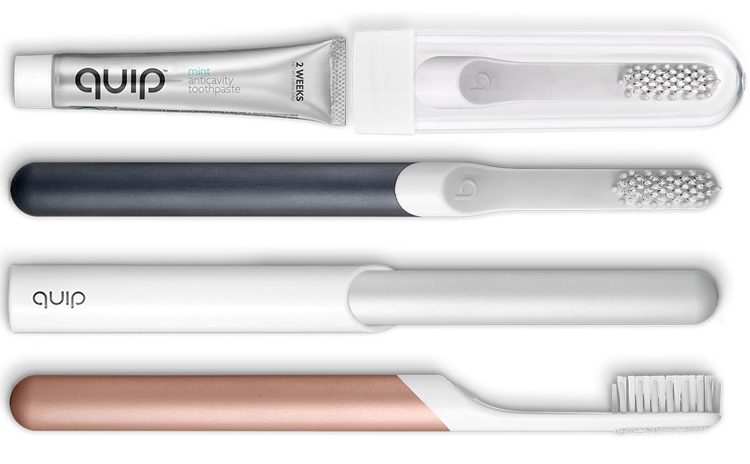 Brand Spotlight: Quip
The digital world changes and disrupts everything from hailing a cab to putting food on the table. Now, it's even changed the way we take care of our teeth.
Dubbed the "Tesla of toothbrushes", Quip has made a splash in the dental care market. With both manual and electric options, Quip went one step beyond just making a better toothbrush. Quip works with actual dentists to seamlessly deliver personalized dental care tips. It also rewards users for going to their check-ups by effectively getting their dentists to pay for their Quip toothbrush kits.
The kicker is that you can't just buy a Quip toothbrush at a store and call it a day: you must sign up for a Quip membership and connect to one of their dentists or get your own to sign up. You can cancel your membership at any time. Otherwise, Quip sends you replacement toothbrush heads and toothpaste every three months. They also give your dentist the ability to gift you up to six months of refills every year by making it to your annual cleanings in a timely manner.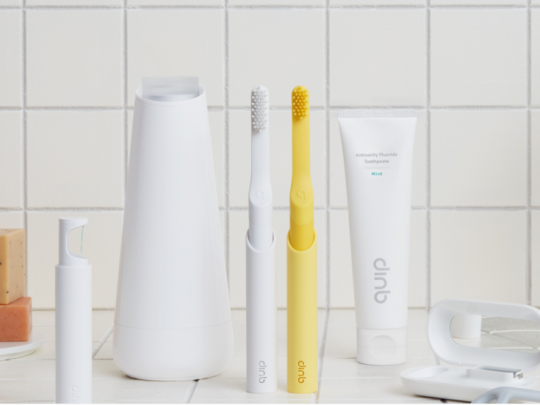 Street Cred from Dentists and Users Alike
Quip has grown enormously popular because of the toothbrush design. The toothbrush uses vibration as opposed to spinning to clean your teeth. They also remind the user via pulses when to brush different parts of the mouth and when to stop brushing. Even Quip's manual toothbrushes have generated buzz. Their smaller size and slick look are a far cry from the neon-colored plastic $1 models found at most drugstores.
What makes Quip noteworthy from a marketing standpoint is that in addition to effective product marketing, Quip also uses influencer marketing very well. As of March 2018, there were more than 15,000 dental care professionals in Quip's network. People trust influencers with various subjects and recommendations for products and services. Healthcare professionals like dentists are often the most trustworthy influencers. That's because opening a dental practice requires expertise and advanced training.
Healthcare professionals like doctors and dentists receiving commissions for recommending different types of medical products is nothing new and is something that patients are often aware of. But what makes Quip different is that usually, the product offered doesn't have any additional perks for the patient.

Quip effectively got dentists to market their product for them by using their patients' trust as well as a direct benefit they usually never receive via their healthcare providers' affiliate relationships. Quip toothbrushes also aren't just a shiny new gimmicky toothbrush. Rather it is a brush that helps dentists provide ongoing care to their patients after they leave the office.
Solving Both Healthcare Providers' and Patients' Problems
Dental practices have their own issues when it comes to finding and retaining patients, usually location-based since telemedicine is no substitute for actually coming in and getting a check-up or dental work. Quip has helped solve the problem of patient retention by keeping the patient connected via their network. The patient must be in order to keep receiving the toothbrush replacement parts, but they now also have personalized care tips from their dentist on an ongoing basis. Simply being told to brush twice and floss once per day may be enough for some people, but people with dental difficulties like recovering from oral surgery, fillings and broken teeth, and other dental issues can get up-to-date help from their dentist in real-time.
By connecting with dental professionals and using influencer marketing, Quip essentially got dentists to market their toothbrushes for them—which wasn't very difficult since Quip's highly recommended brushes solve problems for both patients and dentists.
займ на карту моментально без отказа


Rachel P. is a one-woman media conglomerate. She is an experienced business, tax law, and professional development writer and all-around problem-solver when it comes to content strategy, game development, and amphibian care and biology.