TalkPoint Sees 11x Traffic Increase in Just One Year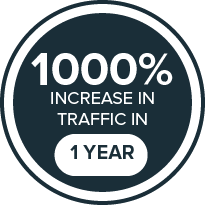 "The quality of the writing is thoughtful and relevant to our product and our mission, not to mention they make us more efficient as a whole."
- Chris Fasano, Director of Marketing, TalkPoint
The Mission
TalkPoint is a PGi company that focuses on webcasting. Starting out small, Talkpoint knew it was important to differentiate themselves from their competitors with high-quality content. Drawing on their years of collective expertise, they started creating their own blog.
The Process
While their digital marketing manager was producing a great blog post every week, TalkPoint knew that level of volume wasn't going to cut it. Along with that, creating the blog posts were incredibly time consuming.
In order to get ahead, TalkPoint needed to produce blogs at a much higher volume while retaining the same degree of quality. On top of that, the company, like many young companies, was constantly evolving, so allocation of time and responsibilities was a key concern.
TalkPoint had to figure out how to increase their outbound leads while simultaneously boosting SEO.
The Solution
ContentWriters knew that TalkPoint needed writers with invaluable industry experience to meet their demands. By taking time to match the perfect writers with TalkPoint, ContentWriters ensured that all of the following goals were being met:
1) Daily, authoritative content that was distributed to all TalkPoint's social channels.
2) Email newsletters to increase outbound marketing efficiency.
3) Shareable content that boosted SEO value and much needed link juice.
4) Monthly topic-pitching.
5) Timely, reliable, and steady delivery of content
The result? An eleven-fold increase in site traffic in just one year.
Now, the digital marketing team at TalkPoint can set their sights on other marketing activities and rest easy knowing that their content marketing efforts are being handled seamlessly.

"We needed top notch quality writing and in volume. We are very pleased with your work thus far!"
- Chris Fasano
Ready to work with ContentWriters? Contact us for more information
More Case Studies
Points Group Agency & ContentWriters Boost Traffic by 14% for Healthcare Clients
ContentWriters frees up Points Group team's bandwidth and helps increase healthcare clients' online traffic.
Learn More

→
Drizly's Product Pages Drive 30% More Traffic
ContentWriters created over 50,000 pages for Drizly, leading to user sessions increasing by 30%.
Learn More

→
eveelife Launches Resource Center in Record Time
ContentWriters partners with eveelife to create content authentic to the brand and clears hesitations on outsourcing content.
Learn More

→
Let's Discuss Your Content Goals
Scale content with a dedicated account manager
Managed Account Benefits
— Custom writer vetting and management
— High volume, high quality content
— Consistent publishing schedules
— Premium customer support
Learn More

→