Points Group Agency & ContentWriters Boost Traffic by 14% for Healthcare Clients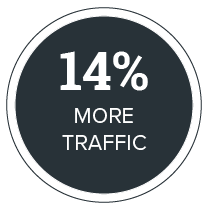 "They write accurate content that reflects our clients' individual tone and messaging (all of which are very different from client to client)."
- Caitlin Sullivan, Director of Client Services
Executive Summary
Points Group needed to find quality writers to create vast amounts of healthcare content on deadline and to their clients' specifications. ContentWriters lightened the load with a team of professional writers with the expertise, talent, and speed to complete the high volume of work Points Group needed. Points Group's Director of Client Services, Caitlin Sullivan said the CW team "made our content better, and the whole process is much more organized."
The CW team:
enabled Points Group to focus on clients and strategy rather than content creation.
increased organic web traffic by 14% across Points Group clients in one year.
created blogs, video scripts, and landing pages for multiple Points Group clients with different voices, tones, and messaging.
About
Points Group is a full-service healthcare marketing agency providing digital marketing, web development, SEO, content, video production, and more. Points Group also helps healthcare providers with operational services that improve the patient experience.
Challenges
As a leading healthcare marketing agency, Points Group faced challenges delivering a high volume of content for a heavily regulated industry. The agency created content in-house and used freelancers, but struggled with vetting writers for expertise, style, and tone while managing client demand and writer availability.
Points Group needed a content writing team to free up time for in-house staff to focus on marketing strategies, client care, and business growth. They also knew they needed a diverse and reliable group of writers to accommodate varying tones, styles, and client deadlines, but was uncertain if outsourcing would be the right solution.
"We had never outsourced our content writing before and were a little concerned it might dilute the quality of our content or be too cumbersome to manage an outside platform." - Sullivan
How CW Helped
Understanding how important it was to get the facts, messaging, and tone on point, ContentWriters hand-picked a group of writers based on their backgrounds, areas of expertise, and levels of adaptability. The number of writers and level of expertise within the vetted writer network allowed CW to cover the volume of content Points Group needed while delivering on their clients' quality standards.
Points Group's CW account manager selected writers who were skilled at following content briefs and thoroughly learning and adapting to the client's unique needs and style. This was a big value-add for Points Group. Sullivan said, "They write accurate content that reflects our clients' individual tone and messaging (all of which are very different from client to client)."
ContentWriters managed content creation in CW's proprietary platform. With this tool, ContentWriters facilitated an organized and efficient workflow and kept deadlines on track. Sullivan shared, "[CW] provides an easy system of submitting and delivering content. They never miss a deadline and can turn content around quickly if needed."
Thanks to the streamlined process and the writers' breadth of experience, CW also helped Points Group with ad hoc projects, like video script writing and editing the company's existing content.
The Results
Sullivan said that CW's content gave their clients a 14% boost in organic traffic compared to the previous year, all while helping Points Group's internal team focus on client strategy and outcomes. The outsourcing solution they initially had reservations about ended up being the exact resource they needed to manage client demand.