Body Details Increases Crucial Engagement KPIs by 28%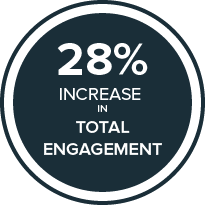 "We created a comprehensive content marketing strategy to reach our target audience through their customer journey of awareness, consideration and purchase decisions. The content mix includes regular blog articles that are distributed through Body Details website, social media and email marketing channels."
- Ross Schindler, Marketing Strategy, Body Details
The Mission
Body Details specializes in utilizing True Laser® technology for hair removal, tattoo removal, and remedying skin imperfections. In order to stand out from the rest of their Florida-based competitors, the company needed to leverage effective, proven marketing tactics.
The Process
Reaching their target audience in a calculated and pointed manner was most important for Body Details. They placed great emphasis on the consumer journey and wanted to ensure that they connected to potential customers with content specifically designed for each stage of the customer decision process.
As a result, Body Details needed a diverse content strategy that included social media to create awareness, blog posts to boost engagement, and email newsletters to retain customers.
The Solution
Tapping into their vast network of writers that understood the beauty and skincare industries, ContentWriters was able to perfectly match writers to Body Details' unique content needs.
The result? 28% increases in total engagement in key metrics such as website traffic, social shares, and open rates. In a such a competitive industry, even the slightest increases in engagement can have large ramifications. Double digit increases in engagement, however, cannot be overstated.

"This multi-channel distributed content has delivered a 28% increase in overall engagement."
- Ross Schindler
Ready to work with ContentWriters? Contact us for more information
More Case Studies
ContentWriters Drives Engagement with Technical, Yet Accessible, Content for PGi
ContentWriters hits PGi's engagement and traffic KPIs by writing quality content.
Learn More

→
Skillsoft eLearning Content Sees High Download Rates
Learn how ContentWriters works with EdTech companies like Skillsoft to create high-quality eLearning content at scale
Learn More

→
Do it Best Saves Valuable Time on Article Writing
Learn how ContentWriters saves Do it Best, a hardware co-op, time and money through high-quality article writing services and topic ideation.
Learn More

→
Let's Discuss Your Content Goals
Scale content with a dedicated account manager
Managed Account Benefits
— Custom writer vetting and management
— High volume, high quality content
— Consistent publishing schedules
— Premium customer support
Learn More

→