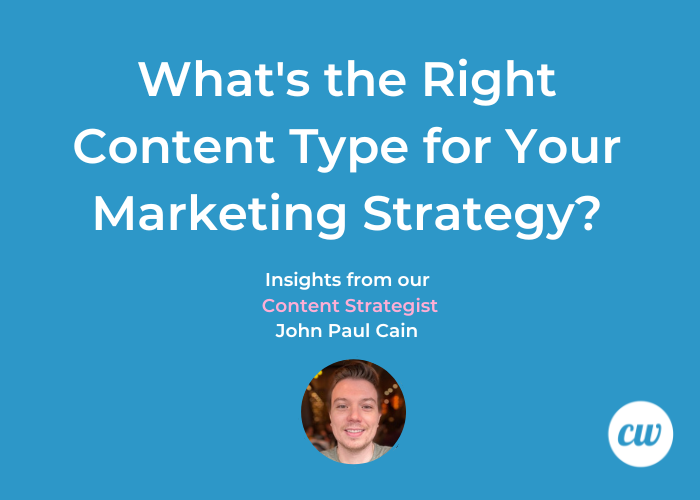 What's the Right Content Type for Your Marketing Strategy?
A content strategy is the backbone of any marketing plan. It's the process of planning and organizing your brand's content in alignment with the company's goals and objectives.
Content marketing involves the creation and distribution of written, visual, audio, or interactive content. It includes everything from ebooks to videos to webinars.
There isn't a "one size fits all" approach to content marketing. So, it's important to consider what formats will engage your particular target audience.
In this guide, we'll discuss common content types and their use cases.
Step 1: Find Your Audience
To determine which content formats work best for your business, you must understand your audience. To do this, talk to people who use similar products or services and conduct customer surveys.
Step 2: Choose Content Types that Engage Your Audience
Once you know your audience, think about what questions and challenges they have and how your company can plan to provide your answers and solutions.
Look at what other companies or competitors are doing in your industry and research which campaigns are performing successfully.
Consider the KPIs that you are looking to measure and optimize. Different content types will be relevant to your audience at specific stages of your marketing funnel.
Below are the most common types and how you can include them in your content marketing strategy.
Blog Posts & Articles
Blogs are a form of digital content that builds trust between brands and their audience. They provide an easy way for companies to share thought leadership and information about products or services.
Blogs should be written in a light, conversational tone. In order for your posts to be as effective as possible, add internal links.
When readers click on those internal links, they will be led to other pages on your website. This improves your site's user experience by providing easy access to more relevant content. It also increases the amount of time the reader spends on your website and helps Google understand its structure.

Infographics
Infographics are a type of visual content used to represent data in a clear and easily digestible way (see the example above). Infographics can be published on social media platforms or included within other content types to support the text.
If you have information that is valuable to share with your audience, but cumbersome to communicate via text, consider leveraging an infographic.
White Papers
A white paper is an in-depth, well-researched piece of long-form content on a specific topic. White papers are used to help a marketer's target audience understand an issue, make a decision, or solve a problem.
White papers can be an effective piece of content if your services address complex challenges or cutting-edge topics.
Case Studies
Case studies tell stories about how a company leveraged a product or service successfully. They provide real-world examples to potential customers that are considering purchasing your product or service to solve a similar challenge.
For example, Quickbooks has a designated page for case studies. Their case studies highlight the problems they solve and the results companies get when working with Quickbooks. Companies with similar needs, challenges, and goals can connect with this content and feel confident in the solution's capabilities.
Social Media
Social media is a great place to connect with people who might want to learn more about your brand or have similar interests. You can use social media to post updates about new products and promotions, share other content types, and answer questions from current and prospective clients.
When defining your social media guidelines, determine how you want your brand to approach content that entertains, educates, and engages.
Video
Videos support visual learners, allowing them to take in information that might be less effective in a text format. They can also be used to provide a more comprehensive look into your products. Videos open the opportunity for a more personal experience by showcasing your SMEs to discuss your products and services.
Whether you're hosting a webinar, creating an explainer video, or promoting an event, video is a great way to reach different audiences.
Podcasts
Podcasts are audio-only files that are distributed via RSS feeds, mobile apps, and websites. Podcasts are similar to radio shows where hosts talk about topics related to their industry. Hosts often invite guests to dive deeper into topics and make things more interesting for the audience.
Concerned about the amount of work it takes to set up and commit to podcasting regularly? Repurpose content from the types above to cut substantial amounts of time in the ideation and content creation process.
Step 3: Execute Your Content Strategy
Incorporating many or all of these content types will diversify the media you use to engage with your target audience and can help drive SEO performance.
Determining how you execute this content can be the biggest challenge. Consider diversifying content production by tapping into in-house resources, freelancers, and agencies like ContentWriters to produce high-quality content consistently.
As you measure performance, you'll determine what content types are producing the expected results and can use that information to optimize your strategy, ensuring prospects and customers find and engage with your business.


John Paul is an Account Executive at ContentWriters who works with clients on content strategy to help them reach their sales and marketing goals. He is knowledgeable in effectively scaling content production, SEO copywriting, and is HubSpot Content Marketing Certified. He has been with ContentWriters since July 2021.