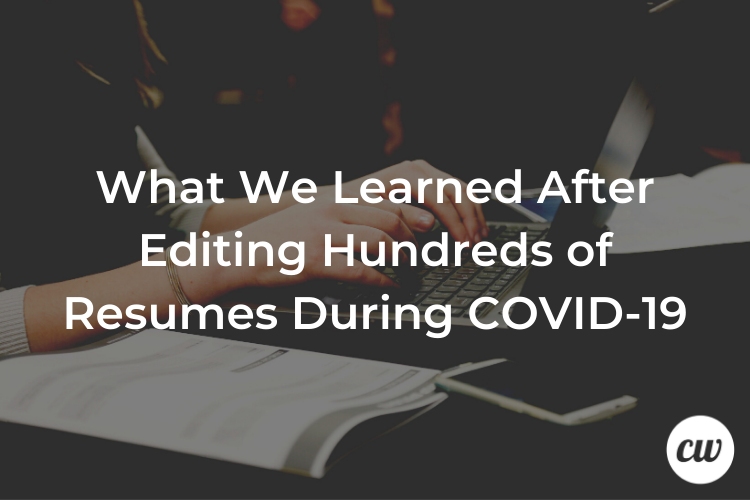 What We Learned After Editing Hundreds of Resumes During COVID-19
In April of 2020, we decided to launch a charity initiative to provide free resume-editing services for anyone affected by the Coronavirus pandemic.
After weeks of planning, we decided on a "soft launch" to test the waters.
Within a couple of days, those waters became a torrent of resumes inundating our team of writers, editors, and staff.
In the process, we received over 700 resume submissions and acquired a lot of information about where people were and were not looking for work.
Industries Most in Demand: Medical and Healthcare, Marketing, Education, IT/Tech, Business
Industries Least in Demand: Education, Social Services, Hospitality
Most Common Resume Mistakes: Resumes too long (longer than 2 pages), including irrelevant job experience, overstating importance, fluff, focusing too much on education, poor formatting
Resumes were much longer than the recommended 2 pages
Job experience irrelevant to the field was often included
Jobseekers tended to massively overstate the importance of their work by adding fluff and over-explaining their roles
Too much emphasis on extracurricular activities while pursuing their education
Poor formatting showing a lack of understanding of Microsoft Word
In this post, we'll dive deeper into which industries are in demand, who's looking for work, and what so many people get wrong with their resumes.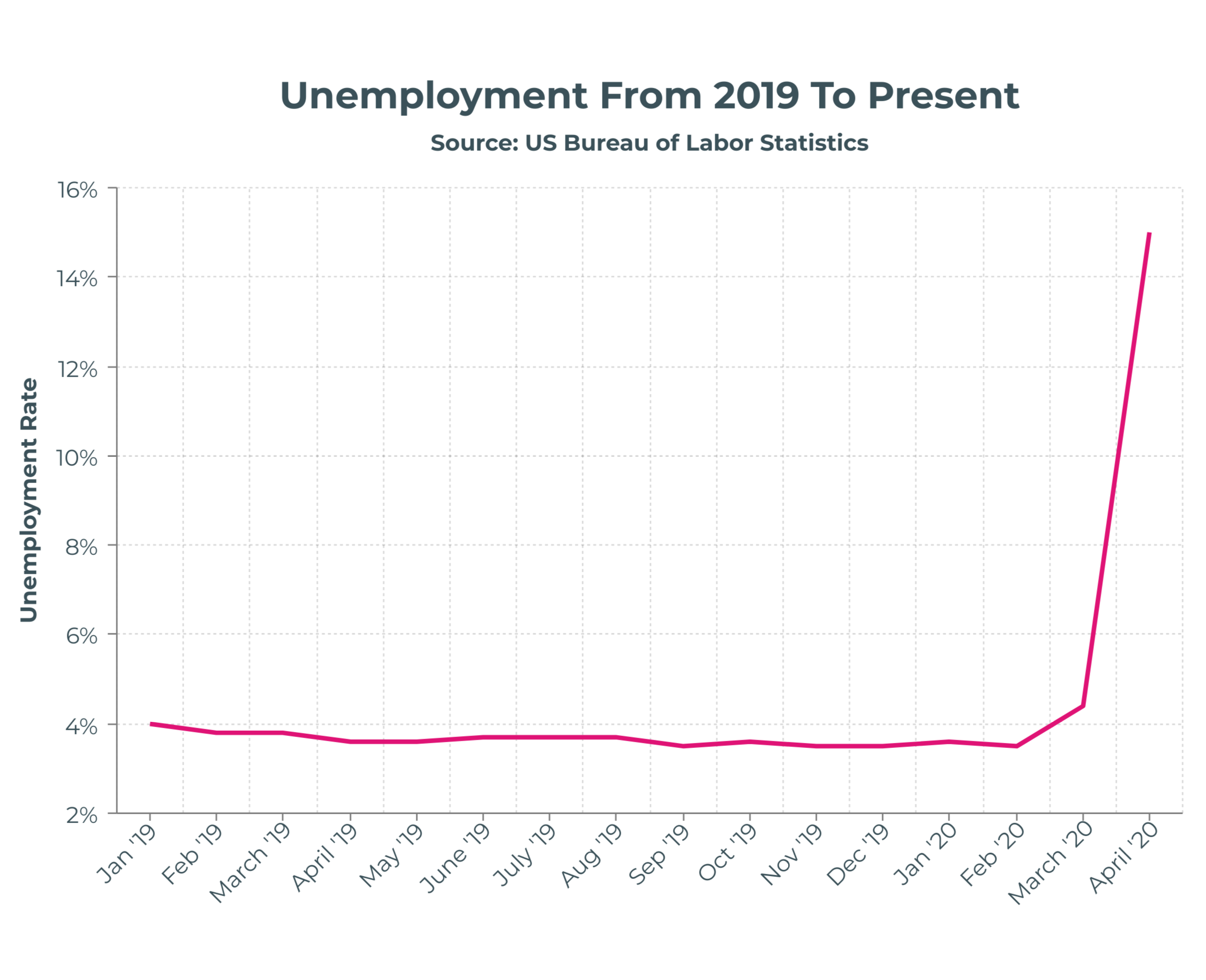 A Wave of Unemployment
We were one of the lucky ones.
Each week, millions of Americans were laid off or furloughed, suddenly thrust into a barren job market.
As the nation adapted to sweeping shutdowns and new social distancing measures, this staggering rise in unemployment really caught our attention.
It was hard to just sit back while millions of people lost their jobs.
We didn't want to just send out hollow "we're here for you" emails.
We realized our network of professional content writers and editors put us in a position to be of immediate service.
So, we came up with a simple idea; provide free resume editing services for those who lost their jobs during the pandemic.
To begin our outreach, we needed to design and launch a new program.
Getting Started
Eight of our full-time team members volunteered to assist the project. They took over every aspect of it including marketing, promotion, operations, and outreach.
Before enlisting our editors and writers, we consulted expert resources and compiled a style guide that reflects industry best practices.
It provided a standard for everyone involved in the project to follow.
If we were going to offer this resume service, we wanted to offer the same consistency and quality we put into our other projects.
Once our marketing campaign was ready to launch, we contacted our creative team with the opportunity to volunteer their time to assist job seekers.
Our team was excited to receive dozens of positive responses from writers and editors willing to volunteer their free time to support others during the crisis.
As it turns out, we weren't the only ones who wanted to give back.
The Service
We had to define the service we would provide job seekers. To accommodate the potential volume, we limited the service to resumes:
• Submitted by US applicants over 18 years of age.
• From applicants actively seeking a job.
• Three pages or less.
• Submitted as a Word doc.
The editing process included formatting, optimizing language to make it more engaging, highlighting key experiences, and removing outdated or extraneous information.
Essentially, our goal was to ensure the resume would resonate with hiring managers in those given industries.
Scope of the Offer
As we designed our marketing campaign, our legal team told us what we were permitted to offer and where we needed to steer clear.
The more we dug in, though, the more we realized how much could go wrong.
What if we bit off more than we can chew?
Or what if nobody submits any resumes?
What if people aren't happy with what we're providing and roast us on social media?
Will people think we're a scam?
With much uncertainty, we decided to start slowly with a "soft launch."
For us, this included ONE post to our social channels and announcing the opportunity in one newsletter.
At the time of the launch, we planned to run the campaign for three weeks, so starting slowly made sense.
Job seekers would get their edited resumes back within seven days, which seemed like more than enough time.
With all these safeguards in place, I was hopeful to get a few dozen resumes.
Realistically, I would have been stoked to get 10 with our soft launch.
What happened next surprised everyone.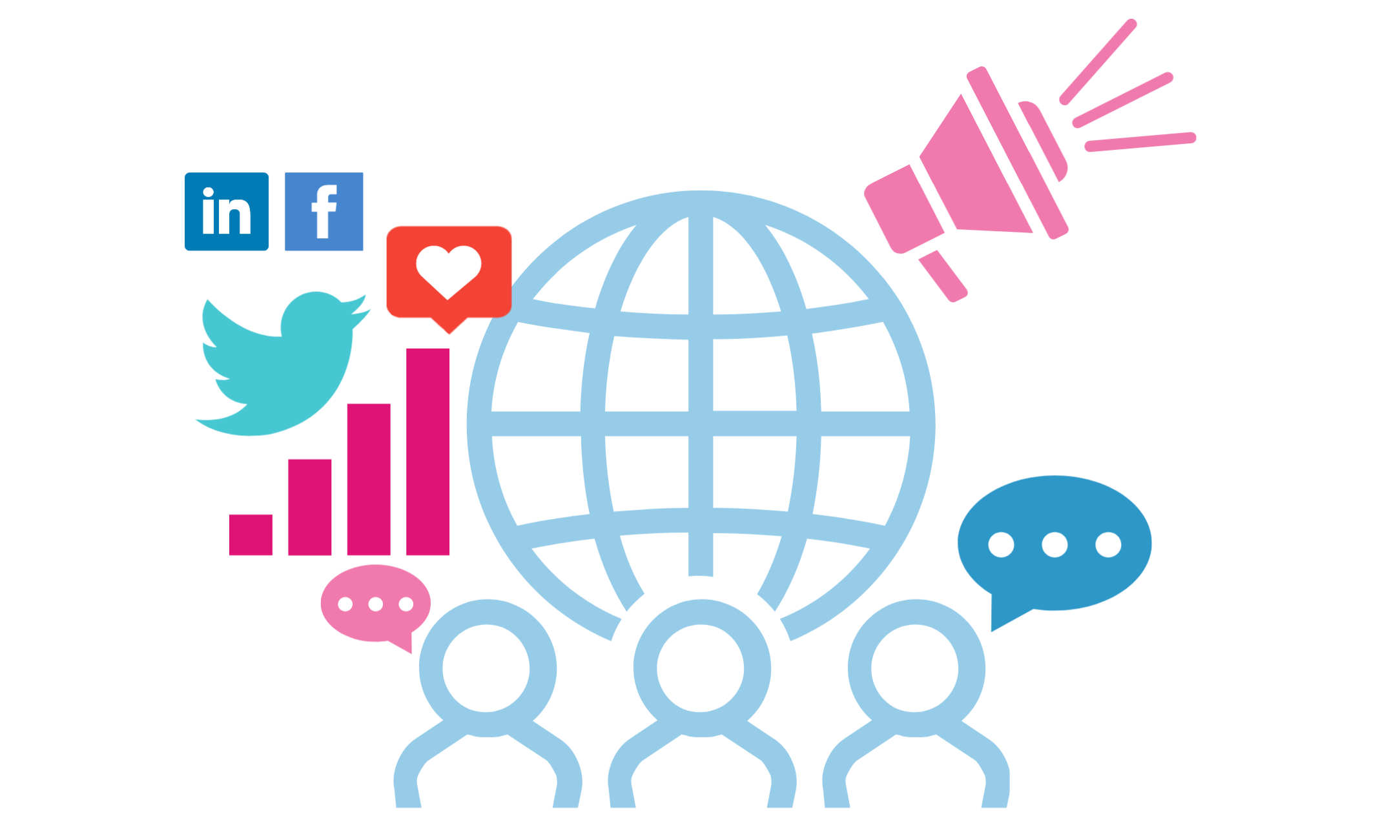 The Amazing Power of Social Sharing
Within hours of our launch, the Krazy Coupon Lady picked up the offer.
A user posted it on the popular subreddit "Freebies," where it became one of the trending posts.
Within 72 hours, our "soft launch" brought back more than 500 resume submissions.
All this after we made concerted efforts to scale back promotion.
Press releases, earned media outreach, DIY promotion. All that was out the window.
Our team adapted by pushing the delivery date from seven to 14 days. We also limited the service to exclude CVs.
After two weeks and 700 submitted resumes, we realized we had exceeded our initial expectations and far surpassed our capacity.
With one week left to go in the campaign, I had to make a difficult choice.
I realized that if we were to accept more resumes, we wouldn't be able to devote the proper amount of attention and care needed.
So, I decided to pull the plug on the initiative a week early.
Our project team found themselves layers deep in resumes and worked hard to get them processed and delivered on time. Our writers and editors took the challenge and donated their services.
Many of our team members edited between 30-50 resumes each, in addition to our full-time jobs!
Our "soft launch" brought in resumes from around the country. Our team was impressed with what we were able to accomplish together.
This initial campaign demonstrated the overwhelming power of social sharing, but also brought new light into the impact COVID-19 has had on the job market.
Who Participated?
At one point, I was editing 10 resumes per night.
On one night, as I was making my way through my queue, I edited two resumes in a row that caught my attention.
The first was from a former CFO of a Fortune 500 company.
My first thought was "Why is this dude sending us his resume? What could he possibly be worried about?"
It then struck me that confidence was at an all-time low.
For many participants, this was their first time on the job market in decades.
Even though the CFO's resume was sparkling, it still had some blemishes.
Which brings me to the resume I edited immediately after that one.
It was from a dishwasher who worked at a food hall for a small university.
Unlike the CFO, the dishwasher had over a dozen jobs under his belt, all listed on the resume.
That's when the magnitude of the Coronavirus pandemic really hit me.
Nobody was spared.
Jobseekers came from every state. Every industry. Every walk of life.
We received submissions from a variety of job categories such as first-time jobseekers, experienced managers, dishwashers, and everything in between.
The team was surprised at the percentage of resumes submitted by professionals with twenty years or more of experience. We assumed that a free resume editing service would be most valuable to younger or less experienced job seekers.
What Jobs Were They Seeking?
This chart shows the percent of resumes we received, by industry.

When jobseekers submitted their resumes, we asked them what industries they belonged to or were looking for work.
We consolidated several industries together to get a clearer picture of which industries were being most impacted by the pandemic.
According to the data, the industries most heavily in demand were Medical & Healthcare (11.8%), Marketing (11.6%), IT/Tech (11.5%), and Business & Finance (9.3%).
Not surprisingly, Education (2.5%), Hospitality (2.5%), and Law Enforcement (.9%) were at the bottom of the list.
This could be a result in shifting workplace dynamics.
For most marketers, switching to permanent remote work has posed few obstacles, while teachers and instructors are encountering a multitude of hurdles trying to perform their jobs virtually.
*Disclaimer: as a content writing and marketing agency, we acknowledge that through our social channels, there was a disproportionate number of jobseekers looking for work in copywriting and SEO, which can skew the numbers.
We Discovered Many Common Resume Errors
Processing such a high volume and variety of resumes revealed a couple of notable trends. The primary and most common resume error we found was including too much irrelevant information.
In general, job seekers were occluding their strengths and relevant experience by overfilling their resumes. They most frequently did this by:
• Including college GPAs even after multiple professional experiences since graduation.
• Listing job experiences irrelevant to the target position. For example, including a barista job they had during college or high school while applying to a professional specialty.
• Listing character traits instead of specific achievements and accomplishments.
As employers report they receive dozens of resumes for many positions, creating a concise picture of your expertise makes it easier to get their attention. Avoid making employers dig through your resume to understand how great you would be for their team.
Moving Forward
Despite the extraordinary amount of work and countless hours that went into this initiative, we've only begun to scratch the surface of what can be done.
I can only imagine what would have happened had we done more than just a fraction of the promotion and outreach we intended.
That is why we're planning on launching a bigger and better campaign later on this year, with more involvement from our community.
If you're interested in joining forces with ContentWriters in helping workers get back on their feet, email francesco@contentwriters for more information.


Francesco is the Director of Marketing for ContentWriters. He has a passion for all things digital and creative, but balances out that positivity with the complete and utter hopelessness that comes with being a die-hard New York Mets fan.