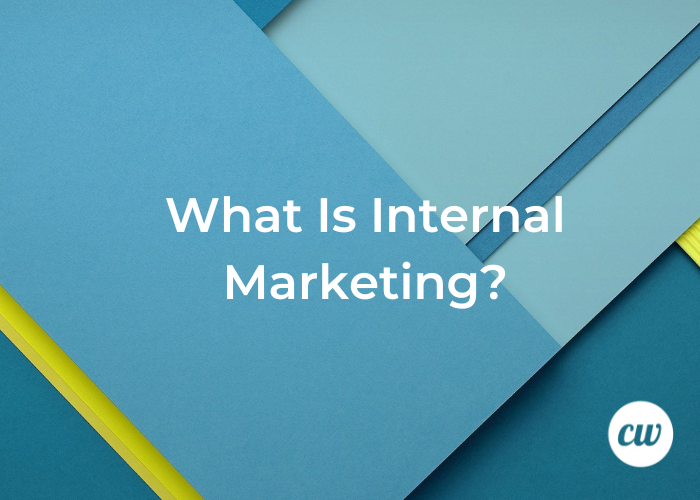 What Is Internal Marketing?
Internal marketing is an integral part of a successful internal communications strategy within an organization. Many organizations also refer to it as internal engagement, internal brand advocacy, or employee engagement. Internal marketing involves the way you communicate information, brand, tone, voice, and objectives to your employees — and it's a valuable source of feedback from them. When leveraged properly, internal marketing is also a fantastic recruiting tool.
Most brands of a medium to large size house one communications department with the support of external freelancers, vendors, and tools to create and distribute content. What is internal marketing vs. external marketing? Internal marketing handles the relationship and communication between a company and its employees. External marketing is all about engaging with the audience you want outside of the company — but effective external content includes elements that your internal audience (aka your staff) wants to share and comment on.
Why Is Internal Marketing Important?
Internal marketing is a critical part of your marketing team's efforts and should be incorporated into your overall corporate strategy. Connecting with employees should be more like a conversation to which everyone is invited: Instead of just pushing information on employees to consume, the content you create for your brand's internal audience can inspire employee feedback and suggestions that can generate more ideas to improve your organization.
As most organizations have gone hybrid or fully digital, internal marketing is a way to help remote employees feel connected and like they're part of the team. When there isn't a water cooler to post announcements by or gather around, think about internal marketing as the online space that serves as its equivalent.
Types of Internal Marketing
You should reach your internal audience through multiple channels. How can you be informative, friendly, and unobtrusive while also reaching employees wherever they are during the workday? What are the types of internal marketing that can help you accomplish that reach? This isn't an exhaustive list, but these are popular and effective types of internal content we're often asked to produce.
Company newsletters: Most organizations publish a company newsletter quarterly or monthly. Company newsletters feature employee updates, highlighting events such as promotions, marriages, births, new hires, and retirements. Corporate events, new business, benefit reminders, and policy alterations or additions are also useful topics for company newsletters.
Virtual town hall via Zoom: If something is urgent — for example, a false rumor about downsizing — the CEO might consider hosting a virtual town hall about the topic to clear everything up. In this way, you can prevent panic and rumors by having honest conversations and providing space for employee questions and comments.
Intranet features: If you have a company intranet, ask your IT department to set it as the default whenever employees open their browsers. You can repurpose news from the newsletter and weekly emails, as well as add photos of events attended by employees, important reminders, and more. The intranet is also an ideal place for Employee Resource Groups (ERGs) or affinity groups to have virtual homes and to update the company on their progress.
External-facing content: Your marketing director or external communications expert should determine which employee engagement content is also worthy of posting online. Featuring interviews or short quotes from employees on your website is an excellent way to contribute to employee morale while also strengthening your brand to external contacts and prospective employees.
Internal TVs and bulletin boards: If you have TV monitors and hard-copy bulletin boards in physical office locations, you can post reminders and even ask for feedback there. Virtual and physical spaces are ideal for collecting poll responses and feedback.
Year-end roundup content: Most companies like to detail their successes at the end of each fiscal year. A whitepaper, corporate summary, or high-level corporate strategy can detail the successes of the previous year while providing hints about the direction for the upcoming year.
Core Impacts of Internal Marketing
Your internal marketing has a direct impact on several key aspects of your organization, such as work performance, employee wellness, and more. When employees feel heard and understood, they can bring their A-game — their best, full selves — to work.
Why is internal marketing important? Consider the bottom-line impact of:
Recognition for employees: Internal marketing provides an avenue for employee recognition. You don't have to be modest when bragging about employee achievements — this type of recognition can keep employees motivated.
Consistency within the organization: Internal marketing can ensure you're promoting a singular brand voice, culture, and tone by modeling it. It's also a way to provide a unified message so that employees aren't left guessing about important issues in the company or your industry.
Employee retention: Employee engagement results in employee retention. Replacing an employee can cost 50% to 60% of that same employee's salary, but communicative content that makes employees feel heard, engaged, and able to provide feedback can keep an existing employee for a much lower cost.
Employee morale: When everyone gets the same message — which hopefully includes accolades and good news — employee morale improves. Without high employee morale, people leave.
External marketing source material: The best brands love to brag about their employees' achievements and talk about what their employees are working on. Whether it's highlighting areas of special interest such as volunteerism or letting the public know about an industry-related book club within your organization, most external marketing source material about your company originates internally.
In addition to these personal touches, don't forget to let your internal audience know when you've done something publicly. For example, if you publish a press release and post about it on LinkedIn, consider putting a link to that post on your intranet so employees can read all about it. Their participation on social media can really boost your metrics and reach prospective employees and customers.
Data-Informed Internal Marketing
Like your external audience, your internal audience has its own priorities, identities, and interests. This audience is also full of opinions on how things could improve and new initiatives they'd like to take on. The most successful companies conduct quarterly surveys to receive feedback from employees. While this is a popular way to enable diversity, equity, inclusion, and belonging (DEIB) initiatives, it's also an opportunity to highlight channels for workers to provide honest, direct, anonymous feedback.
Using the data you've collected, you can make tweaks to your internal communication strategy and address any concerns.
What are the best internal marketing tools? You can use employee advocacy tools to aid you in your quest for internal marketing success. Some of your tools will be pretty basic, such as a companywide email, but you may wish to engage a vendor specializing in the distribution of employee-targeted content, both online and off. Additionally, writers with internal marketing experience are quite useful in this arena.
Marketing and Your Social Media Policy
In the past, brands heavily encouraged employees to avoid talking online about anything related to their job. Some limited what employees could post about socially. While certain limits still make sense, you should embrace a big shift in these policies: Employees are assets for your online branding.
Instead of restricting them from posting about your brand, make a policy empowering them to know what they can and cannot talk about. This is also a great place to remind employees about bonuses they could earn from recruiting more employees.
You can also provide them with prizes in exchange for their participation. After all, when employees share content, it can get as much as eight times the engagement. Plus, your reach could increase as much as 561%!
Having the right social media policies in place — and providing quarterly reminders — empowers employees to further your brand online. This type of policy represents trust and signals employee approval.
Provide Collaborative Spaces
Have your human resources and marketing departments provided digital and physical spaces where your employees can collaborate. Internal marketing includes setting up your tools properly to encourage the right kind of chatter. For example, there are many video conferencing softwares that allows you to create and hold virtual group conversations. It's an ideal way for employees to get feedback on their ideas and work together on group projects.
Consider Employees as "Internal Customers"
Because employees can really affect your bottom line, think about them as your internal customers when communicating with them. As a marketing team, provide great customer service and even greater content for them, which can help keep your internal customers happy.
Get Internal Marketing Content From the Experts
Create, maintain and foster the use of a brand voice and ideal company culture by getting some of your content from the experts. At ContentWriters, we have internal communications experts available to help you communicate more effectively with your employees.
Because it's so expensive to lose an employee and recruit another, you can save time and money with surveys, engaging content, and honest conversations encouraged by the tone of your internal communications. If you're ready to get started, contact ContentWriters to see how we can help today.


Tara lives outside of Washington, D.C and is a storyteller. From marketing to serial fiction, guided meditation, and character-driven self-discovery experiences, she's been writing and editing for decades.